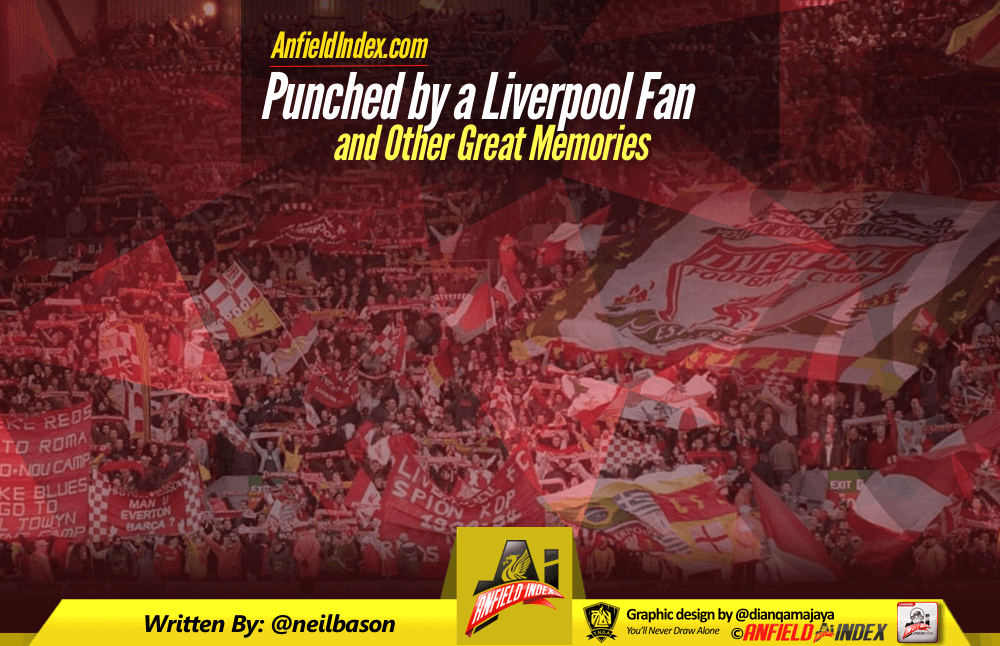 Punched by a Liverpool Fan and Other Great Memories
As football fans I consider us to be a blessed bunch.
Blessed to experience an emotional onslaught for ninety minutes that will elevate us to ridiculous highs one second then punch us in the stomach the next. Sometimes magical, sometimes shit, but always life affirming, always passionate.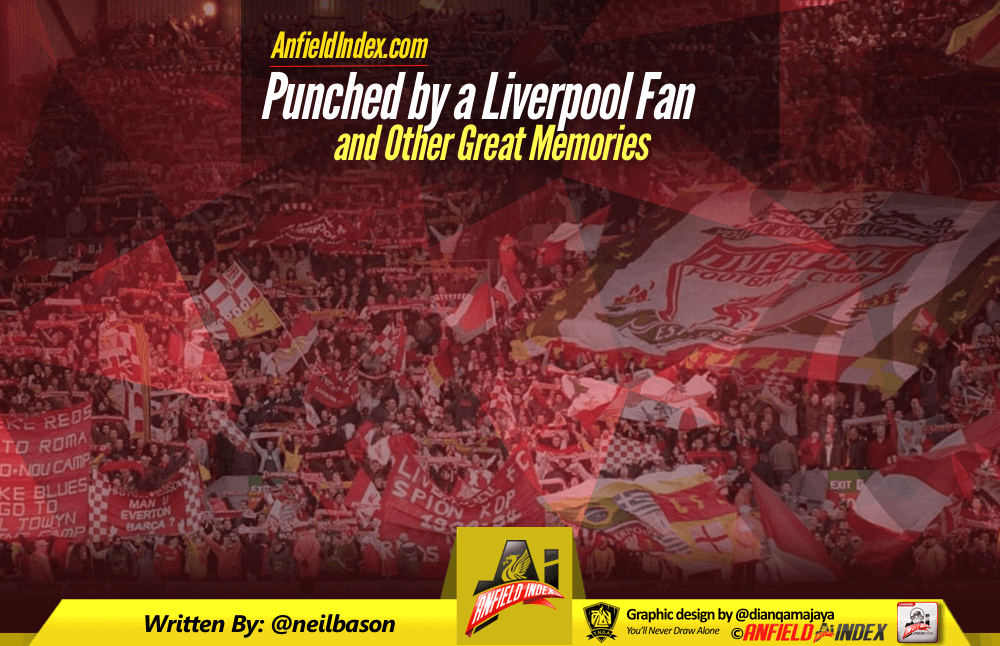 Blessed to be able to converse like old friends with complete strangers based upon a shared allegiance. Bonded by the Liverbird and eleven lads decked out in red come Saturday. A global family from every walk of life with one common denominator that makes the trivial stuff like career paths and accents redundant, the love of our football club.
And blessed to have stories. Moments big and small borne from a life following a football club through the thick and thinnest of times. As Liverpool fans we've likely got shared memories of those great moments.
Istanbul is crystal clear in my mind. No, I wasn't there. I was in my home at the wrong end of the M62 watching the drama of the night unfold on an all too small 32" TV in standard definition. My elderly neighbour can vouch for me, she was walking her little dog on the grass outside as I stood screaming euphoria and banging on the glass door facing her when Xabi made it 3-3. Then there's Rushie making it 3-1 in the '86 Cup Final, Alan Kennedy's Rome penalty, taking our sons and daughters to their first game, the European trips, the Aspas corner, and watching the 9-0 demolition of Palace from the stands and feeling I was doing more work than the players by having to constantly leap from my seat to celebrate, thoughtless bastards.
We've all got stories from famous games and many are probably similar in nature. Similar reactions to the same events. But, I'd hazard a guess we also have our own more unique little snippets from life that take place around the grand moments. From those matches forgotten by most, but that for one reason or another stay daisy fresh in our own heads. It's these tales that constantly intrigue me, and I just wanted to share some of my own in a change of pace from my usual rambling on players, and fawning over Klopp.
The First Trip to Anfield
I often hear fans reminisce about their first game. That first trip to Anfield to watch their heroes play, and honestly, it always pisses me off a little. Not that I begrudge them sitting in the stands, or standing on the Kop as the case may have been, but they generally have magnificently intricate details of the day unfolding. The sights, sounds, and smells, what songs echoed from the tannoy pre match, what songs boomed from the Kop, who scored, who made it, and the moment Kenny Dalglish winked at them personally from the pitch. That sort of thing.
My first match memories are a little different. I don't know what songs filled the air, don't know who scored, don't know what the score was, or the opposition, and if Kenny was there, I honestly can't remember.
I remember just four things from that fateful first match:
The opposition were European.
We beat them either by five or seven.
I sat in the Kemlyn Road Stand with my Dad and one of those Uncle fellas who wasn't really an Uncle.
The goalkeeper was bald and saved one shot by heading the ball high into the air instead of catching it which brought laughter from the whole ground, that bit is the most vivid.
And that is everything. I'm not even sure of the year, early 80's probably, and in all honesty I'm not convinced about the five or seven scoreline or that the keeper was bald. If anyone can fill in the blanks from that sparse information I'd be eternally grateful and a little less pissed off by others' first match tales. As a side-note, I am marginally curious that if the keeper was in fact sporting a full head of hair, why my memory rendered him bald? But that's probably one for the psychiatrist's couch.
Dec 13, 1992, Liverpool 2 – 1 Blackburn Rovers
As I toyed with writing this it was entirely based on me getting punched in the face whilst deliriously celebrating a Liverpool winner against Blackburn. A great memory. But it seems my own memory is not so great. I was convinced the game in question was the famous 2-1 that saw us beat Rovers on a day everyone said we'd lie down to stop the Mancs lifting the title. Instead, we beat them with a 90th minute Redknapp goal, and still saw Kenny lift the title at Anfield with Blackburn, a good outcome, if not perhaps a little odd.
As it turns out it wasn't that game at all that saw my chin tested. It was actually a couple of years earlier during a much less significant match. It was a 2-1 and Blackburn were the opponents. But no champions were crowned at the end. Instead it was a cold December afternoon in the Paddock capped by a rollercoaster finish to the match, and in all honesty, not everything is quite as it seems.
I did take the punch, but, well it went something like this…
Kenny was in the dugout for Blackburn, I believe it was his first game back at Anfield since leaving post the famous 4-4 against Everton, although I may be wrong. Souness was Liverpool boss, unfortunately I know I've got that right.
The game itself was a closely fought, tense affair with both sides showing resilience in defence and invention in attack…who am I kidding? The game itself is a complete mystery to me until the final quarter of an hour. I think I've just got one of those brains that lives in the moment and retains little. It could be partly due to what happened next to be fair. Mark Walters, a player I always had a soft spot for, put us in front with an absolute beauty, couple of step-overs and bang, 1-0, 77th minute, right next to the away fans, have that you Blackburn supporting bastards! We were bouncing!
Three minutes it lasted. Later in life I'd talk up how impressive lasting three minutes is, but not this day. Some lad called Shearer hit a screamer past Mike Hooper and the away end went wild. Two fingered salutes, big shit eating grins and some shite songs were fired our way. Blackburn's travelling fans were buoyant. It was painful, deflating. Five minutes that lasted. Then it happened. Mighty Mark Walters struck gold again and the place erupted, out of our seats, euphoria, adrenaline surging, and a big meaty left hand landing flush at pace on my right cheekbone and jaw.
The hand belonged to a fellow red, big fella, red bobble hat, you might know him, who in a split second like the rest of us had sprung in jubilation from his seat punching his arms wide each side and rattling my jawbone in the process. It was a strange sensation being fully engulfed in joy and pain at the same time, carried along on the sort of wave of emotion only delivered by 85th minute winners. The away end had melted again and the noise was now the sweetest of music to my ears, even the bright red one sat on the right side of my head.
It wasn't a game that is remembered particularly fondly, at least no more than any other mid-season league win, but for me it will always have a special place. A magnificent up and down climax, devastated away fans, a punch to the head, and being able to then convince my 17-year-old self that I must have a rock solid jaw…that is so long as it's tested seconds after Mark Walters scores in the dying moments for Liverpool.
Apr 23, 1993, Liverpool 2 – 0 Leeds United
You know that feeling when you don't really drink and then you travel to your first match on your own and the drink flows and the match passes by in an alcohol infused blur and then ends with the mild onset of complete panic? No? Well, let me tell you about it.
The game was Leeds United. I've always quite liked Leeds despite their reputation. I think it might be the mutual dislike for a certain other club, or perhaps that I just consider them a proper club with proper fans, a bit like West Ham. It was to be my first trip to Anfield on my own. Well, technically that's not quite true, I was travelling with three mates, all Leeds fans.
They had tickets for the away end with me sitting in the Centenary. The trip down was memorable for two reasons. A little kid who threw me a thumbs up as his families car passed us, then fired two fingers at the Leeds lads, that had us falling about, and for the free flowing cheap lager and bitter being quaffed by Dave D and Rob, and let's say sipped uncertainly by myself, while designated driver, Wayne, cursed his luck at being behind the wheel. I wasn't a drinker and I'd definitely never drank before a game. This was my first mistake.
We landed in Liverpool, parked the car in one of the many streets around Anfield and headed straight to the pub for a few more pre-match drinks. By this point I was acquiring something of a taste for it and had upped my drinking pace from slow to quite slow. The fans mixed more comfortably than my drinks, and the atmosphere pre match was jovial and upbeat. We left the pub for the ground and parted ways. I was to meet the lads back at the car shortly after the full time whistle. I breathed deep of the intoxicating air that surrounds a football match, burger vans, smoke, and for once, slightly alcohol infused. This was my second mistake.
The match was a blur. The first half in particular was akin to something like an out of body experience. I knew I was there, but it didn't really feel like I was all there. I was having a little trouble focussing on the action and then the half-time whistle blew. The second half was a little better, my senses were slowly returning from their dulled state just in time to celebrate Barnes putting us one up. The game was won with a Mark Walters penalty (I must have been that fella's lucky charm!) and it was time to leave. It was getting dark. I realised I hadn't paid any attention to where we had parked the car. It turns out this had actually been my second mistake.
I left the ground feeling upbeat, Liverpool had won, the booze had worn off and all that was left to do was stroll along to the car and head home. It wasn't until around twenty minutes later that the first knot tightened in my stomach. Having ventured directly to the street I was convinced the car was parked on, and it not being there was slightly worrying.
Half an hour later it was dark, probably not as dark as my head now paints, but dark enough, and I was still looking for my ride home. The crowds had rapidly thinned, I was alone, and no-one had yet thought to invent an affordable mobile phone, thoughtless bastards.
My first match alone was rapidly going south, I was now a little more alone than I'd ever intended. To almost quote Alan Partridge, "I'm going to level with you, I was really scared." My aimless wandering had hastened to an aimless jog as I scoured every street for the car. Irrational panic was kicking in big time and I had begun to embrace the embarrassing prospect of finding a payphone and phoning my Grandad, who lived not too far away, to come and rescue me from my aimless sprinting of the now empty streets. Then, I turned a final corner and looked straight into a Leeds United shaped oasis amid the deserted darkness. Dave, Rob and Wayne, leaning on the car showing a degree of patience I'll forever be grateful for. For the first and last time in my life I was delighted to stumble upon three Leeds fans waiting for me in the dark after a match.
I raised my arms aloft in celebration. They must have thought I was a right twat, leaving them waiting for an hour and then rubbing the victory in their faces when I finally show up. Truth is I was celebrating finding the car and inside it felt as sweet as the earlier 2-0.
"Where the fuck have you been?" they called in unison.
"Oh, you know lads, just soaking up the atmosphere outside the ground," I replied, casual as you like.
A short time later we were in a pub in Knotty Ash, my bond with Leeds and the patience of their fans cemented forever.
We sadly lost Wayne a few years later, but I feel privileged to have known him, that he is part of one of my everlasting memories of being a football fan means a lot to me. The big moments we share as Liverpool fans are incredible, but it's in the little moments that we form some of our most treasured memories.
Like I say, we're blessed us lot.