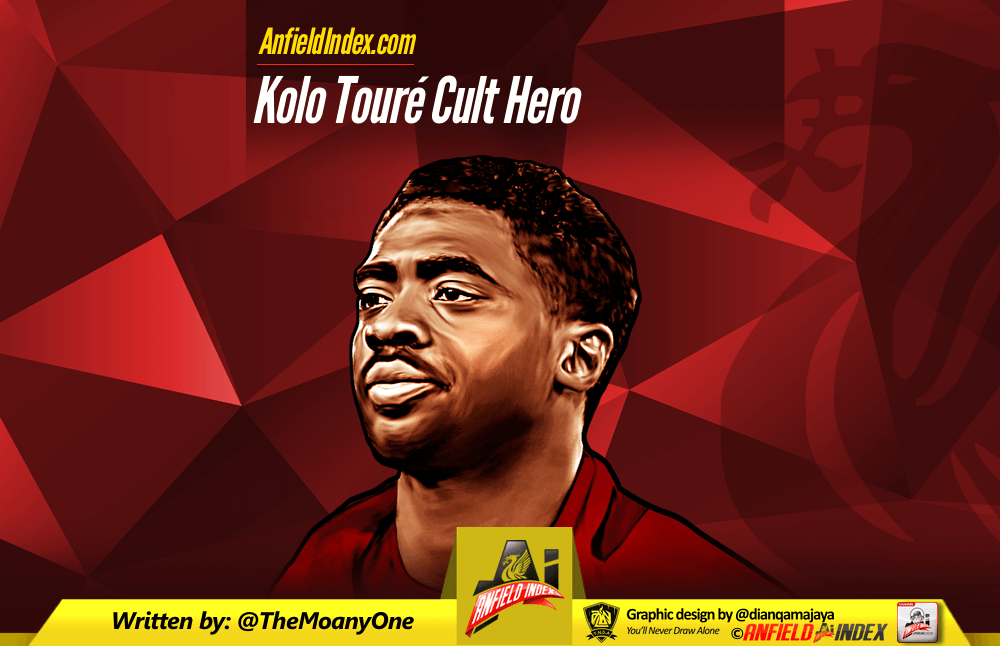 Kolo Touré Cult Hero
Kolo, Kolo Kolo, Kolo Kolo, Kolo Kolo Touré, who can forget the whole Liverpool team singing and dancing to this on an escalator in Dubai at the end of last season. Seeing the players singing, smiling and dancing while showing their appreciation for Touré shows how much of a cult hero Kolo Touré has become in his short time at Liverpool, to not only the Liverpool fans but also the Liverpool players. He is one of those players who came to the club with that winning mentality that at the time the team was missing. Touré had won the Premier League with both Arsenal and Manchester City, something only six other players have managed in the history of the Premier League. While he is at the twilight of his career he has shown recently he still has a lot to offer in defence.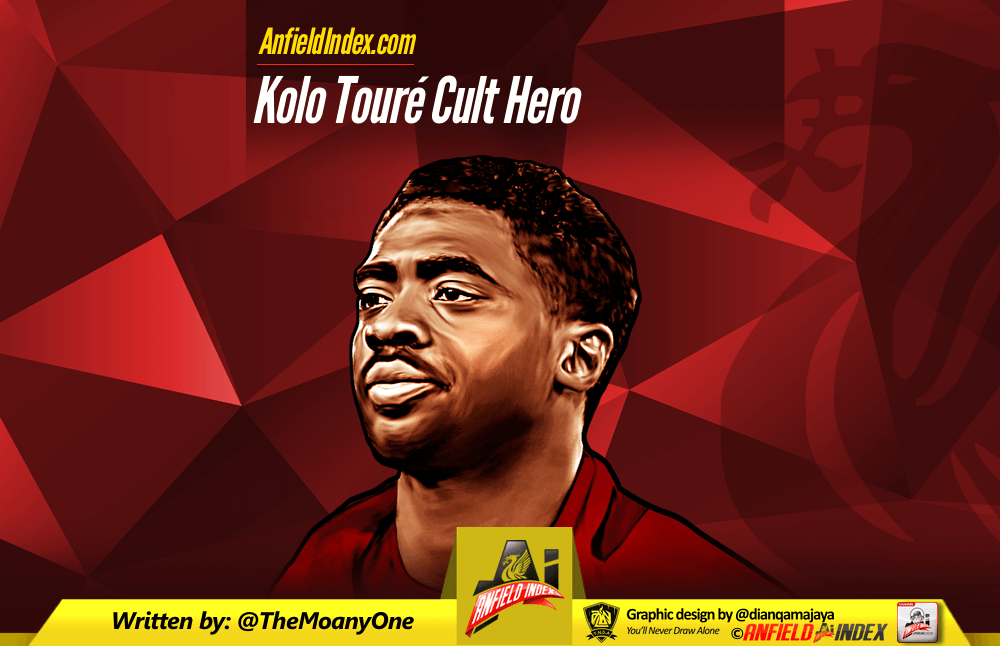 Touré came to the Premier League from ASEC Mimosas where he joined Arsenal on a long-term contract for a fee of a hundred and fifty thousand pounds (what a bargain that proved to be) on the 14th February 2002. He went on to make 326 appearances for the Gunners, scoring fourteen goals and was part of the famous invincibles team.  As well as winning the Premier League title with Arsenal, Touré also won an FA Cup and was an integral part of the Arsenal team that lost to Barcelona in the Champions League in the 2005/2006 season. Touré's time at Arsenal came to an end in the summer of 2009 after he is rumoured to have demanded a move away from Arsenal after a reputed bust-up with his defensive partner William Gallas. He reportedly handed in a transfer request in April 2009 and this request was turned down by Arsenal chairman Peter Hill-Wood.
Touré was announced as a Manchester City player in July 2009. Touré cost Manchester City fourteen million pounds from Arsenal and he was one of Mark Hughes' higher profile signings that summer. Touré went on to make 103 appearances for City, scoring three goals and was a rock in City's defence when they won the Premier League title in 2012. This was City's first League title win in 44 years. When Roberto Mancini took over at City, Touré did not feature as much for City. Mancini showed his ruthless streak by stripping Touré of the captain's armband and handed it to Carlos Tevez. Touré left City in the summer of 2013 having agreed to join Liverpool on a free transfer. Before he left City, Touré had served a ban for breaching doping regulations in March 2011. For this he was banned from all football activities for six months.
Touré signed a two year contract with Liverpool in 2013 and was handed the number four jersey. Just like at Manchester City and Arsenal, Touré made history while at Liverpool. This occurred on the 1st March 2015 when Touré came on as an eighty third minute substitute against Manchester City, marking the first time he and his brother Yaya, who started the match for City, faced each other in a competitive match.
This season Touré has seen more football then even he dreamed he would. This is mainly down to the fact that all four of Liverpool's other centre-backs have spent time out on the side lines. I realise I said four. I'm counting Joe Gomez as a centre-back. His never say die attitude and his want to always do well while playing for Liverpool has turned him in to a cult hero at Liverpool. He has played twelve times for Liverpool in all competition so far this season, scoring one goal and creating another, he has a one hundred percent shot accuracy rate (thanks in part to his first ever goal for Liverpool last weekend against Aston Villa), his average pass accuracy is an impressive 81%, his average duels win percentage is 57% and his average pass length is nineteen metres. While those stats may be less than the likes of Dejan Lovren, Martin Skrtel and Mamadou Sakho have this season, for a bit part player they are fairly decent. Oh I should also add he has made zero defensive errors in the games he has played.
With the news that Liverpool have agreed to sign Joel Matip from Schalke this summer, it was announced that Touré's contract at the club would not be renewed. This has caused outrage amongst a certain section of the Liverpool fans. A lot of fans would love to see Touré handed an ambassadorial role at the club or maybe even a role in Jürgen Klopp's backroom staff; I for one can not see this happening. Why? Well, while Touré has become one of those cult heroes amongst fans with his infectious smile and his happy attitude, Liverpool have no loyalty to him. And as much as I would like to see him stay around the club because his winning mentality could prove to be a bonus for Jürgen Klopp, if Liverpool did not hold on to Steven Gerrard I can not see them hanging on to Touré sadly.
What the future holds for Kolo Touré only time will tell. There is rumours that one of the big spending Chinese teams are looking to sign him, if this happens he is one of those players who deserve one last pay days. Every Liverpool fan will be wishing him well come May when his contract comes to an end.