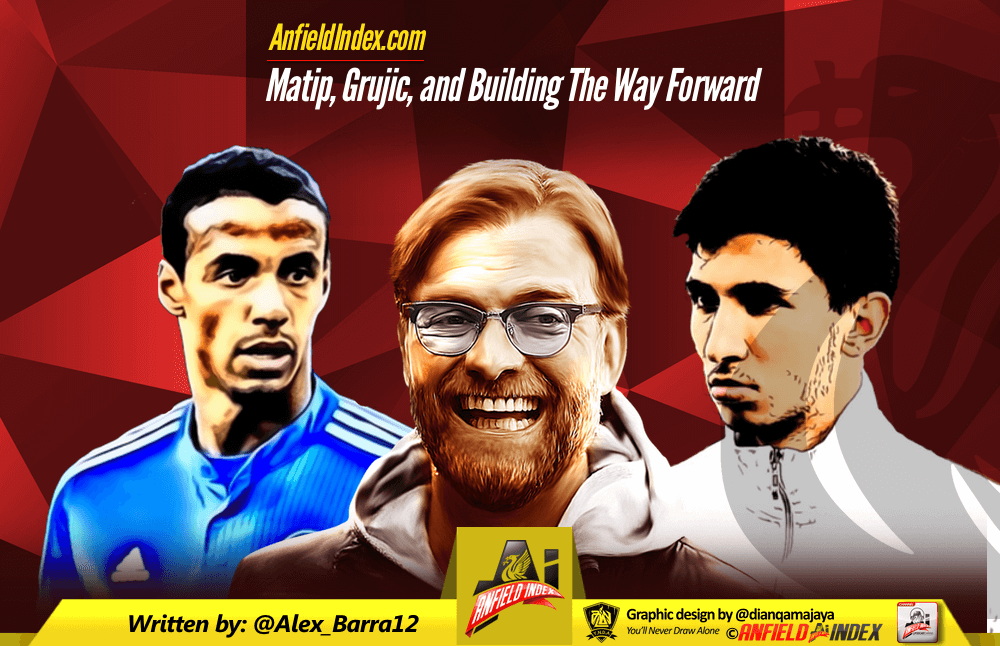 Matip, Grujic, and Building The Way Forward
The road has been fraught with minor altercations, progress has been patchy and the highlights; the glimpses into what could be a golden era of our once great football club, have been equated by the speed-bumps that have us looking to the future. But those glimpses, though sparing, have been wonderful. From Roberto Firmino's masterclasses to Phil Coutinho's brilliance, to a Divock Origi hattrick in a six goal hammering of our supposed equals and a six goal hammering of a side made to look as bad as they are.
These are the things the Liverpool fanbase has held onto, with their shining Ulsterman at the helm of a once dwindling football team, languishing in the bottom half of the table. Fans were desperate for Klopp to shift the dead wood and overhaul his team with a collection of the best Klopp-like Germans in his first January at the club; when really – and this is a common denominator as a whole – patience is desperately needed.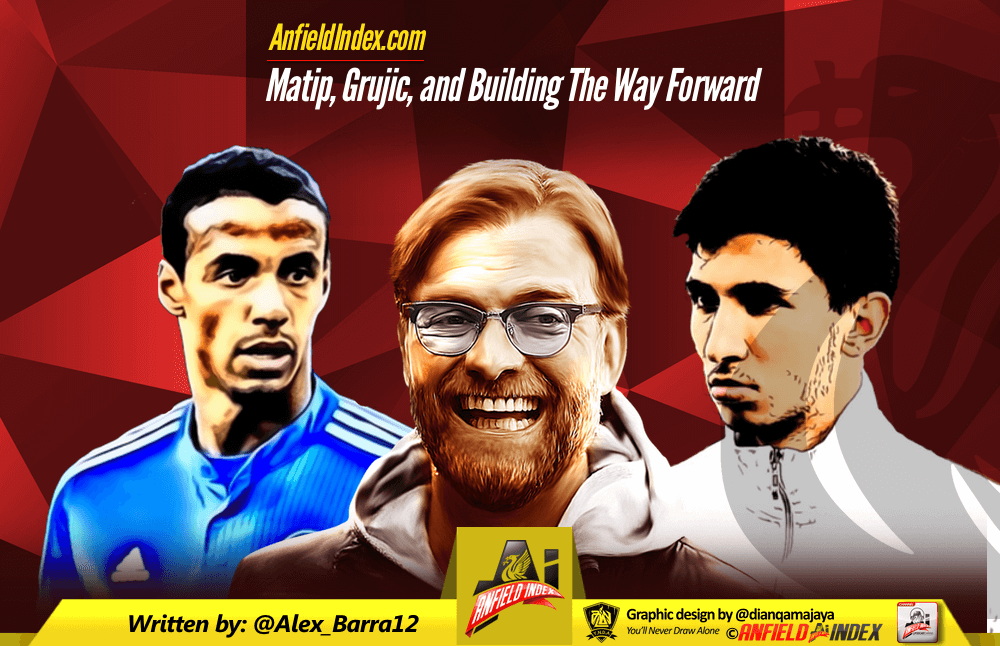 Patience, and the ability to be clever, to outsmart other teams. Both on the pitch, and off of it.
And that brings the topic neatly to Jurgen Klopp's first bit of business.
If you were among the fans who knew who Marko Grujic was before Liverpool were linked with him; you'd know he is a midfield general in his ludicrously dominant Red Star Belgrade side; who had their domestic title wrapped up by January. If you, like this writer, happened to see his name on a Football Manager 2015 wonderkids list, and proceeded to look up one YouTube video, then you would've enjoyed checking him out on other YouTube videos and buying into the hype that our wonderful new manager handpicked this dynamic central midfielder for his future side.
What really brought the hype to the signing was that Jurgen Klopp wasn't here for a few instantaneous trophies; he's here to stay, to build something wonderful. And with him, he brought the savvy knack for transfer business that saw he and Michael Zorc build a Champions League final side.
The news of Joel Matip's arrival on a free transfer resounded immediately.
For one, it addressed a distinct weakness identified in Klopp's defensively frail side: physicality in the air. Matip, standing at 6 ft. 4, is an aerially dominant centre half who's named in WhoScored's Bundesliga team of the season thus far, and let this Liverpool side and it's fans breathe a little easier when a ball is flung high and loopy into the box, whether it be from one of those dastardly corners that seem to undo the Reds' defence, or otherwise.
What do the signings mean? Well they point to a new era. The new era. This writer may be guilty of something many other Liverpool fans are experiencing; looking far into the future. Well, not too far, only a couple of months; but while living in the present is important, it's much more fun to live in the place where the football club will undergo significant positive change. Revenue from the new Main Stand development, commercial deals and more of that lovely Premier League money will all complement what is expected to be a busy transfer window for Jurgen Klopp's backroom staff.
Already, the arrival of two players heeds the dawn of a new era. An era of direction, of sticking to a manager's plan and buying players who fit into that plan. It will not be an era of bickering between committee and egotistical manager, it will not be an era of incessant journalistic suggestions that Liverpool's the idea of said transfer committee is somehow abnormal; it really isn't. And it is not an era where teams will be able to get away with robbing Liverpool of a thirty percent price hike of a player's value, purely because they know they can.
Five million pounds spent on two players who immediately improve the outlook of the side, so what else can the Red faithful expect from a turbulent but progressive summer transfer window?
Outgoings
One thing Klopp was somewhat renowned for during his time at Borussia Dortmund was his ability to get the best out of his players. For this reason, the likes of Joe Allen, Lucas, and Adam Lallana will likely remain at the club for morale purposes (Klopp has previously spoken about this; the humanity side of football.)
However, bystanders will not be permitted, which will most likely see the departure of Christian Benteke, one of Martin Skrtel or Dejan Lovren, depending on who fits into the manager's plans, Mario Balotelli, and James Milner. Perhaps Milner gets a lifeline due to his captaincy, but his drain on Liverpool's wage bill is not something that can just be waved off due to the fault of a previous regime.
The case for Balotelli, though perhaps still wavering among the fanbase, is surely now in its dying stages. His troubles at Liverpool in front of goal followed him to Milan, who are now unlikely to want him back. China possibly beckons; he'd enjoy the payday, and Liverpool would be suitably rewarded for their troubles.
James Milner will have to be content with being a squad player at best, and even then; it's a hard pill to swallow for the top earner at the club. With Lazar Markovic, Jordon Ibe, and Klopp's plans to buy another winger, which he's already stated, it's unlikely James Milner starts many games. Whether he's content with that, late into his career, is entirely up to him, though it should be noted that his work ethic would make him an ideal candidate for the Jakub Blaszycowski role; a dynamic runner off of the bench.
Incomings
One thing, as aforementioned, that the new manager would desperately be looking into is another attacker to supplement the lethal, dynamic contingent already at the club. Liverpool's fanbase knows; despite missing out on another target in Alex Teixeira, that Klopp won't spend stupid money on an unknown transfer target; but perhaps someone he's familiar with from the Bundesliga; Kevin Volland, Filip Kostic or Leroy Sane, would be an ideal choice for him, considering he could obtain them at much cheaper prices than any Premier League player.
The central midfield positions look to be strengthened too, with a more accomplished, combative defensive midfielder desperately needed; someone who can fit into the role of shielding the defence. There are plenty of names across Europe who fit the bill and may well be available; Sevilla's Grzgorz Krychowiak, Valencia's Danilo Pereira and Inter's Geoffrey Kondogbia are just a few of those names.
And, depending on the fitness of Daniel Sturridge and the development of Divock Origi, a striker may be on the books as well; it's clear Christian Benteke is counter-intuitive to Jurgen Klopp's style of play, but the German manager will surely assess all options before letting him go. If Liverpool managed to squeeze £16 million out of a floundering Andy Carroll, surely Benteke will command upwards of that figure.
Speaking of which, the one thing many Liverpool fans wouldn't be averse to would be seeing a bit of money splashed out on a big name; if for nothing than to rid themselves of the memory of Andy Carroll's astronomical transfer fee.
But the fans, as a collective, know that Klopp will be smart, he will not back down from the negotiating table, and he will certainly be the way forward. So here's to seeing who joins him on that road.