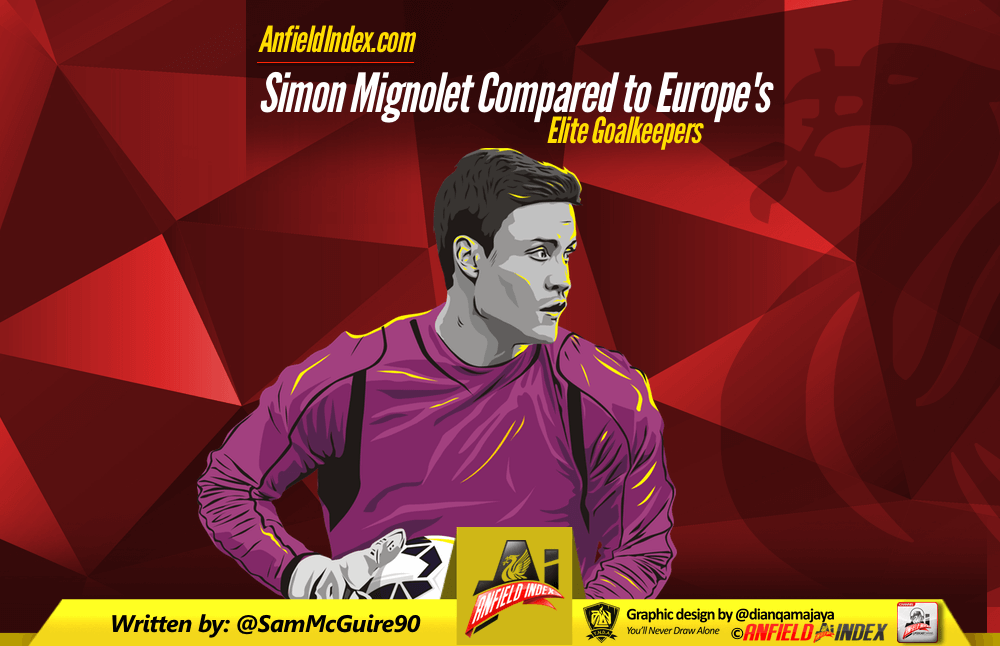 Simon Mignolet Compared to Europe's Elite Goalkeepers
Yes this is another Simon Mignolet article, however it's different to those that have went before it. Many have given their opinion on the Belgian shot stopper and cited instances in games to back their opinions up, but very few have really digged into the statistical side of it.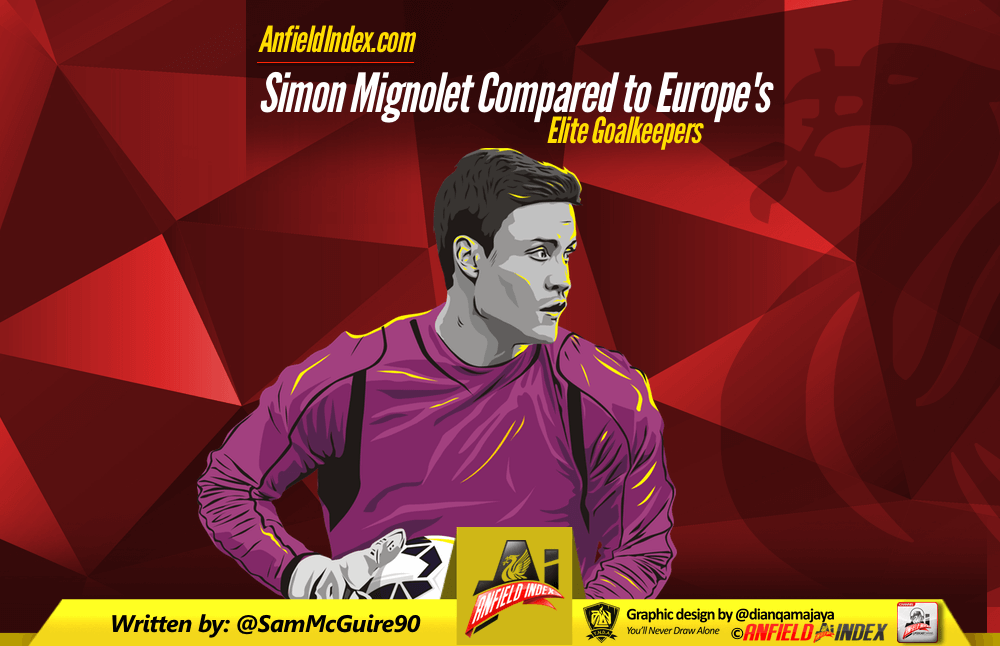 Granted, Goalkeeper stats is an understudied area when it comes to football. It's hard to really read into the performances of 'keepers like you can with outfield players, It's hard to quantify it because there are so many variables to consider.

Are the opposition playing a counter attacking style? If so the team will see less of the ball meaning the 'keeper will face fewer shots, in theory. Likewise if your team is playing a counter attacking game you'd expect your 'keeper to face more shots because they're almost inviting pressure onto them.
Then you also have to consider no two shots are the same and every single 'keeper has different strengths,  meaning he may excel at one sort of save but struggle with others. There are 'keepers though whom are considered 'good shot stoppers' meaning they're well rounded in this department. Whether it's a reflex save, a one on one or getting a hand to a long distance shot, these 'keepers generally cope well.
Liverpool's Simon Mignolet falls into this category, or at least that's what the media narrative will have you believe. 'Solid shot stopper but dodgy with his distribution' was the general consensus.
Sam Jackson (@Sam_Jackson94) runs a blog which you can find here on stats and Goalkeepers. It was after reading his blog and the findings he's published that I was interested to see how Mignolet faired in comparison.
In his blog titled 'Hot Cech: 3 1/2 seasons of save %' Jackson looks at the save % of Goalkeepers in Europe since the 2012/13 season and whether or not high save percentages is sustainable and repeatable. Is shot stopping a skill or is it a perfect storm of factors that give certain goalkeepers the odd standout season? Should a club buy a 'keeper after one good season?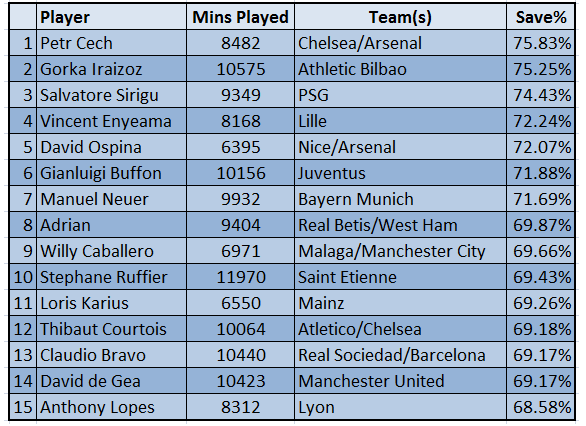 The table above can be found in the aforementioned blog piece.
It shows the top 15 'keepers with the highest save percentage over the past three and a half seasons from those who have played more than 6000 minutes. As expected the likes of Petr Cech, Gigi Buffon, Manuel Neuer and David De Gea are on the list. There are a few surprises on the list however, Bilbao's Iraizoz, West Ham's Adrian and Mainz's Loris Karius all make the list.
Jackson worked out save percentage using this formula – Save% = Saves/(Saves+Goals Conceded).
Using the same method Simon Mignolet comes out with a 62.8% save success rate coming in 12,315 minutes which equates to 136 games. It's a fairly large sample size so gives a good indication of what fans should expect from the current Liverpool first choice 'keeper.
What's interesting though is the fact during Mignolet's last season at Sunderland his save percentage was 69.5% which would've placed him 10th in the table above. What's worth noting here is the 2012/13 season is the season Mignolet, during his time in the Premier League, made the most saves: 125. Did Liverpool sign him off the back of this successful season thinking this high number of saves percentage was sustainable?
Since he joined Liverpool his saves made per season is as follows – 2013/14 he made 75 saves, 2014/15 he made 67 saves and this season he's currently on 34 saves. If you were to do the save percentage for the seasons with Liverpool they'd read as 60%, 60.9% and this seasons so far would be 53.1%.
Since his move to Anfield he's facing fewer shots so is making less saves but at the same time his save percentage has dropped off dramatically. Are the quality of chances for the opposition that much better or is this just Mignolet's level? Excluding both his season at Sunderland and this season his save percentage for his two full seasons at Liverpool 60.4%.
For added context here, Spurs, who have surpassed Liverpool this season, have a keeper in Hugo Lloris who has a 63.6% save percentage since , helped by the major spike this season which sees the French captain boast an impressive 70.7% save percentage. Joe Hart of Manchester City has a 62% save percentage over the past three and a half seasons.
Of course this doesn't factor in the quality of the defence ahead of the 'keeper, it doesn't take into account the difficulty of shots faced, it's simply a stat to show the shots that have been on target that the keeper has saved X % of them. 
For a shot stopper, Mignolet's figures are trailing behind the 'keepers of teams Liverpool are hoping to rival and/or surpass. This, coupled with his regular errors, questionable kicking and poor command of his area make it hard to ignore the fact that the Reds need a new goalkeeper to really challenge for the top 4.
Looking at save percentage isn't a guaranteed way of judging a goalkeepers' shot stopping ability, it's flawed but using it over four/five seasons gives you enough of a sample size to help form a picture of a 'keepers' ability.