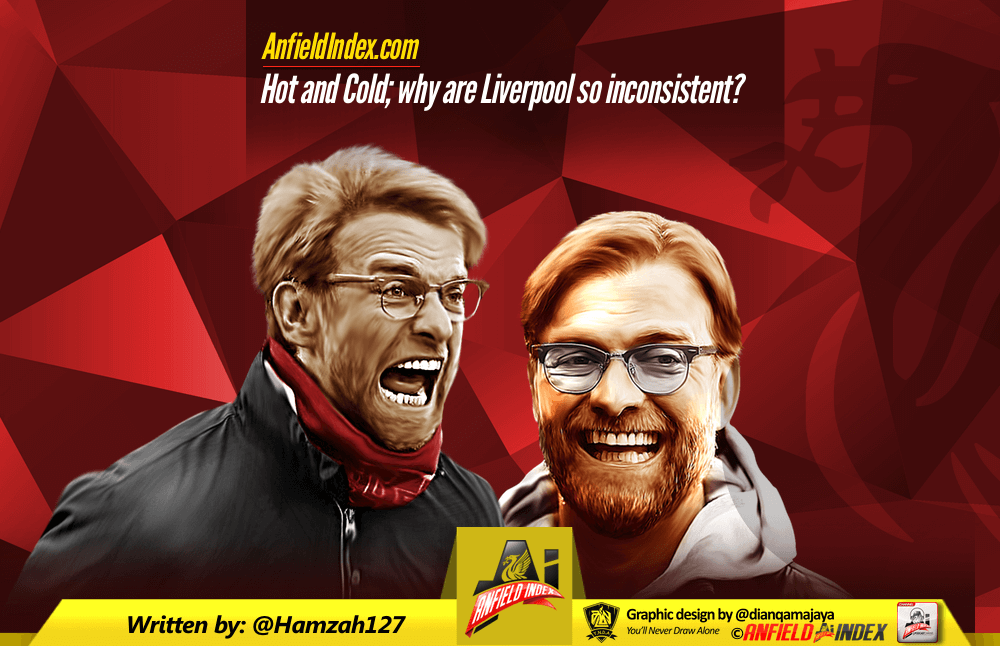 Hot and Cold; why are Liverpool so inconsistent?
Inconsistency has been a hallmark of Liverpool's performances since the start of Brendan Rodgers' tenure in 2012, but why do Liverpool still struggle to put together a string of successive good performances, or put a small handful of fantastic performances in between a sandwich of dull, slow and rather boring ones?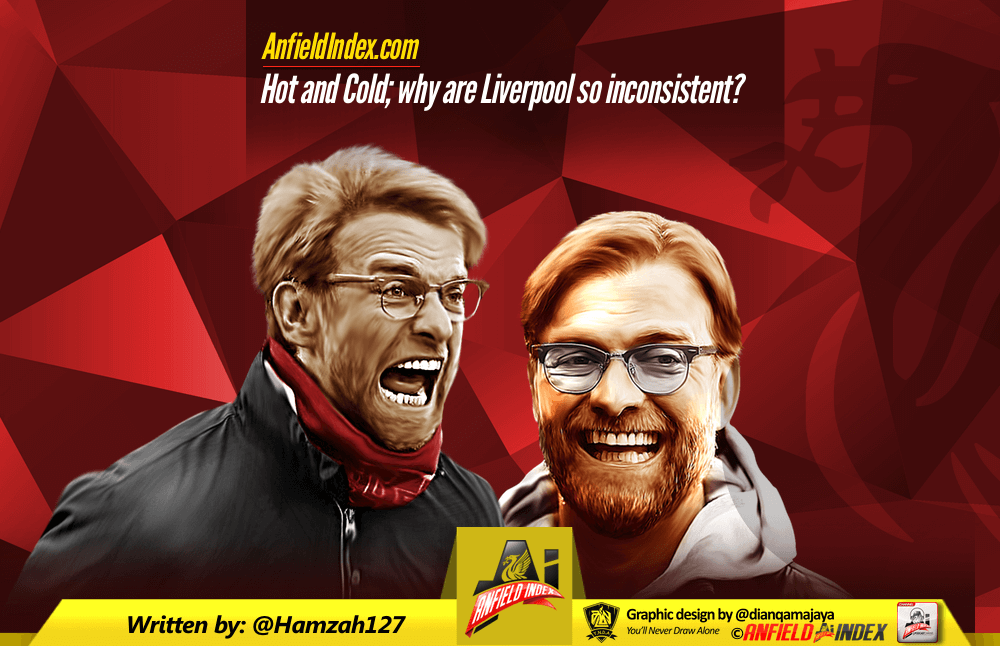 There is no clear answer to Liverpool's contrasting performances over the past few seasons, but a few standout factors, such as injuries, confidence amongst the team, changes in tactical systems, uncertainty over places, and most recently, the amount of games played, certainly suggest that there are correctable factors to Liverpool's inconsistency which may eventually be ironed out under Klopp.
The starting point when looking for reasons contributing to Liverpool's inconsistencies, is the point at which Liverpool were the most consistent in recent seasons – and then from there we can assess what has gone wrong and led to inconsistent performances; therefore the 2013/14 season is the place to begin our assessment.
Remarkably, during the 2013/14 season, Liverpool played only 43 games; 3 games in the FA Cup, 2 in the League Cup and the 38 mandatory Premier League games; within this season Liverpool only suffered a small amount of injuries to key players – Daniel Sturridge & Phillipe Coutinho suffered injuries near the end of 2013, but apart from that, the squad was fully fit, but also kept to its 4-4-2 diamond system throughout most of the season. By having, for the most part, a fully fit, well-rested squad that knew exactly what they needed to do tactically, Liverpool were able to perform consistently and the confidence within the team regarding both themselves and the manager no doubt reinforced that and allowed for the team to perform at both a high and consistent level.
This season would suggest that if a team has a key core of players that are kept fit, has a consistent tactical system employed throughout the season and plays a minimal amount of games, a team can be consistent in their performances.
Conversely, in the following 14/15 season, Liverpool played 7 FA Cup matches, 5 League Cup matches, 6 Champions League fixtures, 2 Europa League games and the 38 Premier League games too, accumulating in a 58 game season. In this season, Liverpool sold Luis Suarez to Barcelona and Daniel Sturridge was injured for the majority of the season. Alongside this, several new additions were made to the squad, but not in the key areas that needed high quality, consistent and reliable players, i.e. upfront. This, in turn, led to players, such as Emre Can or Raheem Sterling, being played out of position (CB & Wing-back/Striker respectively), in an entirely new system. The various formations with 3 at the back are notoriously hard to get teams to understand and function within, let alone a brand new squad without its key strikers.
The pressure of being in the Champions League and following up such a remarkable season also weighed heavy on the relatively young squad and the manager, Rodgers, who had not found himself in a situation quite like this before. With both the media and the fans expecting a follow-up to the 2013/14 title challenge, Rodgers felt something radical was necessary to retain Champions League status without Sturridge leading the line. The shift to a new system and constant tinkering to the lineups led to confidence within the team hitting a new low – personified by Dejan Lovren and his performances that season; as well as this was the pressure applied onto the team by the fans, knowingly or unknowingly.
Despite Rodgers leading Liverpool to a 13 match unbeaten streak following the 3-0 loss at Old Trafford, the following two defeats at the hands of Manchester United & Arsenal (2-1 & 4-1) led to calls for Rodgers' dismissal resurfacing, further compounding the pressure on the team and the manager; culminating in a disastrous performance against Stoke on the last day of the season. The conclusions that could be drawn from this particular season, is that Liverpool's team is far too reliant on players like Sturridge & Coutinho, but also that the large number of games directly affects performances, but also that confidence is paramount in achieving consistency. This season also reinforced the conclusions drawn from the end of the previous season about keeping a tactical system and not changing it too much, whilst rest for the players is crucial too – seen through Sterling's 'holiday' to Jamaica mid-way through the season, from which he came back in good form.
So far this season, Liverpool have played 42 games (26 PL, 4 FA Cup, 5 League Cup & 7 Europa League), but at the start of the season, the same issues that were present throughout the previous season remained, and as a result of these impinging on performances, by October Rodgers was sacked and replaced by Klopp. A 'feel-good' effect came with Klopp and he led the same Liverpool team to comfortable away victories against Manchester City & Chelsea, without Daniel Sturridge, which implied that Liverpool are not as reliant on Sturridge as it is perceived to be – and the 2-1 victory over City in March 2015 would also lend credence to this notion. Instead, those victories highlight the importance of confidence within the squad, and how it is even more important than having every player available. Alongside this is the new tactical change employed under Klopp, and seen at both Stamford Bridge & the Etihad Stadium, where the team was encouraged to press and play with intensity; this point contrasts directly with the conclusions drawn at the end of the previous two seasons, which makes understanding fully why Liverpool are so inconsistent a complex issue.
Another factor that must be considered is the departure of Steven Gerrard too and the affect that had on the midfield and the lack of a leader within the team; despite a poor showing in the 14/15 season, Gerrard was the top scorer for Liverpool and has been a creative force for many seasons before this too. Once we understand this, we can begin to see another reason why Liverpool are so inconsistent.
Liverpool's tactical systems, and most tactical systems within football rely on the midfield within them to provide creativity for the forwards, and protection for the defence. The issue with Liverpool's midfield is that is is comprised of players who are either not creative enough, experienced enough, developed enough or consistent in their own play. Take for example Henderson, Can & Milner – all undoubtedly good players when considered in isolation, but as a midfield unit, they aren't naturally risky or particularly creative – not a criticism of them, merely an observation – this puts pressure on the forwards to fashion their own chances and create goals for themselves – which in itself explains why Liverpool look dependent on Sturridge at times. This means that Liverpool will usually only play well if one of the attacking players, like Coutinho or Firmino or Sturridge take the impetus in a game. The consistency in terms of results is poor as the midfield do not step up and take the onus enough within games – which in itself damages confidence and performances in a vicious cycle.
The only consistency within the team that is evident at the moment is that Liverpool's midfield and defence are consistently average; over most of the season they have performed at the same level, and only individual performances or performances by a small handful of players have led to strong performances – evidenced in the Chelsea and City matches where Coutinho & Firmino stepped up their game to lead the team. The performances at Villa Park and Carrow Road may suggest that the midfield is pulling its fair share, but do remember that these two teams have some of the worst defensive records in the league.
Aside from this is the level of support from the fans; it is accepted fact that the fans can give a team the extra push they need for a goal or some inspiration, but for the most part this season, Anfield has settled down in the same way the team does, content with a slow paced mediocre game, only in a few fixtures, like the West Brom match, did the supporters step up and drive the team on – and this was a instrumental factor in Liverpool's 13/14 success as teams were intimidated to play at Anfield without even considering the attacking threat of the team.
All in all, when considering why Liverpool are inconsistent, it would seem that there are a variety of factors and that the truth is somewhere in between all of them. Liverpool are still adapting to Klopp and his new system, whilst they have been very unlucky with injuries and their dense fixture list which weighs even heavier on a smaller and more inexperienced squad than that of Liverpool's rivals. Adding to this is the effect of confidence, from both the players and the fans – with Liverpool playing with more impetus when feeling in a good state – recently due to the return of Sturridge and Coutinho – but it is worth noting that some players within the team have to step up their own game – specifically within the midfield and defence – to enable Liverpool to be more consistent, and those that do make the difference in close games (Sturridge, Firmino & Coutinho) need to do so more regularly too. Replacing outgoing players adequately is also a major concern, if Coutinho were to leave this summer, Liverpool would be in dire need of a playmaker, and ones of his calibre are hard to come by – the same can be said of Gerrard & Suarez too, whose departures have led directly to inconsistencies upfront and in midfield.
Some of these issues – like adapting to the tactical system and injuries – can be solved in time, but those regarding the players' confidence and performances are reliant on Klopp to fix – who must either develop the players, inspire them himself, or bring in his new players who can do the job for him instead. If the team starts performing consistently on the pitch, then the crowd and fans will naturally follow too.
To conclude, these various issues, amongst others explain Liverpool's inconsistencies, but rectifying them may be a much harder task than it appears, as it is arguably the biggest task any manager could have.