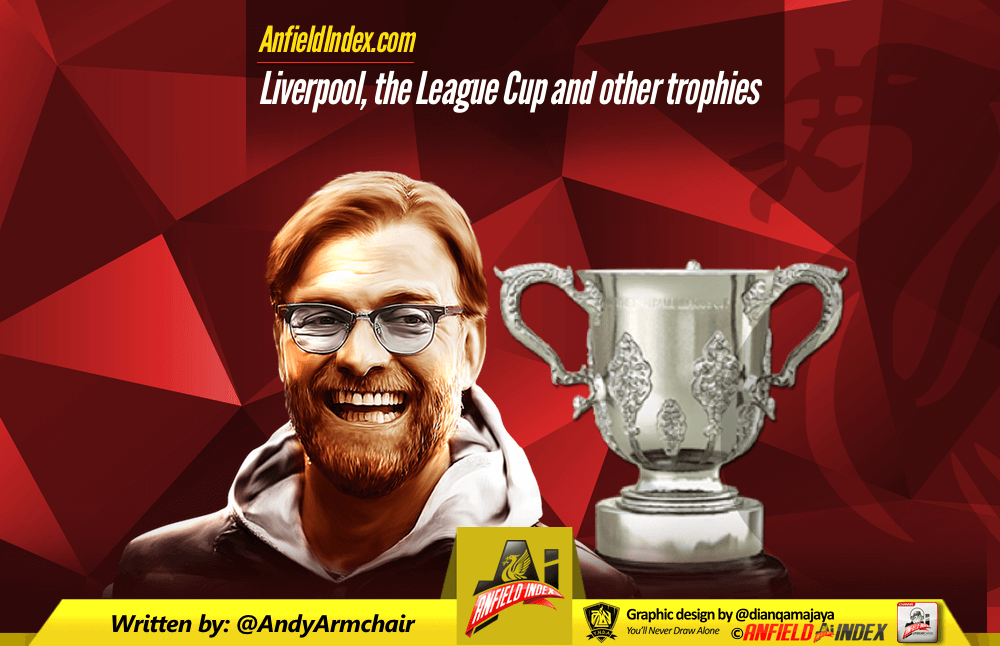 Liverpool, the League Cup and other trophies

I am not going to try and sugar coat this, of all the major trophies available, the League Cup is the lowest on the prestige list. Hate me for saying that if you want, I don't really care because it's a fact. However, just because it is the least important and prestigious of all the major trophies, it doesn't mean it's not great to win and it also doesn't detract from its significance. Trophies are great to win, it's what football is all about. So, let me also make it clear that the Community Shield and various Super Cups are glorified exhibition matches, not trophies; there is a difference.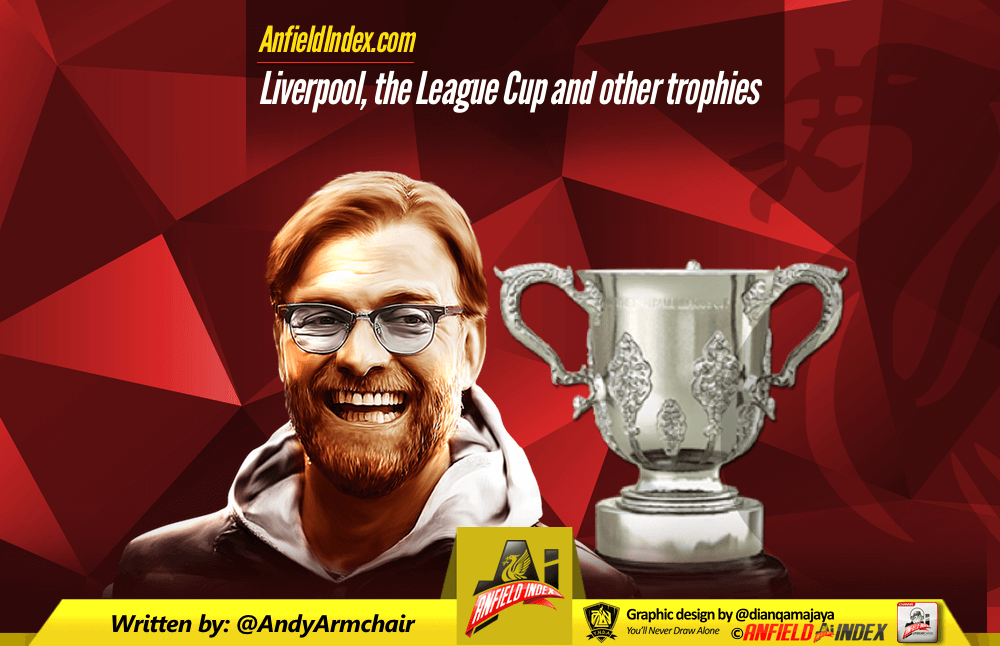 Like I said, at the beginning of the season, the League Cup is at the bottom of anyone's trophy priority list, but that doesn't mean you don't want to win it. Winning any trophy is a great feeling and if you can make it a habit, then you're on to something special. So, if you haven't lifted a cup for a while, it can create a mental block; the proverbial monkey on the back that seemed to haunt Arsenal until they lifted the FA Cup in 2014.
In isolation, winning the League Cup may not be significant, but if it is the trophy to break a barren spell or just the first trophy for a manager at their particular club, it can be the catalyst to further success. A popular example of this being Jose Mourinho's first trophy win of his Chelsea career was the League Cup in 2005. For Liverpool and Jürgen Klopp, winning the League Cup would be the clubs first trophy in four years, a barren spell by the standards of England's most successful club, and would be the first trophy of the Klopp era. So, for Liverpool, the significance of this trophy, at this time, is clear for all to see. For Manchester City it arguably doesn't hold as much significance at present, but for Manuel Pellegrini personally, it represents his most realistic chance of finishing his final season as City boss with silverware.
When I started watching football regularly, all the domestic trophies were big news because English teams were banned from European football, so the League title, FA Cup and League Cup were the only trophies available and my team were so good, I wanted to win them all, every year. Actually, as a Liverpool fan back then, you expected to win trophies, it was almost a prerequisite that Liverpool would win something. Perhaps for this reason, the 1987 League Cup final is a game that still sticks with me to this day. I recall the sense of expectation pre-match, perhaps not complacency, but certainly confidence that Alan Hansen would lift the trophy that day. This, even though it was a George Graham side they'd be playing and George Graham's Arsenal were a tough side to beat.
Liverpool started the game well and created chances, my confidence was increasing and when Ian Rush finally did put the Reds ahead, that was it in my mind. Up until that point, Liverpool had never lost when Ian Rush scored first, quite a record, especially to last as long as it did. When Charlie Nicholas equalised, I think I was more annoyed than worried, after all, Ian Rush had scored! When he scored again, late on, with the help of a deflection off Ronnie Whelan, I was in disbelief. At the final whistle, I was distraught. Charlie Nicholas, George Graham and Arsenal all became rude words for me. So yes, even though winning numerous trophies was the norm for me at that time, I was gutted at losing that League Cup final.
So will it mean a lot to lift the cup on Sunday? Of course, that's in the Michael Owen stating the bleeding obvious territory. If Liverpool lose, will I be as gutted as I was a kid back in 1987? Probably not, but perhaps that's because back then I was conditioned for constant success. If Liverpool win this League Cup final, it will not be so much about how great it feels to lift the trophy, more about the winning mentality Klopp will want it to garner from hereon in; the kind of mentality prevalent when Ronnie Moran was on the coaching staff: enjoy the moment, but then press on to win the next trophy. That, in essence, is what Sunday is about: win it, enjoy the moment, but don't spend too long celebrating because there are more trophies to be won.
Check out the info-graphic sent to us by Free Super Tips for all of the key stats for the upcoming Capital One Cup Final!