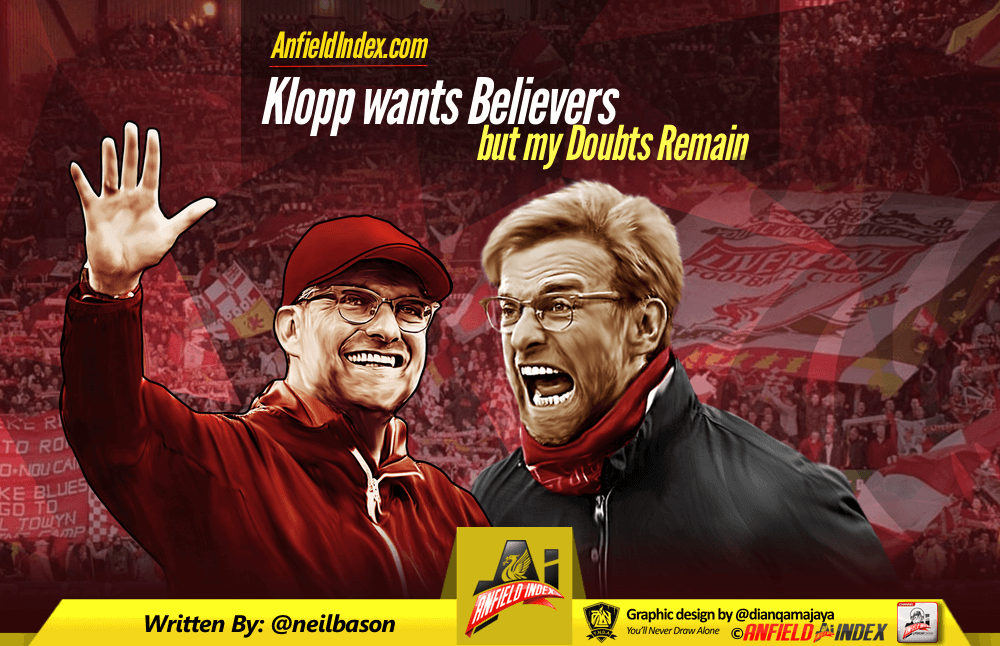 Klopp wants Believers but my Doubts Remain

I'm going to attempt to do something here that is perhaps a little alien to me when it comes to Liverpool Football Club, I'm going to attempt to write the following from the head as opposed to the heart.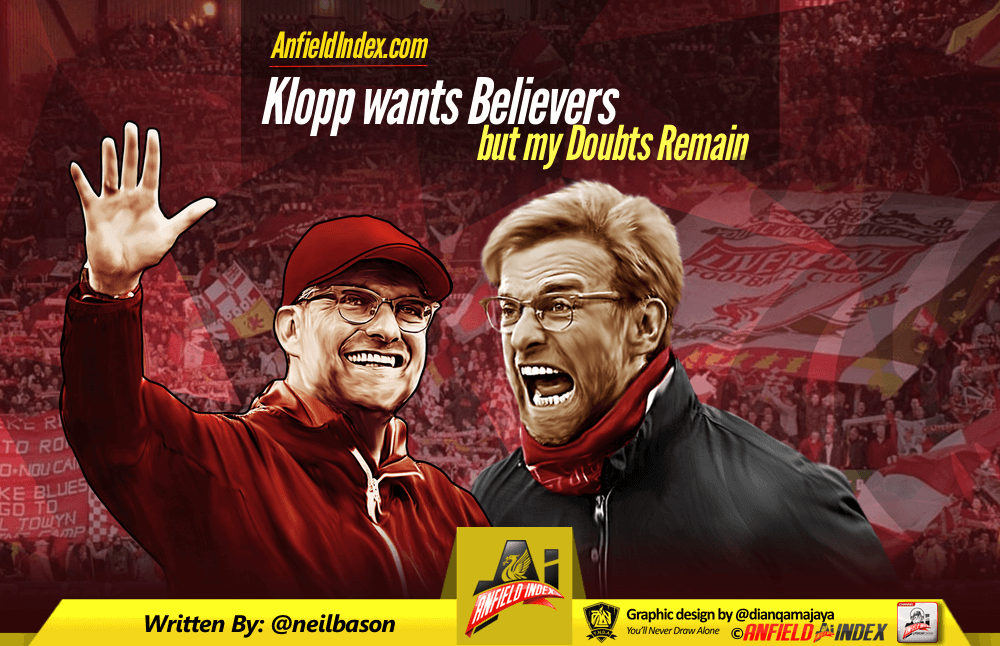 The reason for this, is that I was recently thinking about Jurgen Klopp's opening shots as club manager during that brilliantly charismatic first press conference. And in particular the much touted line about changing our perception of the side, of turning us from "…doubters to believers."
Klopp added, "At this moment all the LFC family is a little bit too nervous, a little bit too pessimistic, a little bit too much in doubt.
"They all celebrate the game and there is a fantastic atmosphere in the stadium, But they don't believe at the moment. They only see five years ago, 10 years ago, 20 years ago."
I re-read that recently, and to be fair that's not quite true. Another manager turned us from doubters to believers too, and it wasn't as long as five, 10 or 20 years ago. It was actually only two years ago and the man who changed our perception then was the now much maligned, Brendan Rodgers.
When Rodgers was announced he spoke of an opportunity too good to turn down, to work at a club that is, "…more than a club." He didn't talk about making us fans believe, but for one glorious season he did just that.
I was in a sizeable group of supporters who felt Rodgers' time at the club had run its course when the sacking was announced. I've softened towards him again since. Now I feel he deserves huge respect for taking on a massive job with a very deliberate masterplan of how to take us back to the top, and almost pulling it off. Despite how that 2013/14 season ended, it was the greatest ride we've had as Liverpool fans since we were challenging and winning league titles with unerring regularity.
And now we have the mighty Jurgen Klopp at the helm and I couldn't be happier. If ever a man was right for Liverpool in recent years, it's this man. As he stood up and left that first presser I was already a disciple, already a firm believer that what this smiling, jovial man with such huge presence was saying, was the undeniable truth.
But recently I started to think about it, and I've been left unsure as to the actual depth of my belief that Liverpool Football Club can return to the pinnacle of English football, or at least become regulars in the top four.
I know I want to believe that Klopp has the magic key to unlock our club's flagging fortunes. The only thing is, at this point in time, I also know I honestly don't believe we've got the right ingredients to achieve Klopp's dreams, or the right financial clout to build the side he wants.
When the manager arrived he said he didn't want to "spend money that FSG don't have." And added the following, "The important thing is we have speed, we have technical skills, we have tactical skills, also we have good defenders, and good midfielders and good strikers, some wingers." Now honestly, I can't help but be a believer that his opinion now may have changed.
The level of rebuilding the current squad requires is pretty substantial to say the least. Certain clubs would open the chequebook and allow Klopp to throw as much money at the problem areas as was necessary, in fact only yesterday rumour had it the next Chelsea manager will be playing with a £130 million fund. History tells us FSG probably won't be offering Klopp anywhere near that. They will most likely offer a decent kitty by today's standards, and one that were we looking like a side that required tweaking in a couple of areas would possibly see us bring in some decent names on the back of the manager's pull and push on. But we look like we need more than a little tweaking if we're to reach the next level. And it's hugely disappointing on the back of that wonderful 2013/14 season that the next level is once again challenging for the top four.
The magnitude of the task before Klopp right now can't be underestimated. I openly admit that I love the man, love his passion for the game, love his wit and his no bullshit attitude with the players and the press, and equally that he appears to genuinely care about the lads on the pitch and the fans in the stands. He is the exact spark in the dugout we needed post Brendan Rodgers. But I've been carried along on the joy that arrived at the club with his announcement as manager. I desperately want to change from a doubter to a believer, I thought I had, but having taken a step back and looked at the club in the stark light of day, the same doubts that have lingered since Roy Evans underachieved with what was a potentially great side, are still alive and kicking.
I consider myself a fan who wants to believe, who desperately wants to believe. But then I wanted that with Souness, with Evans, Houllier, Rafa, Rodgers, and when Dalglish returned (Not with Hodgson though, I knew that was a monumental mistake). I want it for us fans, I want it for the players, and I want it for Jurgen Klopp. If he can pull it off over the coming years then for me he becomes one of the greats of the club. I just fear that those ever-present niggling doubts are built on firmer foundations than the strength of our current playing squad, and the required financial backing of FSG if Klopp is to build a team that can make the manager himself believe.