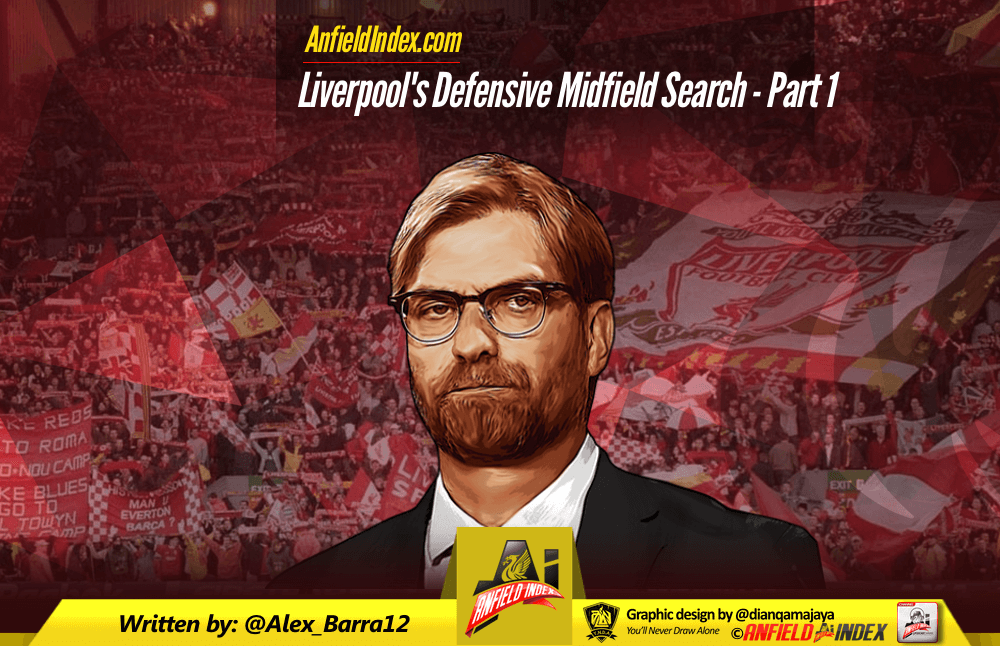 Liverpool's Defensive Midfield Search - Part 1
Remember the days? Javier Mascherano staring a charging midfielder dead in the eye, and stopping him right in his tracks, before his over-zealous rampage through the heart of Liverpool's defence could even gain the slightest bit of traction.
Remember how good it felt when the ball left Xabi Alonso's foot, soared through the air and seemed to land in the perfect space for Steven Gerrard to bury into the top corner? Or for his blonde compatriot #9 to latch onto, as the commentators bellowed their appreciation in a crescendo that mirrored the Liverpool fan on the couch, in awe of their midfielders.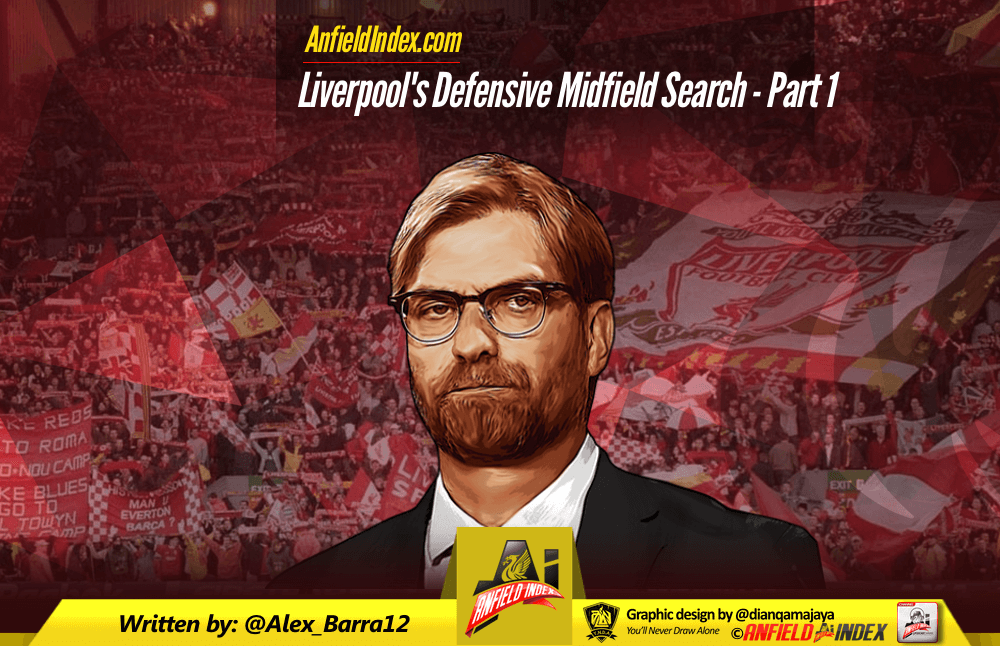 Now, the same fans have to deal with the terror of their midfield being driven through on a basis far too consistent for comfort. They have to deal with quick, pacey number 10's charging at them on a regular basis, and the space behind our marauding fullbacks being exploited. Though Martin Skrtel and Dejan Lovren make their fair share of mistakes, and aren't necessarily good at what they do, they're not helped by the situation in front of them.
That situation, though changing, is usually a midfield that is, while combative, not prone to defending counter attacks. It's exceptionally potent at pressing, and it works a treat when Liverpool transition, but the fact remains.
Liverpool desperately require a defensive midfielder.
A shield, one who's able to sit in front of the defence, whilst also able to distribute the ball, is desperately needed for Liverpool to become a proper force in the Premier League. It's been discussed, bickered about, mulled over and contested, but the fact of the matter is Liverpool need a defensive midfielder.
And so, before the reader gets all misty-eyed over the days of Xabi and Javi, let yourself be enticed by the possibilities of the future; of a controlling midfielder helping the likes of Emre Can, Jordan Henderson and Phillipe Coutinho dominate games in their own way. For all of these players to prosper, a shield is needed.
The Spanish (And Portugese) Maestros
Ignacio Camacho
Malaga's gem, a player who matches Jurgen Klopp's enigmatic style of high intensity and energy, would be an ideal fit into the German's young, developing side. He commands the presence a defensive midfielder should, but sits high enough on the pitch to be able to intercept passes before a counter-attack can fester, and his physical prowess is more than impressive too. Perhaps one of the more important traits he can have is his ability in the air; a weakness of Liverpool in recent times; and with the addition of Joel Matip to complement a would-be-signing of Camacho, the peril of high balls launched into the area would be eased somewhat.
His passing range is not the best of any defensive midfielder; but as it happens with statistics sometimes, the reality is slightly skewed. It's not necessarily that his passing ability itself is questionable; rather the audacity of passes he attempts. Though he is industrious and a hard-worker; when he gets the kind of space La Liga affords to midfielders, he has the tendency to try some rather venturesome passes, some of which don't come off. In prior seasons, his passing has hovered around the 80-85% mark, which is not bad.
Compared to Lucas, his tackling's far more consistent, his reading of the game is far superior, and he is a more accomplished dictator of tempo; not allowing players to get past him on a regular basis. He really is a tactically astute player of the game.
Not to mention he's a former captain of the Spanish U17 side that won the 2007 Euros.
The links to Liverpool come from the reported sighting of Camacho and his agent in Melwood earlier this month, and reports suggest Klopp will look to add two more midfielders to his contingent in the summer, in addition to the Serbian starlet Marko Grujic. Available for an abominably cheap fee; less than £10 million, perhaps even just £4 million, thanks to Malaga's financial worries, Camacho would be an tactically superb talent at a bargain price, and would make a tonne of sense.
Sergi Samper
Which is more reliable? Barcelona's infamous La Masia youth network, or Barcelona's riveting midfield? Trying to break through Ivan Rakitic, Sergio Busquets, Andres Iniesta and Xavi is as difficult a task as is physically possible to conjure up, yet it is the task La Masia prodigy Sergi Samper has attempted to achieve following his arrival on the world stage.
He first based his game off of his teammate and compatriot; Sergio Busquets, possibly the most underrated player in world football, though Samper's game began to take a different turn. More versatile than Busquets in ambition; he wants to differentiate himself from the pack by adapting his game to be more of a marauding defensive midfielder than a simple reader of the game, and with the way the kid's developing, there's nobody stopping him from achieving that transition. However, it is his work as a defensive midfielder which is the truest expression of just how fantastic he is to watch. Grace, guile, intelligence, and maturity beyond his years, Samper is Catalan through and through, though faces life in the limbo between Barcelona's first team and their Liga Adelante side.
With sublime technical skills and the ability to control the tempo of a game, there is no way a player of Sergi Samper's quality should be stuck playing in the Spanish second division, and equally no way he should be confined to the bench, even if it is on the best team in world football. Though people may be weary of his age, there is no doubting the kid's talent and maturity; which would be enough to see him through should Liverpool make a move.
Ruben Neves
It is unreal just how good Ruben Neves is.
No really. It is. Unreal.
To see an 18 year old – the same age as this writer, as a matter of fact – go out onto the world stage of the Champions League, and make people look at him with a mixture of bewilderment and enchantment as he bends the game seemingly to his will, is a truly staggering thing.
Now, hyperbole aside, FC Porto's midfield general is generating quite a lot of buzz, and he is certainly worth that buzz, and then some. His ability to read a game in the centre of the park is astounding, his passing range is more than impressive, his tempo-control is phenomenal and his maturity is staggering. Having debuted in the heart of Porto's midfield at a mere 17 years of age, he is the youngest player to ever captain a team in the Champions League, at 18 years old, and yet it seems like the game moves through Neves at all times. Though he isn't combative or physical, his intelligence means the right decisions, when made, take the physicality side out of it.
Remind you of anyone? Any Spanish-speaking pass-wizards who were able to receive the ball from a centre-half, glide past the oncoming big bloke and eliminate the rest of the midfield with one perfectly weighted pass? Scored a generation-defining penalty in a certain Champions League final?
That last one may be slightly off-topic, but nevertheless, Neves is not a simple carbon copy of Xabi Alonso, but they do share a lot of trademark talents. And both represent superb deals that would bring Liverpool tremendous success.
While Neves' price tag may be a tad pricey; approximately £30 million, he really is one of Europe's premier young talents; and seeing him demonstrate that in Liverpool Red would be something to behold.
Oliver Torres
Now, yes, this writer may have cheated a bit. Oliver Torres isn't your atypical shield. Nor is he even a natural defensive midfielder. In fact, he operated in the number 10 role earlier in the season for Atletico Madrid, where he came up short on a couple of occasions. Diego Simeone; with a wealth of talent at his disposal, decided to persevere with his talented number 10, and opted to play him in a deeper role, alongside the likes of Josh Guilavogui, Mathias Kranevitter and Gabi, where he could dictate play.
Nicknamed "Miniesta" – and aptly so – the Spaniard shot to life in Atleti's youth ranks at the age of 13, and hasn't looked back since. However, now coming to a point in his career where his skills are properly beginning to take shape, he finds himself on the outer at Atletico. Though his new deeper role found prominence with his own game, he continues to be shifted in and out of the starting lineup; alongside the likes of Saul Niguez and Gabi.
Though he became one of the most technically gifted players Atletico possess, he has only started eight La Liga games this season, and has not been able to produce the consistency he'd like. The trouble comes in the role Oliver Torres exceeds at; the Xavi role of sitting deep and controlling a midfield. It is a role that does not fit into Diego Simeone's tactics at Atletico Madrid, and as such Torres has been deployed out wide on multiple occasions, to little effect.
Possessing a wonderful eye for a pass, the ability to distribute the ball quickly and intelligently and potency on both feet, the 21-year old would be an immense addition to Liverpool's midfield contingent, where Emre Can could sit deeper at the base of the midfield, next to the distributor in Torres. He occupies space and reads the game exceptionally well too. Alongside the Spaniard, Can's steel and drive would have the passing acumen and flair to properly prosper.
A midfield enhanced by the presence of the technically gifted 21-year old would be one mouth-watering prospect, that's for sure.
*Stay tuned for Part Two of this piece, where the writer focuses on German talent (plus one Brazilian) which could bolster Liverpool's midfield.