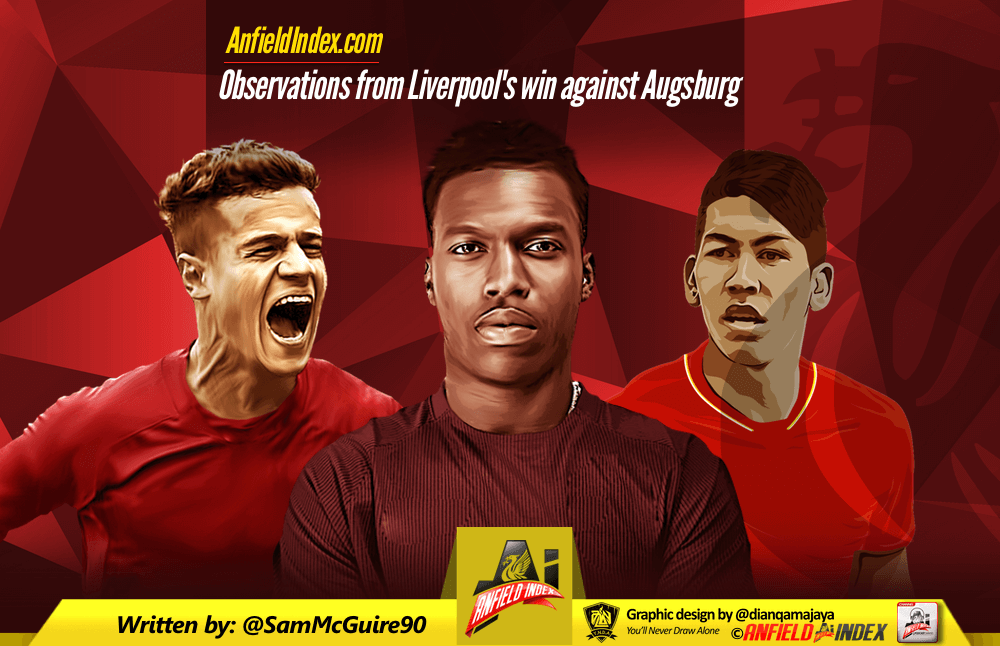 Observations from Liverpool's win against Augsburg
The Reds progressed into the next round of the Europa League after a hard fought 1-0 victory against Augsburg. It was never going to be easy for Liverpool, but after taking a four th minute lead courtesy of some generous officiating and an ice cold finish from James Milner, many hoped the team would really kick on and put the Germans to the sword. Instead, the final ten minutes were nail biting as Augsburg were millimetres away from curling home a free-kick.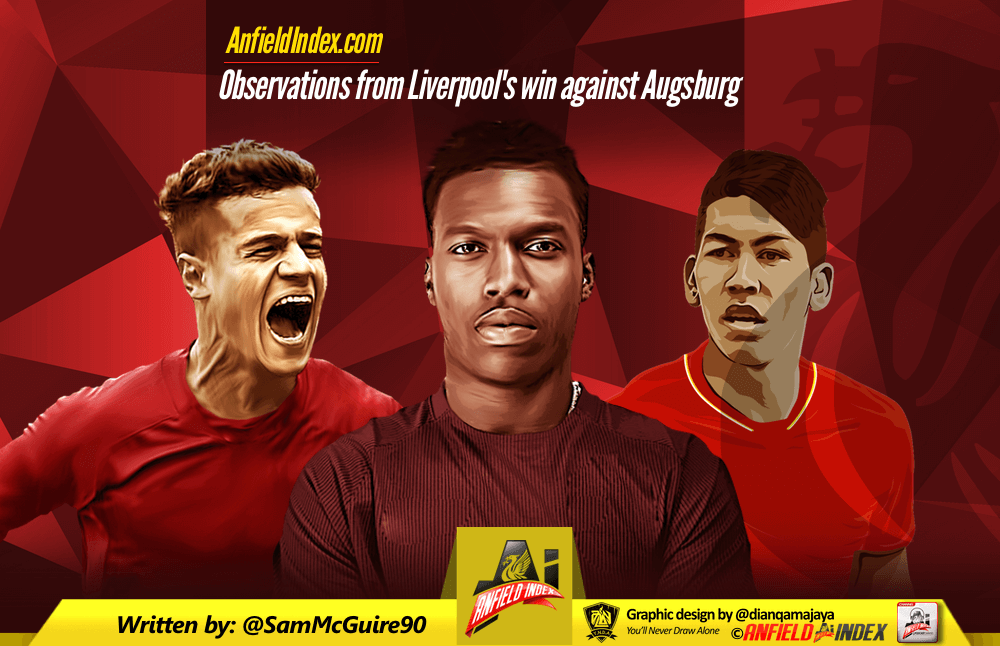 Daniel Sturridge, Roberto Firmino and Philippe Coutinho all got more minutes under their belt as an attacking trio. You can see they're becoming more familiar with each other's movement having needed time to adapt to the third musketeer, Firmino. There were flashes of brilliance throughout the ninety minutes as Coutinho made the most of the movement ahead of him, Firmino made the most of the space centrally and Sturridge made the most of not having to do as much leg work. On another day, all three score.
Daniel Sturridge takes Liverpool up another level.  Since the hit-man returned against West Ham in the FA Cup, Liverpool have looked like a completely different outfit in attack. There's movement, there is a cutting edge that has been missing all season and there are signs of a relationship between the front three; a cohesive unit that will scare teams, something Liverpool have been severely lacking with Sturridge out injured. Alongside Coutinho and Firmino Liverpool have this Dortmund-esque feel about them when they're on the attack.
Lucas as a centre-back. Klopp's reasoning for this before the match was because he wanted Liverpool to be able to pass out from the back. Is this a role that the Brazilian will be filling next season as a squad player? With so many midfielders being linked with a move to Anfield it's hard to envisage Lucas getting many minutes in his natural position. Could Klopp be using these games as an audition for where Lucas may be playing next season?
Lucas divides attention and so will his performance tonight. Those that like him will say he had a solid performance at the heart of the defence making vital blocks, reading the game well and starting attacks from deep, whereas those that want him gone will highlight the fact he went walkabout within thirty seconds of kick-off, he under hit that pass to Mignolet and he was the one to give away the free-kick in the dying moments that they nearly scored from. Augsburg's three best chances came from a Lucas mistake.
Erratic midfield. It has been noted many times already this season that the Liverpool midfield is lacking quality, and yet again it was highlighted that the three in midfield failed to dominate an average Augsburg side. At times, it was like the ball was a hot potato that nobody wanted for very long. There was no composure, nobody really dominating that area and against better sides in Europe it will be a problem.
Still no sign of Christian Benteke. The £32.5 million striker has fallen behind compatriot Divock Origi in the pecking order at Anfield. It's got nothing to do with quality and everything to do with style. If the teams performed well for sixty minutes but you need to replace Sturridge to keep him fresh, you're more likely to replace him with Origi as it's a like for like replacement as opposed to Benteke, who would need a completely different attack built around him. Will the big Belgian get anymore starts at Liverpool if Sturridge and Origi stay fit?