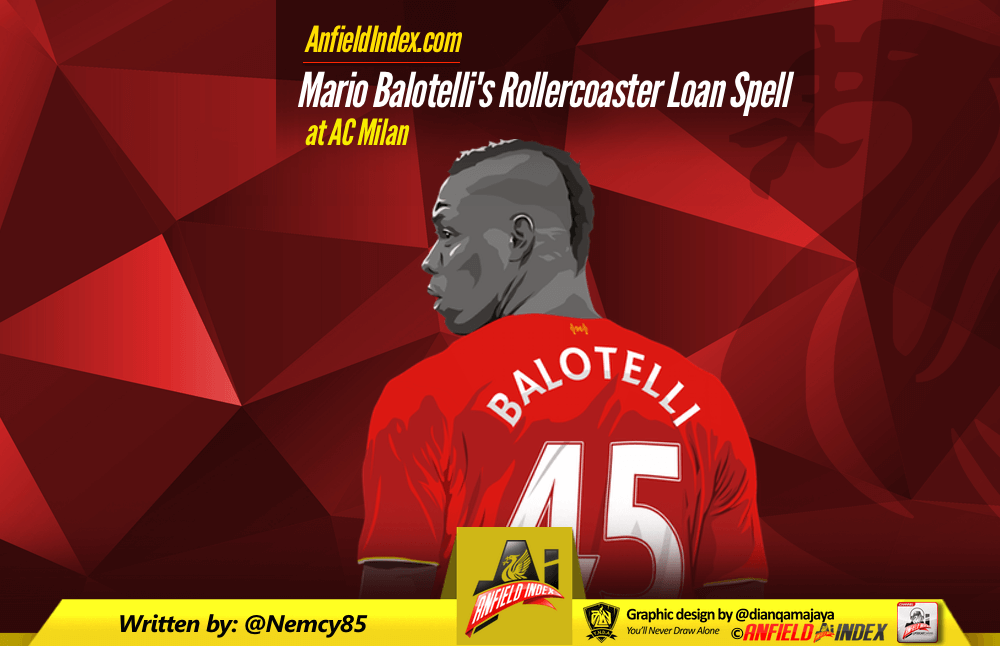 Mario Balotelli's Rollercoaster Loan Spell at AC Milan
Different paths, same direction. No matter which road Mario Balotelli decides to take, the finish line full of praise and success always seems to end up as an unreachable target for much maligned forward. To reach there, all he had to do was follow the signs and the instructions of others who have experienced it and reaped the rewards from it, but Balotelli simply never did. He created obstacles for himself on that road and managed to stumble on them over and over again, without ever really trying to avoid them and overcome the struggles he faced upon.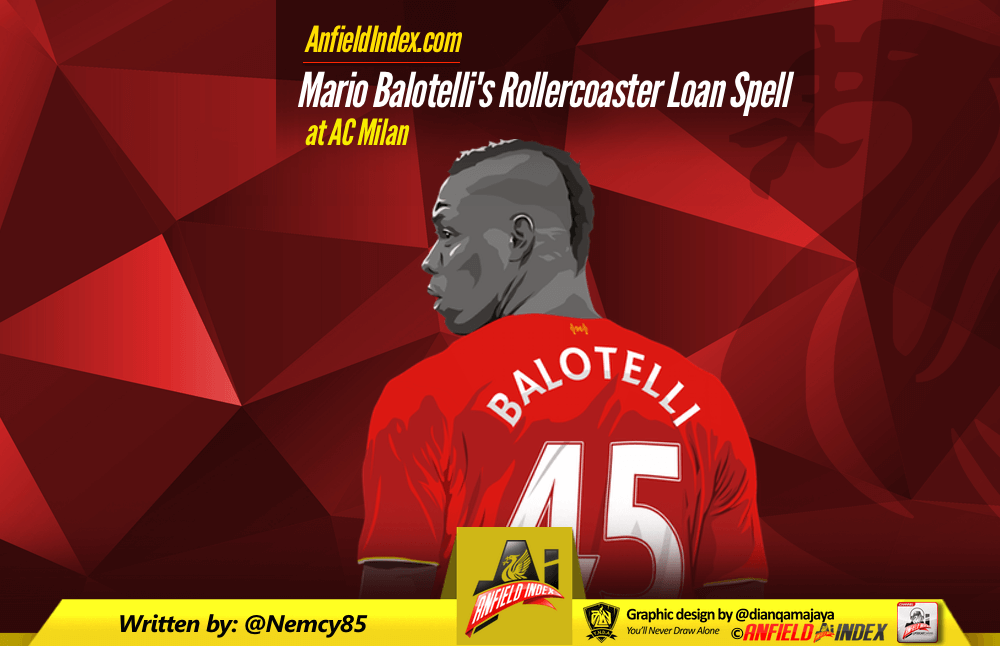 Luckily for him, there were always those who were willing, and some might say delusional enough, to think and believe that under their guidance and tutelage they could get Mario back on track and lead him to reaching his full potential. Roberto Mancini, Jose Mourinho, Massimiliano Allegri, Clarence Seedorf, Cesare Prandelli and Brendan Rodgers all tried and all ultimately failed to tame him.

However, on that road you can apparently ran into some "romantics", who are keen in giving Balotelli another chance. "As Italian song-writer Antonello Venditti says, certain loves never die. They draw enormous circles and then they come back'. President Silvio Berlusconi and I are two romantics," – This is how AC Milan CEO Adriano Galliani explained his decision to bring Balotelli back to San Siro a year later after they sold him to Liverpool. It was another strange and surprising twist in a tumultuous career of the much maligned Italian striker.
Before, there was a saying that Mario Balotelli is the only player in the world who is making people happy when he arrives and even happier when he leaves. For the first time in his career this might not be true.
Sure, Liverpool were happy to offload him after having such a dreadful spell at Anfield where he only netted 3 goals in all competitions, but the fact they sent him on a loan with an option to buy to the same club from who they bought him for £16m and with still paying 50% of his wages, caused the Reds fans to feel that their club were double-crossed with this deal.
For Rossoneri fans on the other end, in the addition that the move was considered as an odd one, it was also seen as an unnecessary one too.
Milan have already been well equipped in the attacking department with the new arrivals of Carlos Bacca, Luiz Adriano and with Mbaye Niang returning from a fruitful loan spell at Genoa. They were also counting on their last season's best player Jeremy Menez to add more competition and depth once he fully recovers from his injury.
With all this in mind, the opinion of a vast majority was that Balotelli simply has no place in this team, but given the favourable terms of the deal there were a lot of those who didn't think that having an additional forward in the team could harm Milan in any way. All in all, it was a relatively quiet deal in Balotelli's standards.
Head coach Sinisa Mihajlovic reportedly also gave his approval on Mario's arrival and was willing to test his patience, nerves and his man management abilities on the player. It's not like he didn't know what he was getting into as he had an opportunity to work with Balotelli in the past during his days as an assistant coach at Inter.
Nevertheless, the Serbian tactician was supportive towards the player from the start of his second spell at Milan, but was also sharp-cut with his demands and with his expectations from him. Mihajlovic stated that the player will only feature once he is  fully fit, committed both on and off the pitch and alwaysprepared to sacrifice himself for the team.
Due to his late arrival in the summer transfer window and a lack of fitness, Balotelli missed AC Milan's first two opening games in Serie A and was given his first start in a friendly game against Mantova. It took him less than three minutes to score a lovely goal from distance to give his side a lead, and also had a hand in the other two AC Milan goals in this match. He assisted the second and his side were awarded with the penalty after he was brought down in the box. Strangely he allowed Luiz Adriano to convert from the spot instead of taking it himself.
Ten days after, it was time for another Derby della Madoninna clash between Inter and Milan and Balotelli was on the bench. The Rossoneri were one goal behind and Mihajlovic decided in the 72' minute of the game to put his faith in Super Mario in attempt to salvage something from this match.
Balotelli didn't score and Milan lost, but in those less than 30 minutes of action, Mario showed more than he did in a whole previous season for Liverpool. He was aggressive, determined and ever-present on that night. He was actually dribbling past his opponents, winning duels and creating chances for his teammates. With one of his two shots at goal he could have won a massive point for Milan but was unfortunate and denied by the woodwork. It was an effort and a performance which Mihajlovic and Milan fans wanted to see from him and the talk of seeing him in the starting lineup next week immediately followed.
However, the Serbian boss did not succumb under that pressure and said that the player is still not physically ready to feature from the start and only gave him another 20 minutes against Palermo in the following weekend. Although he was not that influential in that particular game as he was against Inter, Balotelli did things on the field which were required from him by his head coach. His technical skills and the ability to hold onto the ball in the last minutes helped his side to come away with a 3-2 win against Palermo and Mihajlovic praised him after the game as well as his efforts in the training.
With fans eager to see if Balotelli really did change and with Mihajlovic being convinced with his hard work and with his displays in the past games, Mario was finally given a starting berth against Udinese in the next round and he did not disappoint.
In fact, Balotelli was voted as a man of the match in Milan's 3-2 victory, with his free-kick goal opening the game. But the goal was only a part of his story in the match against Udinese as once again he demonstrated that he can be a crucial player for any team when he has the right approach and focus like he did in this game. He was comfortable on the ball and nobody could dispossessed him without committing a foul and he always looked to be a focal point of his team's attacks. Another positive thing which can be drawn from this match, was that Mario didn't respond to provocations and dirty fouls from the opposing players, which is a thing we weren't accustomed to see before from him.
When you put the word euphoria and the name of Mario Balotelli in the same formula the outcome of that combination will most likely backfire at you and results could be catastrophic. Those who had the experience of having the player in their team know this and that's why Milan fans and their head coach didn't shower Balotelli with praises after his latest performance.
Still, in those silent laudations you could hear the whispers coming from the media and others suggesting that Italy's head coach Antonio Conte should pay more attention Balo's recent displays for Milan.
Rossoneri's next match was against Genoa and it ended in disappointing 1-0 defeat and Mario played another full 90 minutes on the pitch, but he couldn't do much as Milan were playing with 10 men on the field for more than one half. The 25-year-old striker was left often frustrated and isolated in Milan's attack without any real support from his teammates. Even under such circumstances he didn't stop trying and throughout the game he was looking for a way to endanger the opposition with his runs and shots but to no avail. Nobody could however point the finger at him for this defeat as he was one of the rare players who put in a decent performance on that day.
On the road of one professional footballer, there is one obstacle which often appears and on which many players stumble upon and struggle later get back on track – the injury. For Mario Balotelli this was relatively an unknown enemy, an obstacle which was not created by him and it came in the worst possible time, just when he was about to cement his place in Milan's starting lineup and after producing some admirable performances.
The groin injury he suffered required a surgery and it kept him off the field for more than three and a half months.
During his time off, Bacca and Niang found the right chemistry between them, forging a strong a partnership in Milan's attack and the team have raised their form and improved their results. All without the help of Balotelli and once again he was forgotten and not needed.
When he did return, he had to start all over again, to impose himself and win the trust of his coach, but it looked like he didn't have that motivation which graced him when he returned last summer. Mihajlovic gave him only three minutes against Fiorentina and another 23 minutes against Empoli. However, unlike prior to his injury and the first minutes he made this season, you simply couldn't see the same effort and desire from Mario.
Coppa Italia match against Alessandria proved this with Balotelli starting the game for the first time since the injury. Despite the goal which he scored from the penalty, Balotelli put in a mediocre and a sapless performance.
It was his last start for AC Milan since then and in the next five games he spent only 76 minutes on the pitch after coming on as a sub. In a game against Genoa where Mario only played in the last moments of the match he managed to provoke his own head coach who was raging after his team almost threw away their lead in the last seconds and Mihajlovic identified Balotelli as one of the players who were responsible for that.
It seemed that a certain love died in that moment and that the "good old" Balotelli is back, squandering another chance in his career.
With Bacca and Niang performing well and with Jeremy Menez slowly returning to action after his long-term injury, chances of seeing Balotelli more frequently in the first team are decreasing further.
What's next for the controversial Italian? Will he stay at Milan or return to Liverpool or will he be sold to some of the Chinese clubs? Who knows, but one thing is certain, Mario Balotelli is once again alone on the road under his own terms and with his self-created obstacles.