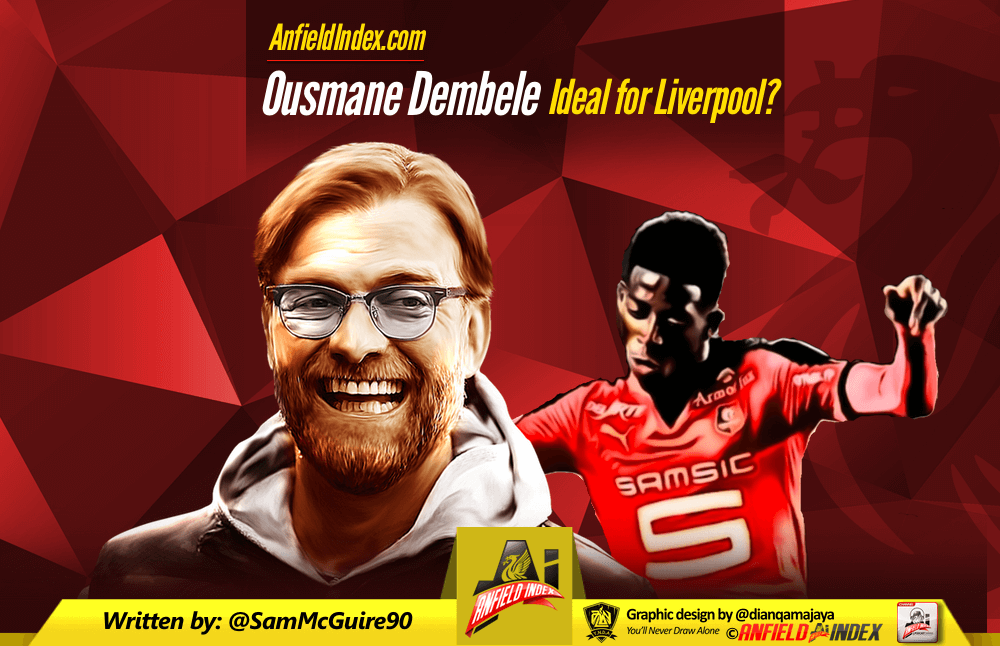 Ousmane Dembele - Ideal for Liverpool?
Liverpool's past endeavours when signing players with 'potential' seems to have put many fans off going down that route again. If you mention a young player to the fans that isn't already in the academy you're likely to be met with a response along the lines of "why not buy *insert a name of an already established player* instead of paying for potential?". They seem to forget the Reds made their name turning players into stars.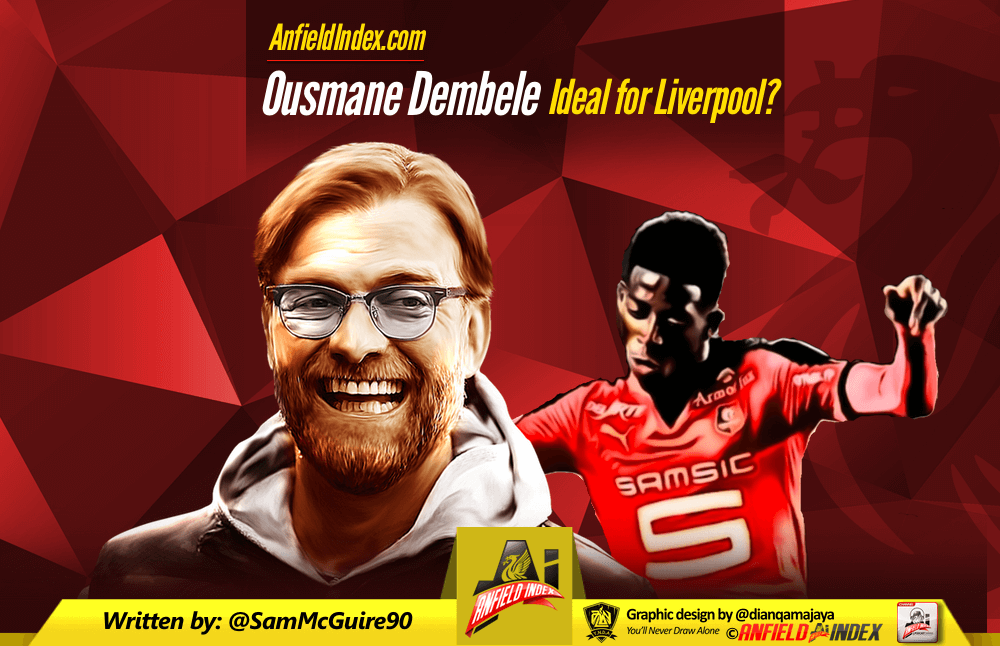 The signing of Philippe Coutinho restored some faith but 'just when you thought it was safe to go back into the water' Liverpool spend £20 million on Lazar Markovic and fans are once again fearful of that word. Potential.

Those of a nervous disposition should probably stop reading now as the player this piece revolves around is Ousmane Dembele.
The Rennes winger only made his first team debut for the French club in November but he's made such an impact that there is an outside chance he will make the French Euro 2016 squad. Quite the achievement for the 18 year  old when you consider just how stocked France are in the attacking department with the likes of Alexandre Lacazette, Antoine Griezmann, Karim Benzema, Anthony Martial, Kingsley Coman, Nabil Fekir and Paul-Georges Ntep.
Liverpool lost an exceptional talent in the summer of 2015, Raheem Sterling, and they failed to replace him. Supporters of the club seemed to believe Jordon Ibe would be that player but his inconsistent form and unwillingness to get in behind has left many pondering what's in store for the Liverpool no. 33 moving forward.
Signing Ousmane Dembele would fill the Sterling shaped hole in the team that many are refusing to acknowledge.
Yes the club has Jordon Ibe, Divock Origi and Lazar Markovic but injuries, inconsistency and the fact all have different traits will play huge roles next season so the club need to be better prepared as they look to make an assault on the top 4.
Strengths
The talented youngster has an abundance of strengths that would make him appealing to Liverpool.
Explosive pace, great vision, he's always positive when he has the ball, he likes to get in behind so stretches the play as opposed to always needing the ball to feet, he's tricky with great close control, and it's his calmness in front of goal that has lead to him scoring goals this season.
Raheem Sterling played a big part in the 2013/14 season and it was his pace that threatened teams. They couldn't push up onto Sturridge and Luis Suarez because of the threat of Sterling running in behind and it's this sort of thing that Dembele would offer you. Teams won't want to squeeze up onto Coutinho, Firmino and Sturridge when they all drift because the threat of Dembele getting in behind is a worry. You then see the likes of Firmino and Coutinho getting more time and space in the half space (number 10 area) and teams are punished that way.
He's by no means just a pace merchant though. If teams are playing a deep line with no space in behind Dembele seems comfortable playing in front of the defence and threading passes in between the lines. He's also a very efficient dribbler, completing 4.8 of them per 90. Sit deep against this guy and he'll just dribble past you.
The versatile winger, who can play both on the right and left hand side as well as upfront, creates an impressive 2 chances per 90 and makes 2 key passes per 90. This coupled with the fact he's scored 5 goals and has 2 assists to his name in just 1034 minutes is why he's getting noticed.
Paris Saint Germain want to bring him back home as he's from the area. The likes of Monaco, Arsenal, Manchester United, Chelsea and Leicester are all rumoured to have been watching him as many look for the next Riyad Mahrez in France.
Weaknesses
Of course he has many weaknesses like all players do, especially young ones.
Due to his age he can be inconsistent. His pass success rate is in the 60's but that could be due to the fact when he's putting crosses into the area they're being headed away. He often tries to dribble his way out of danger and can lose the ball when a pass is on. The winger has been accused of being greedy but this is more down to inexperience than anything. Think Cristiano Ronaldo during his first season with United when he'd take one too many touches. With time his decision making will improve.
Defensively he's not the best but that's something that can be worked on and would have to be improved if he were to join Liverpool. He currently averages less than one tackle and one interception per 90.
Do the deal
Many French journalists believe Dembele is just as talented as £50 million Anthony Martial but he'd cost a fraction of the price because of the team he plays for. If he were to go to the Euros then it'd certainly add a few million to his valuation. What's interesting though is the fact he's only got two years left on his Rennes deal. The French side may look to cash in on him this summer. 15 million Euros may be enough to entice them to sell if it means they can keep hold of Ntep.
He's not like for like with Marco Reus but think of the role the German played in the Dortmund side, wide left cutting in as BVB hit teams on the counter. That's the role Dembele could fill for Liverpool.