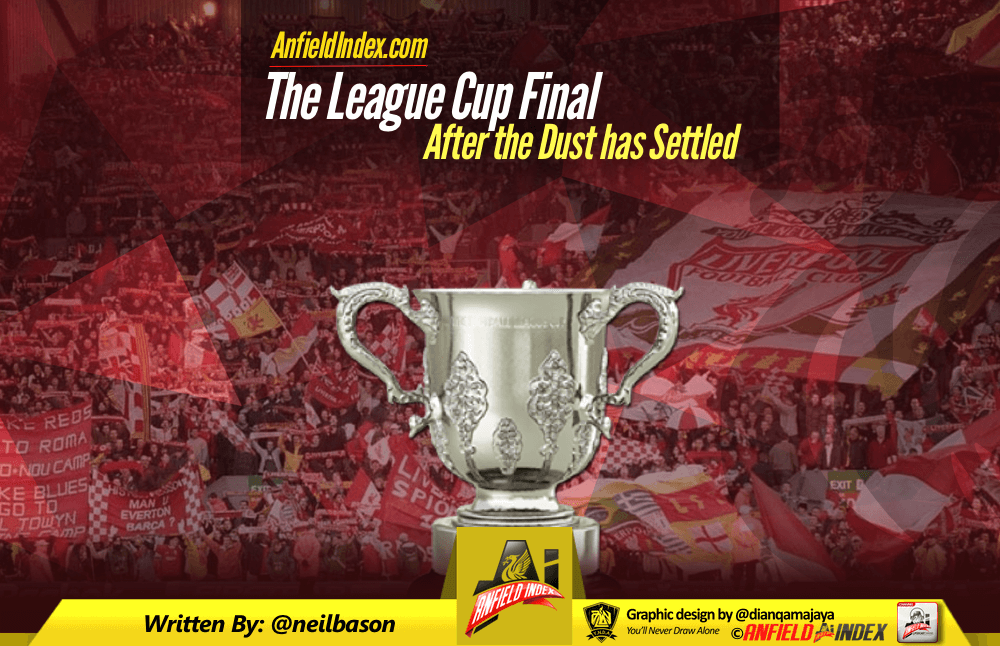 The League Cup Final - After the Dust has Settled

There's little more painful in sport than the Cup Final defeat.
As Liverpool fans we've seen both sides of the coin. Jubilation and despair. Unfortunately, on Sunday at Wembley, it was despair.
Penalties, we don't lose them do we? And after Fernandinho hit the post with his first I foolishly thought we had our name on the cup. Sadly it wasn't to be and we're now left to dissect the day and ask where it went wrong, what positives we can take forward, and what we need to leave behind?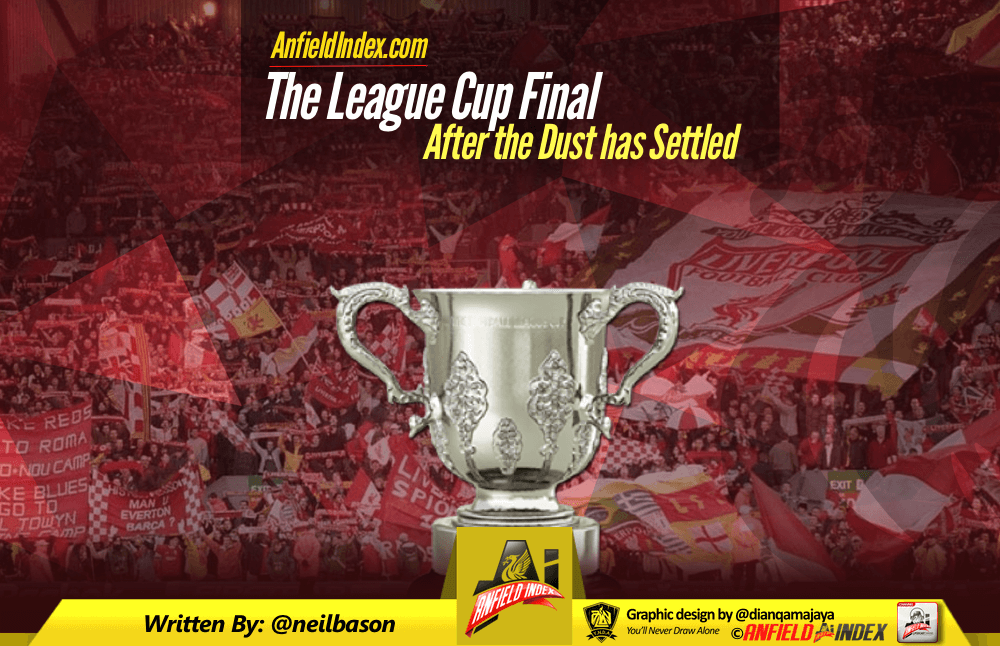 Lucas Leiva, Central Defender Extraordinaire. A bonus, or a worry?
Honestly, Lucas in the heart of defence has been nothing short of a revelation. I never would have thought any good could come from playing our one-paced Brazilian as a central defender. But, he's been outstanding.
Against City he was a warrior. Winning headers, hitting with tackles (some of them even well-timed), playing with sense and an unbreakable calm from the back, and carrying the desire to win that was bursting from every Liverpool fan watching on. He was everything we've lacked in that area all season, almost Captain-like you might say, and at the end he, above all others, deserved a winner's medal for his efforts.
Can Lucas stay there? Should he stay there when others are fit again?
For me, let him carry on. The fact that our former midfield stopper, Javier Mascherano, made the switch successfully shows it can be done. That the heart of the defence, even in England, doesn't necessarily have to be six foot plus and physically dominating. Lucas has been considerably more effective as a defender this season than he has in the midfield, and although it's early days, his performances suggest he's comfortable there. I'm sure his legs agree.
But, on the flipside, doesn't the blossoming of Lucas as centre back only further highlight just how lacking we are in that area of the pitch?
Our defence has been a cause for concern all season. Now to have a midfielder show them how it can be done is massively worrying in my eyes and cements everything that has been said previous.
Sakho is widely regarded by many fans as the cornerstone to the defence, and whilst I agree he can be magnificent on his day, he also has the ability to produce some utterly dreadful performances at the drop of a hat, or the trip of his own feet as is often the case.
Sakho, Lovren, and Skrtel have stumbled all season. Lucas has highlighted it. Klopp knows of course, hence Matip is already signed. Then we have Joe Gomez, displaying class prior to injury, to return, so the future already looks like it might brighten up.
Lucas performances are a double edged sword for Liverpool. We have a player doing the sort of job that has been missing this season, but it also crystalizes the failings of the current central defence to an embarrassing degree.
Alberto Moreno is no defender
I don't want to go on too much about Moreno, I've already had a pop or two this season, but our left back really winds me up. Mingolet's error aside, the most pissed off I was on Sunday was watching Alberto Moreno play football. The fact that he plays as a full back and shouldn't really be in a position to instil so much rage, speaks volumes.
We had John Flanagan on the bench and Alberto on the pitch, hopefully this soon rectifies itself.
Defensively naïve, frequently out of position, occasionally to the cost of the team, and, if we're being honest, offers next to nothing going forward. If he was a flying wing back capable of terrorising the opposition with zipped crossed and thunderous shots I might forgive him some of his defensive frailties, but he's absolutely not.
Almost cost us a penalty, should have really, with some weird reverse tackle that spoke of a player lacking any intelligence, loves to fly in to tackles from behind even when a team mate has the situation under control, rarely beats a man and produces anything of substance, and, on and on and on…
Please, Alberto No-more-eno.
Some light in the gloom
Enough moaning (not easy post a Cup Final defeat), let's look at positives.
The front three are only going to get better as a unit. At times the play was quick and incisive but lacked the final killer pass. Firmino was superb in both work rate and technique, Coutinho always has the ability to excite and showed glimpses of his skill in patches, and Sturridge just needs time to get back into the flow.
For all the shouts that Jordan Henderson is no captain, I thought yesterday he gave everything for us. We'll never know why he wasn't stepping up for a penalty, but his display warrants some respect. For me he's not a player we can build a team around, but he can be an integral part of the Klopp masterplan going forward and yesterday as so many times before, he left everything on the pitch.
I also believe Can will be another integral part. Yesterday he put in a good performance. Workmanlike peppered with moments of sublime skill and vision. Again he's not enough to be the focal point of our midfield, but he has a big role to play.
And I really like Clyne, the pace of Moreno but with the head of a defender. Considering he's in season one the future looks bright at right back.
Going forward
With Liverpool it currently feels like the framework is in place but there are no foundations on which to build anything of substance. The spine of the team is as weak as I've ever seen, we have a lot of good players but few, if any, who can be considered great. Where's the player that goes and grabs games by the throat and drags us over the finish line as winners? Oh yeah, he's in Barcelona, he's in L.A. and he's on Sky. This is what needs addressing first. Build the spine with the players that can elevate the likes of Henderson and Can whilst equally taking some of the pressure off them to be the match-winners.
On paper we have a potent front line, but the issues arise behind them and start at the hands of our goalkeeper. He made a couple of great saves in the final and some suggested that made up for his earlier, very costly, blunder. It didn't. I would argue that those saves are what he's paid to produce and if he hadn't ballsed up the basics beforehand it could have been a very different game.
Sakho went off after that clash of heads and we didn't miss him. In fact if anything I realised later I'd had a lot less Liverpool induced heart in mouth moments. That spoke volumes for me too, and I hate to say it but I don't see him as a long term solution at centre back, regardless of his passion for the club.
The midfield needs work. The mix of good, and average players lack the ingredients to dominate the opposition physically or the flair and nous to unlock them. We've a hard working midfield at present that needs a Xabi Alonso type player to lift them out of the two dimensional play currently on show.
It's a pretty bleak picture from the keeper through midfield, but as I've stated before, this a strange season for us. The manager is currently working with someone else's jigsaw pieces and trying to squeeze them into his own puzzle. That won't always be the case. So, I suggest we embrace the only option open to us and buckle in for the last twists of a long winding season and keep our fingers crossed for a fruitful, busy summer ahead.