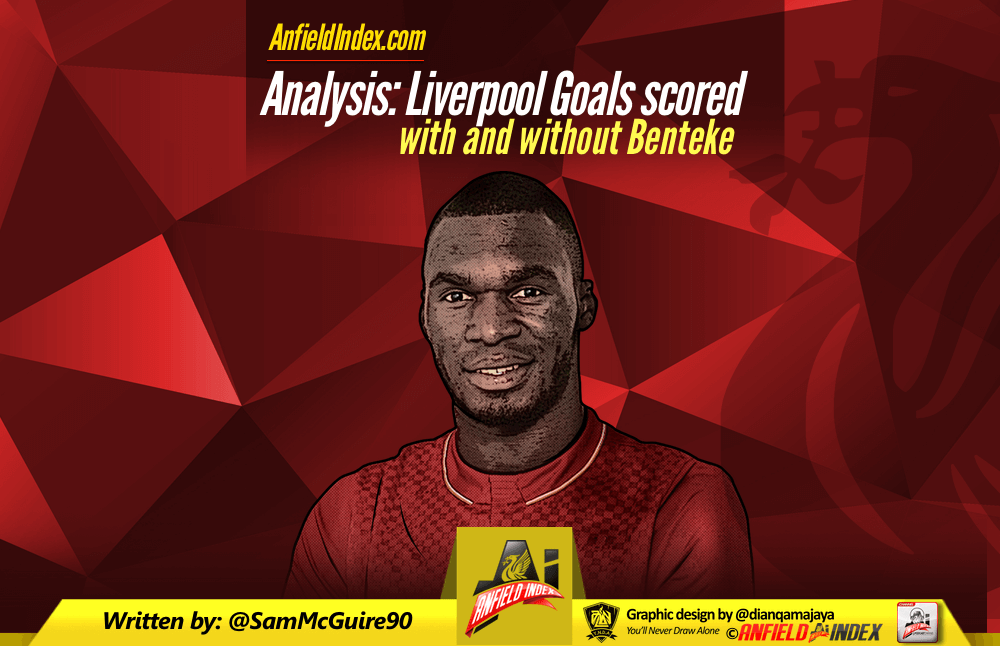 Analysis: Liverpool Goals scored with and without Benteke
Christian Benteke has had a mixed debut season with Liverpool. From the match winning goals to the many missed chances, he's really showed why every single Liverpool fan was 'right' about the Reds signing him this summer.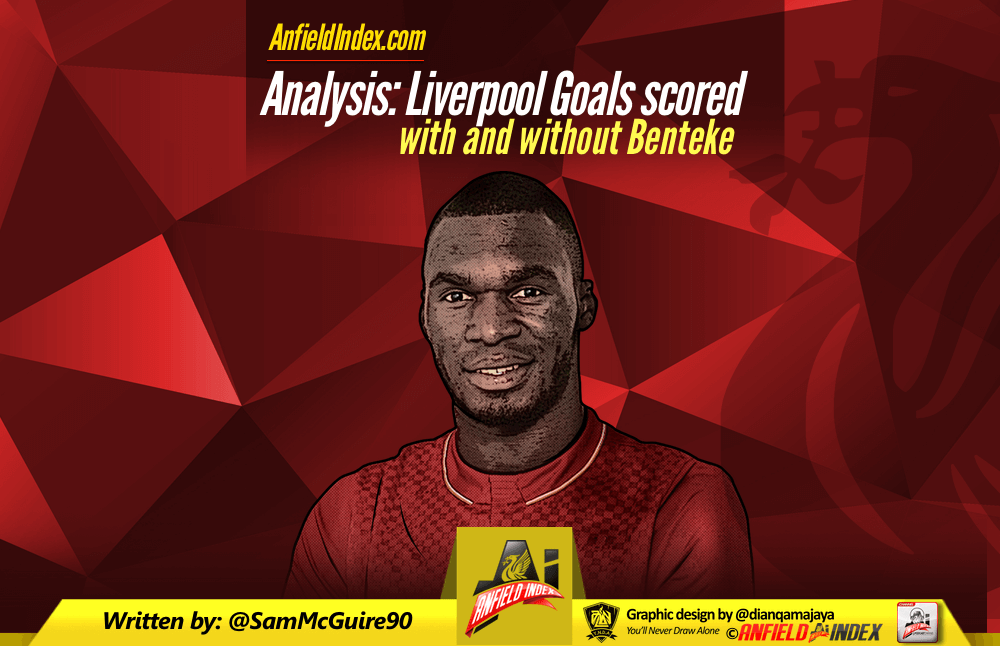 On one side are those that wanted him for his 'goals', and yes he does score goals and win you games.

On the flip side to that though are the ones who thought goals aside he offers very little else and doesn't really suit the style of the players behind him, and yes it been abundantly clear as the season has wore on that both of these concerns were valid.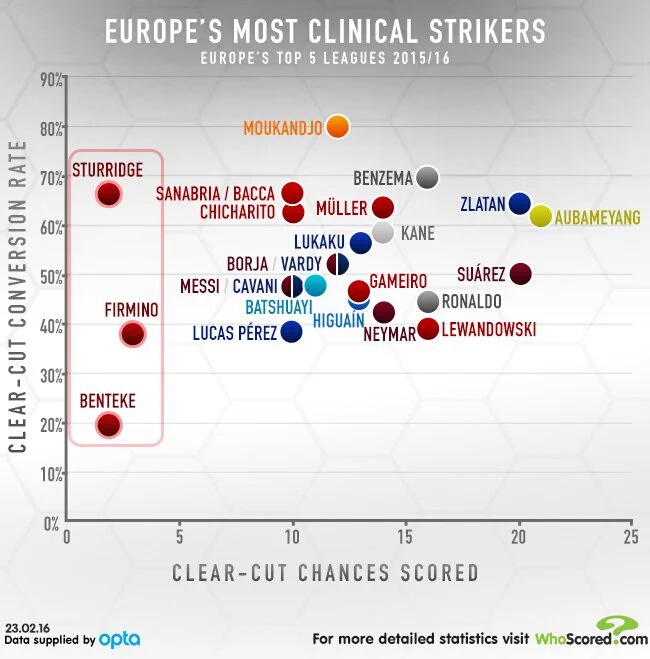 (proof that yes he does miss chances)
This got me thinking: can a player score regularly and still be a negative for the team?
Can an individual really have that much of an impact on a system?
Before his big money move to Liverpool he was an Aston Villa legend. The Belgian international had scored 42 goals for the Midlands club in just three Premier League seasons. Impressive numbers, right?
Upon closer inspection though these stats start to unravel. In the 2012/13 season, his debut in the Premier League, Benteke scored 19 goals the minutes played that season added up to 31 games. His 19 goals arrived in 15 games meaning in 16 games that season Benteke didn't score. Villa on the whole that season failed to score in 12 games. Basically if Benteke didn't score neither did Villa and that's why his goals made up 41% of goals scored for his team that season.
The following season, the 2013/14 season, saw the striker miss 12 games due to various injuries. His goal return for the season was 10 goals and the league minutes played totalled 23 full 90 minute games. His 10 goals arrived in 8 league games, meaning he failed to score in 13 league games that season and Villa failed to net in 16 that season. Villa scored 17 in the 8 games Benteke scored in but only 39 throughout the season. If Benteke wasn't scoring the rest of the team seemed to struggle too.
His final season with Villa yielded 13 league goals, once again it was 41% of the total goals Villa scored that season. These 13 goals arrived in 9 games and he played enough minutes to total 26 games worth. Villa failed to score in 19 league games that season and Benteke missed 8 games through injury.
Aston Villa as a club averaged 1.02 goals per 90 in the three season Benteke was at the club. Benteke averaged 0.56 goals per game in the total minutes he played for Villa. Without Benteke this season Villa are 0.8 goals per game.
Onto Benteke at Liverpool.
The no. 9 has played 15 90 minute matches for his new club. In these 15 games Liverpool have scored 16 goals with Benteke getting on the scoresheet on four occasions. There has been four matches in which Liverpool failed to score in and it works out that the team average 1.06 goals per game when Benteke plays the full 90. These games include the two FA Cup games against Exeter.
Without Benteke starting Liverpool have played 24 matches. In these 24 matches they've scored 39 goals and have failed to score in six matches. The goals per game number is 1.6.
The sample sizes aren't ideal and more data is needed for his time at Liverpool but without Benteke Liverpool are 0.54 goals per game better off. Obviously there is some crossover as Benteke has came off the bench and scored on two occasions. but the fact of the matter is :
Villa with Benteke at the club – 1.02 goals per 90,
 Villa with Benteke starting – 0.83 per game,
Villa without Benteke starting – 0.7,
Liverpool with Benteke starting – 1.06 goals per 90,
 Liverpool without Benteke starting 1.6 goals,
Liverpool as a whole this season 1.41 goals per 90.
There's no doubting the fact Benteke scores goals but does his inclusion subtract goals away from the team?