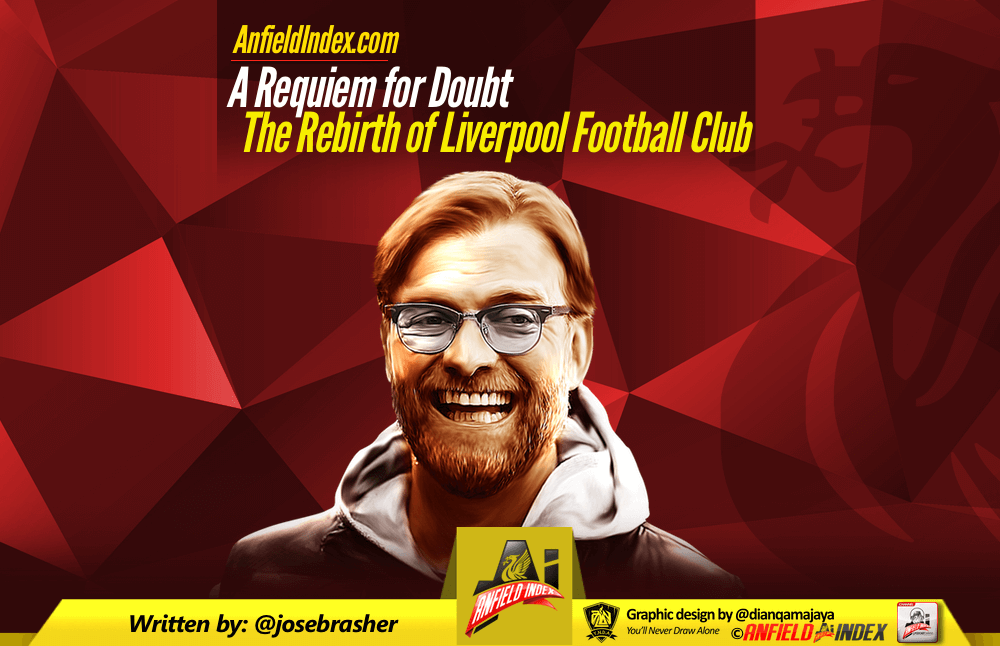 A Requiem for Doubt: The Rebirth of Liverpool Football Club

As Yaya shot, the nylon net swished, and the dream was dashed for good. Heaps of red clad players sat silently, some lurched over in exhausted pools, others stared blankly into space as if they were too tired or dismayed to process what had just happened. This can't be how it ends, can it? After all the build-up, all the hope, all the vitality in the run up to the shootout, after all the Mignolet saves and thwarted attacks, our last hope lay at the feet of an angry Ivorian who lived for these kinds of moments, likely because his effort threshold is usually low and this was his kind of set up: minimum effort, maximum glory. The wrong Toure was a hero that night and Liverpool had lost the final. But why did this feel so…different?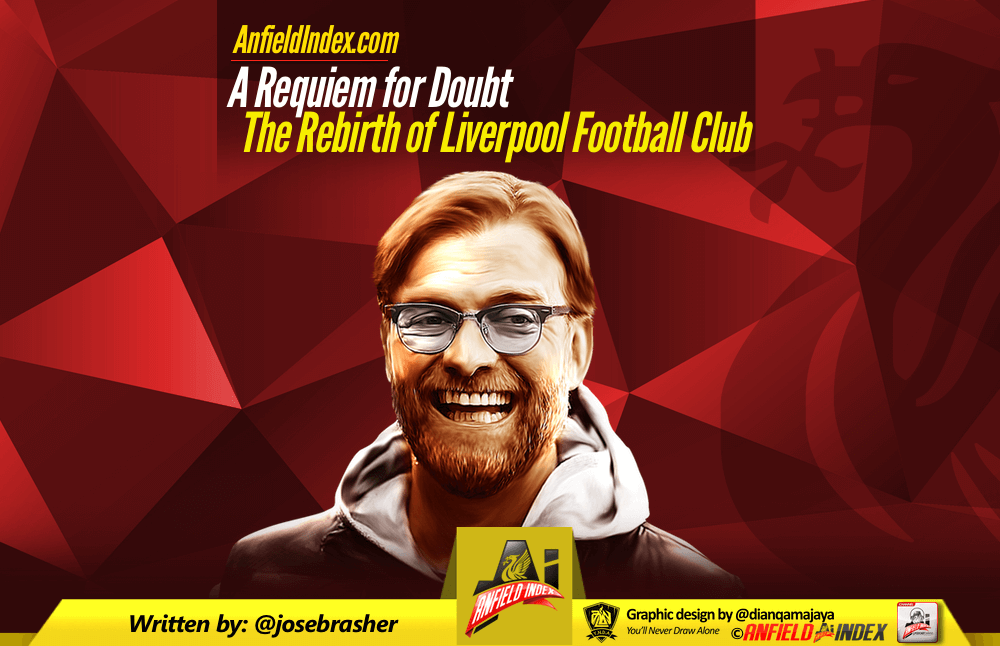 Setting aside perhaps a healthy Daniel Sturridge, this Liverpool FC squad is bereft of real star talent. Resembling more the Island of Misfit Toys, than the star-studded team lining up across from them, our starting XI was riddled with mid-table over achievers like Nathaniel Clyne, boom or bust players like Phil Coutinho, former top-tier bench squatters like James Milner, and a centre-back pairing so makeshift (thanks to a Sakho injury) that it would have made MacGyver blush. On paper we should have been played off the park by a far more talented side, but we weren't. Instead there was a cohesion, a game plan and a heart to a team that had for far too long been zombie walking through important competitions. While the team had its fair share of mistakes and thank-you-very-much oversights (see Alberto Moreno's spinning karate kick to Sergio Aguero shin) there was one thing that was curiously missing from the game that one had long come to expect of a Liverpool FC squad: doubt.
Where was the doubt? Where was the fear after going down 1-0? Where was the shakiness after giving up an easy goal? Instead of folding, like we've seen time and again from our Reds over the last several seasons, they stood up. Mignolet stood up and played like he suddenly remembered that he's a first team keeper for Liverpool Football Club. Lucas stood up like he had secretly been a CB his entire career but was just afraid to tell anyone. Even Kolo stood up like he wasn't 60 year-old centre-back with two bad knees and a need for a scooter to get back on counter attacks. This teams spine turned to steel when we needed them most and while we lacked that final cutting edge that will surely come with time (and our three most talented attackers playing together more), the one thing we lacked the most, surely, was doubt.
To what can we attribute this, or maybe more accurately phrased, to whom? Klopp took over our club in a hail of applause and awe. The man with the unkempt beard and disheveled hair endeared himself to the Liverpool faithful quickly with his jumping fist pumps and marauding hug attacks. We fell in love with the character that was Jurgen Klopp, surely one-of-a-kind in world football, possessing that striking combination of lovable person of the people, and secret mad scientist bent on world domination. We knew Klopp would transform the club, but I think many of us weren't sure how. We watched as our red men sputtered and jolted to surprising wins and puzzling losses, we marveled as a first year manager had the unction and flat-out balls to openly question those that left a 1-0 game early. We saw the surface of Klopp, unquestionably confident and unremorsefully optimistic, but all the while deep below the madman was tinkering not only with the club, securing two premium talents already at a bargain-bin rate (in the form of Grujic and Matip), but also Klopp was re-assembling us, the fan base as well. And all that work over the past several months, culminated in a singular moment that was the Capital One Cup Final.
Somehow on the same night, one man figured out how to get the best out of a ragtag XI and a traveling fan-base. In a game that's nervy finish would usually paralyze a notoriously cynical, nail-biting support base, the traveling Kop was reborn. Like Frankenstein's monster, a dormant monstrosity of red-wearing faithful came to life with the lightning bolt of a Coutinho equalizer, full-throated vibrations rang out from the Red end of Wembley, as "You'll Never Walk Alone" echoed across England in a way that I hadn't seen or heard in a long time, maybe in my lifetime. What was that sound? It was the sound of doubt evaporating, as every red and white heart in that stadium, and around the world, truly believed we would win. And for a brief moment in time we saw what makes this club special, a community of madmen that think like Klopp, that we can beat any damn team in the world on our day.
As the final whistle blew of extra time, everyone knew we were heading to that glorified version of Russian-roulette known as a penalty shootout. The shootout had been kind to us this year (oh where art thou Joe Allen?) but it a fool's errand for any fan to hang their hope too heavily on the whim of chance and fate. As the players approached the sidelined, likely dejected and weary, Jurgen Klopp met them. Not with a disapproving frown or even a well-placed pat on the back, but with a smile as wide as the River Mersey. Klopp knew he had gotten the absolute best out of this team, out of these fans and out of his staff and he was satisfied, knowing no matter what happened in the shootout, this was the beginning of something special for this club. He smiled, like he knew something no one else did and that's often the case with the smartest guy in the room, no one appreciates the genius until he wins an award. And his time just hasn't yet come, but rest assured, it is coming. Klopp knew he was overseeing the rebirth of a legend. Of Liverpool Football Club. And all he could do was smile. He has work to do, no doubt, but if he can challenge a team as talented as Manchester City, with the likes of James "freaking" Milner and Kolo Toure, and even more crazily, make us believe that, that cobbled together side can win, then that golden sky at the end of the dawn is undoubtedly the limit for our Reds.
While our hope for a title was all but burned down on that balmy London-night, from the ashes is rising a new kind of Liverbird. One that I reckon no one in my generation has seen before or may see for a while. So while the season might be awash, in the background is playing the death march of doubt, a long gray cry of an old dying friend. Say goodbye to doubt, you Reds, the funeral was Sunday.
Hope is the word, march on you Reds.