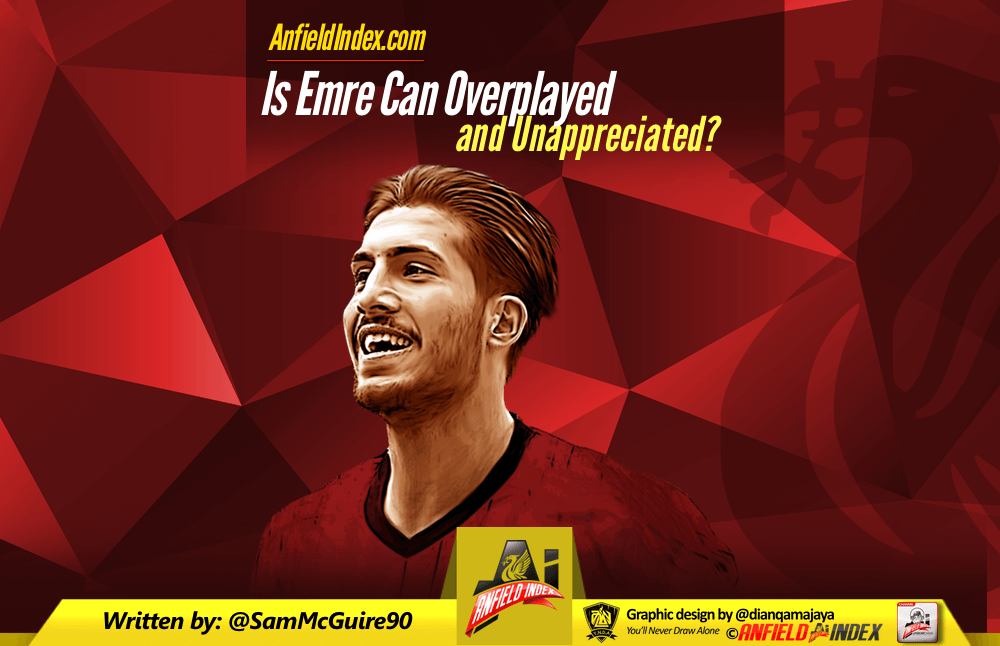 Is Emre Can Overplayed and Unappreciated?

Emre Can has the potential to become a quality Premier League midfielder. He has the attributes that many, if not all, Premier League sides look for when they're signing a modern day midfielder; he's got great vision, can pick a pass, he's mastered the slide tackle without giving away a free-kick, he's got a good engine on him and for someone so young he's good with his defensive responsibilities.  He's not adverse to filling in when Alberto Moreno and Jordon Henderson support the attack.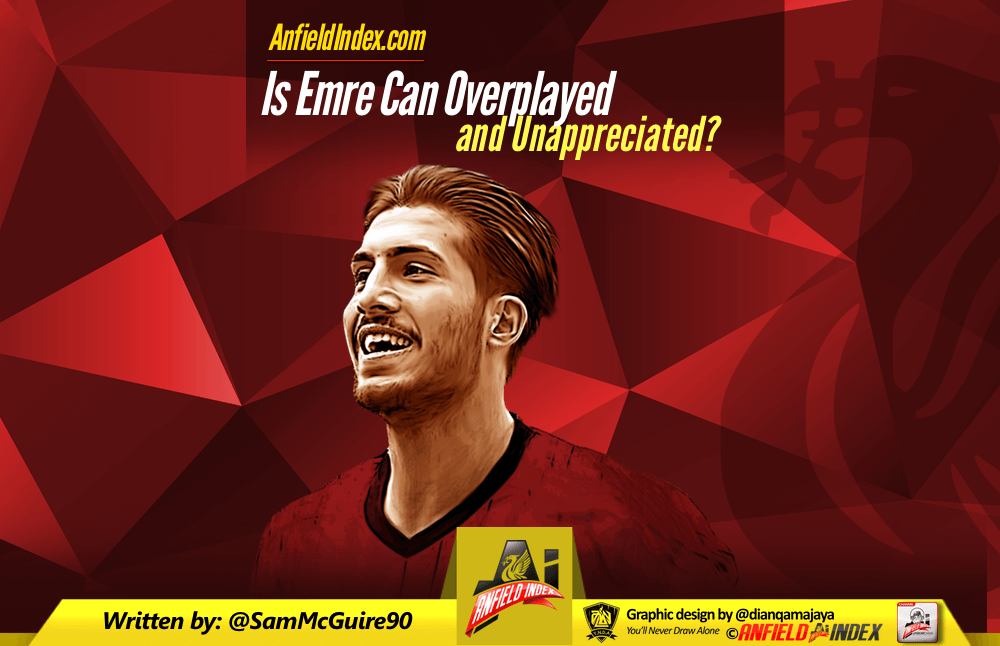 Only just 22, the midfielder, like many other Liverpool players these days, divides opinion. Many rave about what he could be in the future so give him the benefit of the doubt now whereas those who aren't impressed seem to believe he's overrated and has shown nothing to warrant the high praise he receives.
It's understandable to see why so many fans think Emre Can hasn't had a standout game for the Reds. He's not Steven Gerrard. He isn't going to pick the ball up from deep and fire it home from 30 yards. He's not going to grab the game by the scruff of the neck like Mascherano. He isn't going to pick teams off from deep like Xabi Alonso used to do. Why? He may have some similarities to those mentioned but Liverpool aren't set up like they were under Rafa and Emre Can isn't being asked to do what those players were. If you expect any of that you're bound to be disappointed.
On the other hand It's easy to see why so many have been impressed with what they've witnessed this season. The rookie midfielder has shown up the more experienced players in certain games and showed more composure in some situations than the likes of Lucas, Milner and Henderson.  It's easy to forget that Can has partnered Henderson, Milner and Lucas, who all have different traits and strengths, at various times throughout the season, whether that be in a three or a two and he's acquitted himself well.
There's debates and arguments to be had.
What many people seem to overlook is the fact Emre Can has played over 3100 minutes already this season. That's already over 34 games worth of minutes and we're only just coming into February. For a player so young that's an awful lot of game time. He's at an age where inconsistency should be expected, consider the fact he's going to be tired from so many minutes and his performances will inevitable suffer.
For context here the following list is midfield talents, their age and minutes played this season:
Leon Goretzka – 21 years old – 2306 minutes
Johannes Geis – 22 years old – 2304 minutes
Max Meyer – 20 years old – 1900 minutes
Julian Weigl – 20 years old – 2503 minutes
Ross Barkley – 22 years old – 2277 minutes
Dele Alli – 19 years old – 2399 minutes
Mahmoud Dahoud – 20 years old – 1830 minutes
Sergio Busquets – at 22 years old – 2962 minutes all season
Jordan Henderson – at 22 years old – 2800 minutes all season
Of those listed the closest to Emre Can minutes wise is Dortmund's Julian Weigl and yet he's still played 669 minutes less than Emre, over 7 full matches in total. It may not sound much but that's almost a month's worth of football.
Towards the end of the list you'll see Sergio Busquets and Jordan Henderson. At the age of 22 both of these players played less minutes in the entirety of the season than Emre Can has up until the month of February.  These two were included because they're known for playing week in and week out . It just goes to show how the German has racked up some minutes for Liverpool this season.
Can is at an age where his game time should be carefully managed. Injuries have meant Klopp's not be able to do this and he's having to be the one constant in the Liverpool midfield, with the expectations from the fans of breaking into the top 4. Expectations should be revised and the bigger picture should be looked at when judging Emre Can this season.