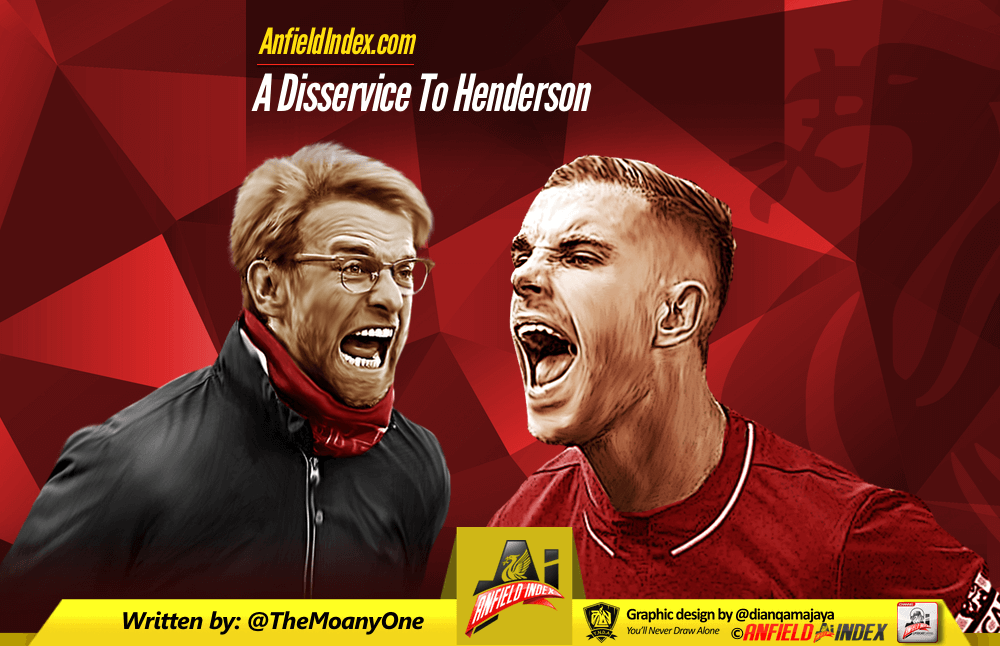 A Disservice To Henderson

At the risk of sounding too negative here, but am I the only one that feels that since Jordan Henderson has returned from injury in January Jürgen Klopp has done him a great disservice by playing him as often as he has? (I am not having a go at Klopp, he is the Liverpool manager and he knows what he is doing but the over reliance on Henderson is something I am very concerned about.)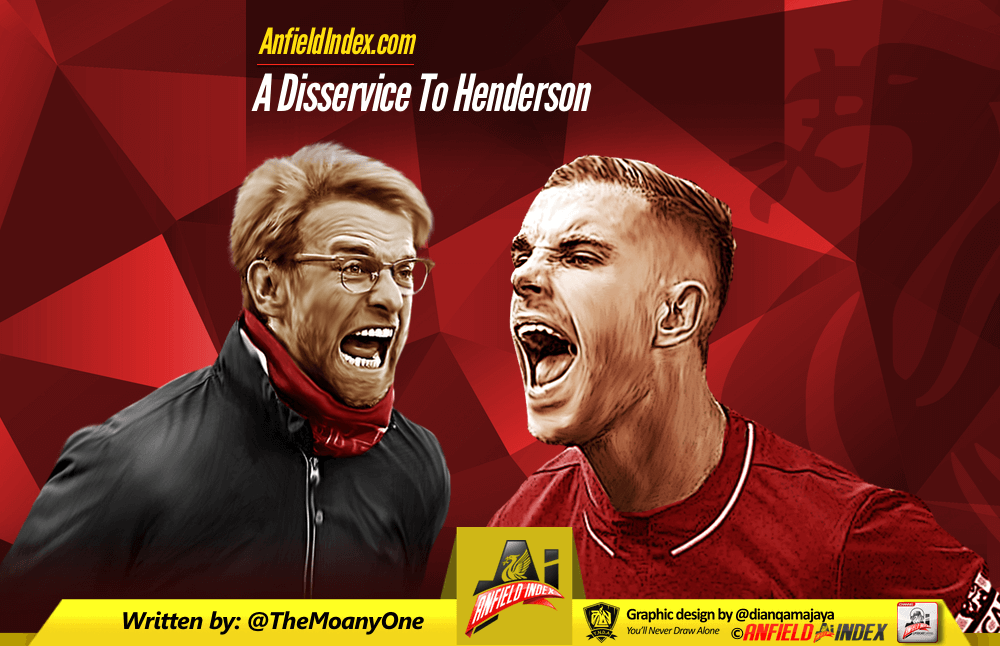 I mentioned in an earlier post on Anfield Index (have a look at it) that I felt Jordan Henderson is one of Liverpool's most important players. According to the stats Liverpool have won more games (8) when Henderson is involved in the team, the team concede fewer goals when Henderson is involved (seventeen goals conceded when Henderson is playing compared to nineteen when he is not playing) and nearly always win the midfield battle against opposition teams. With Henderson and Emre Can in midfield, it is a very balanced unit, they each know what they have to do and can get on with playing their own game. A balanced midfield is something Liverpool have not had for a few years, not since the pairing of Steven Gerrard and Xabi Alonso, then when you add Marko Grujic to that midfield line up for next season I have a feeling it will dominate the Premier League.
Henderson returned from injury on the eleventh January after suffering a relapse of his Plantar Fasciitis injury and to date has played six games in the league, two in the Europa League and twice in the Capital One Cup including one hundred and twenty minutes in the final against Manchester City recently. Plantar Fasciitis is an incurable injury and Henderson has seen specialists in the UK, Australia and in the America as he looks for a way to salvage his career. The club it seems are now in the process of finding out how much Henderson can and can not do with the injury as I write this.
Henderson in eleven days from the eighteenth of February to the twenty ninth of February played a total of three games, twice in the Europa League against Augsburg and against Manchester City in the Capital One Cup final. This is too much I feel for him. Let's not forget Henderson has already played big games in the Premier League against Aston Villa and Sunderland already in February.
For Henderson to be effective it is less games he should be playing, not more games. I personally would have started him on the substitutes bench for the second leg of the Europa League tie against Augsburg at Anfield, in order to have him somewhat fit and rested for the Capital One Cup final against Manchester City. Also playing with an incurable injury like Plantar Fasciitis must be wearing heavily on his mind. This showed in the Capital One Cup final where the general consensus amongst fans was that Henderson had a poor game. This did not come as surprise to me. His injury needs to be managed a bit better by Liverpool. The club I feel can learn a lot if they were to look at how Tottenham Hotspur managed the injury of Ledley King a few years ago. He was allowed adequate time off after playing a game to recover and had his games hand picked for him. He very rarely played more than one game a week even in International competitions like the World Cup and the European Championships for England.
I saw it written somewhere over the weekend that the Plantar Fasciitis injury will be the death of Jordan Henderson and I fully believe it will be. As a player Henderson is going to want to play every game he can, but Jürgen Klopp needs to step in and tell him no, make that decision for him, like he did for Mamadou Sakho in the Capital One Cup, when he pulled him from the pitch despite Sakho's protests he was fine after he clashed heads with Emre Can. If Klopp can not make these decisions then Henderson's career as a professional footballer will end prematurely. He can not go on taking pain-killing injections forever, he needs to be able to rest up and allow his body to heal properly.
This summer could be a make or break for Henderson at Liverpool. A small minority of fans are whispering that maybe Liverpool should cut their losses with Henderson and move to bring in a player that will not only get the best out of Can but Grujic as well. I can not see Liverpool selling him especially as he is the current club captain, but I also hope that when the time is right he will do what is best for him and his career.