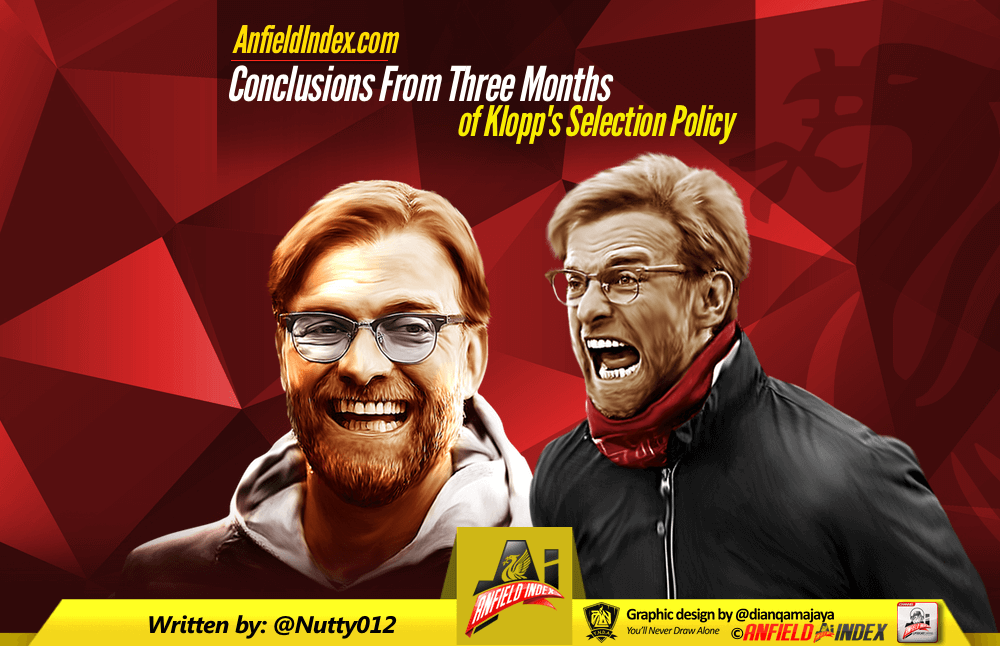 Conclusions From Three Months of Klopp's Selection Policy
It is easy to preach in football about the virtues of patience and context, but it is far more difficult to mobilise those concepts in the race to form opinions. Jürgen Klopp has taken charge of 33 games as a Liverpool manager – games which include finals against the richest clubs in the world, domestic cup rounds against football league minnows, European fixtures across the continent, all nestled amongst a hectic league and international period. Using only the decisions made by Klopp when selecting players, I shall draw some conclusions about the futures of players, as well as the manager, solely in this three month period.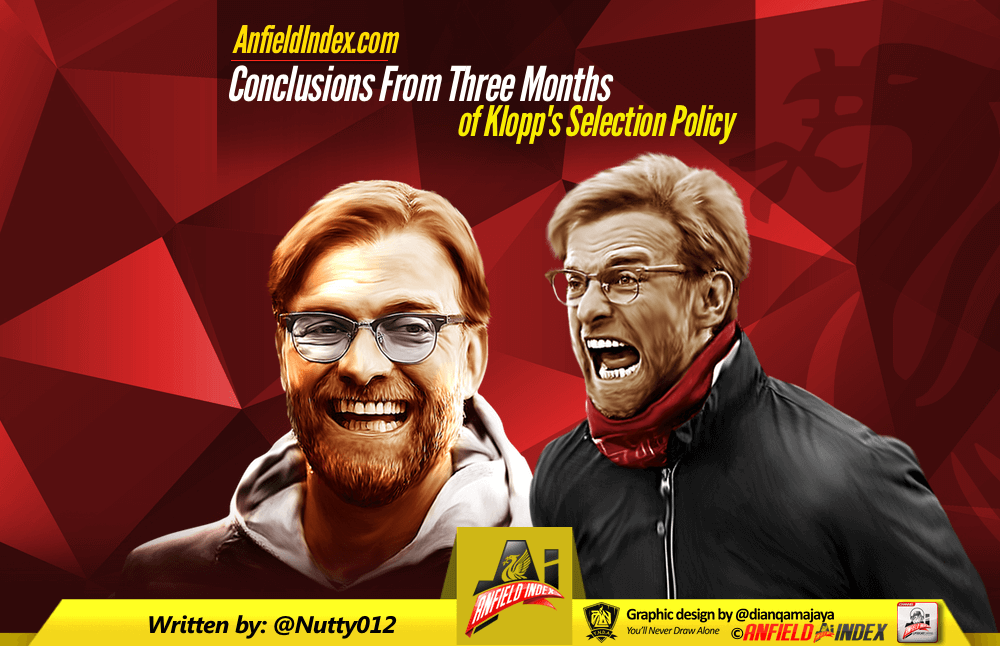 Firstly though, the context: Klopp has had to deal with a more difficult and extensive fixture list than almost any other manager in Liverpool history, or any of his contemporary peers. Liverpool played 9 games in January – their most ever – and had 23 games scheduled through December and February. One month ago, Liverpool had played a match every 4.03 days since Klopp's arrival, the most by a whopping 40% of any team in Europe (credit to @SimonBrundish and @SimonGleave for those stats.).

A narrative running parallel to this – but arguably one that overlaps more than some critics would like to admit – is the immensity of injuries that Klopp has had to deal with. To illustrate the woes in this regard, Liverpool have played a ridiculous ten players (!) at centre-back this season (Sakho, Lovren, Skrtel, Toure, Ilori, Caulker, Gomez, Lucas, Can and Enrique), eight of whom played there between December 29th and January 30th! Liverpool have had their four natural strikers injured all at once (Sturridge, Benteke, Origi, Ings), again during the mad January schedule.
Liverpool's injuries have not only come in cumulative abundance, but they also came in gluts, all seemingly striking in quick succession and to players in the same position. Our full backs and central midfielders have largely not experienced many injuries, but whilst the likes of Clyne, Moreno, Henderson, and Can may be starting every game, we are scraping the dregs of our club and resources to find a centre-half and a centre-forward.
Therefore, Klopp has been up against it since he has arrived. He is operating in the worst injury crisis in the recent history of the club at the same time as having the most frequent rate of fixtures in Europe, all with the previous manager's (very average) squad.  Given these ridiculously difficult circumstances, perhaps we can try to understand Klopp's selection policy in this context. There has been s0 little time to make changes, and so many extenuating factors, that any conclusions about his general qualities as a manager would certainly be premature. As such, here are five things that we can learn from Klopp's selection policy.
Klopp's balances sentimentality with a ruthless winning streak
Perhaps the only respite for two months came with the break between the Augsburg matches, but three days after the second leg was the awkward matter of the League Cup final. The Europa League tie was in the balance, but instead of rotating any of his fragile squad ahead of the cup final, Klopp fielded the identical starting XI across the both matches. Clearly Klopp is so desperate to win in the Europa League that he risked injury to the likes of Daniel Sturridge to make that happen. That short term desperation to win a football match is something that Liverpool managers simply haven't possessed in the recent era, which makes it particularly refreshing to see.
Christian Benteke will not be a Liverpool player next September
There are very few supporters of the £30m Belgium big man any more. A string of poor performances, in particular away against West Ham, highlighted how if Benteke is going to have success at a big club with big aspirations, it will be away from Anfield. The selection of Origi over Benteke in subsequent matches has shown that Klopp is less interested in the few goals Benteke might score this season, than his long term vision for the club, a vision that doesn't include Belgian.
Liverpool's goalkeepers are not up to scratch, but we may have to put with it
It is sometimes mentioned that Liverpool's goalkeeping coach, John Achterburg, believes that Mignolet is a goalkeeper who will find his best form through playing as regularly as possible (despite his best form for the club coming after Rodgers dropped him). After Adam Bogdan proved his own incompetence, Mignolet has been omnipresent across all four competitions that Liverpool were involved in, but his howler in the League Cup final should have proved beyond doubt that Mignolet is not the goalkeeper that Liverpool need. His continued selection shows a mystifying faith in the Belgian stopper from Klopp, so perhaps we should worry that this is a problem that won't be going anyway anytime soon.
Lucas Leiva will stay for at least one more year
The Brazilian is now the joint longest serving player at Liverpool, alongside Martin Skrtel, but neither has done much to endear themselves to fans or supporters for future seasons. Despite featuring in some of Klopp's early matches, Lucas gradually found himself out of favour in central midfield behind Klopp's fellow German, Emre Can, as well as the more dynamic Henderson and Milner. However, Lucas' selection and performances at centre half in February earned him a start at Wembley, and most likely another year at Anfield. His lack of pace is best hidden there, and his reading of the game and surprisingly good heading ability, not to mention the superior distribution skills that a midfielder would be expected to possess, means that the Brazilian may have found his position going forwards.
Jordon Ibe is still a long way from the finished product
Despite the claims of some fans that Ibe could be our ready-made Sterling replacement, his poor goals and assists record leaves a lot to be desired. Liverpool's striker problem manifested in a general goal scoring problem, so it was perhaps no surprise to see Jordon Ibe relegated to cameos from the bench, given his record of less than one goal or assist every ten Liverpool games. He did not even make the bench for the Capital One Cup final against Manchester City. Ibe has so much technical and physical ability, but at the moment he looks more likely to replicate the career of Alex Oxlade-Chamberlain than Raheem Sterling, based solely on his influence on games.