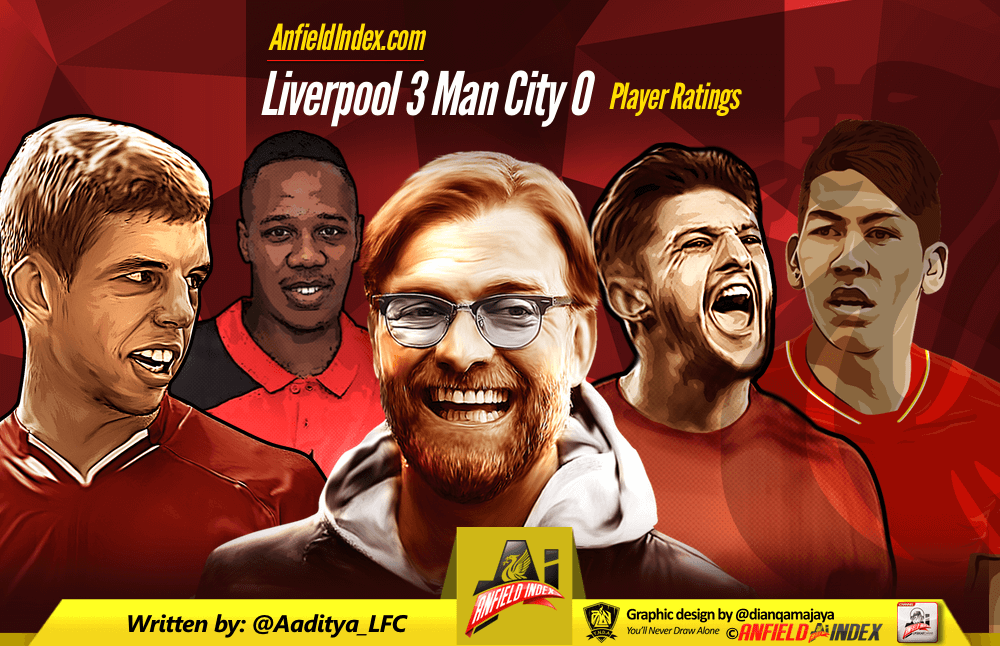 Liverpool 3-0 Manchester City - Player Ratings

Maybe the wounds of the League Cup final loss have not healed completely, but Liverpool went a long way in trying to do that on a recuperative night at Anfield, as Manchester City were put to the sword at a ground that has been an absolute graveyard for them in recent years.
It was refreshing to see a Liverpool performance like this, and it was as complete as any of our performances this season – all the way through from back to front.
As always, the challenge for Jurgen Klopp will be to find some sort of consistency, as we head into a crucial period of our season with the Europa League Round of sixteen tie against the other team from Manchester looming large.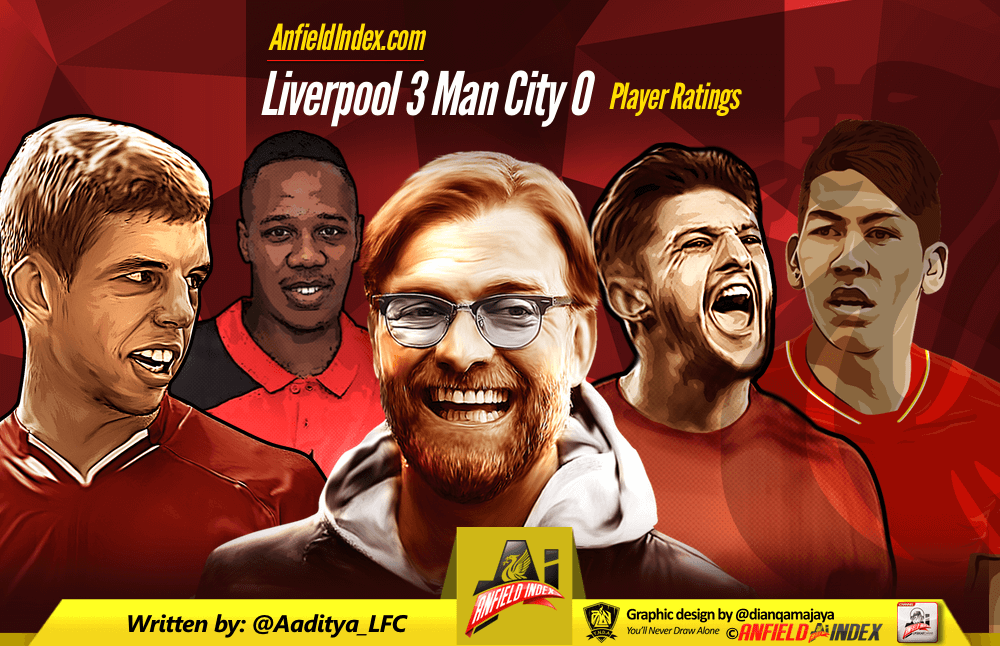 Here's my view of how each player fared tonight.
Simon Mignolet – 6
Did not have a save to make until the dying moments of the game, and even that was only a weak shot from Wilfried Bony. He would like more games like this.
Jon Flanagan – 8
A super game for the Scouser. He had Raheem Sterling in his pocket all through the first-half, forcing Manuel Pellegrini to take the former Liverpool winger off. Flanagan set the tone in the early minutes, with a perfectly good, crunching tackle on Sterling. He didn't stop there, as he bossed his flank. The only negative was his passing at times, as it proved to be slightly uncertain.
Kolo Toure – 7.5
Kun Aguero has had a terrific time in the Premier League against us recently, but today, Kolo said no! I don't know why, but it looked like he was faster across the turf. What impressed me the most today was his conviction in dealing what what City threw at us.
Dejan Lovren – 7.5
This was the type of Lovren that Brendan Rodgers had envisioned when he signed him in the summer of 2014. He was a commanding aerial presence, and along with Toure, marshaled the defense expertly.
Nathaniel Clyne – 7
Clyne flew up in attack on the left flank a little more than Flanagan on the other side, but he did not neglect his defensive duties. Jesus Navas may be a one-trick pony, but Clyne stuck to his task and ensured that City's Spanish winger had no joy.
Emre Can – 7.5
A much improved performance from what he has given us in recent times. He was strong, fearless in the tackle and his passing was crisp and certain. He ensured that David Silva had no room to dictate the play for City.
Jordan Henderson – 7
Is the effect of that heel injury slowly going away? There was a lot more of the old Henderson on show, as he put in a proper shift, pressed rather efficiently and passed it reasonably well. It was a good performance, but one does know that there is a lot more that Henderson can achieve.
James Milner – 9
His best game in a Liverpool shirt by a country-mile. He pressed the life out of City and, at long last, displayed some quality on the ball as well. It was a brilliantly taken goal – especially the first touch from Firmino's pass – which took him away from the defenders and one-on-one with Joe Hart.
Adam Lallana – 9.5
Man of the Match. Ran his backside off. Closed down City's players endlessly. His link-up play was good and, as with Milner, it was important that he backed his work up with the end product, which he did with a goal and an assist rounding off a good night's work for the Reds' no. 20.
Roberto Firmino – 8
Another fabulous performance from the Brazilian who is beginning to love life at Anfield, after a rather slow start. Like both Lallana and Milner, he got himself a goal and an assist.
Divock Origi – 7.5
You can see that this lad has got a bundle of talent. He ensured that Vincent Kompany and Nicolas Otamendi were always on their toes. There could have been more quality on the ball from the Belgian, but in truth, he was enough of a nuisance to City.
Substitutes
Christian Benteke, Joe Allen and Jordon Ibe
I'm not going to quantify any of their performances with a rating. I liked what Benteke did in the twenty minutes that he was on the pitch. He was more mobile than we've seen in recent times, and used his strength well against Kompany, winning a couple of free-kicks from the City captain.
A special mention to Allen for that brilliant dipping shot in the dying embers of the game.