Following the failure in the League Cup final, Jürgen Klopp revealed in an interview that,
"We have to change a lot of things to be successful… we can't be successful just because of the history of the club or the name of the manager or the names of the players."
Not only this, but the club owners recently admitted that they had,
"Underestimated how poor the playing squad was."
Implying heavily that there may be large scale changes potentially underway at Liverpool FC this summer, backed heavily by the owners; but the most important question is not whether Klopp should bring in his own players and reconfigure the squad, but the extent of the potential change within the squad.

Do Liverpool FC and its fans really want another 'transition' season and who exactly should be leaving the squad?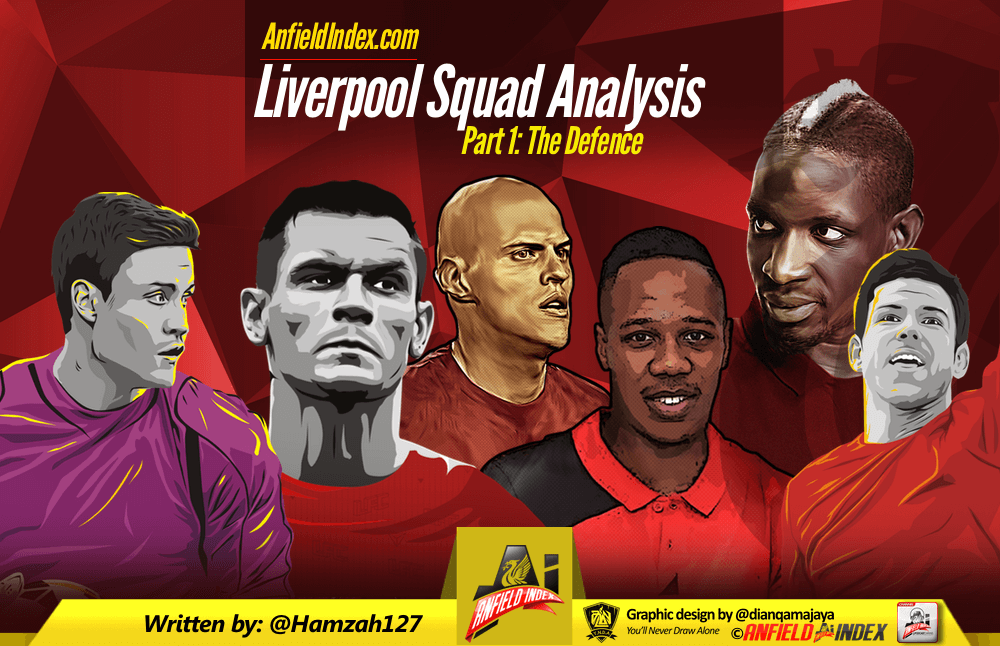 Since this is such a large issue, the squad analysis is going to be split into three separate articles; 'The Defence', 'The Midfield', and 'The Forwards', where each player is evaluated and given a prospect for next season, especially with large calls ringing around indicating wholesale changes may be made.
When comparing the Liverpool squad to the squad of their rivals, it appears at first glance that the Liverpool squad needs an overhaul if they are to achieve a top four finish and compete at the top level for cups and titles.
There are a few players who are indisputably not going anywhere; namely Phillipe Coutinho, Roberto Firmino and Daniel Sturridge (providing Liverpool FC do not accept a bid from another club for these players).
Alongside these players, there are a handful who look reasonably secure, and whose departure would come as a surprise: Henderson, Can, Lovren, Origi, Ings, Clyne, Sakho are the ones that spring to mind. However, that leaves a large number of players that may be considered as necessary outgoings or simply surplus to requirements, some of the most notable ones would be: Benteke, Ibe, Milner, Lallana, Allen, Lucas, Toure, Moreno and Mignolet.
Goalkeeper
The goalkeeping area is a huge concern for Liverpool; Mignolet has consistently been criticised for his performances over the past few seasons, especially as he was meant to replace Pepe Reina. Mignolet has showed in short bursts his potential, and Klopp has publicly backed him too, as confidence appears a major issue for him.
In a recent report, Mingolet was concluded to be the league's most error prone goalkeeper, and his performance in the League Cup final did nothing to allay those concerns; despite making two fantastic saves and being unlucky in the penalty shootout, ultimately it was his failure to keep out a standard shot from Fernandinho which will be the main feature about him drawn from that match.
So far this season in the league, Mignolet has played 26 games and kept 9 clean sheets – 3 less than golden glove league leader, Cech (who has played 28 games), 2 less than Hart (25 games), and equal to Lloris (27 games). Unlike Cech, Hart or Lloris, Mignolet has had a shifting defence in front of him for most of the season, and has struggled with confidence. As a result of a poor defence, he has been exposed more often than some of his rivals, but the figures do not support that particular notion.
Mignolet has faced 81 shots, and conceded 33 league goals – conceding every 2.45 shots, conversely Lloris has faced 83 shots and conceded 21 goals – conceding every 3.95 shots; a stark difference. Mignolet also lacks the presence that competitors such as Courtois or Hart have, he simply isn't imposing, and because of this and his perceived weakness with aerial balls, he is often targeted for this. The defenders in front of him have responsibility here too, but Liverpool's defensive set-piece record is dismal.
At the age of 27, Mignolet is meant to be close to the 'finished product' as it were, yet Liverpool have not consistently seen the player who Sunderland were indebted to in 2012/13.
Whilst Mignolet is certainly not responsible for all of the goals Liverpool have conceded, he is the goalkeeper most responsible for errors leading to goals in the Premier League, and it is this specifically that will most likely force Klopp into searching for a new number one.
Simply put, he currently is not at the standard of the competitors Liverpool have, and a huge improvement would need to be made for him to be considered at the level of Cech/De Gea/Courtois/Lloris/Hart – an improvement of Harry Kane proportions -unfortunately something highly unlikely for Mignolet. The conclusion that can be drawn from this is simple – Klopp needs a new first choice goalkeeper, but that does not mean that Mignolet needs to go. Mignolet, for all his issues appears a respectable second choice goalkeeper, much better than Adam Bogdan, and potentially, through training with a better keeper who provides more competition, Mignolet may still improve. It is inevitable that Bogdan will be leaving, and the failure of Ward to make an appearance since being recalled would suggest likewise for him.
Defence
As noted earlier, Clyne, Lovren and Sakho are anticipated to keep their places within the squad, but that does not by any stretch of the imagination mean that they are certain starters next season, or that they're definitely staying.
First we can look at the statistics to objectively view who has performed well so far this season; (I haven't looked at Flanagan, Gomez, Caulker, Smith etc. as they simply have not played enough games for the data collected on them to be quantifiable), according to WhoScored, in the defence, Sakho averages a 7.07 rating, Lovren, 7.03, Skrtel, 6.89, Moreno, 6.97, Clyne, 6.79 and Kolo Toure, 6.78.
Lovren endured a torrid start to his Liverpool career, but this season his form has improved considerably, as has his confidence; two recent injuries have forced him out of the team, but decent form this season is no guarantee of a starting place next season. Indeed Lovren's place will depend on how he performs in the remainder of the season. The incoming Matip indicates that Klopp wants a reformed defence, and the main competition for the second centre-back spot looks to be between Lovren and Sakho. Unlike Rodgers though, Klopp is not pressured to keep Lovren as he did not spend £20m on him, but if Lovren can recapture the form that he showed at Southampton, he may still prove his critics wrong, but like most players, Lovren's position this season is hugely dependent on any performances over the remainder of the season.
The question remains is he good enough to play for the Liverpool that Klopp envisages? Potentially, but the jury is still out on him, after a very poor previous season, and then a decent one broken up by injuries; he will need to consistently improve his performances to force Klopp to consider him to be on of his top two centre-backs, but perhaps a new centre-back partner, goalkeeper or full-back may provide him with more cover or confidence which may go a long way in helping his performances.
The main rival for Lovren is Sakho, who has had some good performances this season, and may even be a fan favourite, but whilst he has this in his favour, he hasn't quite hit the heights expected of him when he was purchased from PSG. He, like Lovren, clearly has a strong affinity with the club, but neither he or Lovren is guaranteed a starting spot alongside Matip, and they will both need to improve their performances consistently to prove to Klopp that they are deserving of it.
Sakho is clearly a strong and physical player, but he has made awry passes enough times for people to have taken note, and he isn't as dominant in the air as it was hoped he would be. That said, Sakho, according to WhoScored has been Liverpool's best defender this season, and his consistency is there to see, whilst he is growing into his role nicely; but a few poor defensive performances have marred his good work. If Sakho can consistently play at the best level that we've seen from him, he would be a natural partner for Matip next season, but like Lovren, it is up to him to improve his performances over the remainder of the season and convince both the fans and Klopp that he can play a role in helping build a new, stable defence.
The upside to the competition between Lovren and Sakho for the second centre-back spot though is that if one is chosen above the other there will not only be good competition for places within the squad, but that Lovren/Sakho is a more than adequate third choice defender to have on the bench. That in itself brings up another issue – are either of them really going to be willing to sit it out on the bench?
Clyne looks one of the most secure players in his position, and has performed consistently this season, but there is a slight feeling that he can be better than what he's shown so far this season. Clyne does face competition from Jon Flanagan though, a player who club captain Henderson has publicly called for to be awarded with a new contract. Flanagan may have impressed against City, keeping Sterling under wraps and may be a fan favourite too, but after suffering a serious knee injury, a decision cannot be rushed on him yet, Klopp will most likely assess him over the rest of the season and come to a conclusion, but as 0f yet, his future is unclear. Flanagan may embody the Liverpool spirit, but just because he is a product of the academy is no reason to keep him on, his future very much rests on how he performs after coming back from his injury, but also the performances of Moreno and Clyne – if either of them are particularly poor for the remainder of the season, it's possible that Flanagan may well take their spot in the starting XI.
Returning to Clyne, who has shown he is reliable and fairly solid, but over the course of the season his height has been exploited – he was targeted by West Ham as the smallest defender – and his contribution in the final third is not as impressive as Moreno. The question with Clyne is not whether he should be replaced, it's whether Klopp can squeeze more out of him offensively – in recent games, he's illustrated his willingness to get forward, link up with the wingers, and put crosses in, but he will need to do this more regularly – seeing as he is fairly solid though, it's highly unlikely Klopp will look to replace him when there are bigger priorities within the squad.
Fellow full-back Alberto Moreno, whose attacking qualities have never been called into question, has had his defensive attributes subject to regular criticism – so much so that Klopp utilised Brad Smith and Flanagan at left-back too. It would appear that the left-back area is a point of concern for Klopp and it is expected that at least one full-back will be leaving the club, so this is a marked area for improvement and is anticipated to be assessed at the very least by Klopp.
Moreno does have a respectable WhoScored rating though, and he has made some very impressive tackles this season when tracking back, but too often is he caught cold when he is roaming up the field, and he gives away needless fouls. With his experience and at his age, he clearly has quality, but he needs to be more tactically astute – specifically his positioning – and whether Klopp believes he can instil that into him is unknown, but unless Moreno improves his defensive side of the game, he may well be moved on, or reduced to bench warming duty. Of the current back four employed, Moreno appears the most likely to be sold or face new competition – with Ben Chilwell apparently being earmarked for this.
Kolo Toure was especially impressive in the recent match against Manchester City at Anfield, but at points within some games his lack of pace is clear to see, and his age is telling too. With three other centre-backs vying for the two staring spots next season, as well as Steven Caulker, it seems evident that an exit for Kolo Toure is inevitable, but his experience and influence in the dressing room may convince Klopp to potentially keep Toure on for another season, but that seems unlikely at best. If Kolo Toure were to be kept on, it would certainly be a bit-part role, with a reduced wage, and it is up to Toure himself to decide whether he would be content with that as he approaches the twilight of his career.
Steven Caulker's future at Liverpool is unclear too though; he has been restricted to a few appearances, two of those as an emergency striker. Caulker was brought in as cover for the injured Lovren and Skrtel, so with the incoming Matip, it seems that Caulker will be leaving too, which is a shame as he has not really had a chance to establish himself – but he may yet get a chance from Klopp, so his future is unclear too. I would be brave to make a call on a player who I haven't seen much of, but with Lucas Leiva being chosen at centre-back ahead of Caulker and Toure, it seems a damning indictment of them both, and would imply that they haven't impressed Klopp enough in training.
Martin Skrtel may be one of the last remnants of the Benitez era, and his service to the club has been impressive, but in all honesty, he hasn't been at his best over the past two seasons. It is true that he functions best with a leader alongside him, so perhaps he could partner Matip. But he is 31 now; both Sakho and Lovren are younger, show more promise and look set to stay in the squad for the next season, so it looks as if Skrtel will be departing the club this summer, unless he performs extremely well over the last few months of this season – yet, like Lovren and Sakho, it is worth noting, that if one of them departs, he is a good choice to be able to call from the bench. Skrtel does have a fantastic heading ability, but his contribution from set-pieces this season and the last has been poor by his standards, so it would appear that he is past his best. Skrtel may be more willing to sit on the bench than either Sakho or Lovren though, so if becomes apparent to either Sakho or Lovren that they may not start next season, one of those two could be on their way – with Skrtel securing the third choice centre back spot.
Despite having several centre-backs already, Liverpool still have both Joe Gomez and Tiago Ilori; unfortunately for Tiago Ilori though, despite being heralded by some as the solution to Liverpool's defensive issues, he hasn't been as impressive as expected, and with all the competition for the centre-back spots as there is, it looks extremely likely that he will be sold on, as he has already been loaned out three times. For Joe Gomez though, the prospects for him are slightly better, but like Flanagan and Ings, after suffering an ACL injury he'll need to be assessed to see if he can perform at the level he was before and still improve too. Adding to this though is the tough centre-back competition, as he will be 19 at the start of next season, he will certainly need game time to improve, but despite Klopp's record with young players, it's hard to see him playing enough games unless he is sent out on loan.
Smith, Enrique, McLaughlin, Randall all look set to leave – but of those, Smith looks the only one with a decent prospect of staying – but like most of the defenders in the team, that would depend on any more performances he puts in over the rest of the season.
To conclude this first part of the squad review, it would appear that in the goalkeeping department that Bogdan and Ward will be moved on, but with the ink still wet from signing his new 5 year deal, it seems that Mignolet may still be staying, but most likely as a number two – or forced at least to vie for the starting goalkeeper spot with a new competitor.
As for the defenders, Sakho, Lovren and Clyne are safe bets to retain their squad places, but question marks remain over the futures of Moreno and Flanagan, whilst Toure, Skrtel and Caulker look to be in place to be moved on. Klopp may not be looking to change too much about the defence though, as replacing or altering a defensive system is a tough process – so whilst there may be several outgoing players, Klopp will most likely not be looking for three new starting defenders.
Ultimately though, for most players, their places within the squad are still up in the air and only good consistent performances over the remainder of the season will save their spots.