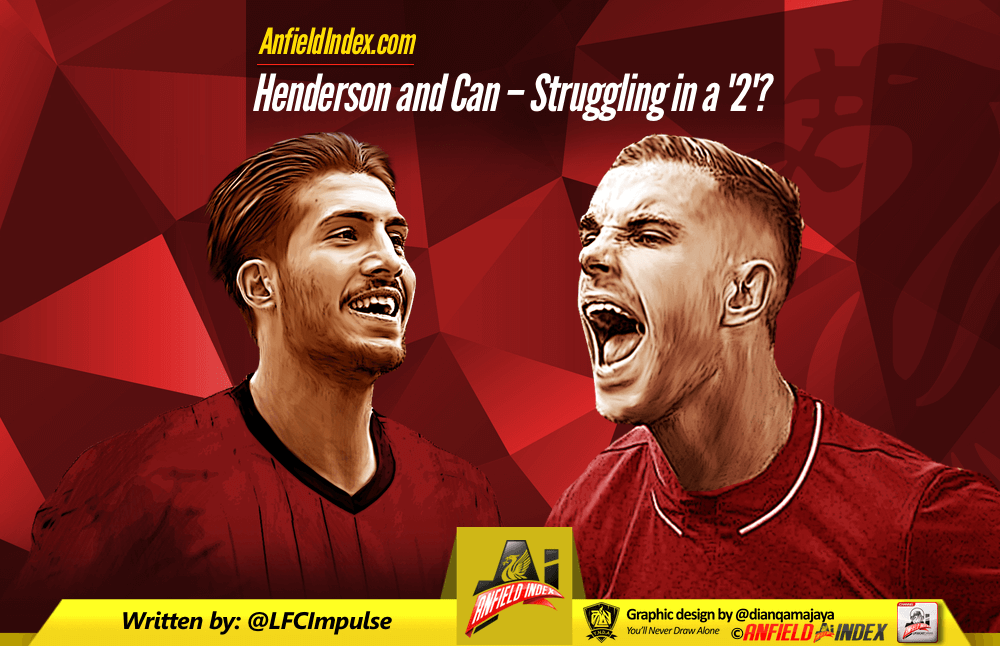 Henderson and Can – Struggling in a '2'?
Amidst mediocre performances against the likes of Augsburg in the Europa League and Manchester City in the Capital One Cup finals, the midfield (or lack of) has been the biggest topic when it comes to pinpointing the flaws of the Klopp-influenced Liverpool side. A high-calibre midfield sets the tone for the rest of the team given that it is indeed the position that serves as the balancing act between the defensive duties of the side as well as the supporting cast in the goal-scoring capabilities of the team.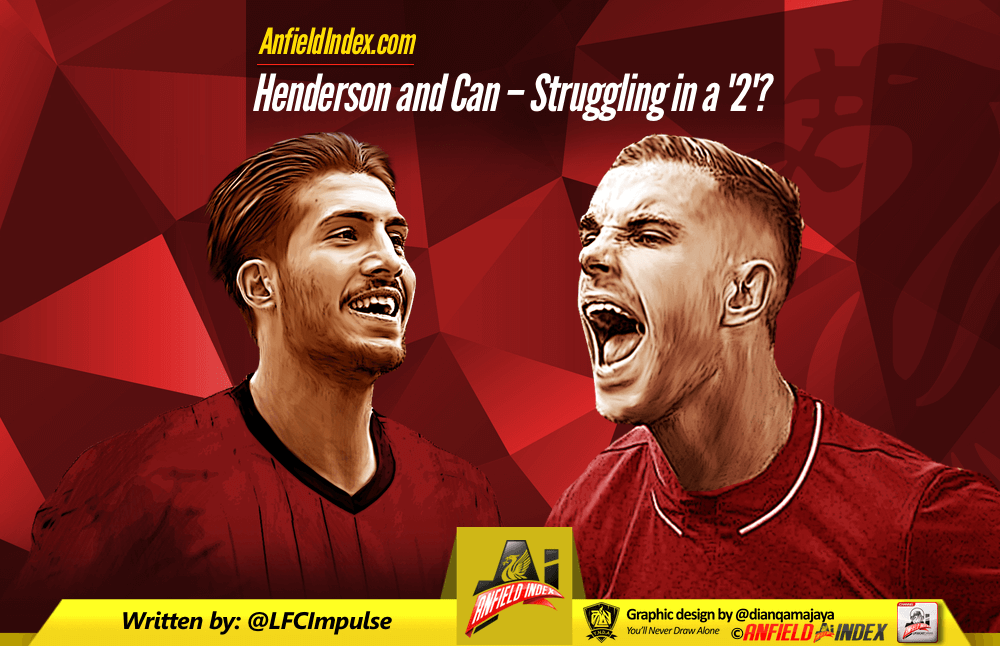 Coming under fire in that regard would be Jordan Henderson and Emre Can; pick your poison, because very few fall in the middle. The club captain – fired for showing nothing resembling his predecessor of the armband, the German dynamo – criticised for occasionally being too fired up. While both are generalised as box-to-box midfielders, some key traits differentiate the two in terms of the style-of-play, but therein lies a common denominator between the two that may or may not have caused the lack of synergy between their abilities.
Playing in a '2' – The 08/09 and Dortmund Model
The biggest issue with Liverpool at the moment is the midfield, and it could be down to the preferred choice of midfield shape and structure being deployed by Jürgen Klopp. Often switching between a 3-man midfield and one that has only 2 midfielders beforehand, perhaps the recent reintroduction of Roberto Firmino and Philippe Coutinho into the attacking-midfield side forced the latter to be chosen. You simply do what you can to facilitate and accommodate for your best players; fair play.
Now typically, a midfield-2 excels due to the right combination of traits of the two players comprised in it, relative to the players around them.
The ever-famous Xabi Alonso-Javier Mascherano partnership worked for Liverpool years ago because: 1) the Argentinian covered for the good-but-not-great back-line, 2) the Spaniard's distribution and ability to link defensive action to attacking transitions were key to the side, and 3) the two were not required to contribute all-too-much in final-third areas thanks to the players – Steven Gerrard and Fernando Torres, in particular – ahead of them.
Jurgen Klopp's beloved Dortmund side also operated using a 2-man midfield, often revolving around having a defensively-astute midfielder as one of the components, with a job scope similar to that of Mascherano's. This would be your Sebastien Kehl's and your Sven Bender's. Completing the double-pivot would typically be two players of slightly different ilk, but serve similar purposes. A very familiar name in Nuri Şahin and rumour mill favourite İlkay Gündoğan both had their fair share of minutes in Klopp's midfield, and while both have relatively different styles of play, they serve to be the starting point for attacking transitions.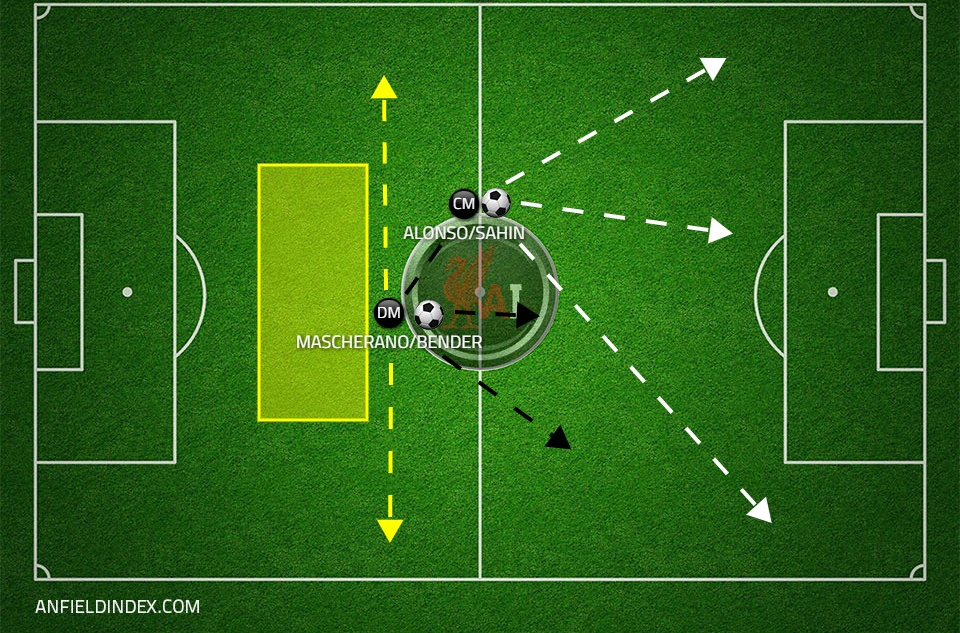 (A brief illustration of how the double-pivot worked with the players mentioned above. The yellow indicators represent defensive duties, while the black and white arrows indicate the passing actions that could be done in terms of progressing the build-up from midfield into more attacking areas.)
Both of the above models have proven their worth – one player has a more defensive-oriented role, the other takes on a more forward-thinking one, but neither are restricted from doing the job of the other if the situation calls for it. This is one of the reasons why a player like Xabi Alonso is sometimes miscategorised as a defensive-midfielder, due to the fact that the double-pivot facilitates some flexibility in roles.
Understandable, however, is the fact that some double-pivots don't require the exact model above to be successful. A quick example is the Luka Modrić-Toni Kroos midfield that worked for Real Madrid, neither of which being particularly defensive-minded midfielders.
The Credentials of Henderson and Can
Let's begin with Jordan Henderson. His best games came from playing in a midfield side that functions more like a 1-2 midfield, when he played on the right side of a diamond midfield. This meant that regardless of whether the deepest midfielder assumes a more defensive role or a playmaking one, Henderson would be freed up to do what he does best – putting that engine into use.
While often criticised as simply being a 'runner', making intelligent runs to create passing lanes, attacking space, or simply to try to meet the ends of crosses and through-balls can be really key. This implies that a midfield-3 suits Henderson best as the additional midfielder in the system allows for the then-Sunderland man to be relieved of duties that simply isn't his forte – playmaking in attacking transitions.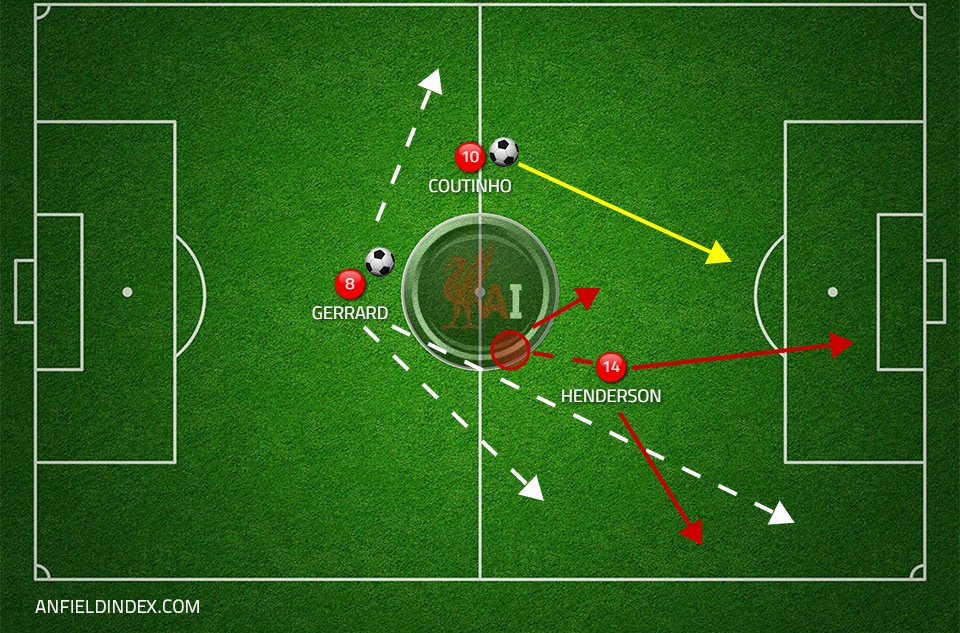 (Henderson's best performances came in the 2013/14 season where he was involved in creating space and passing lanes for his midfield compatriots, rather than running the show on-the-ball on his own. This meant that Steven Gerrard – the deep lying playmaker – to pull the strings from deep with his passing abilities, while Philippe Coutinho was more involved in carrying the ball from midfield into final-third areas of the pitch. Jordan Henderson's contribution comes in the form of filling in gaps where needed, especially inside the box and out wide-right.)
Emre Can however, has shown his ability to play in both a 3-man midfield and also a double-pivot. Early on in that very same season that Liverpool went on their magical title run, the young German just arrived at Bayer Leverkusen when a 3-man midfield was a prevalent element of the team. Between Simon Rolfes, Lars Bender, Gonzalo Castro, Andres Guardado, and himself, Emre Can found himself starting in several positions bar in midfield.
Even then, Emre did get some games in midfield and subsequently, when the Leverkusen side transitioned into a 4-2-3-1 formation, he formed a solid double-pivot with Lars Bender who played a more defensive role. Taking up a more conventional box-to-box role was no issue for Emre, given that there was an assurance in the defensive duties as provided by Lars Bender. As such, playing in a double-pivot is hardly foreign territory for the young German.
Is a '2' Feasible with Henderson and Can?
In a 2-man midfield, both Jordan Henderson and Emre Can, if played in tandem to one another, are neither here nor there in terms of the roles they can competently play.
Henderson in a defensive role limits the frequency of him having the freedom to vacate the midfield space and making off-ball runs into the final-third, which are his bread and butter. Similarly, if Emre Can occupies this role, his tendency (and ability) to carry the ball from deeper down the pitch for long distances means that he would be caught out of position in the event that possession is lost. A defensive role limits the former, but for the latter, it exposes the team to attacking threats.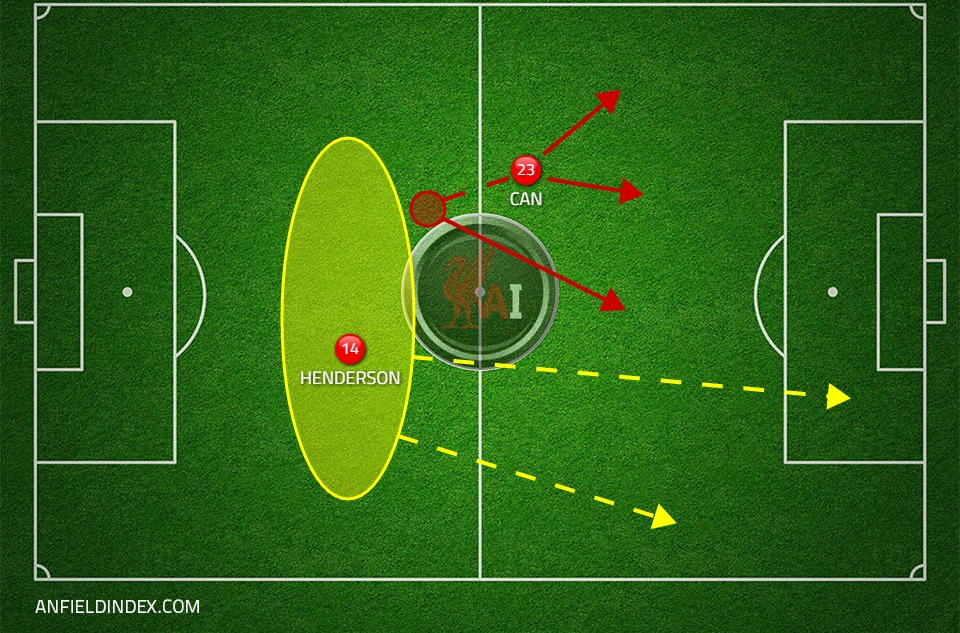 (Emre Can resuming his box-to-box tendencies would mean that Jordan Henderson has to restrict his movements and be aware of the area as highlighted in the yellow oval, whereas he'd be more effective making the runs as dictated by the yellow, dotted-arrows, for example.)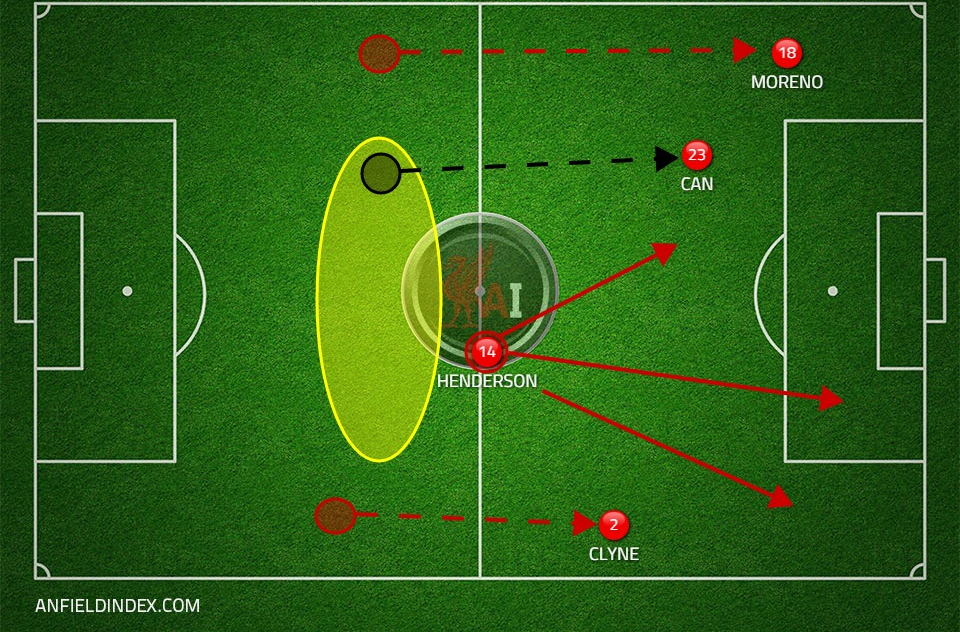 (If roles are reversed, it is yet to be seen if Emre Can has the positional discipline to maintain his position in a reserved role when on the ball. As such, if he does make the run forward with the ball and no one drops to compensate, there could be a huge gap being vacated in midfield (more so when full-backs go forward as well. This would force centre-backs to push a lot higher up the pitch and ultimately, this could be at the detriment of the team's defensive structure.)
While both have some degree of passing vision, ability, and execution, neither are fit to be playing as a full-time regista, a role which requires a high level of consistency in terms of being able to make passes that benefit the team when in attacking transitions. These should not be restricted to 'Hollywood' passes and cross-field passes, however, both of which can be done by the two midfielders from time to time. Playing as a deep-lying playmaker isn't always about looking to make (hockey) assists, but also to have the vision and intelligence to make passes that stretches out defences or exposing gaps in opposing defensive structures.
So, is a double-pivot of Henderson and Can really feasible? I mean, with a lot of coaching – sure, but is it ideal? The reality of it all is that Emre Can is more of an on-ball, box-to-box midfielder which can also double-up as a deep-lying playmaker at times. Jordan Henderson, however, is a cross between an attacking-midfielder and a box-to-box midfielder, but with an emphasis on off-ball movement and pass-and-move tendencies. While similar in some regard, there are some traits which force a line to be drawn between the two.
Despite the differences, neither of the two is able to fulfil the other part of what the team needs from a double-pivot, or at least not on a consistent basis yet. The inability to consistently be the midfielder controller in terms of tempo and direction means that there will be instances where the forward line has to drop deeper to assist in this link-up but in a different manner (as seen when Daniel Sturridge or Roberto Firmino drops from their attacking lines).
Ultimately, it's a stretch to say that Jordan Henderson and Emre Can are able to play in a double-pivot alongside each other. So where do Liverpool and Jurgen Klopp go from here to rectify this issue? Well, maybe that's for another article.