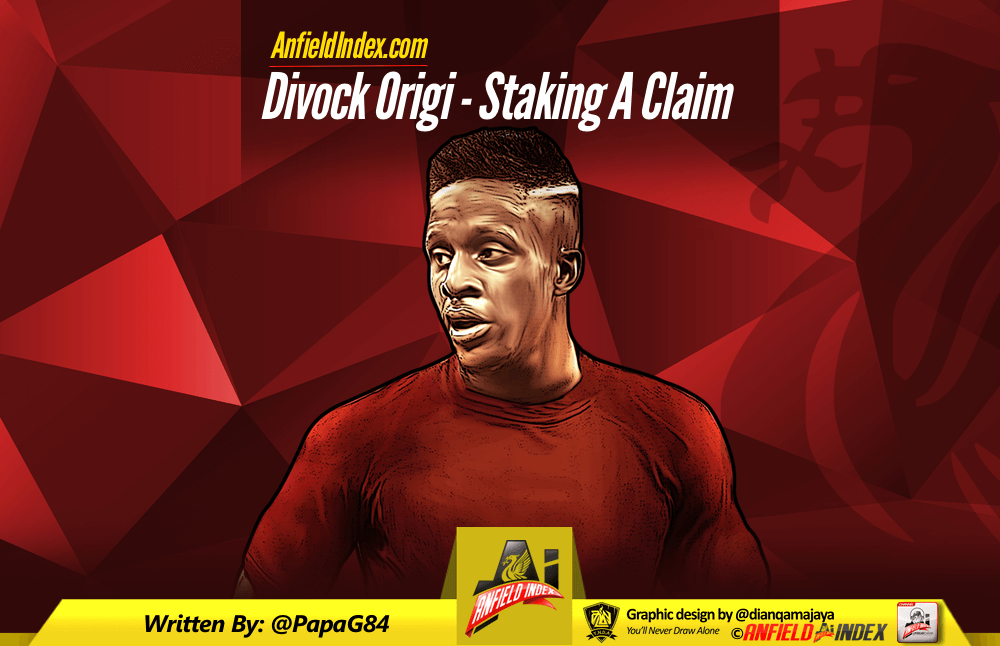 Divock Origi - Staking A Claim
After another impressive display by the talented young Belgium, Divock Origi is finally gaining the plaudits and attention, his performances have deserved. Whilst he didn't quite grab the headlines in the emphatic 3-0 victory vs Manchester City, he added some much needed strength, power and direct running to a front line that was decidedly flat in the Cup Final, just days before. For a player so quickly written off, he's starting to show why there was such a buzz when he first signed, and why for me he deserves to be given a chance to stake his claim in our first choice 11.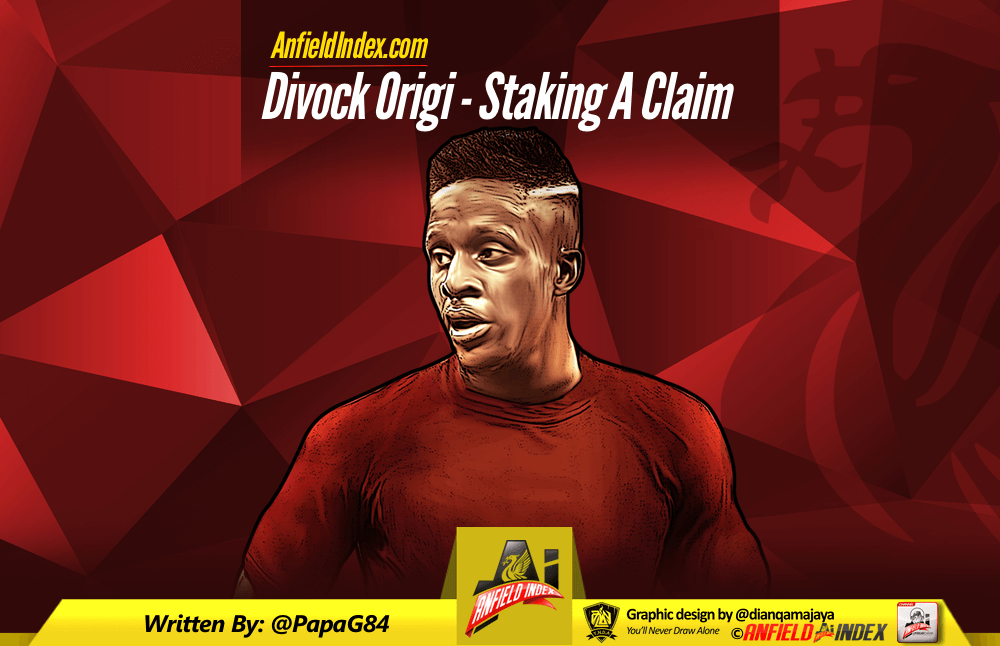 After some initial difficulty adapting to club and league, I've seen more than enough to convince me, that he has an extremely bright future ahead of him. Initially he seemed slow, laboured, just completely off the pace both in mind and body. But now you can see he's sharp, decisive and a real danger on and off the ball. A player transformed, who is starting to look pound for pound, as one of the clubs best prospects. He looks hungry for success, giving his all on the pitch, which is genuinely refreshing.
His power and physical stature shouldn't be understated. Early in the season, I just didn't see the strength. But now I'd happily compare him to Christian Benteke. Whilst he's not of the same build or possessing of the same raw power, he's still as effective, if not more so at using his body to shield the ball and causing problems to opposition defenders. He also has added benefits to Benteke, by being much more committed and determined in all aspects of his play. He wants to meet every ball, run every channel and be the player willing to take that chance. That stands him apart from his Belgium counterpart, which is why right now he's justifiably preferred.
If he were to be considered a starter next season, one that would genuinely rival a fit Daniel Sturridge, he's likely to be measured in goals. In Jürgen's preferred system, his goal scoring is crucial as a lone front man. Whilst he doesn't have that strong a record, players develop at different rates, so I'm of the opinion that goals will flow for Divock in time, if he is trusted. He's certainly not as clinical as Sturridge, in truth very few are, but he is instinctive and can be lethal, as shown when he scored a brace against Southampton and a goal upon immediate introduction vs Aston Villa. His eyes were firmly fixed on the goal, he didn't waver, nor hesitate, he showed that killer instinct all top strikers need.
But it's not just goals that are vital in a Klopp system, but the ability to create space for those behind the striker to exploit. With Firmino and Coutinho 2 of the likely 3 behind the , I can see why Origi in certain games, may be the better option. Whilst my view is based on current fitness, I'm honestly not sure if Sturridge will have his explosive pace again. He's certainly intelligent enough to adapt his game, to drop deeper and link play. However, that may not always be what's needed. Coutinho loves to play with a striker, who plays on the shoulder. Firmino also loves the space in central areas, which Origi creates, when drifting wide, drawing away defenders. He has the ability to be that striker, that vital competent to complete our attack.
I first saw Divock play for Belgium in the 2014 World Cup. At the time I remember thinking why aren't Liverpool ever linked to a young player of this capability, then low and behold the links appeared. As the strong performances kept coming, as did his stature throughout the tournament. More and more supporters hopped on the bandwagon, so once the signing was confirmed a serious level of expectation followed. A difficult season at Lillie followed, but for those not expecting a world class player born overnight, there were still signs of clear potential.
Moving into this season, he started slowly. The sad truth is he was written off, like others, before he was given a chance. But not before long, you could see his clear development, he honestly looked a changed player from his initial few games. Klopp took him out of the side, even the match day squad to train away from the team. It's something very few managers do, but then Jürgen's not just any manager. There were no complaints from the player, but a serious response. That to me shows two thing's firstly he's a player willing to take instruction, even criticism. Secondly, he's a player Klopp wants to develop and sees strong potential in.
On current form if you wanted a key focal point in our attack, Divock would be the player I'd turn to. He keeps defenders honest and creates so much space for others to exploit. He works the channels very well, all the while looking to play off the shoulder of the last defender. He's rapid, which in a team lacking real pace, is a crucial asset. He's also intelligent in his movement and the spaces he creates for others. Whilst still developing, he has all the potential assets of a perfect all round Jürgen Klopp striker.
From now until the end of the season, I hope to see much more of Origi. There is something about his positive attitude and play, that makes me stand up and pay attention when he receives the ball. Each time I see him play, he seems to have developed a new aspect of his game. He's a player that looks perfectly suited to the club. The right age, mentality and skill set, who will fit perfectly into the style Klopp is looking to implement, which therefore makes him an extremely valuable asset. One that perhaps is starting to shape the managers summer transfer plans, by staking a claim as his first choice option.