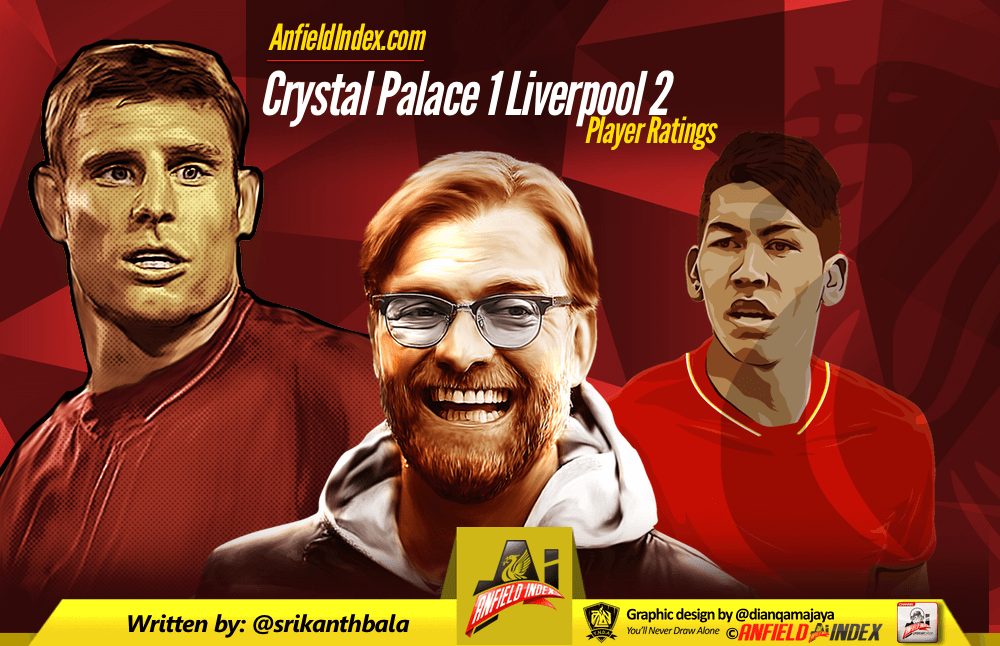 Crystal Palace 1 Liverpool 2: Player Ratings
For a change, it was Liverpool who inflicted heartbreak on Crystal Palace as a soft penalty in extra-time meant Liverpool came away with three points at Selhurst Park, after what seems like aeons. Surprisingly, Liverpool seemed more spirited once they were down to ten men and were duly rewarded with some long awaited luck.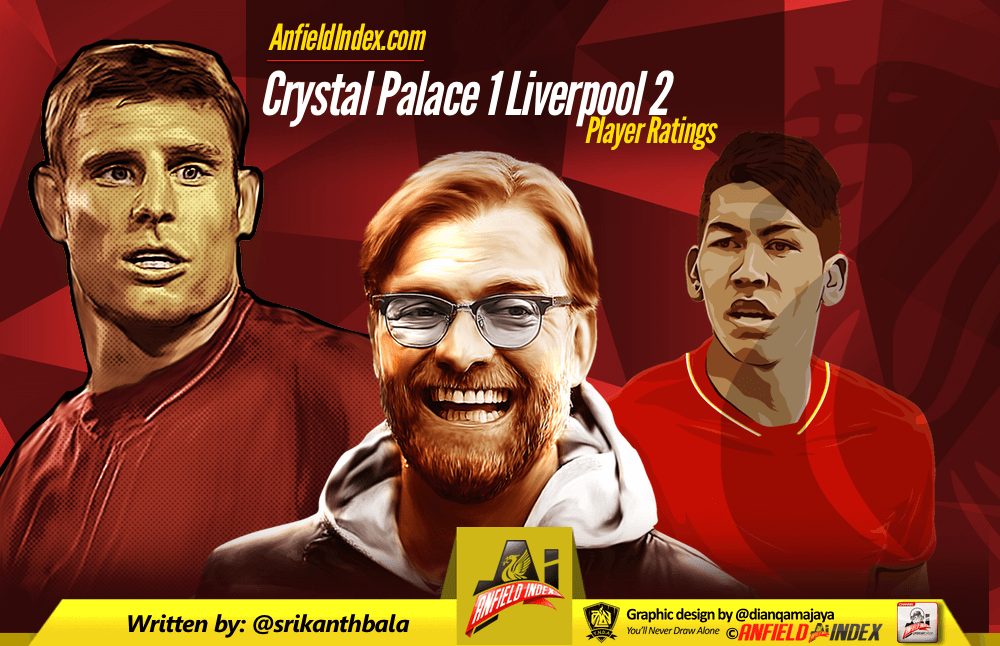 This is how the Reds fared tonight:
Simon Mignolet (6.5) – Mignolet had a solid first-half, swiftly coming off his line to deny Bolasie a clear chance at goal. Generally covered his angles well and distribution was quicker than normal. He could not have done anything for their goal though. Good game overall.

Jon Flanagan (4.5)  – Flanagan's positioning was repeatedly exploited by Crystal Palace as Adebayor made runs in between Flanagan and Lovren when Crystal Palace counter-attacked. His offensive contribution was minimal to say the least with some really poor deliveries into the box. His problems continued in the second-half and it was no surprise to see him get hauled off after sixty minutes.

Dejan Lovren (7) – A mixed first-half for Lovren, as he was repeatedly exposed due to Flanagan's positioning and had to track back often. He was excellent aerially from set-pieces, getting Liverpool out of potential problems. He had a solid second-half, especially once Liverpool were down to ten men, with him fulfilling the right-back duties.

Mamadou Sakho (7.5) – Sakho had a good first-half, covering his position well and snuffing out any potential threats. His passing was also good as usual. The second-half was more of the same, with him closing down the opposition well and finding his man when he was on the ball. Hopefully, he can remain fit to have a long run in the side.

Alberto Moreno (6.5) – Moreno was picked for this game, after being rested for the game against Manchester City. He was unfortunate to receive a yellow card in the first-half after he got the ball first but otherwise was good on the ball. Played really high in the second-half as Liverpool went in search of an equaliser. Had a scorching Risse-esque attempt late on which thundered back off the post.

Jordan Henderson (6) – Henderson was again paired with Emre Can in the midfield, and his passing seems to have gone into a set pattern of going to the right-back position as the first option . His game clearly needs to get into a higher gear. With a yellow card in the first-half, he had to restrain himself from lunging in. His verbal volleys were in full force though.

Emre Can (6.5) – Emre Can had a decent first-half, though he should have done much better in controlling the ball when Liverpool had a 4-on-2 man advantage on the counter attack. Moved into centre-half once Milner got sent off and seemed very comfortable there and had a solid second-half, often venturing into offensive areas from centre-back position.

James Milner (4.5) – What a contrast in performances for Milner within a few days. We saw the usual Milner today, with lots of effort and very less end product. Had just moved into right-back position when a second yellow sent him right back into the dressing room.

Adam Lallana (6) – A bright start to the game, off the back of a career-best performance for Liverpool which promised so much, but he was so rarely seen on the ball during the game. Made an excellent move to receive a great ball from Firmino in the second-half which was eventually spurned by Origi. Lots of hard work and running off the ball which is what one expects from him.

Roberto Firmino (6.5) – Firmino was pretty much anonymous throughout the first-half, but his second-half started better with his shot being Liverpool's first shot on target on sixty-five minutes. Was gifted a goal by McCarthy, but the finish was indeed well executed. Was subbed late on during the game. He will surely have better games than this, but he wont complain about the goal.

Divock Origi (6) – It was a game of very few moments for Origi as Liverpool struggled to create anything worthwhile for the first sixty minutes. Origi tried dropping deeper, going wider into the channels to affect the game, but it was all in vain. He was taken off in the eightieth minute. More fruitful games in the future for Origi.

Substitutes:
Philippe Coutinho (6)– Came in on sixty minutes for Flanagan and immediately got into his stride, often dropping deep to pull the strings. Had a couple of his long rangers too as Liverpool seemed more purposeful once they went down to ten men.
Christian Benteke (6.5) – Could have easily scored from his first touch and could have scored again during normal time. But he was not to be denied as Liverpool got a very late penalty and his ice-cool finish meant Liverpool took all three points. For a change, his tendency to crash like a sack benefited Liverpool.
Kolo Toure (N/A)