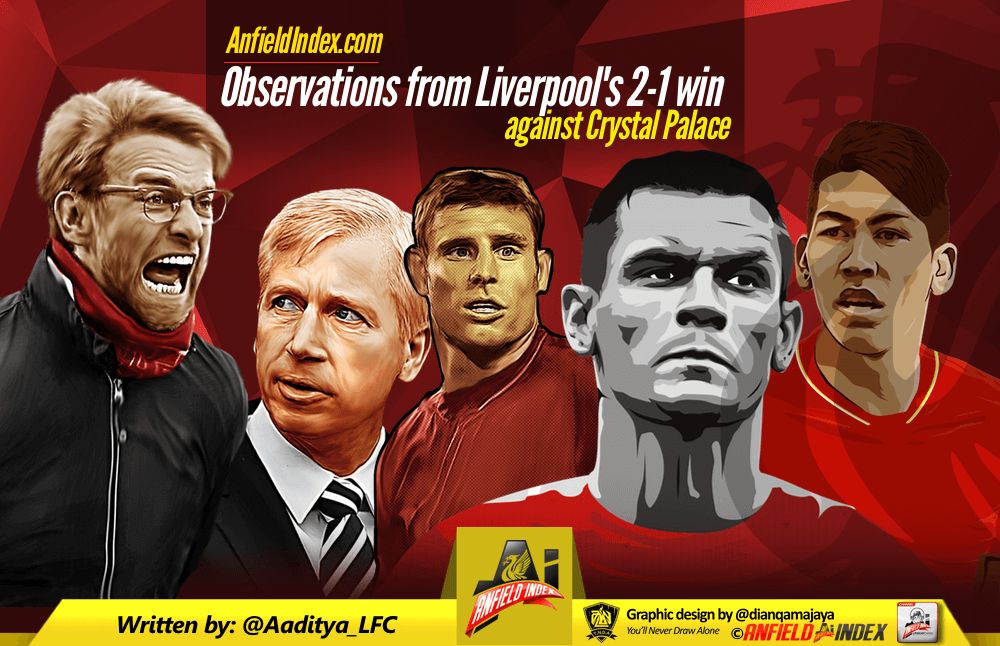 Observations from Liverpool's 2-1 win against Crystal Palace

At what has been akin to a graveyard for Liverpool recently, the Reds managed to recover from being a goal and a man down to win the game with virtually the last kick, with Christian Benteke calmly slotted a penalty away in the dying embers of the game as Crystal Palace continued their horrific run. It was also the first time in Premier League history that Liverpool have come from behind when down to ten men to win a game!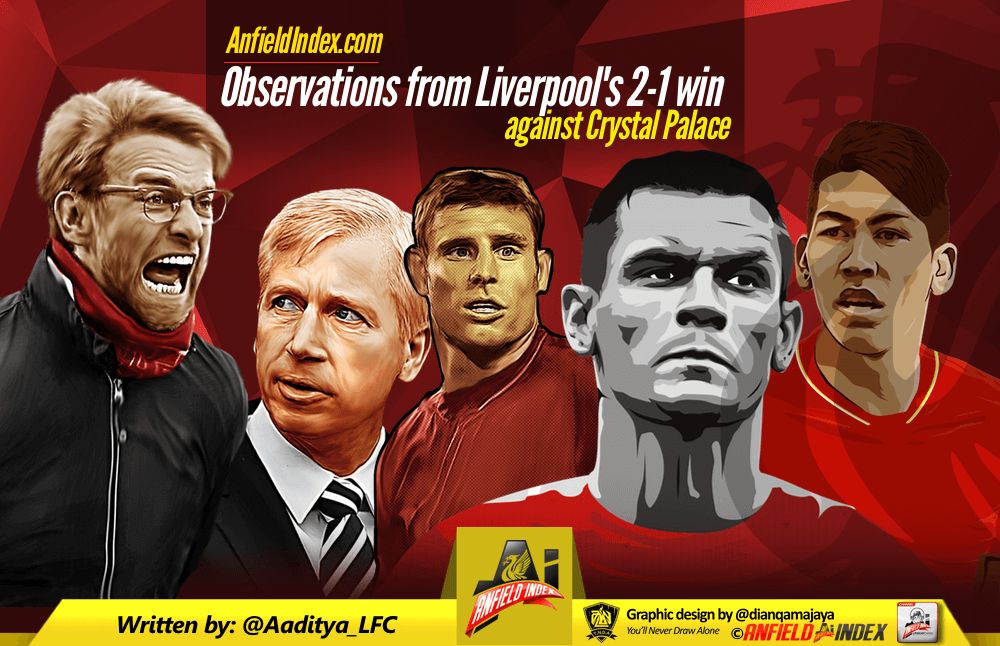 It was shaping up to be another frustrating afternoon for the Reds as Joe Ledley's goal and James Milner's sending off left them with around half an hour to save themselves from another disappointment at Selhurst Park.
Character. It was a word that Brendan Rodgers used very often but not something that his Liverpool teams showed as much. It is, however, something that Jurgen Klopp has got the squad displaying. Liverpool fans would have feared the worst when Milner was sent off, but we were arguably the better the side in the period that we played with ten men.
Liverpool's Rolls Royce. Emre Can has taken a fair share of criticism in recent weeks, but today it was a proper performance from the German. He dropped back and helped in defence when needed, and his work-rate seemingly doubled when Milner was sent off. One thing I love about Can, is that he is always vocal and doesn't hesitate to let anyone know what they have done wrong. A future leader for sure, in my book.
Dejan Lovren. Deservedly much maligned in his first season at Liverpool, but he has definitely been our best defender under Jurgen Klopp. He had his moments of uncertainty against Bolasie but he showed enough conviction, by and large. Even doubled up as a full-back and showed a few enterprising moments going forward.
Divock Origi is here to stay. One can say that Klopp was probably saving Sturridge for the Europa League game against Man United, but on form, Origi is probably our best striker at the moment. He has shown that he has different aspects to his game, and he could have made a bit more of an impact today, had he made the right decisions at some crucial junctures.
Redemption for Alberto Moreno. Like a lot of others in the squad, he has been fairly criticized in recent times, but I was really pleased with what I saw from Moreno today. You could see from the start that he was charged up, but he kept his head about him at most times, and generally stuck to his task pretty well, effectively negating the threat posed by Wilfried Zaha.
What does this do for Christian Benteke's confidence? This could potentially be a goal that helps Benteke turn the corner and help push Liverpool further up the table. There have been shouts that it was a dive for the penalty, but once the penalty was given he showed proper guts to step up to take the spot kick. Once he stepped up, it was a calm put-away past McCarthy.
Top Four? I know that there have been way too many false dawns this season. The best thing for the entire squad to do right now would be to take each game as it comes and ensure that we get the required result in every game.