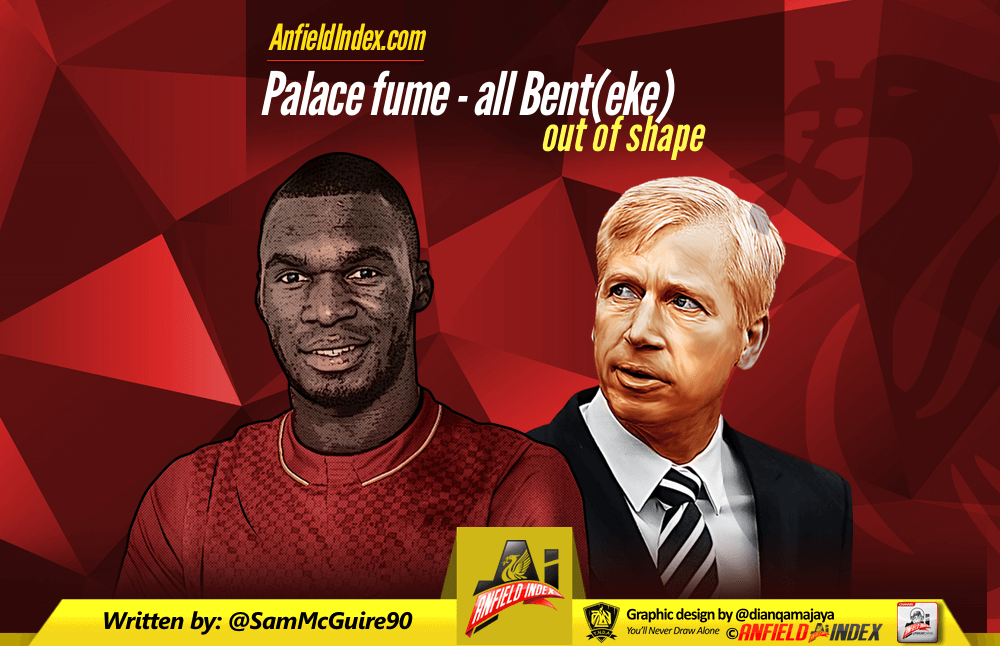 Palace fume - all Bent(eke) out of shape
Bask in it.
Allow yourself this moment. Warm up these cold March days with the fume that Liverpool generated with the stoppage time win over Crystal Palace.

Christian Benteke has been a much maligned figure since his £32 million move from Aston Villa in the summer of 2015, but against Palace he united the fan base and paid back his transfer fee, and then some. People are going on about this as though the big Belgian wasn't touched and that he's conned the referee to give Liverpool their first win at Selhurst Park since 1997. Diego Maradona didn't get this much press coverage for the hand of God incident.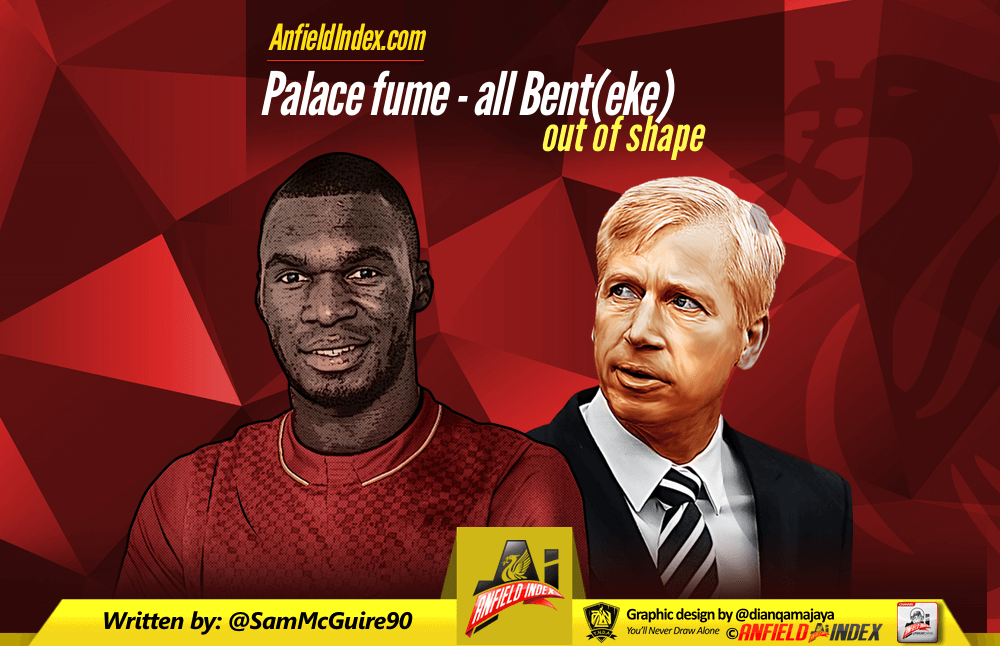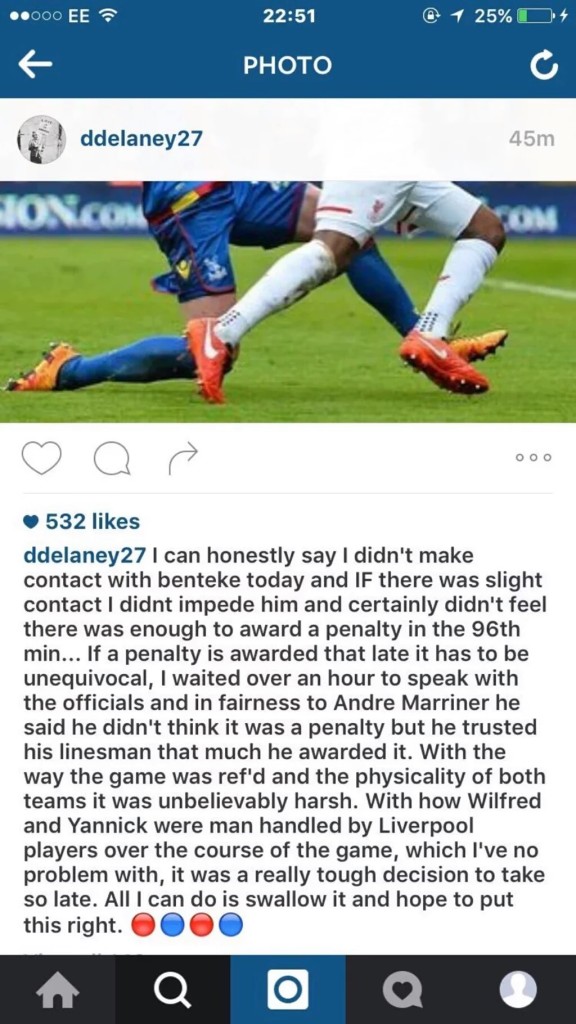 Benteke was the reason Alan Pardew was milliseconds away from saying "don't make me angry, you won't like me when I'm angry" as he accused Sky Sports Interviewer Geoff Shreeves of 'antagonising' him when basically doing nothing more than his job.
"If the linesman has called it for that knee-tap on the foot in the last seconds of the game that's pretty harsh. There's nobody in the middle, there's nothing going on there."
In his post match interview the Palace boss clearly states that Palace defender Damien Delaney makes contact 'knee-tap' with Benteke. Contact on the player and nothing on the ball means it's a penalty, right? Regardless of what's going on in the area it's a penalty. Delaney deserved to give away a penalty for stupidly diving in when, as his manager states, Benteke was going nowhere in the last few seconds of the game.
The Liverpool no. 9 is the reason Damien Delaney took to Instagram to contradict himself to the world wide web, and show everyone this wasn't a one off moment of stupidity.
"I can honestly say I didn't make contact with Benteke today and IF there was slight contact I didn't impede him and I certainly didn't feel there was enough to award a penalty in the 96th min"
Firstly, we've all used the 'honestly I can't remember' excuse and it's a way to absolve yourself of any blame. Delaney didn't even commit to the lie though as in the same sentence he's already admitting he touched Benteke.
Secondly, his own manager has even admitted that he's seen contact between Delaney and Benteke.
Thirdly, when did the FA bring out new rules stating as soon as the match enters stoppage time it's harder to win a penalty? 1st minute or 101st minute, if you make contact in the area without touching the ball there's a risk of a penalty. Moral of the story here is don't be a melon.
Quite the achievement to be the stupidest player out there when you're sharing the pitch with Alberto Moreno but Delaney surpassed the Spanish full-back with that act of stupidity.
Manipulating the picture won't help your cause either, Mr Delaney. You can clearly see in the image below the contact between knee and foot.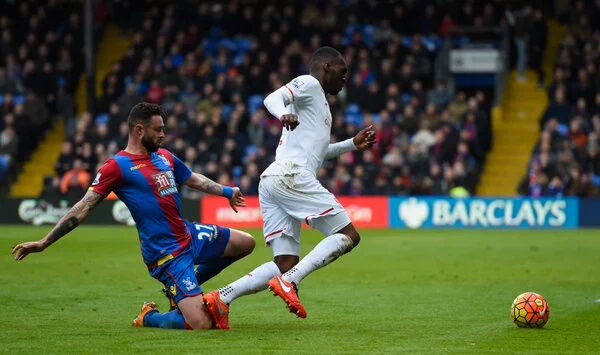 Benteke is the reason X-factor winner Steve Brookstein, TalkSport presenter Andy Goldstein and many other fans of the opposition took to Google to research Newton's first law.
'So, right every object in a state of uniform motion tends to remain in that state of motion unless an external force is applied to it'. Delaney didn't hit Benteke hard enough to make him fall. Cheater.' For an afternoon everybody seemingly became an expert in physics.
Again, when did the FA bring out height and weight rules to dictate the required force needed to bring down each player? If a player is running then a small nudge is suffice to bring them down, a knee to your standing heel would be more than enough. Benteke did make the most of it but he's punishing Delaney's rush of blood to the head, and rightly so.
Refs miss things in real time, they're only human, so it's up to the players to draw their attention to a foul if it takes place. If exaggerating contact does that then the player has every right to take a tumble if he feels anything. Players are often praised for 'buying the foul' yet Benteke,
Liverpool missed out on a penalty last week in the League Cup final when Fernandinho fouled Alberto Moreno and nothing was given. There was no mention in the press then about Moreno's height and the required force needed to knock him over.  It was simply a case of 'you see them given', well against Palace that's exactly what we did see.
Liverpool showing some life and fight under Jurgen Klopp seems to be annoying a few people. Bask in the fume, it means the Reds are doing something right.