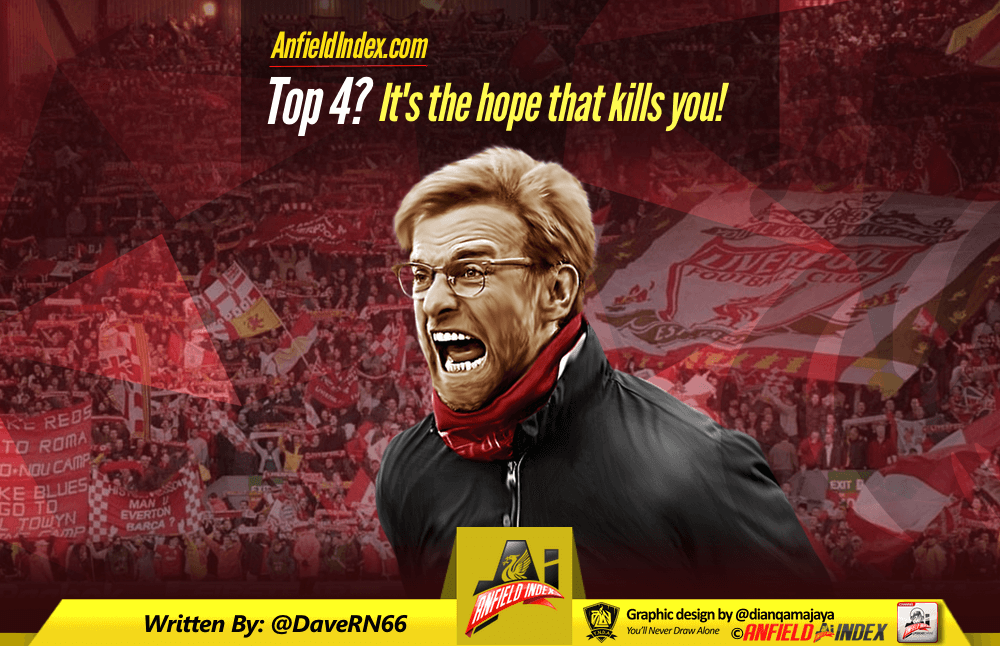 Top 4? It's the hope that kills you!
Top 4? It's the hope that kills you!
I watched something happen to this Liverpool team over the past week. They went to Wembley and after a slow start and falling behind, ended up running Manchester City down to the wire. But sadly, it was not to be.
The Liverpool performance in the Final, whilst better, was still some way short of the lofty expectations that Liverpool supporters of my age group were so used to identifying with, but it demonstrated progress from the last time we had visited Anfield South when we put up one of the most spineless performances in living memory against Aston Villa.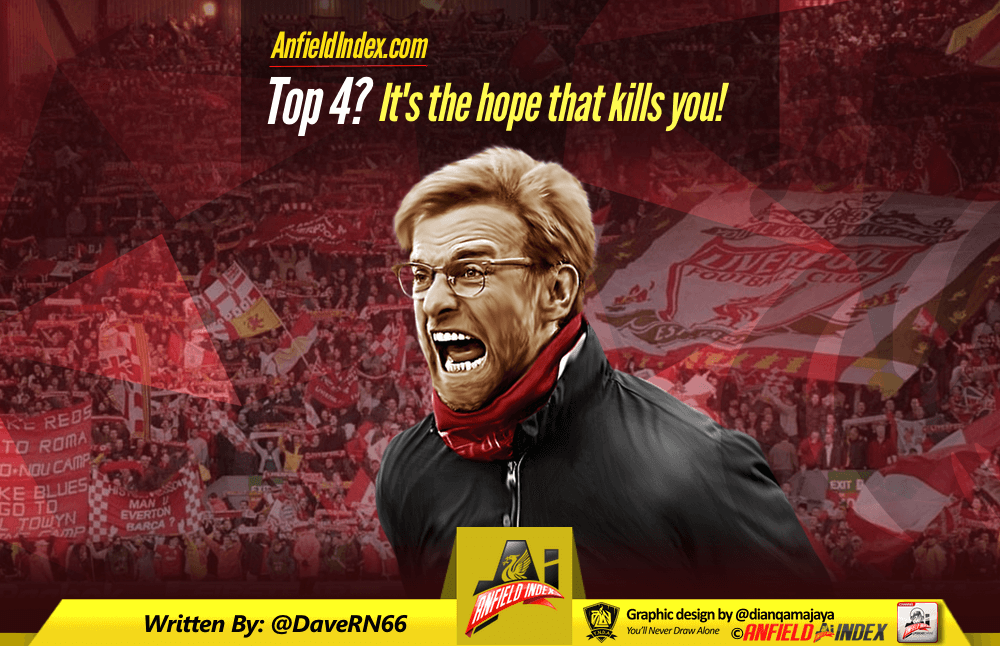 Three days later we met City again in the league. This time things were very different to the Sunday before. We have always treated City quite badly in terms of results over the years. Even with their heavy investment, star players, and title wins, their name has never filled us with dread like their red neihgbours have done for far too long.
Last Thursday we pasted City at Anfield, Just as we had in the away fixture earlier in the season. This win struck a chord with me for several reasons. We demonstrated an ability to bounce back from that heartbreaking shootout at Wembley and the way we took that game by the scruff of the neck seemed that our players had finally "got the memo" that Jurgen Klopp is not a man who will tolerate second best. To that end we saw an excellent performance and a win, with City never really getting near us.
Roll the clock forward to Sunday and we travel to Palace, a smaller stature team who have caused us far too many problems in recent seasons, especially under Rodgers. This was also a Palace team without a win to their credit this calendar year. After the City game I truly felt that the penny had finally dropped for this group players that they are playing for their futures. It didnt take long for the team to dispel the positives of midweek and return to what has sadly become the norm for Liverpool.
For an hour the usual lack of cutting edge was back. Our forward line turned their 18 yard box into a pinball machine, players acting like buffers as the ball bounced off them and around them, all we had missing was the "ding ding ding". Then to confond the matter we conceded, in reality we could have already have been 2-0 down by the time their goal came had it not been for a couple of super saves from Mingolet, lucky indeed!
Our Vice Captain showed his leadership qualities by getting himself an early bath on 62 minutes and honestly it just looked like the same old, same old Liverpool that we are weary of watching.
With Klopp cleverly reverting to a 3-4-2 all of a sudden Liverpool looked better without James Milner than they have done in recent weeks with him. I cannot deny the work and effort that the team put in after the Milner red card, it was a credit to them. It showed a real fight. But why did we need to go down to 10 men to have the appetite to fight in the first place?
What followed was one of the biggest slices of luck that Liverpool have been handed in a long time. Gifted a lifeline goal with McCarthy having a holwer of a kick returned with interest by Bobby Firmino. Liverpool battled like their lives depended on it for the remainder of the game, clearly the better side, clearly the side most likely of getting a winner. The 11 men of Palace shrank, hardly surprising given recent form. We then were given another gift from the football Gods, a dubious penalty deep in injury time, the rest is history, 1-2.
Please excuse me for not joining in the euphoric chest beatings and declarations of brilliance, quite simply, it wasnt. I love we that we took all the points, but the feeling I have today is the same as I felt after the win at Norwich, embarrassed that it takes a backs to wall performance to beat opposition deemed lesser than ourselves.
Yes, we showed fight. Yes, we got the result, but why oh why do we need to be a goal down and reduced to 10 men for the team to finally wake from their comfort zones? Hardly traits of a team aspiring to challenge for top 4 this season.
Liverpool rode their luck, and we all know you make your own luck in any sport. Liverpool's luck quota has probably expired after that win, the lucky bank bled dry.
After this totally fortuatous result fans have now turned their attentions to that other dangerous mindset, one that only will lead to heartbreak and pain, "we can get Top 4".
Balls we can!
Let me try and explain why I feel its totally foolhardy to be thinking and dreaming of the Top 4 this season.
Firstly the teams who currently occupy the top four places in the league today, are the ones I feel will still occupy them come the last day of the season. Sure they may juggle positions but they will remain.
This current crop of players, who are mostly a collection of average squad fillers, expensively assembled the previous manager, who do not have enough of the quality that we used to be assured they possessed weekly by Rodgers. Charahcter.
Liverpool have huffed and puffed at times since Klopp arrived, he certainly has slowly instilled a different belief in them, which we see on occasion. Sadly those occasions seem to be when are punch drunk, backs against the wall, and on the ropes like we were on 62 minutes against Palace. The point is, while its marvelous entertainment watching a comeback, it should never mask the ineptitude of the 62 mins that passed before.
To teams like Palace, with all due respect, we are still Liverpool. 18 times English Champions, 5 times European Champions, and the rest. They raise their game when they face us, we are still that giant to them. And these days they dont fear us.
On paper we have the squad that should beat them 99 times out of 100, but our players dont seem to get how the smaller teams view them, not as players but as Liverpool Football Club. Palace dont care who is in our team, they only care about beating the brand, Liverpool.
We are a club who remain in the headlines, we remain a club with lofty aspirations. To teams like Palace, thats a challenge in itself. Our players seem to struggle with the notion.
To make a charge for 4th at this stage would require something we have yet to see this group master, consistency. The main constant of the past 2 seasons has been we are bog standard average most of the time. We can turn up on occasions, like both league games with City, but we can also fall flat and be devoid of any sort of fire or inspiration more of the time.
Based on that, and considering how unpredictable this league season has been, I fear its too little too late for Liverpool and the Top 4. Can you really put your hand on your heart and say we could win all of our remaining fixtures? Because that is realistically what is needed to overhaul any of the current Top 4.
We have shown up in cup games at times, and the form in those games is slightly more encouraging than we have seen in the league. We may well struggle over the line, but we get there. We start these games on even ground and the outcome is in our own hands.
This to me is where the focus for the rest of the season will lie. When you consider our league run in, we are never getting the points required to break in. Many potential banana skins lie in that path. Everton, Chelsea, Spurs, trips to WBA and Southampton. Its just too big an ask at this stage.
Our blood pressure will be put to the test with the small matter of a European double header against Manchester United in the next week. This Europa League presents a much more realistic opportunity for Champions League football next season than the domestic league as it stands. I really fancy us to turn the Manc's over in the 2 legs as they appear to be a shadow of the once great beast there were under Ferguson. I loved getting them in the draw, and now its time to put them to the sword and progress in the Europa League.
I also think that the Europa league suits our current squad and our manager much better than the position we are in domestically. Klopp knows European football much better than the English game that he is still adapting to. He has a pedigree in Europe that we have so badly missed since Rafa Benitez departed the club. With Klopp I feel we can, and should, run deep in the Europa.
We have a formidable citadel at Anfield that Europes Elite still would prefer to avoid facing. And Europes teams will give us more respect than the smaller teams of the EPL who see us ripe for the picking.
Klopps name and pedigree alone dictates that Europe will not take us lightly. We will not have to face or worry about the EPL bus parkers. European teams will have to play football against us, and thats normally the type of situation where this limited team has thrived.
With Daniel Sturridge rested at the weekend and only a short outing for Coutinho we see that the Europa League is a priority to Klopp. He has already suffered defeat at the hands of United this season, and Im sure he has a hunger to set that record straight over the next 10 days. No match at the weekend is also a bonus in the preparation for the return leg at the library.
When the lights go on at Anfield on Thursday night, and the crowd burst into life, it is not a place for the faint hearted. We have had many a great European night down the years, facing some of the finest teams in world football. But this one is different, this one is Manchester United, this one feels a world apart. Win this and maybe, just maybe it can be the catalyst to success in this tournament. Beating the oldest of foes in Europe is the stuff of dreams. I fancy us to get past them, but with our usual gut wrenching drama. After that we go as far as Klopp can carry us.
As for the Top 4. Do not waste your emotions on it. Its foolhardy and the hope will kill you. But rest assured this is the end of this cycle for us. From next season we are going to be in a much better place. Its the end of the storm and our golden sky awaits us.
Over to you Herr Klopp!