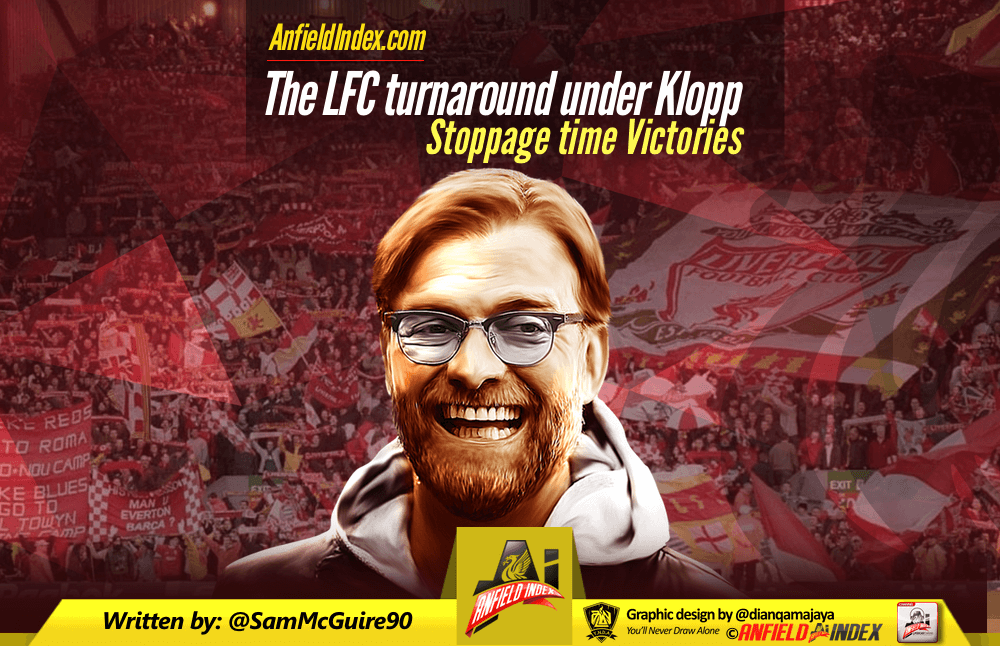 The LFC turnaround under Klopp - Stoppage time Victories

Jurgen Klopp arrived at Liverpool and in his very first press conference he stated he wanted to turn 'doubters into believers'. The German spoke from the heart much like he always does and even though this phrase was aimed towards the fans who, towards the latter period of Rodgers' reign had turned cynical to the point that a win was a negative, he was also speaking to his players.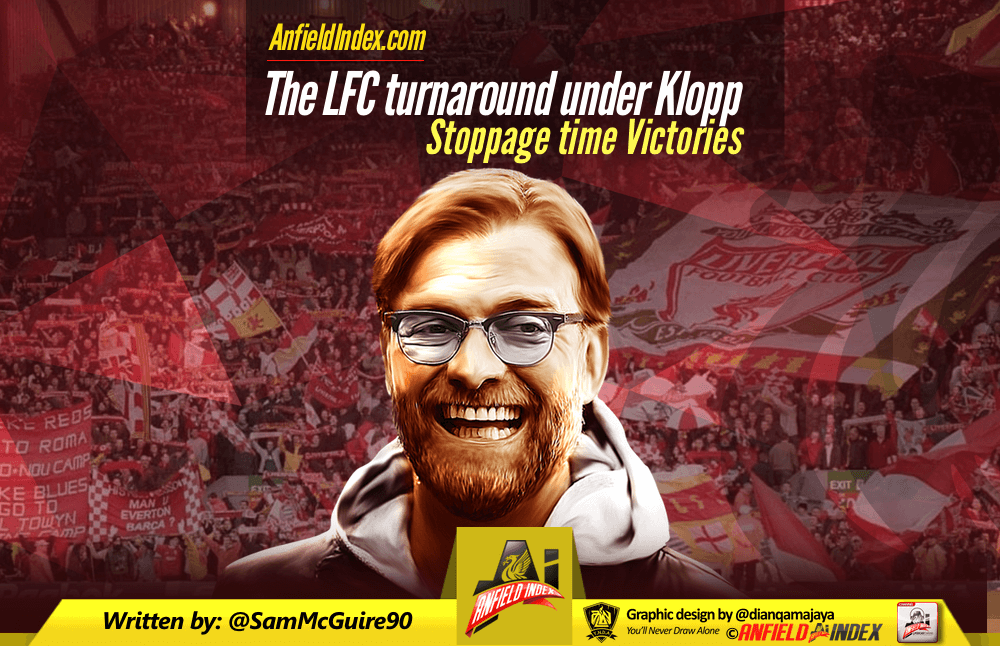 Anfield wasn't a fortress. In the past it was a VIP list of clubs that had walked away with three points, now it was an all you can eat buffet.
Fans and players alike couldn't cope with the Anfield pressure. Fans expected to create a raucous atmosphere when the football in front of them was tepid. Players expected to get the crowd bouncing when it was as though they were playing in a library.
The belief had gone. As soon as Liverpool conceded it was more a case of how many more they'd concede.
Klopp really talked the talk but could he walk the walk?
Could the lovable German really turn the fortunes at Anfield around without a pre-season or much of a transfer window?
After the Crystal Palace victory Klopp had been in charge of 35 games in all competitions. In 11 of those games Liverpool had come from behind to take something from the game and yet in Rodgers' 11 games in charge in 2015/16 Liverpool came from behind to take something from the game 0 times.
The exact same players.
If anything Brendan Rodgers had the advantage here. He had a pre-season with the players and he had less injuries to deal with. These were his players yet the results would indicate otherwise.
Under Rodgers Liverpool went behind against West Ham and Manchester United, in each of these games they ended up conceding three goals. Liverpool lost leads against Norwich, Everton, Carlisle, Bordeaux and FC Sion.
Klopp on the other hand has witnessed his side show fight you'd not usually associate with a Liverpool side. In the Premier League alone Liverpool have picked up 11 points from losing positions since October. The Reds got something from these games after falling behind:
Chelsea – 3 points
West Brom – 1 point
Arsenal – 1 point
Norwich – 3 points
Palace – 3 points
In four of those matches Liverpool headed into injury time either drawing or losing and came away with at least a point. Many may argue 'oh it's only WBA' but it's those tiny footsteps that lead to giant strides later down the line. Turning a loss into a draw so late into the game breeds confidence. Many of Alex Ferguson's United sides were built around the never say die attitude. Remove the 6 points Liverpool have earned in stoppage time and they'd be level with Everton on 38 points, 11th in the table.
This new found fight isn't exclusive to the Premier League.
Klopp's red army took 4 points from losing positions in the Europa League group stage, and these points ultimately lead Liverpool to finishing top of their league.
In the FA Cup they managed to come back against Exeter to take it to a replay and they scored late on against West Ham to take it to extra time.
Then in the League Cup Liverpool overturned a shocking start away to Southampton to win 6-1 and managed to take the Final to extra time with a late Coutinho goal.
Many may argue taking a game to extra time isn't an achievement but you're not losing inside of 90 minutes. That's something to remember. For those saying 'Klopp's sides  fall behind too often', you're wrong. This isn't his side, yet, and he's doing a superb job motivating them and giving them confidence to never admit they're defeated.
Since taking over Liverpool have only taken the lead but not walked away with three points against Southampton and Sunderland.
For even more context if you look at Brendan Rodgers' 2014/15 season and his 11 games from 15/16 Liverpool went behind in 26 matches and only got something from the games in 7 of them. If you filter it so it's Premier League specific then the Reds went behind in 16 games and from those games took a meagre 4 points.
Rodgers took 4 points from losing positions in 16 league games.
Klopp's taken 11 points from losing positions in 11 league games.
The turnaround under Klopp has been nothing short of astonishing and still people, more specifically pundits and journalists, question if he's actually done anything for Liverpool? He's managed to pick these players up, players that aren't even his, brush them down and give them some much needed confidence to fight for their place in the Liverpool squad and we're reaping the rewards. He's manage to instil this belief that no matter how many seconds are left you keep going and that mentality is priceless.
The players believe, the fans believe and more importantly the opposition now believes Liverpool won't give up.
(Liverpool under Klopp)