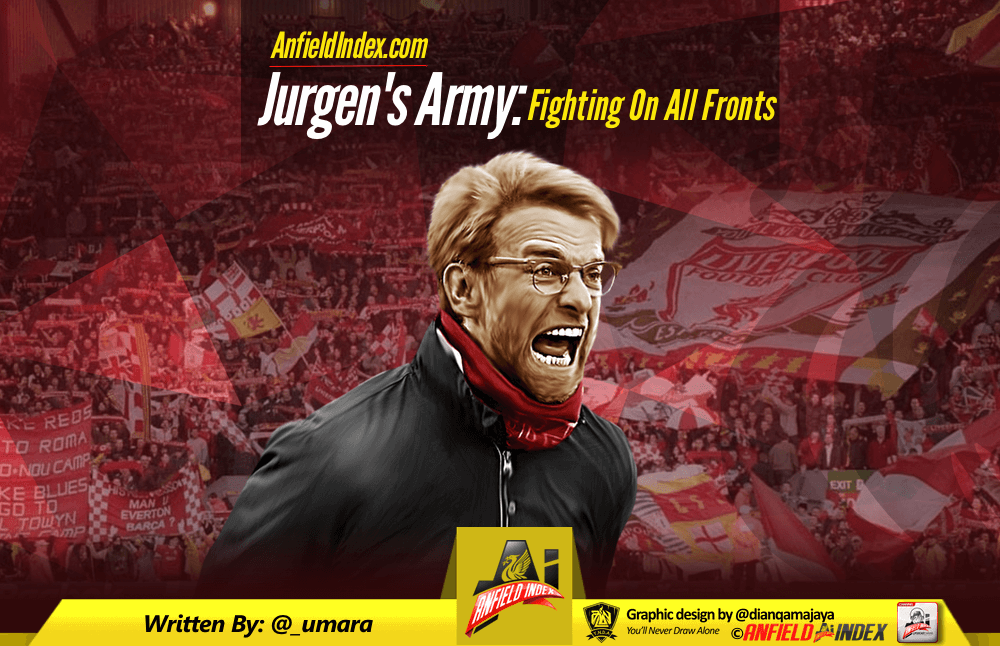 Jurgen's Army: Fighting On All Fronts

On Sunday 6th March 2016, Liverpool Football Club achieved something that they had not managed to do in Premier League history. In fact, something that no club had done in the league before. Ever. A landmark for English football. What was it? To win a match from a goal AND a man down. Once James Milner saw yellow for the second time, the game seemed dead and buried for Liverpool FC. The Reds have found it tough enough to launch comebacks with eleven men let alone ten, and from the sixty-second minute onwards it was mission impossible. Jurgen's army would have to fall back and keep Pardew's Palace from running rampant; a matter of damage limitation. Any impending embarrassment resulting from a hefty loss would need to be contained as much as possible. You would have been forgiven for doubting Liverpool's mental fortitude to bounce back from their predicament as it's a trait that has been sorely lacking in the past. I'm ashamed to admit that I had certainly conceded defeat after the chain of events that transpired at Selhurst Park. But I'm not ashamed to admit that I was proved very much wrong.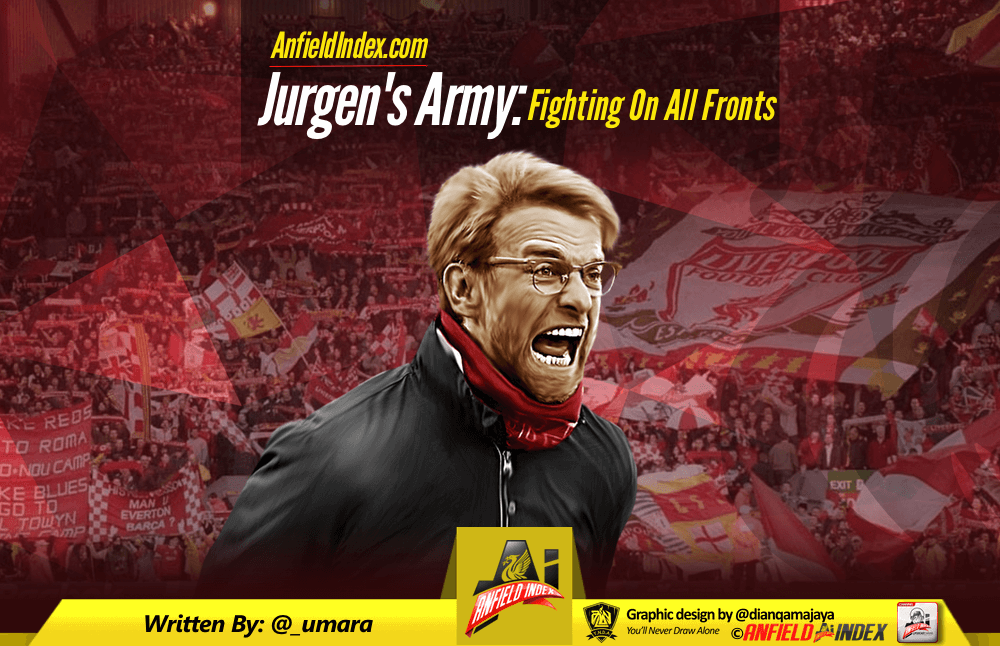 Milly Loses His Head
Sixty-one minutes on the clock and Liverpool trail Palace by a goal to nil. Jurgen Klopp makes a tactical substitution to try to salvage something from the game, so Jon Flanagan is replaced with Philippe Coutinho which sees James Milner move to right-back. The idea was that Coutinho would help the attack, whilst the experienced head of the vice-captain would marshal the back four and shut Palace out for the remainder of the game. It was a nice idea while it lasted. All of 0.4 seconds. Flanagan had hardly parked his rear on the bench when Milner was making the never-ending walk back to the dressing room. Not for a tackle in his own half to stop an imminent shot on Mignolet's goal, nor did he take one for the team to save the game, but a needless lunge just yards from Palace's own penalty box. They hardly posed a threat. For all his age, experience (and wages!), you would expect a cooler head for someone who has been handed so much responsibility so quickly into his Liverpool career. It was obvious that he wanted to atone for losing the ball just seconds earlier and it was more about his own pride than keeping possession or helping the team. Whatever the reason, Liverpool found themselves a man down in what was traditionally a difficult fixture for them. From then on, the struggle was uphill.
Here Comes The Fight
It looked as though Crystal Palace were to end their awful run of form (that ran back to December 2015) with a win over their favourite side, and Liverpool would follow-up their brilliant win over City with yet another defeat. The inconsistency that has plagued Klopp since his arrival was rearing its ugly head again. There was an air of inevitability about it all. Klopp himself seemed resigned to salvaging a point when he bought on Kolo Toure for Roberto Firmino in the eighty-ninth minute. But the players were having none of it. What was truly going through their minds, only they will know but what manifested on the pitch said 'we won't give up'. Strangely, the team played with more intent without Milner on the pitch, attacking whenever possible, whereas other teams may have sat deep and invited pressure onto themselves. Emre Can, in particular, ran himself ragged covering acres of ground in both halves. Christian Benteke's eightieth minute introduction almost bore fruit when he had a few good chances to win the game along with Moreno's eighty-seventh minute pile driver which hit the post. Despite the efforts, it appeared that the Reds were heading for a rather respectable draw.
Big Balls Ben
It should go without saying that your £32.5 million striker should regularly be winning you matches, but recent events have dictated that Christian Benteke has seen out most games on the bench rather than the pitch. The Belgian replaced Divock Origi upfront for the last ten minutes, and he impacted the game positively; something we haven't been able to say about him for a while. By winning Liverpool a penalty in the dying seconds of the game, Big Ben set up a controversial finish. And scoring it sealed the deal. Watching on TV on the other side of London, my heart was pounding and I could barely watch. Fortunately for Liverpool, Benteke grew a brass pair at that particularly vital moment. Never will you see a more coolly taken penalty. And when you think of all the criticism that he has had to endure of late, leaving him devoid of all confidence, it makes it all the more special.
Importance Of The Comeback
My reason for reliving the Crystal Palace game isn't to provide you all with a match report or purely to gloat, but to highlight the fight Jurgen's boys have been showing of late. We have had glimpses of it from the late equalisers against West Bromwich Albion and Arsenal, to stealing a win from Norwich in stoppage time after going 3-1 down. The Capital One Cup final defeat, although bitterly disappointing, also saw the Reds show some battling qualities after conceding to City. I'm not suggesting for a second that Klopp has sprinkled his magic dust over the squad, as some bitter defeats disprove this theory. What is happening is that the same conversation has been cropping up again and again lately; about that fight, about that spirit.
The Klopptimism
Although it's very easy to attribute this apparent improvement in character to one man, that is exactly what I shall do. The arrival of a new manager always seems to coincide with a spike in form for any team and the initial euphoria surrounding Jurgen Klopp's appointment certainly supported this. But the Reds have had to endure some seriously tough moments with the odd  exceptional performance thrown in. Ironically, the only consistency Liverpool have shown is inconsistency. However, the one thing that cannot be questioned lately is the team's spirit; an attribute that was constantly absent last season and at the beginning of this one. There's no doubting that the introduction of a passionate and flamboyant individual, such as Klopp, would have an effect on any group of people. His almost fanatical appetite for football is infectious and the players are showing signs of it too. In music (and psychology) this phenomenon is known as 'sympathetic resonance' where 'one plucked string causes another to resonate in sympathy'. Like the string, human emotions cause vibrations which then affect people around us or cause our vibes to 'rub off' on others; much like Klopp's personality is positively impacting the players. His determined approach has filled them with the belief that they can win well and grind out results when needed. Turning them from doubters to believers.