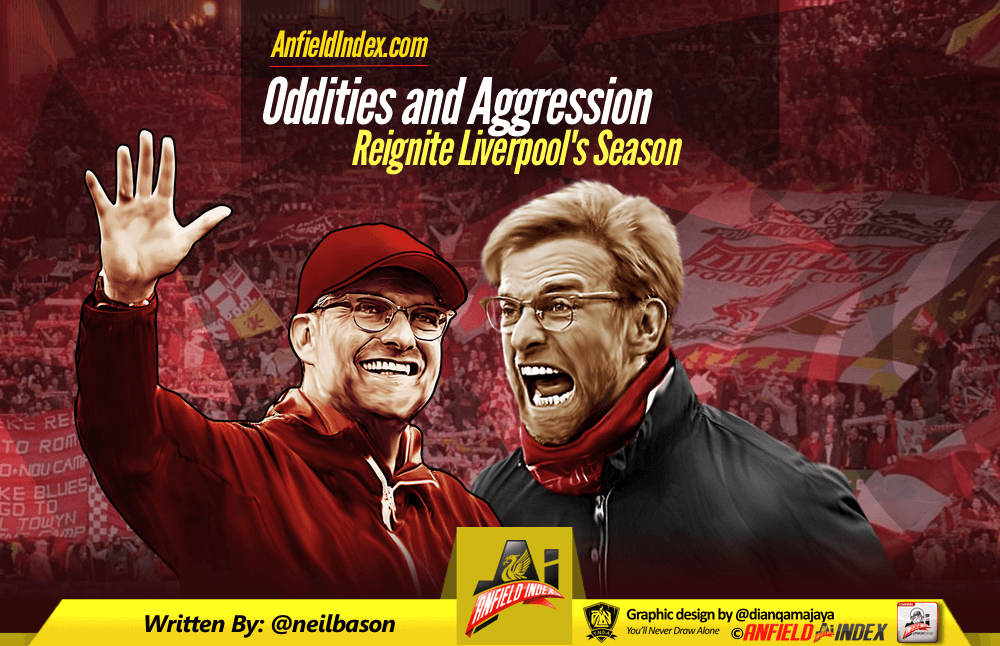 Oddities and Aggression Reignite Liverpool's Season
From its opening shots back in Summer 2015, this season has been one of the most unpredictable ever seen. Even now, as we roll through March, nothing is certain.
Oh, unless you're a Villa fan that is.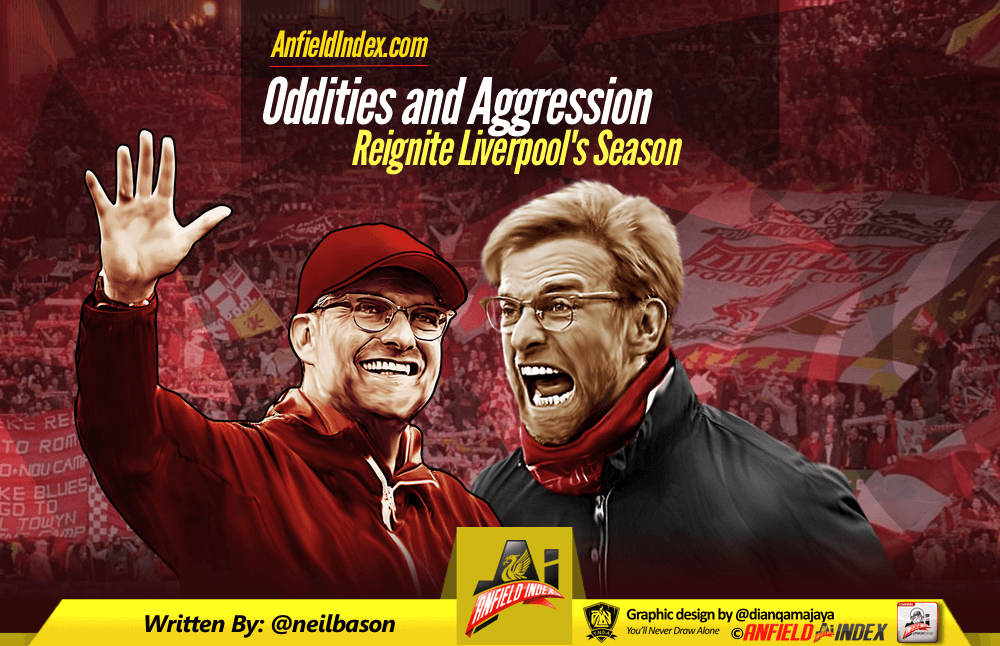 As a supporter I've never experienced anything like it. I mean we've all seen blips in the usually predictable landscape over the years. I remember Norwich City having a spell in the sun, Blackburn Rovers as champions, Newcastle United and their Keegan influenced attacking mentality going close, and, believe it or not, Everton used to win Cups with surprising regularity. Some would even say based on the past twenty plus years a Liverpool title challenge is a blip in itself. And they'd probably have a point. But right now we're in a season were it seems these surprise results and seasonal oddities are a weekly occurrence, and as Liverpool fans we should be eternally grateful.
Only three weeks ago I, like most other fans, had completely written off any lingering hopes that a top four finish was a genuine possibility. If we go back to the turn of the year and a 2-0 defeat at West Ham on January 2nd, our form read like this:
LDLWLD
Five measly points from six games. The sort of form that in almost any other season would have seen us miles away from the top four, and probably drifting badly from a top six finish, but not this one. The next match in that run was a memorable trip to Villa and six of the best, two further wins against City and Palace (Yes, it was a pen) and suddenly we're seeing that previously extinguished hope firmly re-ignited. Again.
And I don't know about yourself, but this time the return of hope has a markedly different feel. Against City we were magnificent. At times prior this season we have also hit the dizzy heights of magnificent, but against City we reached it with an added edge, a sudden emergence of the sort of physicality we'd previously lacked.
As a romantic sort of football supporter, and a huge fan of Jon Flanagan to boot, I like to think this new harder hitting side of Liverpool was unleashed when Flanno hit Sterling hard. It was a tackle that screamed of the intent to impose ourselves upon the side that had nicked the Cup a few days earlier in a way we had failed to that day, and it seemed to rub off across the whole squad. Adam Lallana, a player who always seemed far too nice to me, was tearing about the place, hitting tackles and playing with a genuine fire in his belly. As fans we love to see that sort of commitment, it gets due praise from the stands, the shouts and cheers build Lallana's confidence and he goes on to produce probably his most impressive performance in a Liverpool shirt to date.
The same applies to Can, Lovren, Henderson and so on. They've found their inner bastard, and it's once again changed the shape of the side.
At Palace we won ugly, and it was a beautiful sight. Milner left the pitch after his second yellow and in another oddity for the season, Liverpool began to play. To be fair a lot was made of going down to ten men and suddenly looking more threatening than we had for the previous half an hour, but for myself it was less the sending off of Milner and more the introduction of Coutinho to a side that had looked a little devoid of imagination in the build-up play. What was evident though throughout was the continued fight and aggression in the lads. During the final 20 minutes where normally you might expect it to ebb again, it actually intensified, epitomised by Can's incredible work rate and bossing of every blade of grass he walked on, and Lovren's immense desire to win the ball at all costs, highlighted by a magnificent sliding tackle late in the game. This was something I had missed in my Liverpool side and it was great to see it return.
And now here we are, back in the race against all expectations. Winning ugly, understanding that under Klopp there's no such thing as a lost cause, and finally seeing long underperforming players delivering. In a season of blips and oddities I hope the best is yet to come, worryingly Liverpool have once again lifted my spirits and made me believe it's possible that we can sneak into the top four. It's truly been a season like no other, and now I'm banking on the grandstand finish.
Oh, and while we're at it, let's have the UEFA Cup as well please lads.