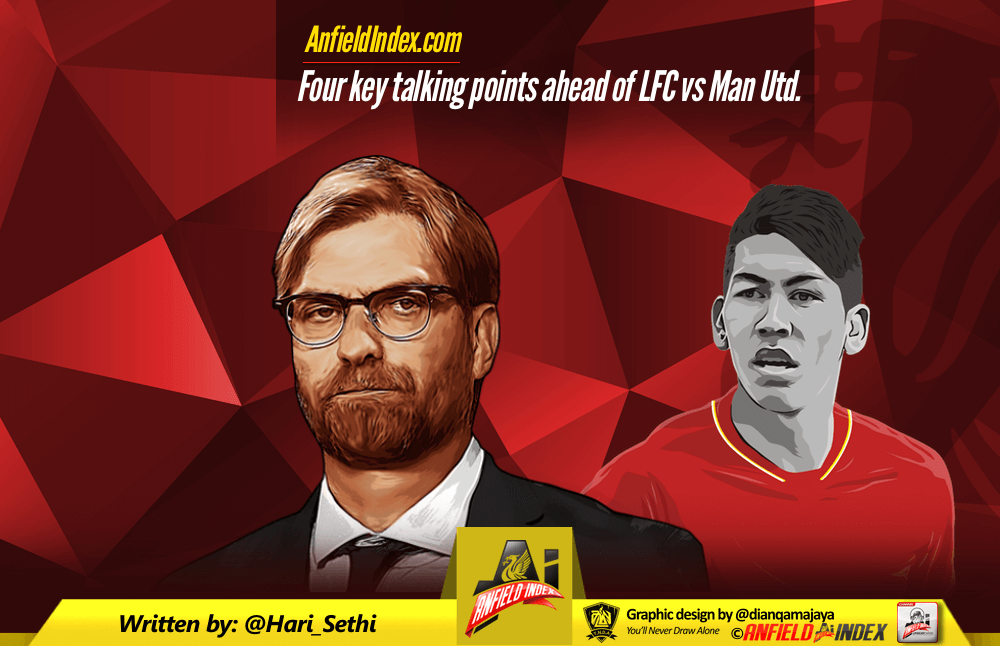 Four Key Talking Points Ahead of Liverpool vs Man Utd
Manchester United arrive at Anfield this Thursday for the first leg of the club's Europa League clash against their fiercest of rivals. Given that the match marks the first European encounter between the two iconic clubs of English football, the attention the tie will garner is immediately understandable.
However, though once standard bearers for the strength of the English game, both sides come into the fixture in search of a victory that would salvage pride and fuel hopes of Champions League qualification, following turbulent league campaigns.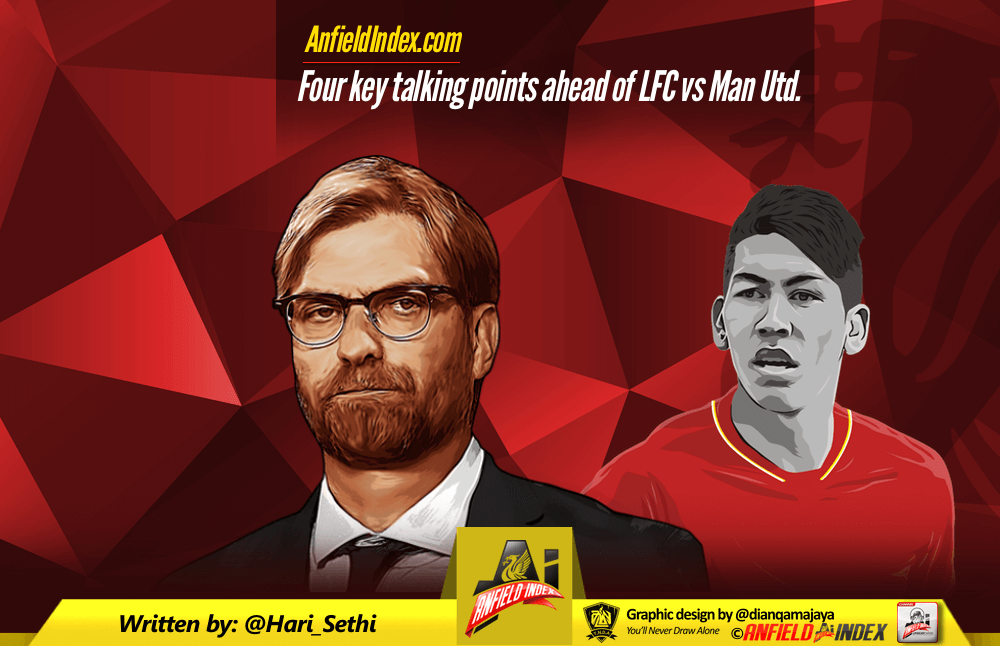 Though Louis Van Gaal has endured a great deal of criticism during his tenure as Utd manager, his record of four consecutive wins against Liverpool is one the Dutchman will be keen to emphasise.  Jurgen Klopp will feel his side deserved more following the match at Anfield earlier this season; Thursday night provides an opportunity for revenge and below are the key talking points ahead of the game:
 Liverpool's strong bench against Palace shows Klopp now has options
Since arriving at the club the German has had to contend with an array of injuries to key players, a relentless fixture list leaving little time for recovery or tactical drills and a lack of attacking options to turn to in tough moments.
Following their impressive performances in midweek, the trio of Firmino, Origi and Lallana were granted another chance to impress against Crystal Palace. Yet, if more was to be needed, as was proven to be the case, the Reds' boss had Benteke, Sturridge and Coutinho to call upon from the bench.
Against Manchester Utd it's likely that we will see the latter two return to LFC's 1st XI, however, given the encouraging recent displays from Divock Origi and Benteke's late winner against Palace, should Klopp wish to change the dynamic of the game on Thursday night, for once he'll have the ability to do so.
Given Liverpool's earlier defeat against Manchester Utd at Anfield was in large part down to the profligate finishing of their forwards, the Reds' boss will welcome the opportunity to field a fit Daniel Sturridge for such an important fixture.
Does Rondon's success against Blind suggest Benteke could have a key role to play once again?
Though Juan Mata's sending off undoubtedly played a huge role in West Brom's eventual win over Manchester Utd on Sunday, the performance of striker Salomon Rondon may enter Klopp's mind when he decides upon his game-plan for Thursday evening.
Whilst defensively able and technically sound, Daley Blind won't look back on his bout with the Venezuelan forward with much fondness, as the physical striker proved a tough proposition to handle.
Though Klopp has made his preferences clear in recent months, opting for the talents of mobile forwards such as Firmino, Sturridge and Origi over the likes of Benteke, the big money signing could be able to make a nuisance of himself.
A cameo role is most likely, however, following his winning goal at the weekend Liverpool's manager may well look to make the most of Benteke's increased confidence against a tired Utd defence late on.
Dealing with direct play
Despite dominating Utd for vast periods of the game at Anfield earlier this season, Liverpool would eventually concede due to their inability to deal with a set piece; an all too familiar headache for Jurgen Klopp.
And though Utd's latest short lived resurgence came whilst Van Gaal fielded mobile young forwards such as Rashford and Depay, the Dutch manager is likely to recall how much joy he's had using Fellaini as a disruptive target-man.
With Liverpool's centre halves coming off the back of fairly positive performances against a notoriously direct Palace side, the focus will once again be on their ability to deal with set pieces and the swinging elbows of Utd's Belgian midfielder. Lovren and Sakho were exceptionally proactive in their defending at the weekend, especially against Bolassie and Zaha. By assisting their full-backs and ensuring they prevented their opponents from turning easily, Liverpool were able to deny either winger much joy.
In the previous fixture Klopp was able to negate the influence of Fellaini by instructing his defence to play a high line and with Utd likely to adopt a counter attacking approach once again, expect to see Liverpool defenders in advanced positions.
But despite the best laid plans of the manager, Rooney's winner in the previous fixture conveys how Klopp's defence must be alive to dealing with the second balls at set piece situations, to prevent themselves from falling foul of another sucker punch.
On fire Firmino will look to headline another big game
Throughout the season Liverpool have struggled to put a consistent run of performances together, with an inability to control games and a habit of conceding sloppy goals often halting any momentum they've been able to generate.
However, with Sunday's victory meaning Klopp's side have now won 3 consecutive games for the first time this season, one player deserves highlighting for his performances in 2016.
Roberto Firmino has scored 7 goals in 8 games, providing 4 assists to boot and when you consider the turbulent season his side have had and the back injury he sustained shortly after his arrival from Hoffenheim, it's clear to see the Brazilian is having a big debut season for Liverpool.
As well as his more eye-catching contributions, Firmino's rates of pressing and his efficiency in winning the ball back high have been key to Liverpool's improved fortunes of late. Last time round against Manchester Utd, the Brazilian performed well but lacked both a strike partner to feed and the clinical edge in front of goal that he now seems to have rediscovered. With Sturridge and Coutinho likely to start on Thursday, not only will he have a mobile forward to pick out, but the presence of his national teammate will only serve to provide him with more space to play in.
With the Europa League still seeming the most likely way Klopp's side can qualify for the Champions League this season, don't be surprised to see Liverpool's latest 'big game Brazilian' adding to his already impressive tally.