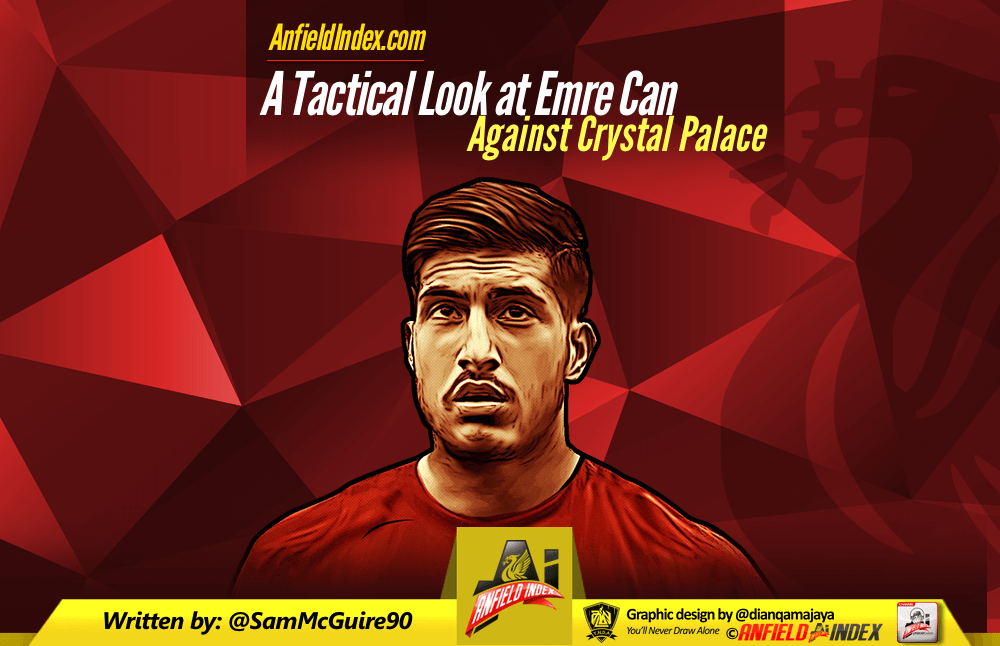 A Tactical Look at Emre Can Against Crystal Palace
If you were to ask Liverpool fans for a review of Emre Can's season the answers would vary from uninspired and lacklustre to commanding and captain-in-waiting. This isn't because Emre Can has been inconsistent, make no mistake about it his performances haven't been consistently good, but more so to do with the fact half the fan base have unrealistic expectations for the young midfielder whereas the other half have tempered their expectations and taken into account what's happened this season.
It's very much dependant on whether you're a glass half empty or a glass half full type of person.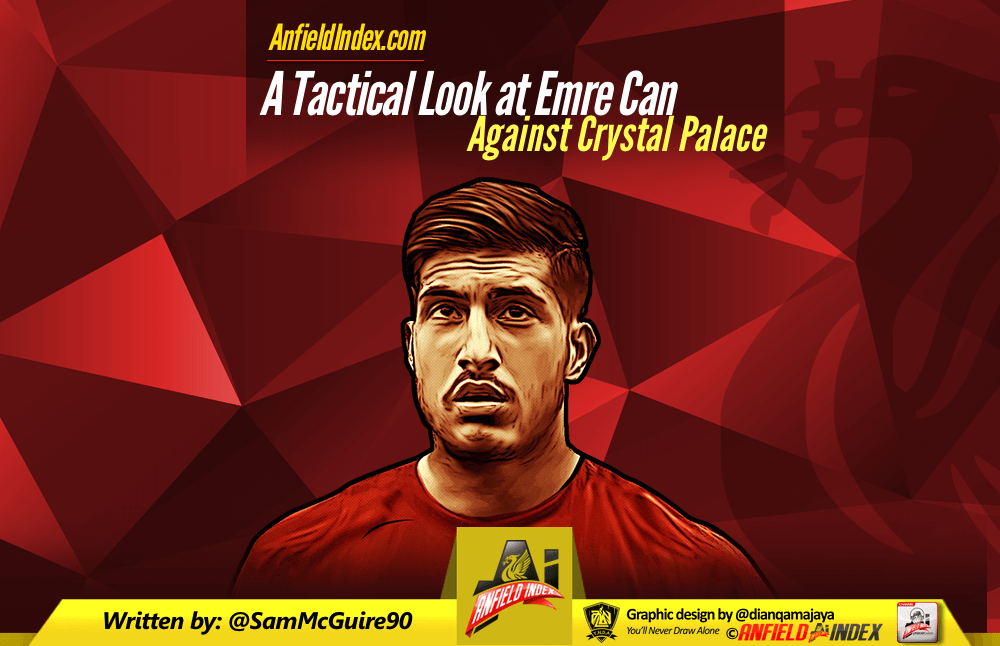 Much like the fans, the two managers Emre has played for whilst at Liverpool seem to differ with their opinions of him. Ex-Reds manager Brendan Rodgers never really seemed convinced with the twenty-two year old German, and often seemed reluctant to start him if he had alternatives available, especially when being played in midfield. Jurgen Klopp on the other hand has made Emre Can the constant in his midfield. This may not necessarily be through choice but more to do with necessity with Liverpool having to navigate their season around so many injuries.
Although Klopp hasn't had much choice when it comes to midfielders it's been interesting to see the responsibility that's he's placed upon Emre Can's broad shoulders.
In Klopp's first game, away to Spurs, it was Emre Can barking orders on the pitch. In Klopp's first match at Anfield it was Can that scored the goal to get Liverpool back into the match against Rubin Kazan. Of course he's German so the link is obvious but as Klopp's English has improved, it seems his faith in Emre Can has also increased.
As Liverpool headed into a penalty shoot-out in the League Cup final against Manchester City the camera panned to Emre Can getting a Jurgen Klopp hug as they shared a moment. Despite being the least experienced Liverpool midfielder on the pitch it was Emre Can who took the first penalty of the shoot-out. Klopp had entrusted the youngster with the opening penalty in a final. Emre Can dispatched his spot kick with an air of confidence that he had no right to exude.
In the following match, in the Premier League against Manchester City, Emre Can had one of his standout performances and was universally applauded for it. A much more experienced City midfield was dominated by this youngster, along with Jordan Henderson and James Milner.
It was against Crystal Palace that Jurgen Klopp's faith in Emre Can really showed, and the player really stepped up to the occasion.
Before James Milner picked up a second yellow card Liverpool had reverted back to the 4231 system that they've adopted many times under Klopp. It's slightly different to the 4411 used against Manchester City in mid-week but the general principles are the same.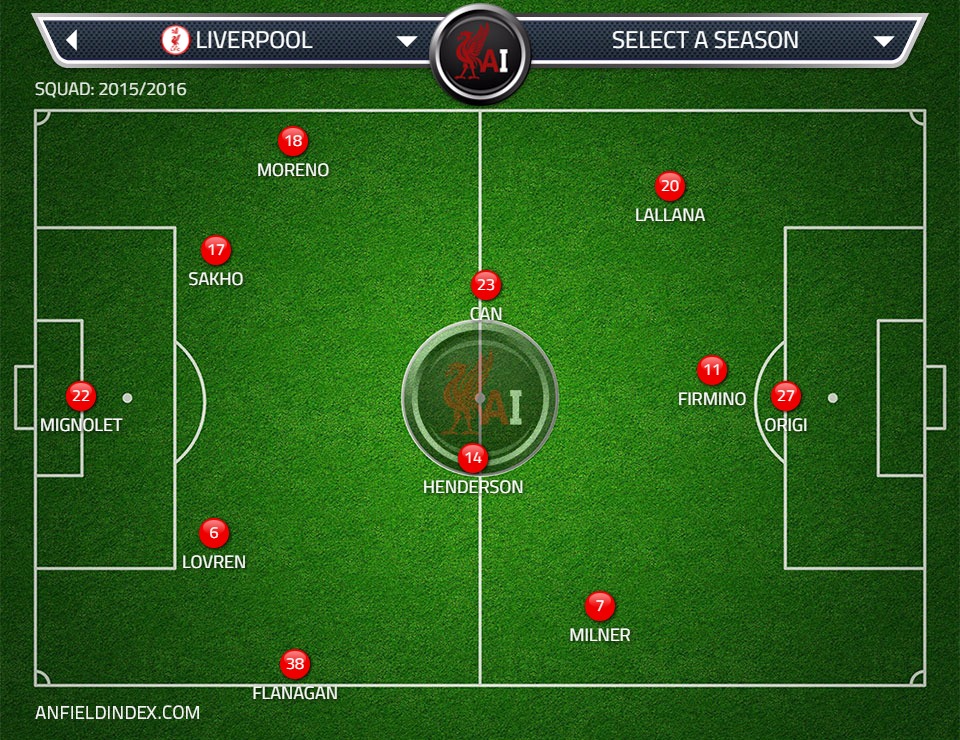 Emre Can's job in this system is to give Alberto Moreno defensive support and to clog the left side up whenever Moreno goes forward. It's no coincidence the Reds look poorer down that side when Emre Can isn't there. Of the three midfielders he's probably the less tenacious when it comes to pressing, not because he can't but because he's been given more defensive responsibility.
After Milner was sent off.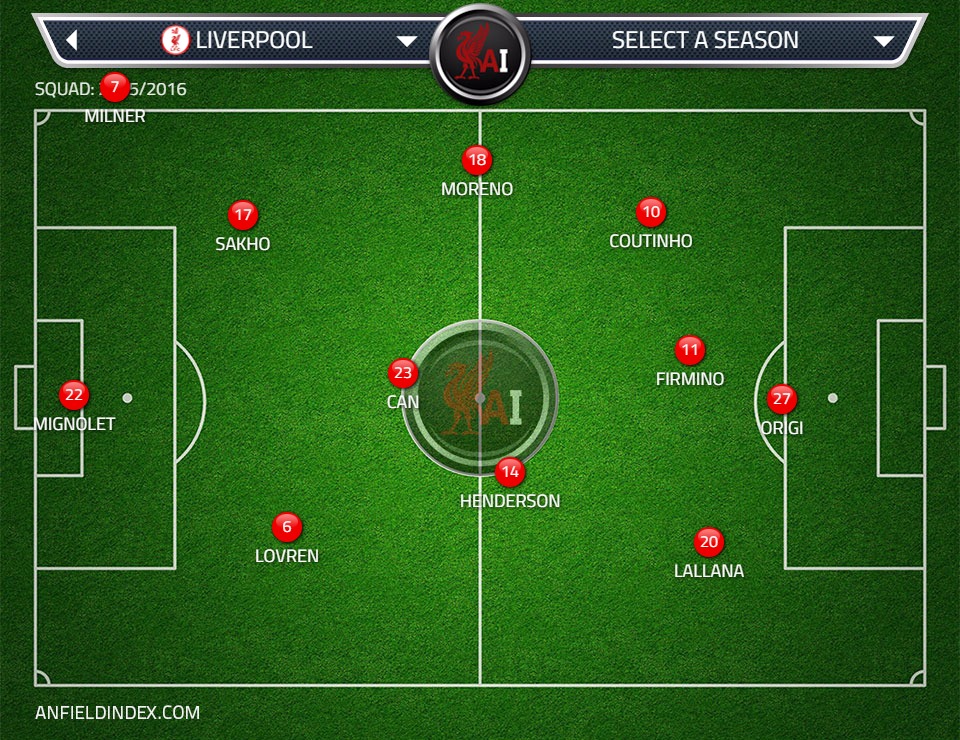 Jurgen Klopp was brave. He could very easily have brought on Kolo Toure for Emre Can and ragged Adam Lallana back into midfield. Instead the German decided to make a fight of it. He kept the three midfielders behind the striker in Adam Lallana, Philippe Coutinho and Roberto Firmino. Alberto Moreno offered the width down the left hand side. Jordan Henderson was the body in midfield. Emre Can acted as a sweeper, dropping back between the centre-backs when Palace were attacking but pushing into midfield when Liverpool had the ball.
Liverpool Equaliser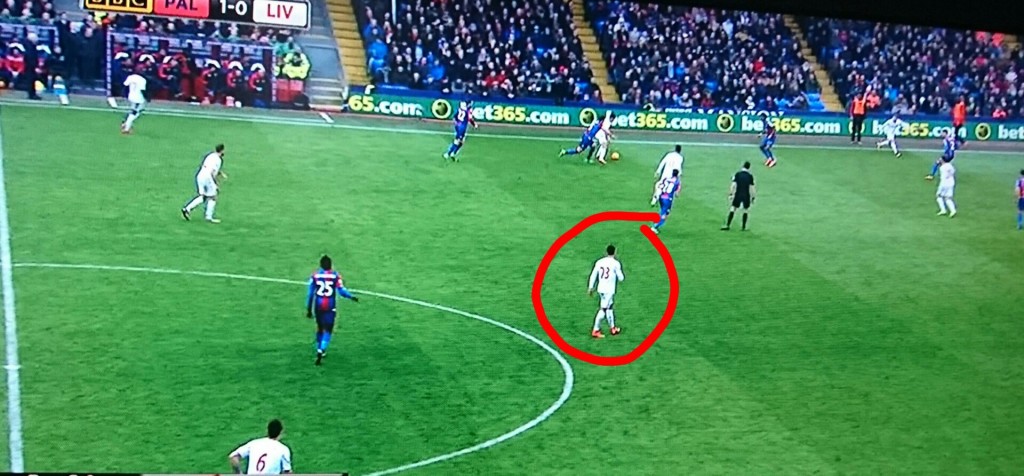 Liverpool have possession on the left, Emre Can is circled in the centre with only Mamadou Sakho and Dejan Lovren behind him.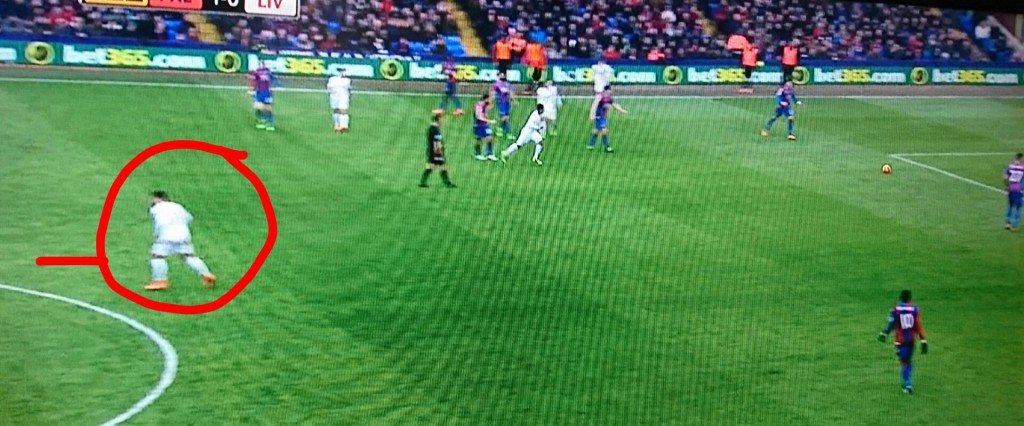 Liverpool misplace the pass and the ball looks set to be regained by Palace. Instead of holding his possession and potential pressing to stop a Palace break Emre's first thought it to retreat so Liverpool aren't caught on the break.

As Roberto Firmino passes the ball pass Alex McCarthy it's Emre Can (circled) centrally who is marking Palace forward Emmanuel Adebayor.
Emre coped with the responsibility given to him, to play a sweeper role when your team is down to 10 me and to ensure Liverpool aren't outnumbered in defence or midfield, and he answered the questions asked of him emphatically.
It's also worth remembering that it was Can who picked the ball up deep prior to Liverpool winning the penalty, he drove forward before passing to Henderson who released Benteke and the Belgian won the penalty. Emre Can was the instigator of it.
There are often question marks over Emre Can's positional discipline but in the victory against Palace he was instrumental.