It's Sunday the 28th February, Liverpool's have just battled back to play extra time against Manchester City in the League Cup Final, then face the nerve wrecking agony of Penalties. The first player to step up is Emre Can. He looks calm and composed, with no signs of fatigue or tiredness. Instead of going for power, or looking to place it in the corner, he took the most audacious of penalties, a Panenka, in a final, under immense pressure! If that doesn't tell you how much confidence and self belief Emre has, nothing ever will.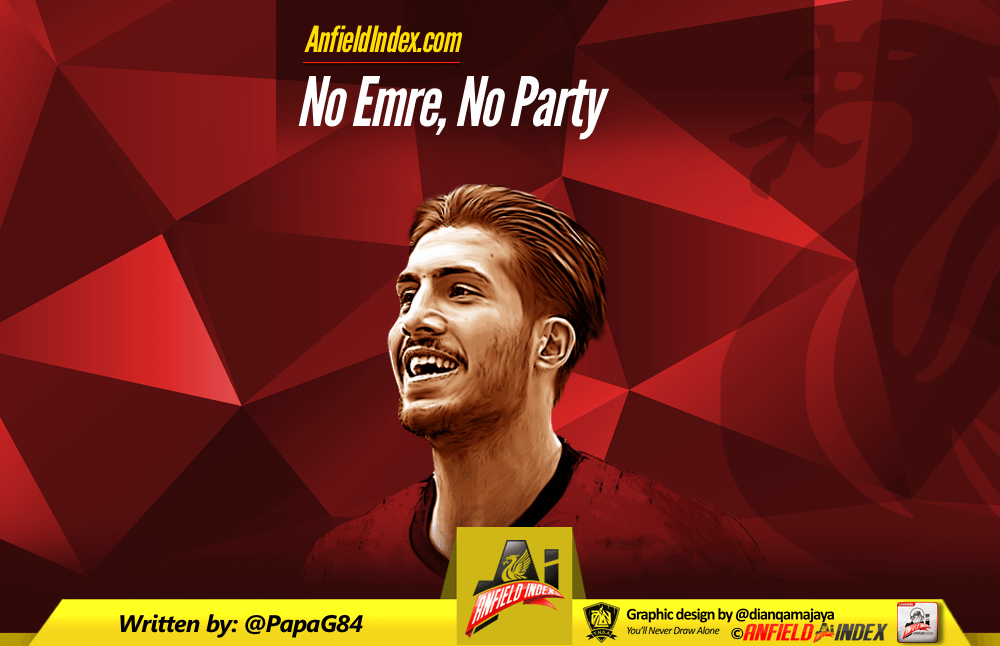 Whenever Emre Can steps onto the pitch, he believes he's the best player on it. He exudes confidence, almost arrogance, which to me is vital in any side. All teams need players who hold no fear, who inspire others to believe that they can win, against the odds. On Sunday when Emre stepped back into the Libero role (following James Milner's red card), he was not only the best player on the pitch, but the most influential. Stepping out of defence, commanding others, driving the team forward, setting the tempo and forcing the issue. It was a captains performance from the young German, who may just have one eye on that armband.

With Emre you have to remember he's still very much developing and learning his trade, and with younger players you'd expect some inconsistencies. However at just 22, he has an incredible amount of top level experience and that's beginning to shape his game. He's played in the Champions League with Leverkusen, is a regular with the German national team and is supremely comfortable in multiple positions. His versatility whilst an asset, may have been a factor that had slightly curtailed some initial progress last season. You too could argue mismanagement, but that's no longer the case. When fit and available I believe he's the first name on Jürgen Klopp's team sheet, in the heart of the midfield.
In recent weeks something has clicked with Can and he's stepped up his game to a whole other level. That confidence and composure has developed into dominance and control. It's not just the ability to dictate the tempo throughout a match, which he's starting to do with his excellent passing range. But knowing when to inject some physicality into proceedings, or even some flair, to raise the crowd and to lift the players around him. It's that awareness and intelligence, which sets him well apart from any other midfielder LFC has, right now he's head and shoulders above the rest.
I honestly believe when he's fully developed he could produce performances where he's untouchable, even unplayable. He has an almost limitless amount of potential, therefore out of all the players at the club, he's the one with my greatest hopes. Emre and Jürgen are a match made in heaven. You can see their natural connection, I saw it almost instantly when Klopp arrived. He trusts Emre and backs him unequivocally. That mutual respect and trust, elevates this team, it demonstrates to others he difference hard work and respect can makes. It's their relationship others must aspire to and one, which is integral to building a successful spine at the club.
The only thing that has held back Emre slightly this season, is the imbalance in midfield. Too many changes, inconsistencies and inadequate partners, have restricted his freedom to always play his own game. But instead of letting that effect him, he's moulded his game to suit the opposition, he's taken on the rough with the smooth, given every ounce he has for the benefit of the team. That selflessness may just be one of his finest traits, why? Because it's the sign of a true leader.
For me it's no surprise that Liverpool's upturn in fortunes, directly correlate to Emre Can's advancement in recent weeks. His influence is much more critical than many would have you believe. He's without doubt the most consistent and reliable performer under Jürgen Klopp's reign. He's taken responsibility square on his shoulders and seems to relish the pressure. Whilst he's never worn the armband at the club, he looks every inch a future captain. He's intelligent, has a great understanding of the game, is fearless and at all times is under complete control.
Liverpool need key performers to deliver in this stage of the season, particularly in the next two games vs Manchester United in the Europa League. A tie, that I struggle to form the magnitude of, into words. Whilst many focus on the attackers of both sides, and they're crucial. The battle to me is always won and lost in midfield. That's why Emre Can, is one of the most critical players on either side. He's the form player, along with Roberto Firmino for Liverpool. The two players most likely to suffocate and create in equal measure. They both set the tone for others to follow, and follow they must.
No matter the outcome of both ties and the likely drama that will follow, I have complete faith that one of the players we'll be praising is Emre Can. He's never one to shy away from any occasion, nor one to hide when things get difficult. He's the type of player that others gravitate too, a calming authorities presence this team needs. He's a leader on the pitch and one I hope will inspire this club to great things. In my opinion he's vying to be Liverpool's next captain, and in these two fixtures, we'll get a feeling for if he's genuinely ready. One things for certain, it'll be an almighty battle, one that without doubt requires a level head and self belief. Up steps Emre Can!