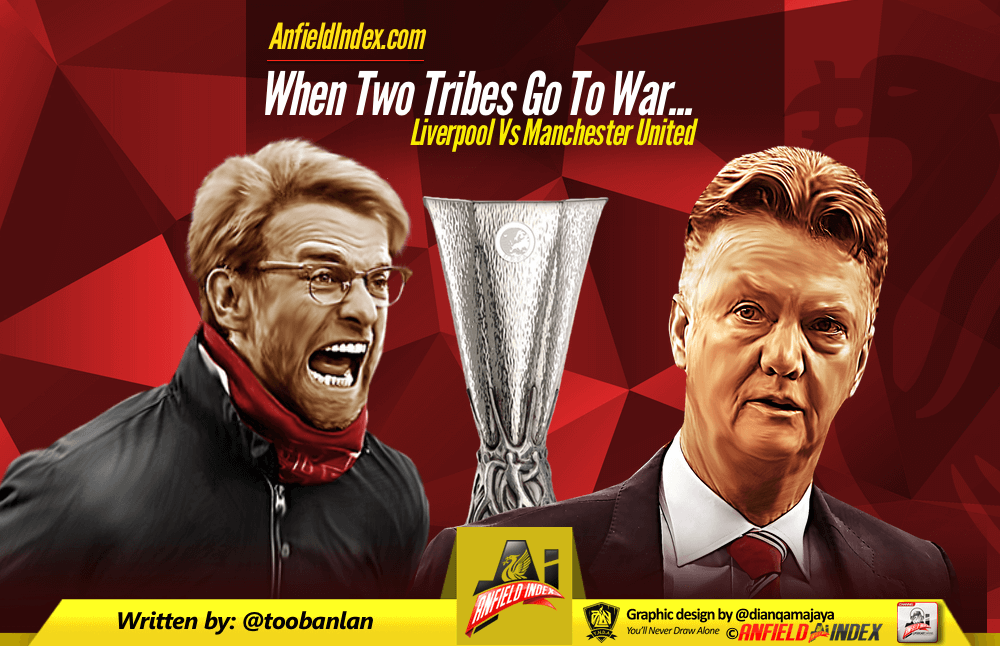 When Two Tribes Go To War...
When the Reds set off on their latest European campaign six months ago it's fair to say no one was overly inspired by a trip to the south-western France. Let's be honest, the early stages of the Europa league with its Thursday/Sunday grind doesn't exactly get the pulse racing in the autumn. There's the tedium of less glamorous matches, all the Champions League fanfare of the previous evenings spent watching the likes of Alonso, Suarez and Mascherano strut their stuff on the big stage serving to remind you of how far the club's standing in Europe has fallen.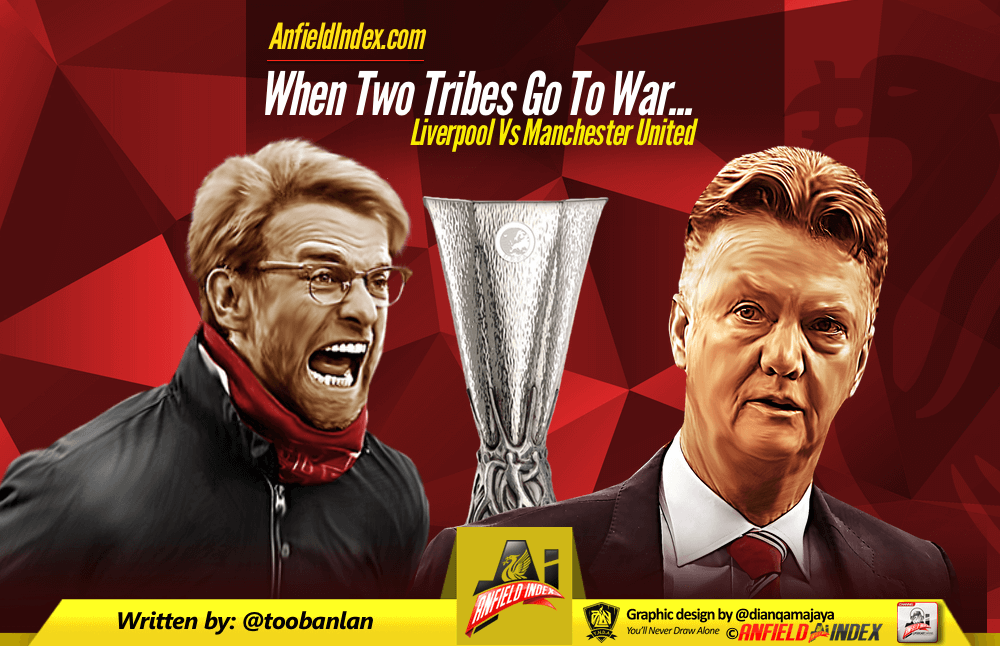 Throw in the fact that Liverpool had just come off the back of two beatings in the league and the mood was downbeat to say the least. Slaven Bilic's West Ham tore us asunder in embarrassing fashion at Anfield, then at Old Trafford the worst Manc team in living memory smashed us with a teenage French kid making a fool out of Skrtel, none of us were overly excited or optimistic by the prospect of Bordeaux away.

A predictably dour 1-1 draw followed and 5 games later Brendan Rodgers was gone. Then, amidst the Klopp arrival furore, all was forgotten, and it's been lively since, up and down at times, a few standout performances to wet the appetite for what could lie ahead under our affable big German, a trip to Wembley thrown in for good measure, but by and large it's been one of those seasons. A season of waiting, waiting for Klopp to buy HIS players, waiting for the clear-out in the summer, waiting for Jurgen to instil his tactical ideas in the side, to build the fitness levels to that of his relentless Dortmund side and preparing to go "full throttle" next season. Put simply, it feels like we've been plodding along a bit, with progress in Europe all the while, steady and unspectacular, hoping maybe for a decent tie in Europe, maybe even Dortmund…..then….Bang!
Man Utd. A European night atmosphere at Anfield with that mob in town. A return leg on St Patrick's night at Old Trafford to stir the senses and set the pulse racing. No-one bored of the Europa now. We've never faced them in Europe, never even faced them over two legs, and now here we are toe to toe, just as it gets tasty coming to the business end of the season. We've been close to a clash in Europe before, in Rafa's pomp when English teams habitually made the semi-finals of the Champions League (check it out that actually happened) we could have faced Ferguson's Utd in Athens and not AC Milan. I'm not ashamed to admit the thought of it terrified me. Imagine losing a European Cup final to them. I mean, the thrill of winning, yes that would have surpassed anything else for joy, we'd have six European Cups, that mob a paltry two, bragging rights would be endless, and we had a good record against them at the time too. But it was THEM. I was sick to my stomach at the thought of it. The relief when Milan trounced them was enormous.
Let's not kid ourselves here. In terms of current standing this tie bears no resemblance to what could have happened in 2007. Liverpool and Utd are currently well down the pecking order, not the feared European titans they were 9 years ago. However, it's still a tie with a lot on the line. Given both sides struggles for consistency in the league most realistic supporters accept the top four is out of bounds. Not impossible, but highly unlikely. City can't possibly keep cocking up and only a fool would bet on Arsenal and Spurs dropping more points than Utd or Liverpool come the run-in. This tie crucially offers the victor huge incentive, it keeps the season going, with a chance of European silverware intact, and a place in the Champions League still up for grabs in the process, and crucially, it gives Liverpool under Klopp a chance to exact revenge on Utd for the last 4 games.
A tie with Utd transforms everything, suddenly everything matters, that sick nervous anxiety, that feeling in the pit of your stomach before an important and defining game, I feel that back again this week. I've missed it in Europe to be honest. That feeling. With both clubs' form massively underwhelming in the league this game matters. This is a huge opportunity for Liverpool to make amends for a dreadful couple of years against our historic big rivals from the wrong end of the East Lancs Road and a chance for Klopp's Liverpool to set the tone for future battles.
Most of you reading this will probably have more than an inkling that Liverpool and Manchester United have massive followings in Ireland. Pubs all over the country here fill up for these games. The rivalry is fierce, the debate ferocious, and for 90 minutes those not fortunate enough to get a ticket or afford the trip across the Irish Sea will be transfixed by the battle on the pitch. Make no mistake, this is a tie that captures the imagination. The return leg on 17th March, on the Irish national holiday and a revised kick off time of 8pm will certainly have a lot of publicans nervous. Irish people like a drink to celebrate, and enjoy a healthy debate after some beers, I'd dare say a fair few Liverpool and Utd supporters will be imbibing from early that Thursday and the mood come kick off will be electric. Everyone is talking about this tie, it's a new experience for this fixture, the Thursday night games, back to back, the two legs, the worries about the away goal. It will define the rest of the season for both.
Utd have undoubtedly lorded things domestically over Liverpool for a long time now. Ferguson's reign brought Utd a stranglehold on the domestic league that saw them come from nowhere to overhaul Liverpool's title record, and it's hurt. The one area were Liverpool have taken solace is comfortably holding onto our record of supremacy in Europe. Make no mistake, Liverpool's European record rankles with Utd. Ferguson, for all his longevity and astonishing achievements, never quite mastered Europe; plenty consider his two European triumphs given their run in the Champions League during the best spell in their history a modest enough return. Europe has always been our thing, we save our best atmospheres for continental fare, and crucially, we generally reserve our best performances for the European stage.
The excellent Dan Kennett as ever took the emotion out of the debate when looking at the stats ahead of the tie. The key facts about Van Gaal's Utd in their 4 games against Liverpool are telling. Liverpool have had 20 more shots in the 4 games, have had 18 shots on target to Utd's 14. Liverpool have not converted any of their 6 clear cut chances created, whilst Utd have converted 6 of their 8. Utd have scored 9 goals to Liverpool's 2. Utd have plundered 12 points. Liverpool none. In short, Liverpool have most of the play but don't take their chances and Utd make the most of their possession. Who didn't get that sick feeling when they lined up that late corner at Anfield this season? That sense of dread… you knew it was coming when we hadn't made them pay when we were on top.
Recent home form should offer encouragement. Maybe the opposition weren't at it on the night, but there was an intensity and desire for revenge that was palpable against City. For all the praise lavished on Klopp by his former players his most heralded ability is his motivational powers and ability to harness a collective team spirit, can he harness the frustration from that sickening Anfield defeat at the hands of Rooney, and inspire his charges to make the most of this unexpected opportunity for revenge?
Liverpool certainly should make chances, given Utd's injuries, I daresay, potentially more than normal. The question is with Sturridge and Coutinho available to play against them for the first time this season- can we take them? This is an average Utd, there for the taking, with plenty of average players, but boy, we have been here before. There are plenty wearing that Liverbird below the expected standard as well, the question mark labelled against our team all season has been character. We're too soft. We lack balls. We can't kill teams off. Well the next two games are the perfect opportunity for this team to show that Klopp's influence is taking hold. To show that they are worthy of that shirt. That they will fight for every ball like their lives depend on it. Against that lot, nothing less will do.