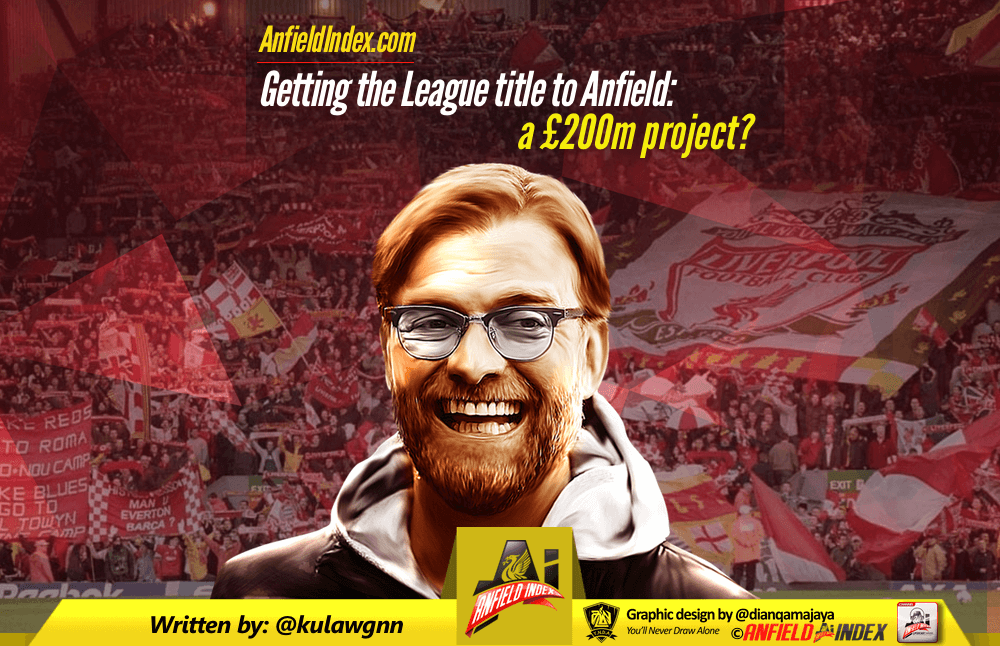 Getting the League title to Anfield: a £200m project?
"You could say they need to spend £ 100m, but where does that get you in today's market? If they are going to have a real go it needs to be more like £ 200m…."  Alan Hansen
I admire Hansen for what he helped the club achieve but he will find that even Klopp for whom his suggestion is meant to help, may not share in his prescription. The equation of money equals success has been propagated for so long by the media and ever since the dollars from the Russian oil fields ended Chelsea's title drought it is almost always held up as a the default path to success in the English league. City's emergence gave that orientation a shot in the arm. Klopp could not have gone against the grain of this position any better when he affirmed his belief in training over transfers.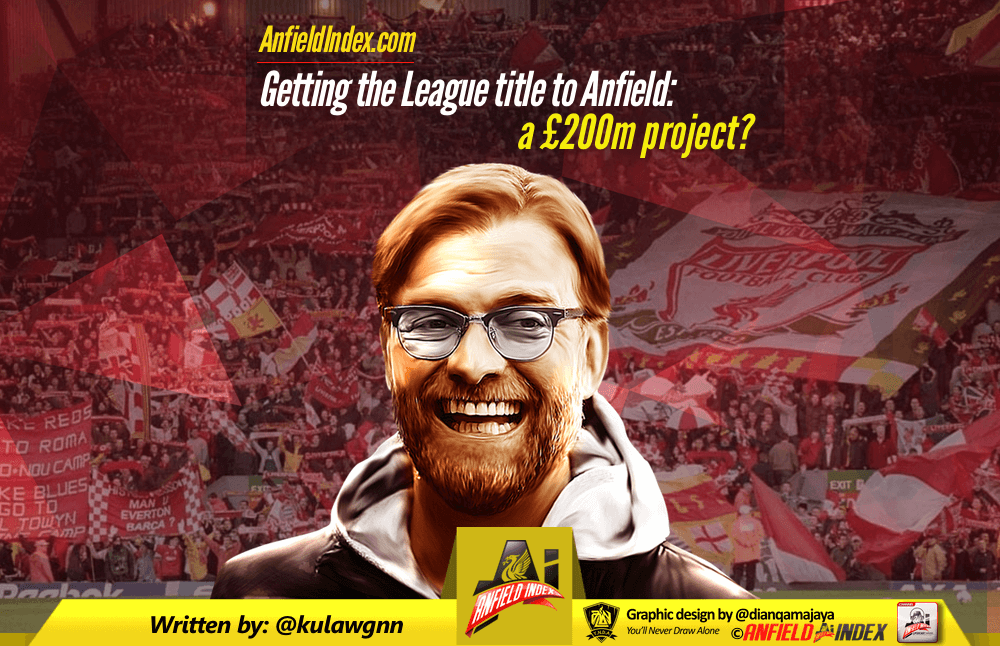 "If we have a good idea we try to implement it on the football field. It takes time. I believe in training sessions, and sometimes I think I'm the only one in this country who still believes in them. Others rely only on transfers. I love this game and the training can make the difference". Klopp was quoted by Sky Sports in November.
Vindication for Klopp's stance continues to show before our eyes on a weekly basis. Leicester and Spurs are contending for the league title having spent far less than Liverpool, Manchester United, Chelsea who will give an arm and a leg to be perched in fourth place. Records of the league winners over the last decade show that the highest spenders have always ended up the tops. But haven't Leicester and Spurs made the case for the alternative to what the "cash approach"?. Claudio Ranieri and Mauricio Pochettino are being rightly praised for smart recruitment, tactical cleverness and creation of team ethos that have trumped teams that spent millions.
In the case of Liverpool, more money is not always equals to success. In some cases more money has only been equal to sh*t. Indeed some of the best values have been gotten from the bargain deals: Sturridge(£ 12m) and Coutinho (£8.5m). Emre Can (£10m) and Divock Origi(£ 10m) so far look set to join that list. A £32.5m striker who is a third choice now because a striker acquired on a free transfer is injured, a £25m pound midfielder who will not get a look in LFC's best XI and a £20m centre-back whose position may be under threat from Matip, a free transfer; that is how well Liverpool has used monies in the last four years. The last Liverpool manager spent over £290 on signing over 30 players. But instead of getting trophies he was sacked with his predecessor left with a largely average squad to try to make something out of the season. Value eluded most of the deals done under the previous manager partly due to his penchant for dealing in the very distorted and imperfect English transfer market where prices a lot of times bear no relationship with quality. The manager's world view was that the British players were as talented as any and his mission in coaching was to prove that.
"I wouldn't want to disrespect any [England] coach that has taken the players. But I went into football initially to try and make a difference to the British players, who were told they were not technically good enough or couldn't pass."

"I've thought for years and years that British players are technically as good as their European counterparts. I've worked with kids of five years of age in community schemes, and some of the biggest players in the world, at Chelsea and here, and I've felt that Brits can play football.'' Brendan Rodgers was quoted in October 2013
Liverpool was at the wrong end of this ambition of Rodgers, over paying for average talents.
It is therefore refreshing that Klopp is a lot more open minded about talent and not viewing it from the limited pool in Britain. So far deals for Marko Grujic and Joel Matip plus reported interest in Ignacio Camacho, all these for reported fees of less than £15m signal an important shift in view. This shift in view is more of the manager's view coalescing with the club's (represented by the transfer committee). Whilst the committee scouted from near and wide for the best young talents, Rodgers preference was always for "Premier League proven" players.
Again Klopp can look to Leicester for vindication for his approach. Deals for the excellent pair of Ngolo Kante and Mahrez have epitomized value for money this season and the league is waking up to this. Stoke City is mainly shopping from the German, Spanish and Dutch markets, so are Southampton and a few others. Perhaps this might be the nudge the English market needs to sort out its price distortions. No one is holding their breath for this though as with the new broadcasting deal, transfer fees are expected to skyrocket. It was interesting to hear Klopp comment that Matip's acquisition was going to save Liverpool millions. The pursuit of Alex Teixeira shows that Klopp is not afraid to spend such "millions saved" on expensive top-end talents.
Clearly Klopp does not believe success can only come when you spend huge sums. Otherwise as he puts it, "we do not stand a chance" against the likes of City and Chelsea. He is confident getting the right players (not necessarily the most expensive) and hard work at Melwood will be also potent. John Barnes recently said on the special AI pod that the current Liverpool squad is made up of a number of very good players but lacking a star or two. The squad is top on squad players but shorn of star quality. A sprinkle of quality in some areas like goal keeping, central midfield and centre back will stand it in good position to excel.
If the club chooses to shop in Southampton, Aston Villa and the likes, perhaps Hansen will be right on his valuation in terms of how much it will cost LFC to challenge. But given the plethora of better and cheaper options abroad and the manager's intention to use the "open world" approach recreating the spine of the Liverpool team should come cheaper than Hansen's recommendation. For instance a Timo Horn(FC Koln) over Jack Butland, Nicolas Nkolou over a Southampton or Leicester defender and Michy Batsuayi(Marseille) over Jamie Vardy ensures that quality is added to squad without throwing away huge sums.