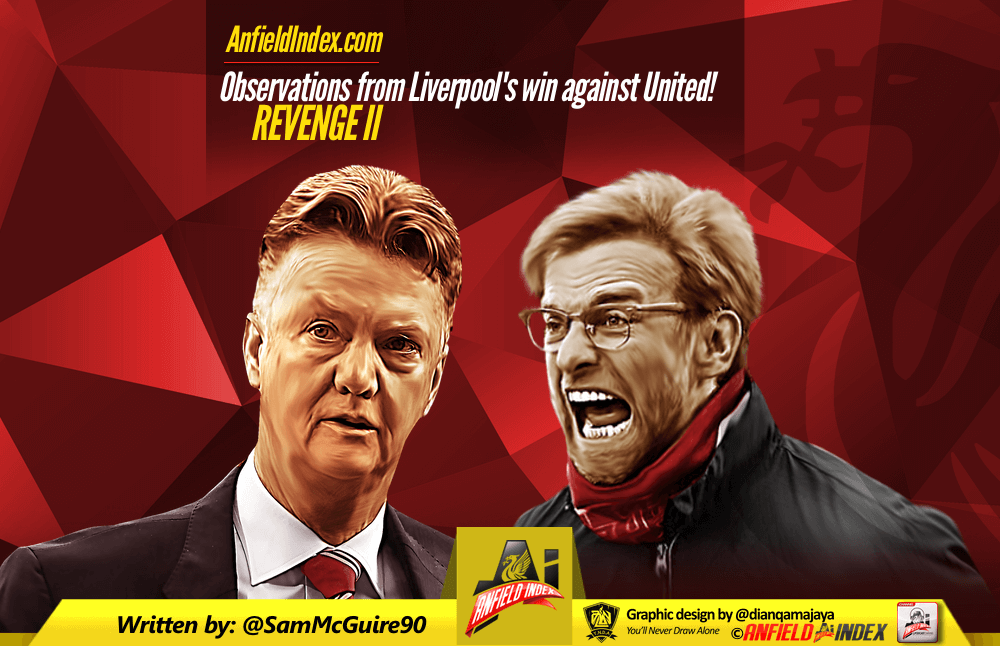 Revenge Part II - Observations from Liverpool's win vs United
It's as close to a perfect first leg in a European competition as you'll see. It was the sort of performance many Liverpool fans came to expect when Liverpool were dominating Europe; the home clean sheet and a few goals to take into the second leg. It was almost perfection with only David De Gea preventing Liverpool from racking up 4/5 goals that their play deserved on the night.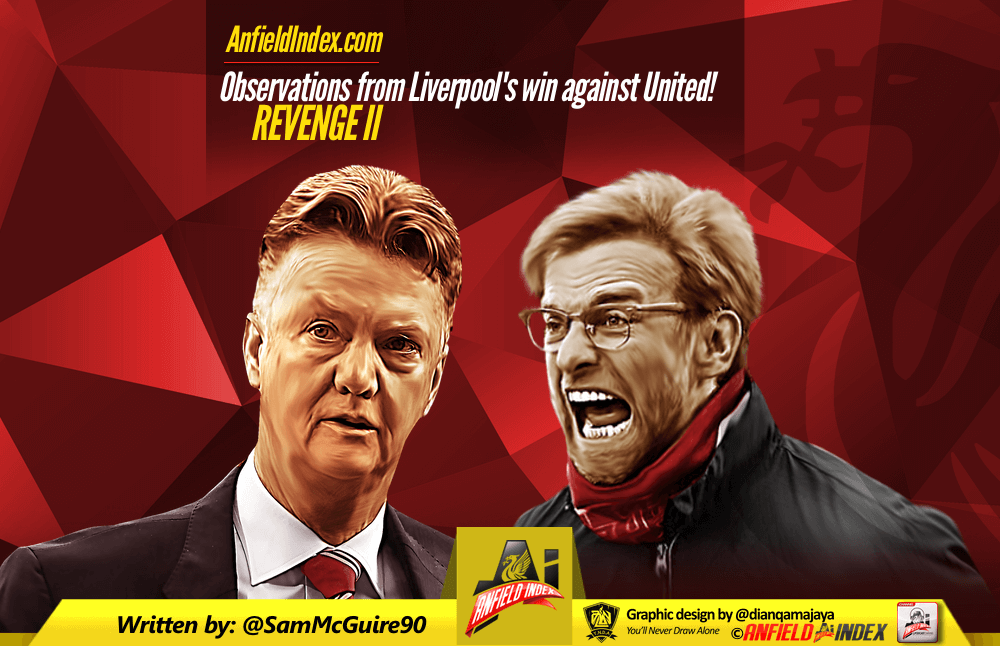 Liverpool have now recorded three victories in just over a week. Manchester City, Crystal Palace and Manchester United all offered up something different but Reds boss, Jurgen Klopp, is finding his groove at just the right time. He's been tactically spot on as Liverpool hit seven goals and conceded just the one in what have been difficult games in the past.

David De Gea is a mere mortal. The United 'keeper was starting to gain a reputation as a bit of a bogeyman in Liverpool. He was the main antagonist in the nightmares that kept you awake at night. How can one man cause a club so much grief? In previous encounters he has singled-handedly kept United in games, helped largely due to the fact Liverpool players seem to favour hitting the ball straight at him.
With every save he made his legend seemed to grow. It was psychological.
Then Daniel Sturridge came along and tucked a penalty away. Roberto Firmino finished the job with a superbly taken second which left the Spanish 'keeper grasping for thin air. He didn't seem that unbeatable as the match finished.
Firmino and Lallana are on a madness. There's no other way to describe the duos form. In his last seven appearances Adam Lallana has three goals and four assists. Roberto Firmino has eight goals and four assists in his last thirteen appearances. Not only are they having an impact in terms of goals and assists, they are both key to how Liverpool perform off the ball. The season is reaching boiling point and these two seem to be relishing the pressure.
Klopp's found balance. Fans have often claimed this Liverpool squad lacks balance due to the players in the squad, yet Klopp has managed to find it. Liverpool lined up with Adam Lallana, Philippe Coutinho and Roberto Firmino behind Daniel Sturridge with Emre Can and Jordan Henderson playing in a two-man midfield.
On paper, this doesn't seem the most balanced (or even that good) but as soon as Liverpool lose the ball the team falls into a 4411 shape with Lallana and Coutinho acting as wide midfielders. They aren't your normal kind though, they're not blessed with electric pace but both are grafters and when they win the ball back they can do something with it. United didn't really cut us open as they had in previous matches. Klopp favoured this tactic against City and it stifled them too.
Lovren and Sakho have an understanding. United may not have troubled Liverpool but that's not to say the centre-back pairing of Sakho and Lovren wasn't impressive. They covered one another well whenever United did get in behind, they doubled up with their full-backs at time to offer them support against the pace of the United wide players and most importantly, we as fans never really notice them anymore.
They'll both have the odd mishap but all defenders do. Fans are no longer seeing the over-confident Lovren doing step-overs on the half way line. We're no longer witnessing Sakho in awkward positions. It may not be perfect but there is an understanding there and Liverpool look better for it.
It was kind of inevitable that Liverpool would win the first European game between the two sides. Top dogs assert their authority. The tie isn't over though and United could test out just how secure this Liverpool defence is at Old Trafford when the onus is on them to attack.