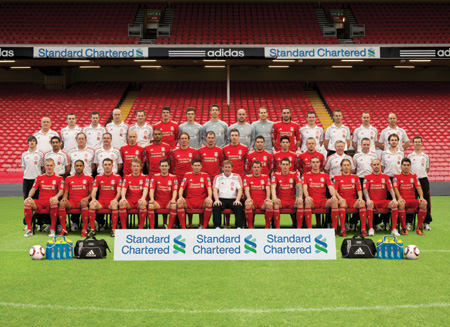 What Liverpool FC need (Part III) – Centre Midfield.
We could sit here all day, and debate what areas of our current squad needs strengthening. We could also discuss potential targets, and how realistic a chance of a certain team accepting a bid, and a certain player joining.

In fact, I have read many a debate on the the forums here (Anfield Index Forum), I've had many a discussion over a beer, and hear various shouts on the terraces at match days. In these discussions, I think there is a general consensus of what areas we desperately need, and most seem to agree. So, this 4 part series will concentrate on the following:
A central midfield player (this post)

The format will be simple. I will analyse who we currently have, and why it does need strengthening. And then, I will look at options in the Premier League who could potentially step up. Now, these are not players I have selected. Also, these may not be the players that we sign. However, we have been strongly linked with all 4 "options" and there is no secret of our interest. We may sign them, we may not. I am certainly not saying we will.
Also, of the "Current Squad Options", I will only include players who have the position as their position (or played consistently in that role). Players like Wilson and Carragher wont be included at left back, for example.
Anyway, the boring stuff out the way, lets now move further forward up the pitch. This time, it is the centre of midfield. In 5 out of the last 6 seasons, we have signed a central midfielder for our first team. Also, it wasn't so long ago, we had "The Best Midfield In The World" (as the song goes), so what has changed?
Lets have a look…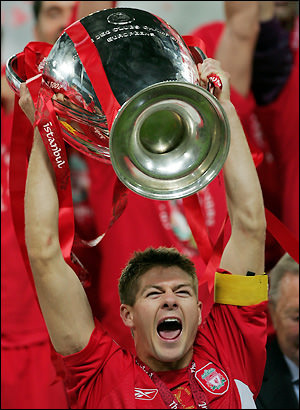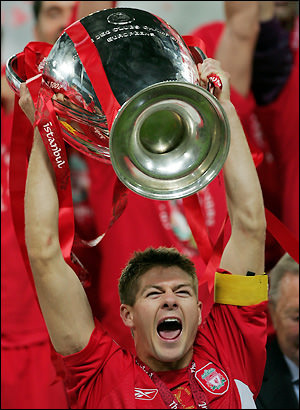 I think it is fair to say, you don't need many statistics to tell you what Gerrard has done for us over the years. But I will give some anyway. 556 Appearances. 140 Goals. Or a goal every 4 games. Since 2004/2005, when Gerrard really made his mark and matured as a footballer, 316 games and 112 goals (so slightly better than 1 goal every 3 games). For a midfield player, this is a brilliant record.
But it isn't just his goals, it is the manor of them, and often their timing. He has scored in a UEFA Cup Final, a League Cup Final, an FA Cup Final, and A Champions League Final. Like many Liverpool players he has played with, only the Premier League Medal has eluded him. Like Carragher, he has two runners up medals.
But what of Steven Gerrard now? He is 30, and will be 31 at the end of the season. He has, for years, constantly drove us through competitions almost on his own. He would fight until the last minute, and as the FA Cup Final best demonstrates in 2006, he will often come with the winning goal, when he is dieing on his feet. All of this, will take it's toll on any player, especially one like Gerrard.
This season, and again since Dalglish took over, he has played a more reserved central midfield role. It had been Mereiles who did the job behind the striker, and Gerrard sat deeper. There is a debate on if Gerrard can do this role or not, is he disciplined enough to do it (after being the main attraction for so long), and if he should do it (in other words, is he wasted there?)
Lets have a look at Gerrard in this more "reserved" role, and compare it with him when he was in a more advanced role (behind Torres in 08/09).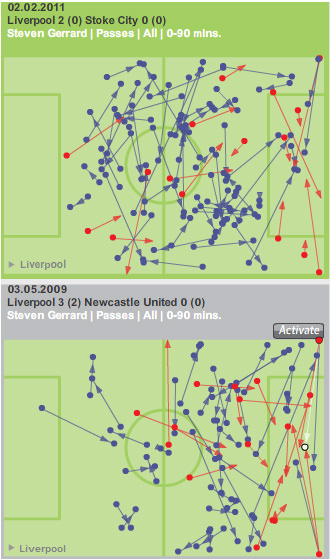 A comparison of Gerrard V Stoke (H) in 10/11 (Top), and V Newcastle (H) in 08/09 (Bottom)
The chalkboard clearly shows when he was more advanced, he passed it more in the attacking half (to be expected). But how did his passing completion differ? And how many more "attacking half" passes did he make against Newcastle in 08/09? This is shown below.

No surprise, when he started higher up the pitch, more of his passes were in the attacking half. Also, no surprise that his pass completion was better, when he was playing deeper. It seems like I am stating the obvious here, but I just wanted to highlight the fact that his role has evolved (and I imagine, will continue to do so). But does he have the attributes (and stats) to play that deeper role? Lets look at a few more numbers.
Firstly, A 78% pass completion is not to be sniffed at, especially for a player who will take corners, and often look for a killer ball. He has a very good attacking half completion too, which anything above 75% (when looking to make things happen for the team), is pretty solid. Also against Stoke, he also created 2 chances in open play, which isn't bad.
But to play a deeper role, you need to have a bit more about you in terms of "defensive duties". This is often the concern, does Gerrard have these qualities? And is he disciplined enough to play a role alongside Lucas, and leave him too isolated?

The above table shows that this season, he has been involved in more tackles and duels, than he did in 08/09. No surprise really, when for the first half the season, we were often chasing the ball (and chasing games). It is fair to say however, that a 63% tackles won, and 54% possession duels won is pretty solid.
But is the number a problem? It would be unfair to compare him with Lucas, who is the midfielder who sits deepest (and averages 5 tackle attempts a game). But what about his partner in recent weeks, Jay Spearing? Now, before the table below, I did a quick twitter poll, asking "Who, bar Lucas, has attempted the most tackles per game, in central midfield?" No surprise, most guessed Spearing (and he was the first two guesses). Mereiles soon followed. And then Poulsen. After some probing for the answer, someone finally got it right …
Spearing has a 63% percentage tackles won (like Gerrard) in his 7 league appearances this season (6 starts, 1 sub). The number of tackles per game, is similar. The number of duels, is less (what I would say however, is that Spearing is less likely to be involved in aerial duels which are included). For the record, Mereiles averages 2.36 tackles per game. Poulsen averages 2.66.
But I think it shows that Gerrard can be equally as effective as Spearing, in defensive duties.
At the end of the day, Gerrard will roam more than Spearing (or another midfielder would). And why shouldn't he? He has shown over the years, he has the ability to win us games, with a moment of brilliance.  Time will tell if he can do a permanent role deeper in the midfield, but I think based on these figures, he certainly can.
Gerrard is still (and will continue to be) one of the first names on the team sheet, and even though he will be 31 at the start of next season, he will continue to play a part in shaping our future. And maybe, just maybe, he can complete his set of medals. Lets hope so.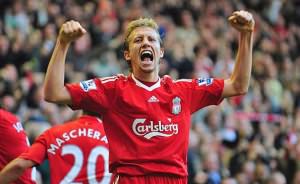 Lucas Leiva (Age 24)
If you haven't done so already, then I would recommend reading an article I did on Lucas a little while back. It is called "Lucas – He doesn't pass it forwards, does he?"
In that piece, I discuss in depth, the role of Lucas. And how he isn't just a guy who passes it sideways. And even when he does, there is a purpose behind it.
But, I will still write a piece on him here. Simply because, Lucas has grown so much as a player this season, and has become a vital cog in our midfield.
His role in theory, sounds very simple. He keeps the ball, and when we are not in possession, he wins it back. This is clearly demonstrated in his statistics this season. His ball retention has been excellent. His pass completion is 83% for the season to date, which against other "top passers" is only bettered by Essien (87%). He also only gives away possession (when in control of the ball, and not a misplaced pass), less than twice per game. This is when he has a poor control, or, is caught on the ball. Again, it demonstrates how he moves the ball quickly, before he gets tackled, and when he does move it, he finds his target more often than not.
He has touched the ball more than any other Liverpool player this season. 2160 touches. And his touch/minute ratio is only bettered by one first team regular, Gerrard (a player who you would expect it to be high). More touches/minute than Mereiles, Kuyt, and Suarez. Players who are involved at the so called "business" end of the pitch.
So, when he has the ball, he rarely gives it away, and he touches it more than most. This is something that should not be underestimated, especially in our new "pass and move" possession style game.
As I also touched on earlier, his tackling and defensive duties, is where he is so important. He averages more than 5 tackles per game, a 152  in total this season, winning an excellent 63% of them. His closest rival, David Vaughan of Blackpool, has had 125. It just shows the great work that Lucas does in winning the ball back. He also does a lot of this work on his own. Lucas is involved in nearly 1 in 5 tackles that one of our players has made this season (19% to be exact). For the record,Vaughan, who plays for Blackpool of course,  is involved in 18% of his teams tackles.
To look at his collective role in the team, then it is no better demonstrated, than against Chelsea Away earlier this season. A couple of chalkboards below.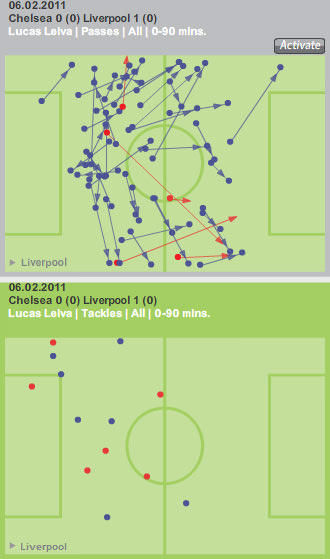 His pass completion was 89%, outstanding. He gave the ball away just 5 times from a poor pass. The bottom chalkboard, shows his tackles and duels. (Now for those that don't know, Guardian Chalkboards and Opta have different definitions for tackles/duels, and Guardian often couple them together). The Chalkboard shows where some of these tackles and duels happened but his AnfieldIndex Opta stats says:
– Tackles – Won 4 out of 7 (57%)
– Possession Duels – Won 10 out of 18 (56%)
– Interceptions – 5
A pretty good show, against one of the best teams in the league, and away from home too.
Finally, from this Chelsea game, Lucas was involved in the winning goal. You probably wont remember how, as he didn't assist it. He didn't cross the ball. He was no where near the ball when it went in. So what did he do?
The "simple pass" that he so often plays, set up our attack. Kelly then bombed down the wing, who passed it onto Gerrard. It was Gerrard's cross then who found Mereiles, and he scored the vital winning goal. (The goal can be viewed here on Youtube – be quick though, as the Lucas pass is in the first few seconds).
If you are reading this now, and still don't get why people rave about Lucas, then you are now beyond help. He wont  win a game with a goal (like Gerrard can), or a killer pass/cross (like Mereiles can, more on this later). But all his work, allows those two (and others) to do what they do.
With Lucas winning the ball back, he can play the so called simple ball, and give it to the more creative and "flair" players to win the game. This is why I feel he can form a solid partnership with Gerrard in the future, and I am sure the work Lucas does, can allow us as a team, to progress forward.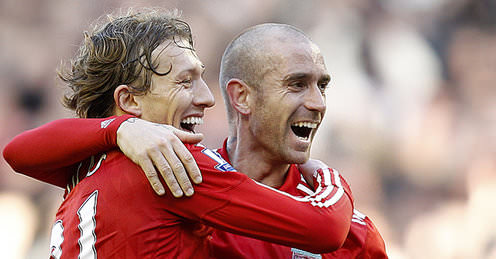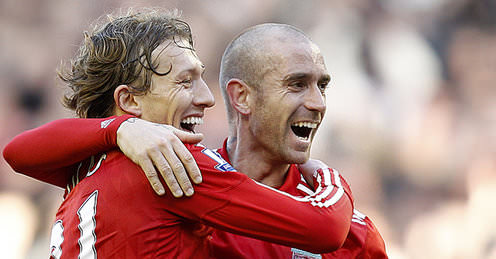 Raul Mereiles (Age 28)
Raul Mereiles is one of the few things that our former manager, Hodgson got right (although there is some debate who "found" him, i.e one of our scouts). But things like Hodgson coming out and saying "I am not sure of his best position" makes you think, maybe he didn't know all about Raul's qualities.
Raul is a talented footballer first and foremost. He can pass, move, shoot, cross, and create. All basic skills that a top quality midfielder needs. The thing with Mereiles is, is his specialty. His speciality is that he doesn't really have one. He is our top goal scoring central midfield player this season with 5 goals. He is our top assisting central midfielder with 5 assists. He has created 54 chances for others (27 from open play, 27 from set pieces). Even his tackling, often seen where he can "pull out" of a challenge, isn't so bad. 69% tackles won (better percentage than Lucas), and 56% possession duels won (again, better than Lucas). He has less of them, for sure, but he does win his more than fair share of them.
His pass completion for the season is 73%. But 21% of his passes come in the final third (more than Gerrard 16%, and Lucas 18%, this season). Mereiles has been, in the main, the player who gets the furthest forward out of the three, so it is to be expected that his pass completion is less, as he is more often looking for the killer pass. Also, playing higher up the pitch, he is more likely to be pressed by the opposition. 73% isn't a bad return over the season, especially when at times he has played further out wide. Lampard for example, probably one of the best in the league in an advanced midfield role, has a pass completion of 78%.
For me, the future of Mereiles will be in the centre of the park, as a more "advanced" midfield player. He has helped out in wide areas in recent weeks, and has done a relatively good job, but his skills are best used in the middle. This is best shown in two of or toughest games all season. Manchester United at home (where he played from the right). And Chelsea away (where he played down the middle).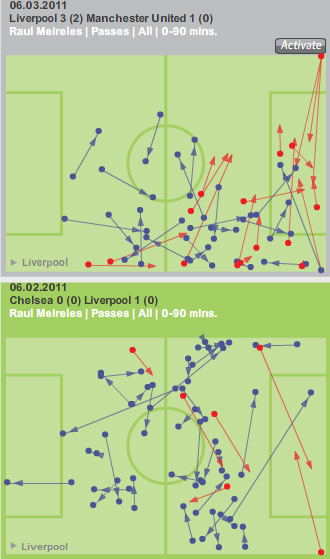 Pass completion V Manchester United (H) 54%, Pass Completion V Chelsea (A) 84%
In a game we comfortably won in the end (although, against Manchester United), and at home, his pass completion was pretty poor. Against a similar top side (Chelsea), away this time, his pass completion was excellent. Unfortunately, I don't have the power (or time really!) to go through every game, where he played from, and what his pass completion was. But just using this as an example, you would expect his passing from central midfield over the season, to be closer to 80% than 70% (as it is now).
So, even though Mereiles has played from the left, the right, the centre, or behind the striker, his statistics are still pretty impressive. When he played in his more "favoured" role, his stats seem to improve yet again (remember, he also scored against Chelsea). For me, once everyone is fit (and whoever comes in during the summer), Mereiles will be allowed to do what he does best. Move into central midfield (more advanced though), score goals, and make chances for others too. And, alongside Lucas and Gerrard (as a 3 man midfield), he can do that.
Lucas, Mereiles, and Gerrard in a 3 man midfield?
Unfortunately, we haven't seen this too often, and certainly rarely under Dalglish. Gerrard has been unavailable due to injury, and Mereiles has had to fill in in the wide areas. I still firmly believe however, once everyone is fit, then the three will start. It will unlikely be this season, but what does this mean for our system and formation? With 3 central midfielders, and a back 4, what does that mean for our forwards? Well, Suarez and Carroll you expect to start. And Kuyt has been outstanding in the second half of the season. And, as I will be writing in my next piece, we will likely sign a "winger". So, how do you fit them all in?
Carroll will always start, and be the focal point of our attacks. Suarez will play just off him, and as demonstrated in my Carroll and Suarez – The Partnership and its Progression – Forum Posts, Suarez will roam, pretty much where he wants too. This means that we can play another (Kuyt, or a new signing) attacker, and the 3 man midfield will provide the ammunition for our "attackers", as well as providing a few goals between them too.
Anyone who has seen our "4-4-2" in recent weeks, will see it isn't so rigid. It is very fluid in fact, where the width is often provided by our full-backs. Even when we add a "winger" to our squad in the summer, I am sure we will still continue with this same fluid style. Where players will move into space, and receive the ball, then give it to someone in space. Pass and Move. Simple, but effective football. And having 3 quality midfielders in the centre, all who can play this style of play, will certainly help.
Other Squad Options
As before, I will collate our other squad options. The three that jump out are Poulsen, Shelvey, and Spearing. Firstly, Poulsen (Age 31). He isn't the future of our team, and he was bought as a stop gap, as we "needed" a midfielder. Kenny gave him a chance to impress in his early games as manager, but he didn't take it. Since then, others have. Poulsen will likely be sold (or loaned out).
Shelvey is still only19, and has yet to start a Premier League game for us. Unfortunately, his recent injury, has limited his chances to impress (as he was likely next in line to play). He has come off the bench 11 times this season, averaging just over 15 minutes per appearance (total 167 minutes). He has often played from the left or the right (rarely in the centre), but still has a reasonable pass completion of 73%. From the limited time he has had, he has done OK. I am sure he will get more chances to impress going forward, however.
And finally, Jay Spearing (Age 22). A player I will happily hold my hand up, and had written off. But in recent weeks, he has grabbed his opportunity with both hands. He is very similar, in some ways, to Lucas. That is because he does the simple things well. He retains ball possession (78% pass completion), and can win it back (63% of this tackles won). If we are to challenge for the title in future, having Jay Spearing will do no harm.
Manchester United have had players like this (O'Shea being the best example) who wont start week in week out. And, if everyone is fit (or in a big Champions League Final say), wont start. However, O'Shea will constantly fill in when needed (injuries, suspensions, etc). He has averaged 38 appearances per season (in all competitions) for Manchester United in his 10 seasons with them.  If Spearing can become that type of player, then we have a valuable asset on our hands. And who knows, if he continues to grow (no pun intended), then he can maybe push for a first team slot, even when everyone is fit.
Beyond the first team, we have some promising talent in reserve/youth. Coady has featured on the bench this season, and Suso is getting all the headlines in the "kids" teams. These two are very young though, and are unlikely to feature as a regular first teamer in the near future.
Note: There is of course, a certain Alberto Aquilani, who is currently on loan. I wont look at him in too much depth, but it is only fair we consider him too. There are a few things that have to happen however, if Alberto is to return.
– Firstly, Juventus have to not pay his agreed fee
– Kenny Dalglish, and Comoli, and the rest of our backroom staff, will have to want him back
– Aquilani will want to come back
No one knows the answers to these questions, only the people involved. But I think it is only fair he gets a mention, because if he comes back, he could save us some money. If he doesn't, then we use the money to replace him. Simple.
So some basic numbers from last season for Aquilani. 79% pass completion, and 6 direct goal assists in 815 minutes. Or, 1 assist every 135 minutes. Or, 1 assist every 1.5 games. Pretty impressive really. He wins 64% of his tackles, and averages around 3 tackles "per 90 minutes". So again, he isn't afraid to get stuck in if needs be. He won 52% of his possession duels, anything above 50%, is solid. So, all his attributes as a midfield player, seem to be there.
His problem of course, was his fitness. Just 815 minutes, made up of 9 starts, and 9 substitute appearances. Most of these came in the latter half of the season, when he started to find his feet. And if I remember rightly, once he got fit in the new year, he was rarely missing games due to injury (but not being selected). So he was available, if needed.
This season at Juventus, it appears he has put his injury problems behind him. He has played in 29/34 Serie A games. In fact, that is the most number of league games he has completed in a season, since 2004/2005 (also 29). He is well on course to play his most Serie A games in a season, as he only needs to play 1 more out of  4 games, to hit 30. He has received some solid reviews in Italy, and this has allowed him to retain his place in the Italy Squad. He played against Slovenia in March of this year, and he played the full 90 minutes. Italy won 1-0.
If we take Aquilani back, there is no doubt of his qualities. I don't buy into this nonsense that he can't cope with the Premier League. He has shown to me, that he can compete with the very best, and in his limited appearances for us, he has done more than most midfielders manage in a season (in terms of assists). The problem however, is the injuries. It appears he has put them behind him, but what if he hasn't? There is an element of risk with "bringing him back", and all the media will be ready to say "I told you so". But, it is an option we may look at.
So, why the need for a new central midfield player?
We have 3 top quality options, for what I think will be, 3 positions. This will mean that we have Spearing and Shelvey the "youth" in reserve.  Well, think back to 2008/2009, and we had a similar set up, as the table belows shows. (Note the ages shown, is their respective age at the start of the season).

In both 08/09, and this season, we have a nice mix of youth and experience. International quality, and solid potential. However, in 08/09, if one of our "World Class" options were injured/suspended, it was a big step down to relatively unproven potential (at the time) in Lucas. Lose two, and we were down to Spearing. This isn't me having a go at them, far from it, as I think they have both grown massively as players (and you only have to read my piece on Lucas to see how much I appreciate him). However, at the time, the jump and gulf in class, was too much.
Now, I am not expecting to see us have World Class stars warming the bench. But I would hope (and as Kenny and Commoli shown in the January transfer window), that a central midfield player, is something we are looking at. Spearing has stepped up to the plate, and has done very well to be fair. But long term (or until he can fully establish himself, and grow as a player) we need another option. Someone who can push the other 3 "starters" for a starting place. The question is, who could that be?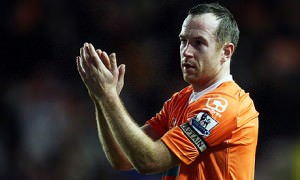 Charlie Adam, is he the answer?
The worst kept secret of the January transfer window, was Charlie Adam to Liverpool. At the time, we had a number of players out injured, and the inexperience of Spearing (who had only played a handful of games at that point) was the player in reserve. So, why was Charlie Adam's name thrown in the hat?
Pre February (when the transfer window closed), Adam was in outstanding form for Blackpool. He scores goals, takes penalties, delivers a fantastic corner, and everything good about Blackpool, seems to go through him. Since the transfer window closed, his manager has commented on how maybe his head was turned, and his performances have dropped. But, will we re-visit Charlie Adam in the summer? And, should we?
Before I look at any statistics in great deal, it is worthwhile pointing out, he is playing for Blackpool. Who had an outstanding start to their season, has beat us twice in the league, but still find themselves now, at the wrong end of the table. You have to bare in mind, who is team mates are. Having watched Adam, there is no doubt he can pick out a pass. Sometimes however, the runs are not being made by his team mates. So, lets have a look at the numbers and figures then.
His season pass completion is just 68%. However, look a bit deeper, and it isn't so bad. Remember, Adam takes corners and free kicks after all. His "Open Play Pass" completion is 73%. A lot more respectable to be fair, especially considering when almost 1 in 5 of his passes are a long ball. (Unfortunately, there is no way to look at his long ball passing accuracy, which is a shame).
Lets look a bit deeper into his numbers. 1 in 4 of his passes, come in the final third of the pitch. Again showing, how far forward and involved Adam is in the attacking play of his side. Like most, his final third passing does dip however. Again, you have to factor in his corners in this (unfortunately, I can't find a break down) but his final third passing drops down to a very disappointing 55%. To his credit though, he creates on average, 1 chance from open play per game (which doesn't sound a lot, but this doesn't include the 74 corners he has taken this season too).
In fact, Adam creates 1 in 6 of Blackpools chances. In open play only, he has created 1 in 10 of Blackpools chances. As Blackpool often play with 3 up top, and with Adam sitting deeper, he will often play the pass, before the direct assist I am sure. A bit like Alonso did for us (he rarely got direct assists, but was involved in so many of our best moves and goals over the years). Adam also has 7 assists this season (3 from open play, 4 from set pieces).
Finally, on his midfield duties, his tackling. He averages 2.12 tackle attempts per game, but amazingly, he wins a staggering 82% of them. This shows that when Adam gets stuck in, he will more often than not, come out with the ball. He wins 51% of his possession duels too. Anything above 50 is good in my eyes there.
So, as far as accumulative statistics go, he is doing OK. There is no doubt he can take a great set piece, and would provide suitable ammunition for Andy Carroll (and others in the box) from corners and free kicks. His open play passing has some work to do, but I'd hope that is down to the quality of his team mates. In our side, he would be playing with better players, so you would hope that would improve. His final third passing needs a fair bit of work, but again, the same applies. Everything else he offers, seems to suit us well. Similar tackle stats to the others (bar Lucas), but his win percentage is far superior for example.
So how does all this transform into a game? I will look both matches he played against us this season, home and away, and see how his game works (in numbers and pictures). Both of these games, came before the transfer window closed remember (so maybe before his head got turned), so it will be interesting to see how he faired compared with his season accumulation figures.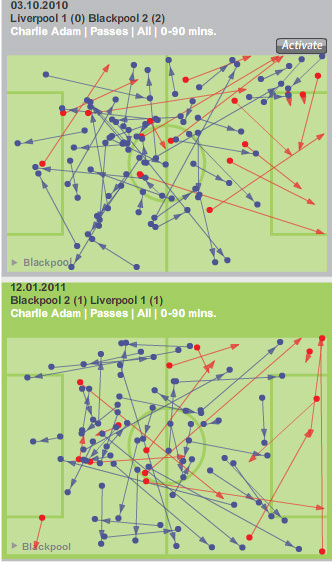 Charlie Adam passing Chalkboards V Liverpool (away on top, home on bottom). Pass completion 75% away, 73% at home.
The first thing I notice here, is how similar the chalkboards are. And not just in the direction of the passes, but the number of them too. His pass completion was much better in these two games, than his season average too. So, all in all, it looks OK. But, there are a few stray passes, lets look at them in a bit more detail.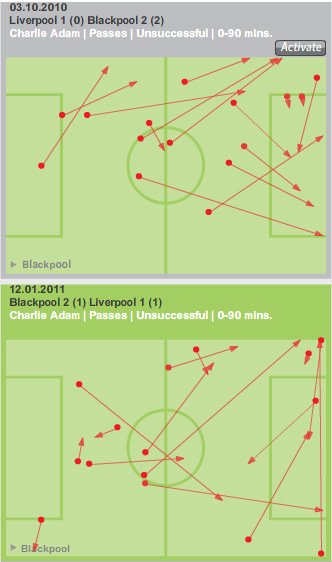 Unsuccesful passes V Liverpool Away and Home for Charlie Adam.
As you can see, in the main, most of his poor passes were from long cross field passes, crosses, or corners. There are one or two misplaced short passes, but nobody is perfect. So, like any good mifield player, his short passing game is pretty solid.
Against us, we saw what I feel is the true Charlie Adam. He will play passes all over the pitch, he will try a long ball (not a hoof), and will always be searching for the killer pass. Or, he will be looking to release one of the wide players, who will then provide a cross into the box themselves.
But is he the answer? I think I have demonstrated that he has some of the basic core skills, that will compliment our current midfield options. The thing is, we will play no more than 3 central midfielders per game, and we currently have 3 excellent options. So, Adam will be pushing the other 3 for a starting place. A bit of competition wont do anyone any harm though. I think he is very different to the options we have at the moment, and since he isn't a "World Class" midfielder, he isn't going to cost us a fortune (you would hope, and if Blackpool get relegated, maybe even cheaper again). I am glad we didn't risk paying more than what he is worth in January (we pulled the plug remember, we weren't going to pay Blackpool's valuation), but at a fair price, he is worth considering.
It will be interesting to see how his game transforms to a top side. Will his pass percentage completion improve, and his final third completion will have to improve too. But if we can get him for a more respectable £5-8million say, then he would be a very good signing.
Summary
So there you have it. I feel we have, at the moment, a very good midfield 3 to start with. We can cope with losing one of them, as Spearing has stepped up. But, if we want to compete with the very best in the league, I feel we need to add another option. Spearing will step up and fill in where needed, and form part of the squad. However, when everyone is fit, I can't see him (at the moment) pushing for a starting place. This is why we need a new midfield option.
Aquilani could come back, and save us having to "replace him". I am sure Kenny has one eye on his performances, but the risk of his injury problems recurring, may put us off.
And as I have shown, I feel Adam could fit the bill. I don't think he will improve our starting XI as such, but he will improve our options in midfield. He may be the signing we make, he may not, but as with the left back and the centre back, I expect an addition here. Adam would be a good option, and an excellent one if bought at the right price.
We are probably a long way off the "Best Midfield In the World" of 2008/2009, we will do really well to ever reach a midfield 3 of that quality again. However, if we can add a new midfielder, I think we will have a better set of midfield options to choose from, and that can only improve our team, and our squad.