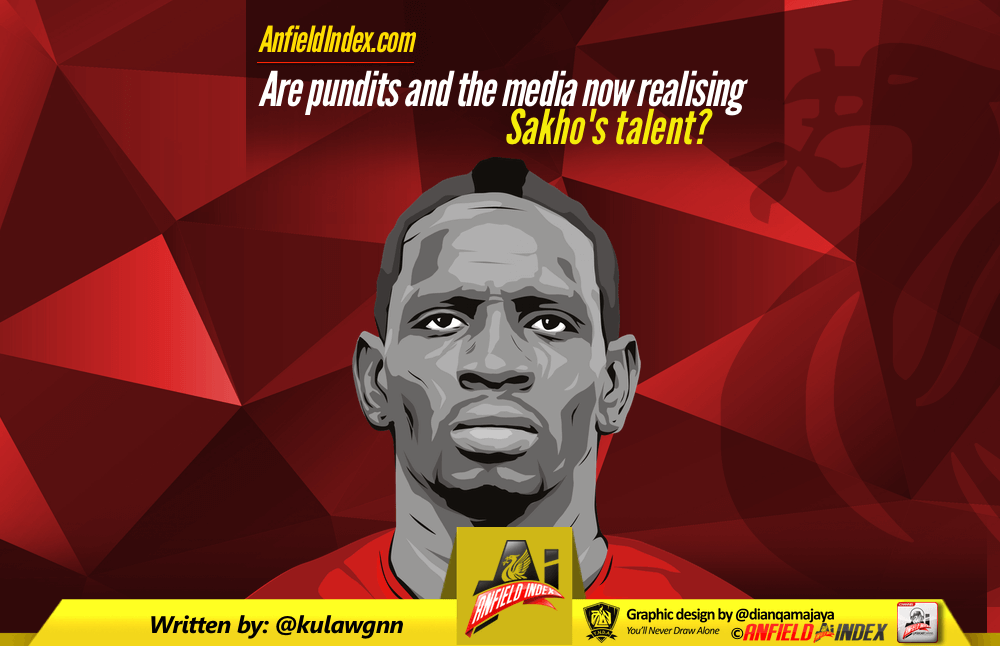 Are pundits and the media now realising Sakho's talent?
When it comes to Sakho everyone is eager to be proven right. The media that strenuously tag him awkward and for whom he is a representation of the ills of the transfer committee cannot stress enough how poor and overrated he is at any opportunity that comes their way.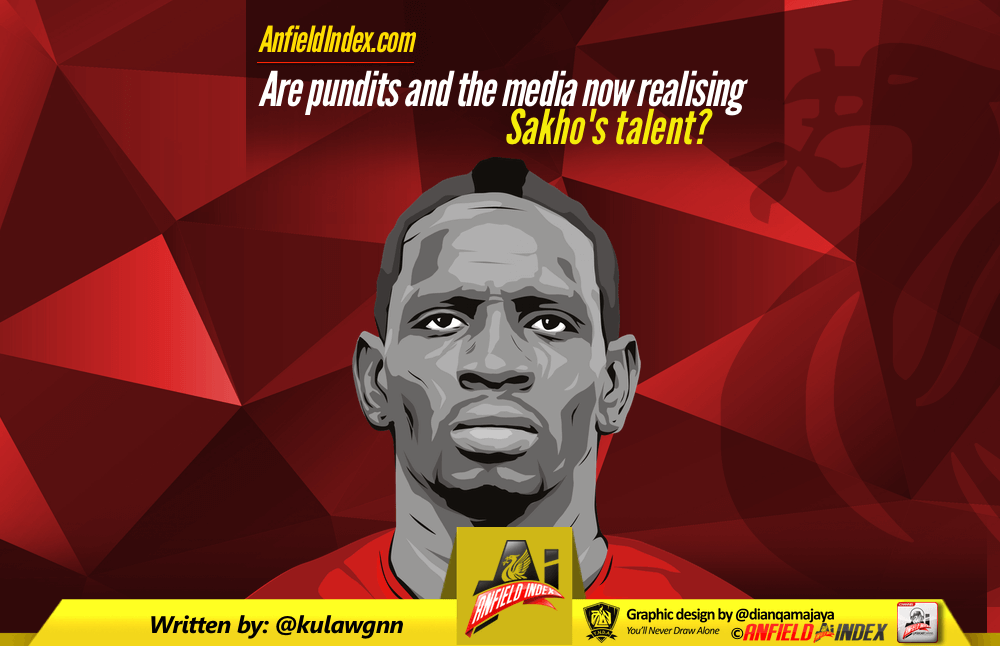 On the flip-side the fans that adore him point to more than him painting houses for charity and learning Scouse as the basis for their adoration. They point to his passing from defence to attack, aerial prowess and his strength. The media greets every Sakho mistake or poor performance with deluge of commentary about how poor and unsuited he is to this Liverpool team and how he is failed to be as dominant as a Jamie Carragher. Last night gave a hint that a wave of change about the talent of Mamadou Sakho could yet take place. Joey Barton tweeted about the Frenchman after the match:

"Mamadou Sakho is the most unorthodox, efficient, unbalanced, effective defender on the planet. Watching him is similar to viewing a clown spin plates. You are just waiting for them to smash on the floor. Yet somehow he keeps it going. Contradicts the law of motion with every touch. The man is genius. A true one off.."
To which Gary Lineker responded: "couldn't agree more. First thoughts were that he was hopeless, but actually he might just be brilliant."
Sakho has had lots of fights on his hands since coming to Merseyside: fight for consistency and fight to overcome wrong and biased media narratives. But his biggest fight was to gain the trust of a manager who through deed made it clear he did not rate Sakho. The manager who spoke loquaciously about Ashley Williams "talent" but yet seemed oblivious of potential star he had on his hands. That fight affected his fight for consistency and fight over wrong media narratives. At the beginning of the season Sakho was "ostracized" from the team because Rodgers thought the best way to get the best out of his preferred Lovren was to ring-fence a place in the team for the Croat. Of the Croat's early season good form, Rodgers said: "He has benefited from knowing he will be in the team…". He attributed Lovren's first season struggles to him failing to adjust to life at a big club. Sakho had no such dispensation in his second season from Rodgers. The French defender could consider it as some form of victory when in Rodgers' time of need-prior to being sacked- he considered him a useful "tool" to save his job. From his first appearance in Bordeaux to the last match under Rodgers at Goodison, Sakho's output made Rodgers' reasons for ditching him ridiculous.
"Sakho! Sakho! Sakho!" – Klopp Era and the first shift in the media narrative
This is not the first time the media and football people are taking note of Sakho. Sakho carried his form the last days of the Rodgers era into the Klopp era. He was so dominant that the media which had for two years only noticed his awkward gait and occasional poor passes even took note. Displays against Chelsea, Tottenham and Rubin Kazan particularly stood out with fans chanting "Sakho! Sakho! Sakho!" at the end of the Kazan match. Instead of admitting that their view on the player was wide off the mark, the media and pundits dressed up Sakho's performance as a revival born from the Black Forest of Germany.
Gareth Cooks comment was the standout. In picking the Frenchman in his Team of the Week column for the BBC after the victory over Chelsea he displayed the typical ignorance cum disregard of Sakho's talent.
"Can someone please tell me what has got into Mamadou Sakho in the past few weeks? The Liverpool centre-back is playing like a man possessed. He battles for every ball as though his life depends on it. Yet it was the quality of his distribution that startled me. I said last week that Sakho might be surplus to requirements once Jurgen Klopp gets his cheque book out in the transfer window. But the way Sakho's playing the new boss might start building his team around the French international."
Typical! Needless to say Gareth like many does not watch Sakho often or watch him through the "he's awkward" lens. As if it could not get any better John Cross also had this to say: Big, strong and commanding. All the qualities why Liverpool signed him now look as if they are coming to the fore. Even his passing was good.
Injury in the Crystal Palace Game
Injury has threatened Sakho's Liverpool career as much as the lack of faith in him by Rodgers. As Klopp shapes up to put his stamp on this Liverpool team, injuries rather than his talent (or lack of it as seen by a lot of the English football media until now) threatens his place in the team. His Liverpool career has followed a frustrating pattern: good performances-injury-poor performance-improved performances-injury. Injuries have robbed him of consistent game time to put his talent on show regularly. His injury against Crystal Palace at Anfield robbed him off the momentum he was building under the Klopp. Klopp highlighted his importance on the eve of the Watford game when he was due to make his comeback.
"We want Mamadou's quality and his strength but the team has to help him too"
His performance at Vicarage Road was a confirmation of the pattern his Liverpool career has taken so far rather than Klopp's high praise. He was sloppy on the day and that loaded the armaments of media once again.
Vardy in the pocket at Anfield
With the performance at Watford it was easy to believe Sakho and the Liverpool defenders were headed for a thrashing from the media darlings-Vardy and Mahrez. However they nullified the threat of the duo leading to their substitution; a rarity in Leicester's season. Post match comment on the match gave prominence to Vardy's supposed illness instead of the solid performance of Sakho and his partner as the cause of the underperformance of the Englishman. This has always been the typical reportage on Sakho: blow his poor performance out of proportion and ignore his excellence.
"Head ball" against Stoke
Liverpool's frailties at defending set pieces were highlighted prior to the second leg of the League Cup finals. Mark Hughes rightly tried to tap into it by sacrificing "Stokelonia" for the Pulis-type of Stoke. Deploying Peter Crouch and Jonathan Walters, Hughes' side was primed to exploit Liverpool's weakness. Despite losing the match Sakho excelled at the "head ball" contest. That Liverpool conceded none goal from a set piece owed significantly to Sakho's efforts. That effort was not enough to earn him any praise. The contempt for his talent was highlighted by this line in the Independent:
"…..By comparison at the other end, Liverpool's own defence was as shaky as ever- Kolo Toure and Mamadou Sakho rocking and rolling like a pair of drunken sailors on land leave."
Sakho could be faulted for his role in the off-side goal Liverpool conceded but was assured and composed enough to make the above line a ridiculous summary of his output in that game.
Poor at Leicester
The typical Sakho reportage was at full force after the defeat at Leicester. Sakho was at fault for the second goal by allowing the ball to bounce in front of him, a mistake he has committed a few times this season. That one mistake was all the media needed to reload their usual narrative: poor, awkward and not of LFC quality. Several media outlets rated his defensive partner highly even though for large spells of the match especially the first half when the Croat had bouts of shivers culminating in a series of free kick concessions, Sakho remained dominant.
For the media Sakho is not allowed poor form, and neither is his excellence noticed without conditions. After some few decent outings under Klopp, the media were quite unanimous Klopp could turn him into a better player. But it seems the same media is convinced Klopp cannot do the same to Sakho, the one with arguably the superior talent. Sakho is no world-class player as his fans argue. What he possesses is the talent to be a top defender. When prejudice and bias is not making you fixated on his awkward gait, you will realize a lot of what he does is effective. And it seems the media and pundits are realizing it now.
Joey Barton's use of the words "efficient" and "effective" is no coincidence. What he does may not be easy on your eye but he is just as effective as the defender's the media shower accolades on. Comparing Sakho to four of such defenders: Smalling, Terry, Koscielny and Alderweireld, the Frenchman competes favourably. According to Squawka he wins more tackles per game (0.94) than Toby Alderweireld (0.76), John Terry (0.71) and Laurent Koscielny(0.88). Only Chris Smalling fares better (1.38). His aerial duel success rate of 61.17% is only bettered by John Terry (66.67%) and commits less fould than both Smalling and Koscielny. Sakho makes more blocks per game (0.89) than all the other four defenders and beat both Terry and Koscileny to clearances. Sakho also makes more forward passes per game (50.66) than any of the four defenders and posts an impressive pass success rate of 88%.
As comments by Barton, Lineker and co show, people are taking note. The noise of approval may be muted but if Sakho's fitness permits him to get a run of games, the remaining skeptics will turn into a huge band singing their admiration.