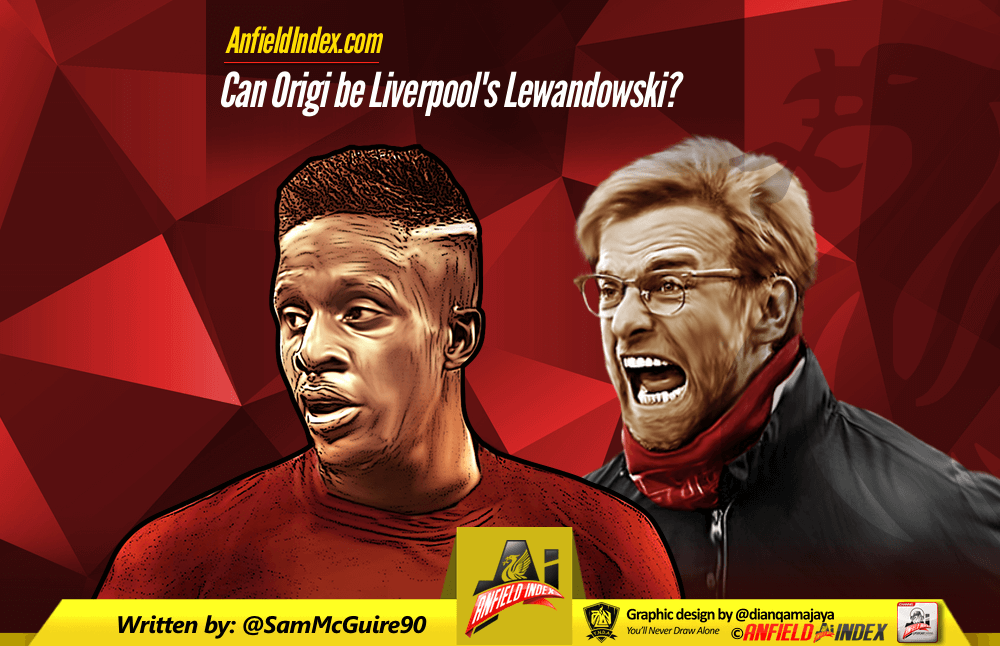 Can Origi be Liverpool's Lewandowski?

When Jurgen Klopp was appointed as Liverpool manager at the beginning of October many fans took to social media to give their thoughts on how the current squad could replicate how the mentalist German set up his successful Dortmund side.
One of the favourite comparisons was that £32.5 million man Christian Benteke would be Liverpool's answer to Robert Lewandowski. There's an obvious comparison to make between the two with both being goalscoring no.9's but for many fans that's where the similarities end.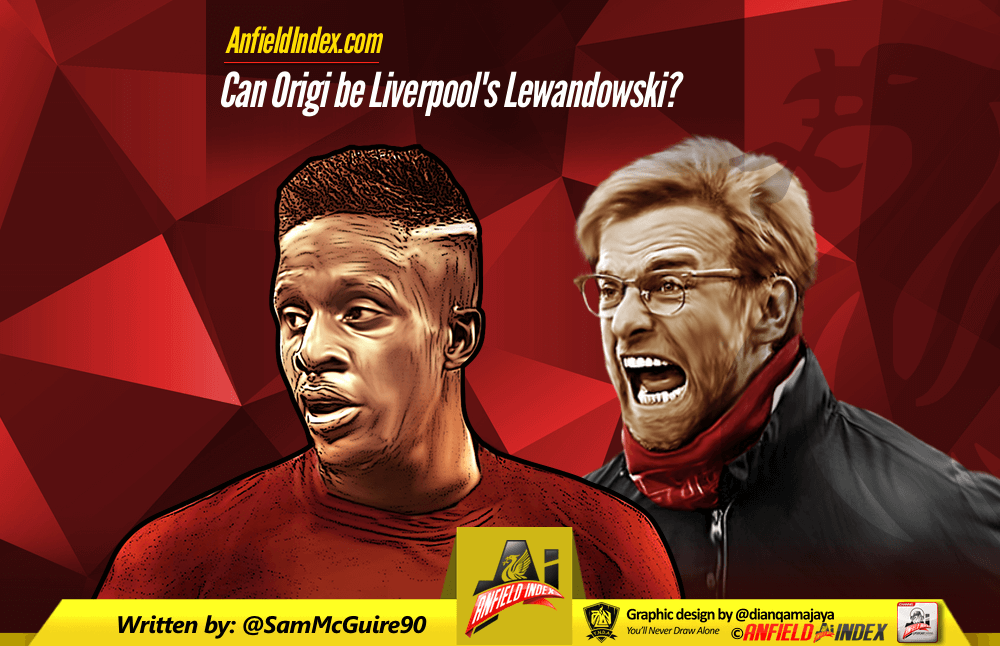 The big Belgian has a peculiar skill-set that makes him a real handful for defenders when he's feeling confident. There's no debating that he has strengths that make him desirable to some clubs. The thing with Benteke though is the fact he comes to a club and around his neck is a note with a set of instructions on how to look after him.
To really excel though he needs to be in a certain set-up with specific types of players supporting him. Away from these conditions he looks like a fish out of water. When Benteke lined up alongside Charles Nzogbia and Gabriel Agbonlahor he looked like a completely different proposition to the one fans have seen play with Philippe Coutinho and Roberto Firmino.
That's not his fault. He has his limitations and having him play away from his strengths is detrimental to both the player and the team.
The same can't be said about Bayern Munich hit-man Robert Lewandowski, who like play dough seems to be able to mould to fit any team he's placed in. The Polish striker played behind the striker during his first season at Dortmund, playing second fiddle to Lucas Barrios. He's lead the line in a team with out-and-out wingers in which he was utilised as a target-man. He's played almost as a false nine at time, supported by inside forwards where he was tasked with working the channels to open up space centrally for the wide players cutting in field to exploit. He's played in Pep's Bayern side where at one stage he was effectively used as a player with high energy in the final third who'd give the ball to the likes of Arjen Robben and Franck Ribery after he'd won it back.
Can you imagine Benteke being versatile enough to do all of those varying jobs?
If there's any striker currently on the Liverpool books capable of being moulded the same way Lewandowski is it's Divock Origi.
Not for one moment is your writer saying Origi is, or will ever be, as good as arguably the joint best no.9 in world football alongside Luis Suarez, but there's definitely potential there and similarities between the two.
The Liverpool no.27 had a rough start to life at Anfield. Thrust into the starting XI when Klopp was appointed due to injuries to Daniel Sturridge, Danny Ings and Christian Benteke it was a real baptism of fire for the young Belgian, he struggled and like what's quickly becoming the norm amongst Liverpool fans, he was written off.
A break from the first team seemed to really help the twenty-one year old. He made a surprise start against Southampton in the League Cup on 2nd December and really made fans take note as he finished the game with a hattrick, almost usurping Daniel Sturridge on his welcome back party.
Origi started alongside Sturridge in attack and it was the Belgian's off the ball work that seemed to afford Sturridge a lot of space as the Englishman finished with two goals. Origi's selflessness is very similar to Lewandowski's with both forwards doing what's necessary for the team to benefit.

Liverpool had a throw in deep in their own half. Connor Randall take it and it's Divock Origi back there helping his team defensively. The Belgian plays the ball into midfield and retains possession, he doesn't just punt it upfield.

The ball is lofted over the top for Sturridge to run onto. He stands the defender up, Caulker, then cut's back onto his favoured left foot and finishes like the assassin every fan knows he is. Look who is in the area though supporting the play and giving Sturridge an option for if he were to play it across goal. Divock. Only 8 seconds ago he was in the right back area, now he's making his way into the Southampton six yard box.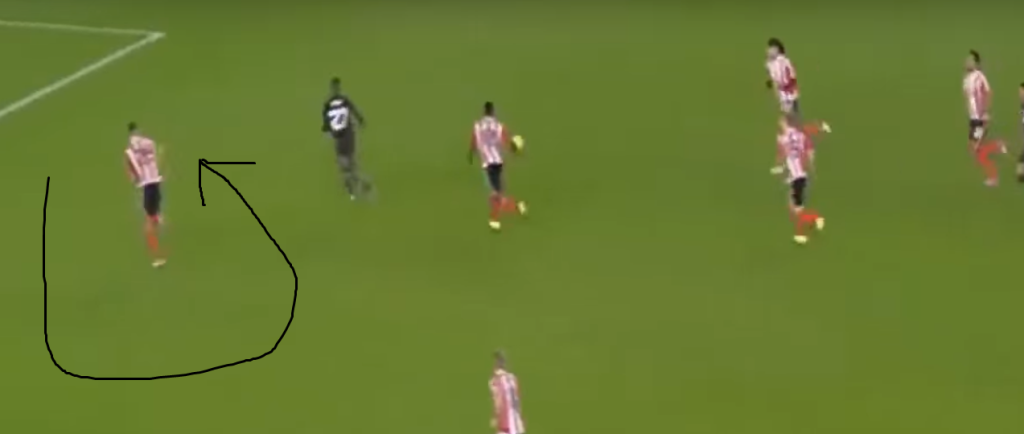 Origi's second goal against Southampton shows just how intelligent he is. The Belgian starts the move wide left before making his way infield. He's then central as the play builds before he drops so he's positioned in the space ahead of Caulker before finally bending his run away from the Southampton defender and into the space down the side. He finishes emphatically.
Lewandowski was 21 when he signed for Dortmund in 2010/11. He was signed to be back-up to Lucas Barrios and Klopp allowed him a season to bed in. Although he made 43 appearnces in his debut season in Germany he only managed just over 2000 minutes. He finished the season with 9 goals.
Origi isn't 21 until April. He's appeared in 21 games for Liverpool this season and currently has 5 goals. Both forwards are 6ft1. Both of them like to work the channels, with Origi drifting wide left in the same way Lewandowski has had a lot of joy over the years. Lewandowski is an absolute animal in the air and you'll often see him running onto a cross and attacking it, proper old school centre forward play. Origi has this trait in his game as evidenced against Southampton and Manchester City when he attacks the header, he doesn't wait for it to be stood up at the back post.
One of the best traits that Origi shares with Lewandowski is how he's always alive in the penalty area. The Polish star has scored many goals from being on his toes in the area and he's been able to divert a shot from a teammate in, much like Origi did against Southampton.
Klopp wanted Origi at Dortmund so he must've seen a lot of potential there and with his track record of turning players into stars Liverpool could have a real player on their hands. Origi seems to be taking on board what Klopp tells him too, he put 4 kilos of muscle on whilst he was out injured after the Liverpool manager said he needs to be more of a man, and it shows. Origi bullied both defences from Manchester. He was instrumental in the 3-0 win against Manchester City even though he didn't get on the scoresheet.
Origi seems to combine Sturridge's movement and Benteke's brute force. He's not as polished as Sturridge or as powerful as Benteke, yet, but he could be the next no.9 who is instrumental to a Klopp side having success over the coming years.