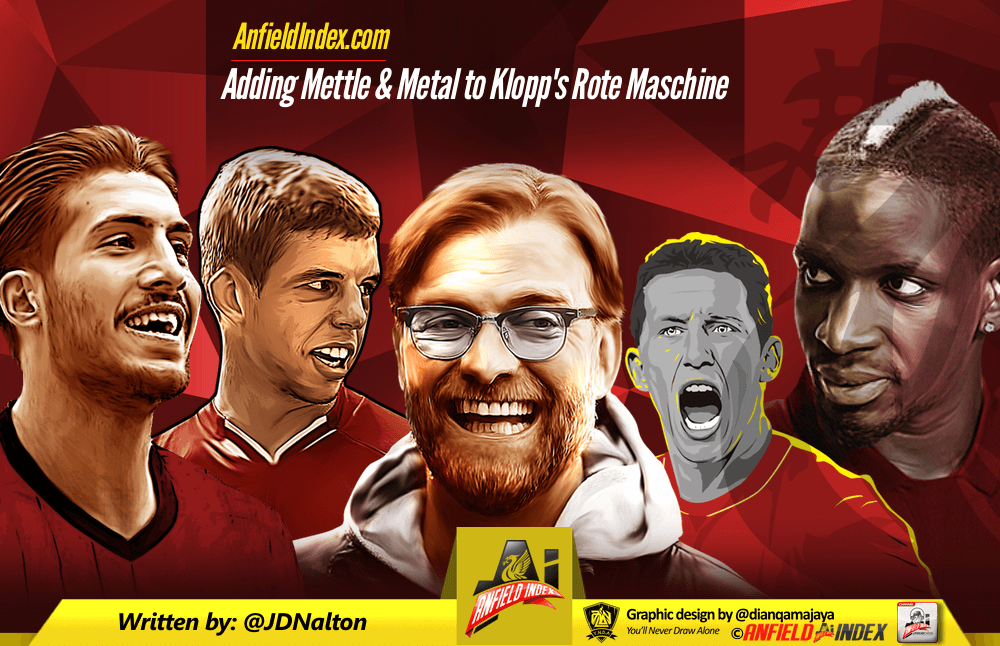 Adding Mettle & Metal to Klopp's Rote Maschine
Some parts of Jurgen Klopp's Rote Maschine are still on the production line, but during the past few weeks there have been signs that some of the components are finally coming together.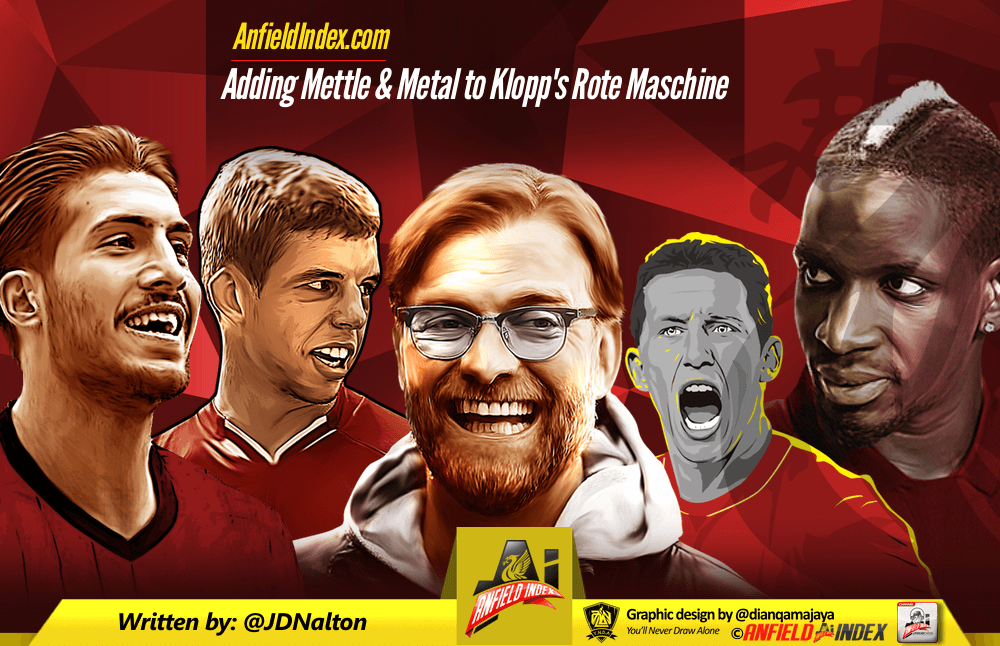 Devils in the Detail
Following a run of games which saw Liverpool regularly playing twice a week, the week break between the two Europa League ties against Augsburg, and now Manchester United, gives the manager a rare chance to work with his players in more detail.

Rather than simply recovering from the last game in order to be fit for the next, the players will have been able to delve deeper into Klopp's tactics, team shape, and philosophy.
But while tactics, philosophy, and on-field setup are often discussed in terms of positions, spaces, and formations; the mentality required to be successful within these systems, and indeed any system, is often overlooked.
In the German's system players need to be both determined, and clever. They need to run intensely while at the same time remaining cool, as Klopp himself would no doubt put it.
A large portion of the players inherited by a manager will have been immersed in the football bubble from an early age. Brought up in a sanitised environment at expensive football academies, some of the players will have been media trained at a young age, and cut off from real life, and from the fans.
This doesn't apply to all players, but the ones who break this mould seem so rare that it must apply to many.
Since arriving on Merseyside Klopp has attempted to re-connect the players with the fans, and also reconnect the fans with the club. Klopp's Liverpool is one, and it was a relief to see that the owners might also be getting this message when they responded quickly to supporter protests at rising ticket prices.
Klopp is turning his players into people, or at least he's trying to.
Testing the Mettle
In recent times fans have seen no lack of effort from their side, even if the end result hasn't always been the desired one.
From Lucas Leiva being the snidest centre-back Liverpool have had in recent years, to Emre Can being the horriblest (and at the same time classiest) man in midfield at home to Crystal Palace – there have been signs that the mentality of individuals is changing for the better.
While the likes of James Milner and Simon Mignolet need to get out of the habit of directing their anger at their own team-mates (usually after making a mistake themselves), many of the other players, even the revived Dejan Lovren, appear to be directing their energy at opposition players, becoming enemies rather than merely opponents.
Swap a shirt after the game, or meet up with the player you were once team-mates with after the final whistle has blown, but during the game there should be no time for being friends with the opposition.
Not since Javier Mascherano have Liverpool had a genuine fighter in the side, and it's something that the club could use the transfer market for. However, in a recruitment drive driven by data, there are no columns on a spreadsheet for leadership, mettle, tenacity, determination, or simple will to win.
Perhaps the closest stats we have to determine a player's work-rate are the pressing data painstakingly collected and provided in graphical form by this very site.
There are many variables in a football match, and as a result there are attributes required by a player which can't be judged unless you meet them, know them in person already, or simply watch a few of their games.
Mental Moulding
So far, Klopp has largely been asked to make do with what he has, and what he has is a good group of footballers who were under-performing under the previous manager.
What he needs from them is a change in mentality and, as already mentioned, the last few weeks have seen results in this area.
While Brendan Rodgers asked his players to be brave on the ball, under the new manager they also need to be brave off the ball, and fearless in their general attitude towards winning.
Even if some players don't have the winning mentality built in, they need to eradicate any fear of failure, as this can be the most detrimental mindset for any sportsman to have.
This is where the manager's all-encompassing job also becomes that of a psychologist, and this is an area where Jurgen Klopp naturally excels.
Against Palace and Manchester United Adam Lallana looked to have gained a yard of pace, and his tricks, flicks, and Cruyff turns now have a purpose. His pre-match interviews also demonstrate a maturity and realism, when he recently admitted his performances haven't been the best, and is striving to improve.
Jon Flanagan's introduction to the side has provided a much-needed local flavour – which goes back to the connection between the club and its roots – and the Scouser needs no encouragement when it comes to making crunching, but often fair challenges in his role as a defensive full-back.
Likewise, Mamadou Sakho needs little work in this area, but during the past few weeks he's become one of the biggest characters at the club, both on and off the pitch.
The attitude of the team reached new heights during the first leg of their Europa League tie against Manchester United, and while the Liverpool players looked to be enjoying the battle, they made sure their opponents didn't like it one bit.
It's refreshing to see, and it's easy to imagine that any new recruits brought in by Klopp will have to pass more rigorous tests of character than under previous regimes, which will add further steel to the Red Machine.