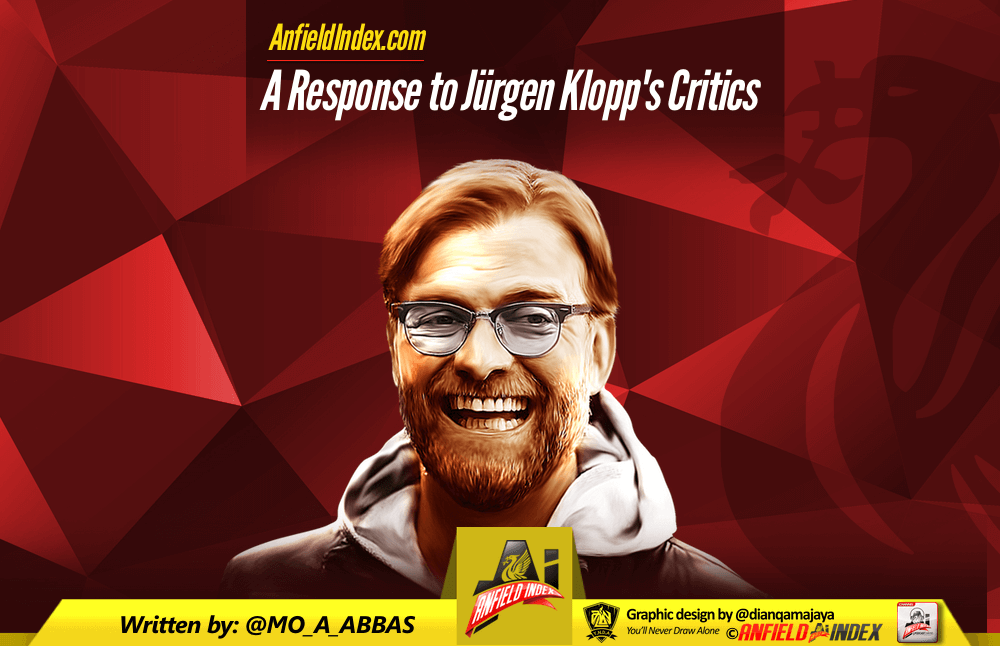 A Response to Jürgen Klopp's Critics

Imagine, it's August 2016. The anticipation has been building since the end of May, long gone are the summer internationals and the boredom of the long, empty summer weekends. The forward thinking clubs have done their business early, but the rumour mill has halted this past week, all that remains is that first whistle.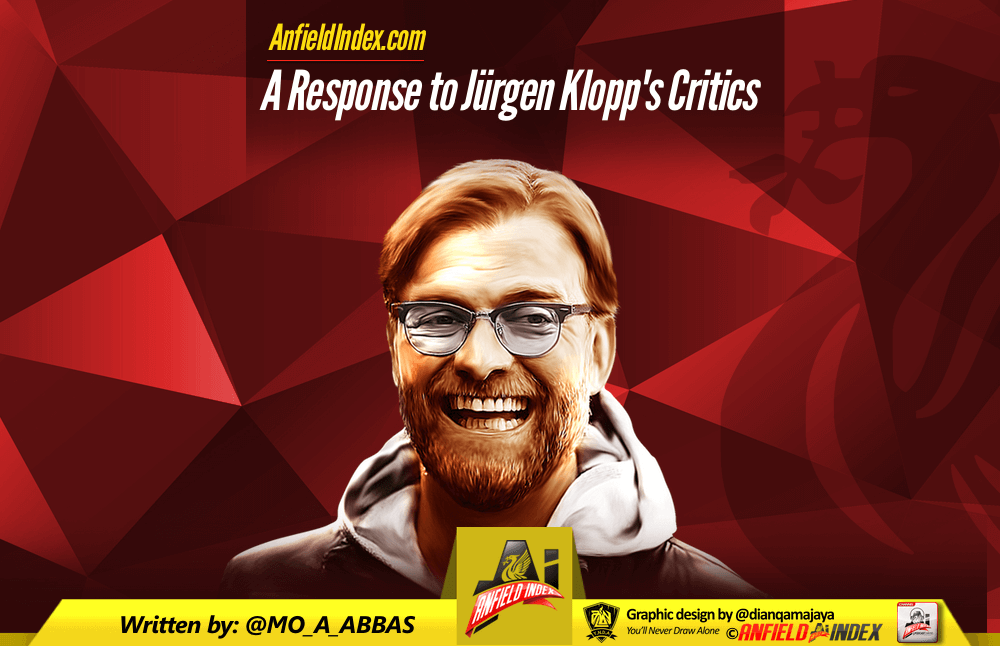 Anfield's door has been revolving in the summer, with players coming in and out. Jürgen Klopp was busy; in one of the most anticipated windows of recent memory. Now he stands in the new larger technical area with a new dugout behind him, as he looks up to admire the 54,000 capacity crowd that has sold out Anfield. You'll Never Walk Alone rolls off the tongue, as every Liverpool fan in the world sings along from their living rooms, wishing they were lucky enough to be there in the crowd. The players have come out one by one, the formalities are completed swiftly. Philippe Coutinho and Daniel Sturridge stand over the ball in the center circle, one quietly whispers to the other, "maybe". They look back at all the new faces that are about to start their journey as Liverpool players; they look to each other one final time before… The shrill of the refs whistle send hairs down the neck of every Liverpool supporter, across the globe, as the ball is kicked one word from the previous season comes to mind "BOOM".
Now let's back up a few months here. For what seems to have lasted an age now an agenda against Jürgen Klopps Liverpool has taken place. Comparisons to Brendan Rodgers and his side have seemed inescapable for Klopp. "Win percentage" and 'points per game" have become phrases that the English media has been trying to drum into our minds. I have one response to those critics, bollocks. It is beyond my comprehension how Klopp, who has only had one transfer window with the club, is being compared with a man that had three years with Liverpool and speant over 150 million pounds on mainly squad players.
This current Liverpool side is a Brendan Rodgers side, make no mistake about it. For Klopp to come in and take a team full of squad players to a cup final, possibly the quarter final or beyond in the Europa League (knock on wood), and for the side to still be considered out side contenders for the top 4, is a testament to how good of a manger he is. There are very few people in the world that could do what this man is doing. He has brought belief to this side and, an unwavering confidence that the game is not over until the final whistle. To do this, after the mental nightmare that Rodger's put these players through, is nothing short of miraculous.
The first paragraph of this piece is a reminder to all those who still doubt Klopp and continue to do so, that this man has yet to have a full season as manger of Liverpool. We've had ups and downs this season, as what we have become accustomed to. Yet there is a belief that next season will truly bring a new start for this football club. We will be able to brush ourselves off of all the pain of recent years and look forward to 'the golden sky and sweet silver sound of the lyre'.
Finally to those that remain pessimistic I urge you to look at our recent results and admire something we have been lacking a great deal of this year, momentum. Now imagine what will happen when Klopp brings in players that he wants next summer and not be forced to fill the cracks in what Brendan Rodgers has left him with. Is it truly not enough to have you smacking your lips in anticipation, yearning for that day in August?