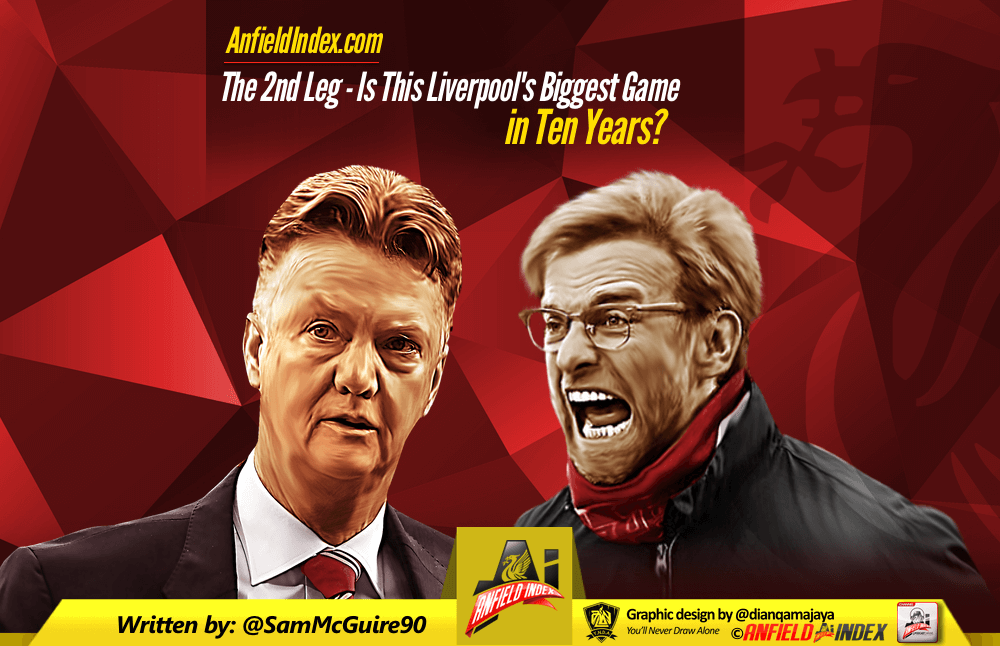 The 2nd Leg - Is This Liverpool's Biggest Game in Ten Years?
Manchester United fans seem to think the tie is over. Liverpool fans are spending their time debating how many goals they'll win by. It's a surreal scenario if you're of a certain age. The first thought is to assume the pressure is on Manchester United ahead of the match on Thursday but if anything the pressure is heaped right on Liverpool. So much so that there is a question to be asked: is this Liverpool's biggest game of the last decade?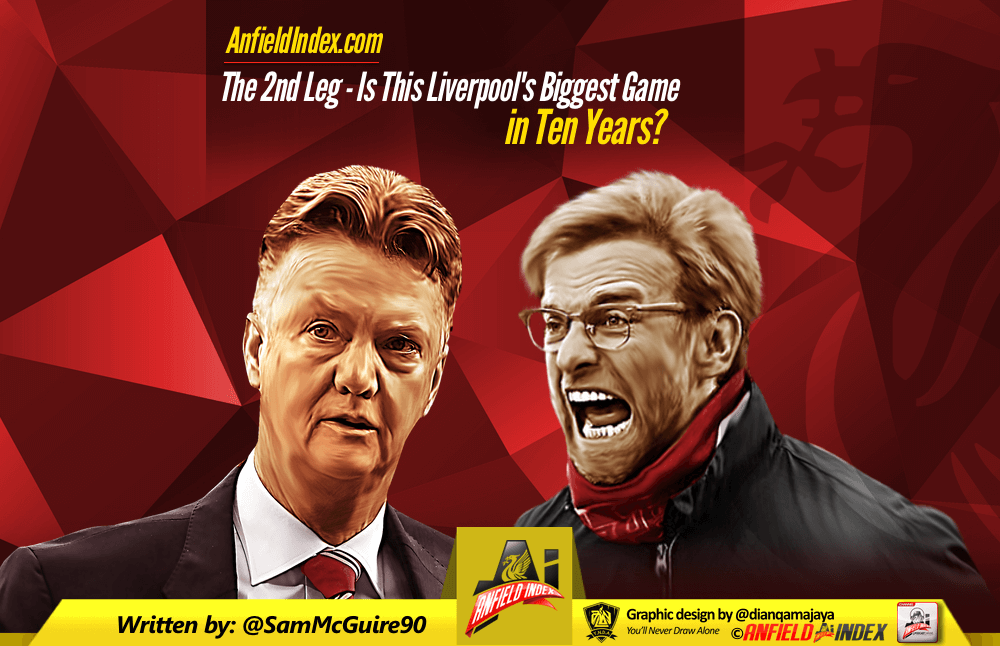 It may be a weird thing to say given the fact in the last 10 years Liverpool have played in two FA Cup finals, two League Cup finals, a Champions League final, countless Semi-Final appearances, and the 2013/14 season which saw the Reds feature in many 'big' games. Here we are though. A round of 16 second leg match against our biggest rivals could be Liverpool's biggest game in ten years.

Klopp oversaw an almost perfect first leg against United; defensively sound, dominant in midfield and for once, they managed to put away the chances they created despite the heroics of David De Gea. Carrying over a 2-0 scoreline from the first leg means Liverpool have it all to lose. Can you imagine the meltdown if United somehow manage to qualify?
It's a test of character for the players: can they really handle the added pressure of being favourites in a big tie? In the past they've faltered when the pressure is on them and had the label "perpetual bottlers" thrown at them – see Chelsea 13/14 and Aston Villa FA Cup Semi-Final 14/15 – but Jurgen Klopp wasn't at the helm then. He's the difference maker. The game changer. The question is has he had enough time at the club to change the mentality of the players?
Does this set of players have it in them to handle it if United get an early goal? Will they react well if the seed of doubt is planted? It's a test for both the players and the manager.
The seed of doubt
Let's not beat around the bush, Manchester United have been shit this season. However, it'd be foolish to write them off completely. Louis Van Gaal has been diving with sharks since taking over, in a cage, but getting knocked out of the Europa League to Liverpool would see him being pushed overboard without any safety harnesses. The onus is on United to attack.
The United manager has nothing to lose going into the second leg and could finally unleash his attackers. Memphis Depay, Juan Mata and Anthony Martial are being misused by LVG as things stand but that can quickly be rectified and what better game to try it than against Liverpool? If United play quick football as opposed to looking to go long for Fellaini and then having the three aforementioned players looking for the second balls then they could trouble Liverpool.
Many may argue that Van Gaal can't and won't change it around in one game but the precedent is there, Brendan Rodgers did it last season when he changed it around for the Old Trafford game. The then Liverpool manager switched from a 4231 to a 343 and Liverpool suddenly found their creative spark that they'd previously lacked and although they lost 3-0 it was only down to an inspired David De Gea performance that Liverpool didn't get something from that game.
United have it in them to score a couple of goals. That and yet another De Gea performance is all they'd need to take this into extra time. Liverpool should be out of sight but there's that doubt that can't be shaken off.
The Prize if Liverpool win
There's no trophy at stake here but If Jurgen Klopp's men do progress on Thursday, no matter how it's achieved, then this could be the start of Liverpool's climb to the top once again. Knocking your fiercest rivals out of Europe and effectively ending their season in March is just 90 minutes away. The Reds would also be into the quarter finals of the Europa League with very few of the big hitters remaining. It's an ideal opportunity for Liverpool to get back into the Champions League via the backdoor.
It would represent a sign of change. Liverpool not being able to deal with the pressure when they're favourites is something Reds' fans are familiar with and it's something Jurgen Klopp vowed to change during his first press conference as Reds manager. He warned everyone that he'd turn doubters into believers and this is the perfect opportunity for Klopp to back up his words with actions. The groundwork was started with the 2-0 victory in the home leg but seeing this game out will be the final hurdle for many and if Klopp manages to get this right then even the most pessimistic of fans may start to acknowledge that the lovable German is having a positive physiological impact on this side.