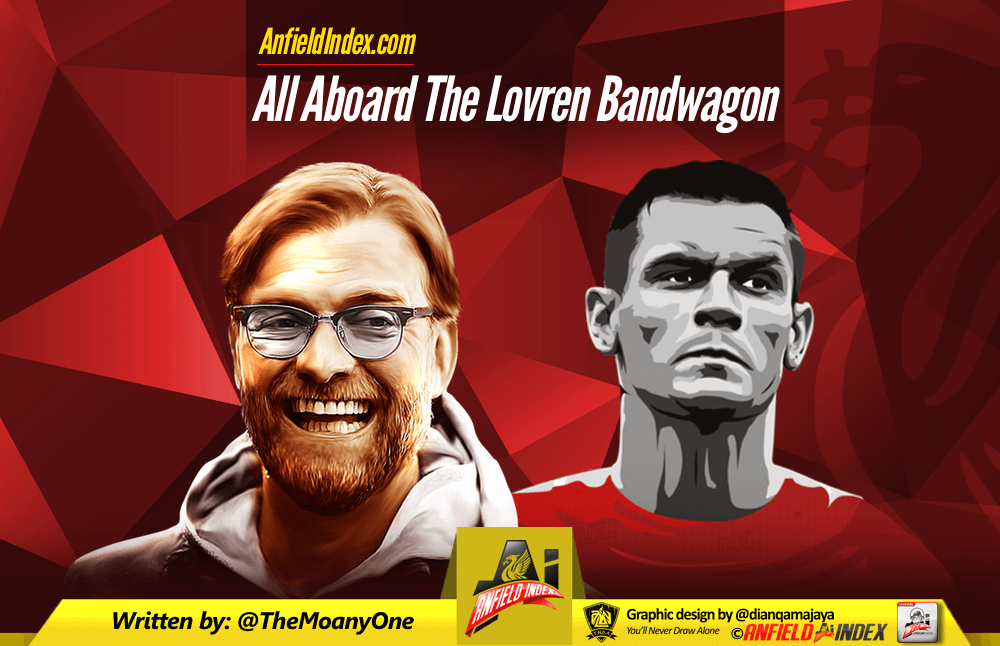 All Aboard The Lovren Bandwagon
Hands up if you were one of the fans who jumped feet first on to the "Lovren is shit" bandwagon? Hands up if you are one of the fans who would be at the front of the bandwagon organising the Lovren is shit chorus? Who could blame you right? For nearly eighteen months of his Liverpool career, Lovren produced so little. His poor performances greatly outweighed his good ones and we all prayed that he would join the ranks of other Liverpool flops and get the boot from the club. After all, Tiago Ilori was back at the club and some fans were of the opinion that Ilori was the better defender. Some fans were even happy Steven Caulker joined the club in January because it might have meant Lovren's career at Liverpool was over. Over the past number of weeks though I have found myself beginning to soften a bit towards the beleaguered Croatian.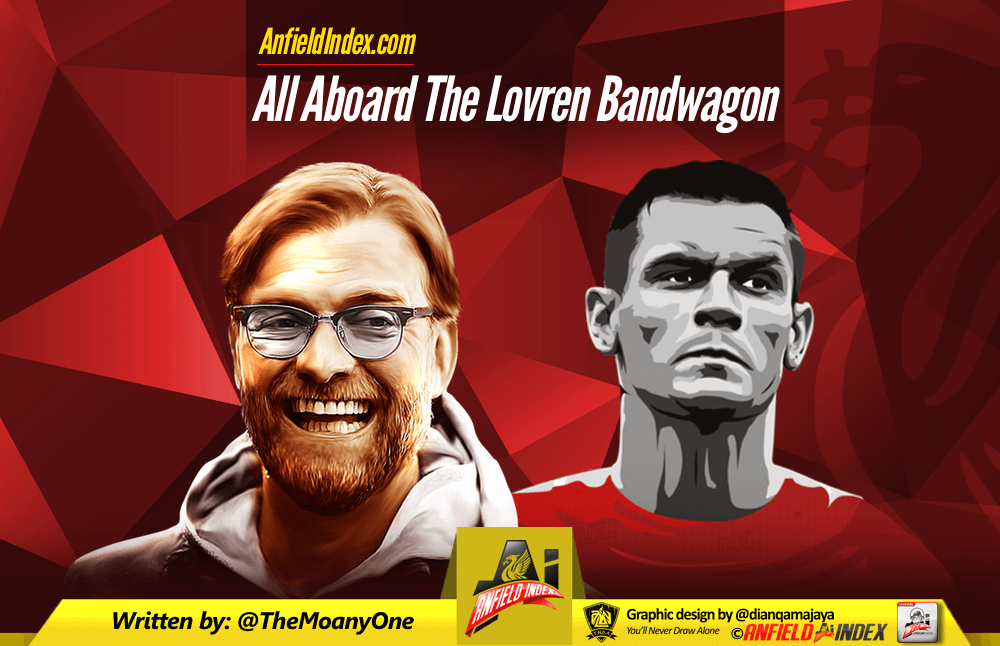 Over the last number of weeks Lovren has put in performances that have been reminiscent of his Southampton days. He has shown why Liverpool stumped up so much money for him and why Steven Gerrard is such a fan of his. He has shown that maybe, just maybe, he can have a career at Liverpool after all.
Lovren has shown real leadership qualities in the Liverpool back line since he came back from his latest injury lay off; he has defended like the general Southampton fans saw week in week out in the 2013/2014 season. He has proven to be such a valuable asset to Liverpool that in the nineteen starts in defence since Jürgen Klopp's appointment, Lovren has helped Liverpool to a massive ten clean sheets. This accounts for sixty six percent of Liverpool's clean sheets under Klopp overall, with Liverpool registering an impressive fifteen successful shutouts since their scoreless draw with Tottenham Hotspur back in October. With Mamadou Sakho beside him in defence they have kept Manchester City and Manchester United scoreless in the last couple of weeks, a feat not many clubs have done this season. They were both instrumental in helping Liverpool to a tough win away to Crystal Palace in the Premier League and since Lovren's return to the team Simon Mignolet's form has also improved slightly.
Lovren has played a total of twenty two times for Liverpool this season including four times in the Europa League. Lovren, in the Europa League, has won four tackles with a success rate of forty percent. He has made twelve interceptions, eighteen clearances and one block. While in the Premier League Lovren has won sixty two percent of his duels, has a pass accuracy percentage of eighty five percent. Lovren makes nine defensive actions per game, passes the ball on average twenty one metres, has created eight chances and has a shot accuracy of fifty percent. Lovren has won more aerial duels per ninety minutes of football this season (4.1) than any other of Klopp's regular options, and has only had made two defensive errors.
If you compare those stats to Mamadou Sakho. Sakho's stats so far this season in the Premier League pale in comparison to Lovren's. While Sakho only has the one defensive error this season his shot accuracy rate is zero, his average passing distance is nineteen metres, he has created only three chances (yes I realise that it is not a defenders' job to create chances but if a defender can create chances on a regular basis it can take the pressure of others around them to do the same), Sakho has a higher pass success rate but loses more of his duels then Lovren. In the Europa League though, Sakho stats are that little bit better than Lovren's. Sakho has won eight tackles this season with a success rate of eighty percent. He has made eleven interceptions, thirty three clearances and one block.
Look we all know that stats can be made up to suit an agenda, and that many fans do not look in to the analytical side of the game. That they lead with their hearts and that it does not matter how much a player improves, if they have had a bad start to their career at Anfield, that is it. You are shit and you will continue to be shit until the day you leave the club. Should Lovren be judged though after a year and a bit of having no real defensive training under Brendan Rodgers or should fans judge him on his time at Southampton or should we give him time to prove what he can do under a manager like Klopp who sees the importance of having a strong defence.
With Joel Matip confirmed as a Liverpool player, Lovren is now in a state of limbo. A lot of fans would prefer to see Sakho partner Matip at the heart of the Liverpool defence next season, and who could blame them? Sakho is a player who brings confidence to the team, Sakho is deemed a leader and has won the hearts of the majority of Liverpool fans with his performances of late. Let us talk about Lovren though, would he not be a better fit for Matip? If you look at the stats above he would be. With a defender beside him who can lead the defence it would free up Lovren to play his own game, and if he is allowed play his own game, this in theory should allow him to cut out the mistakes he makes. If the rumours are true, that Jürgen Klopp is in the market for a top Defensive Midfielder, this added protection in front of the defence will help Lovren's case aswell.
If Klopp goes with a defensive pairing of Matip and Sakho next season,  having a confident Lovren waiting on the sidelines will make Liverpool's defence that much stronger.