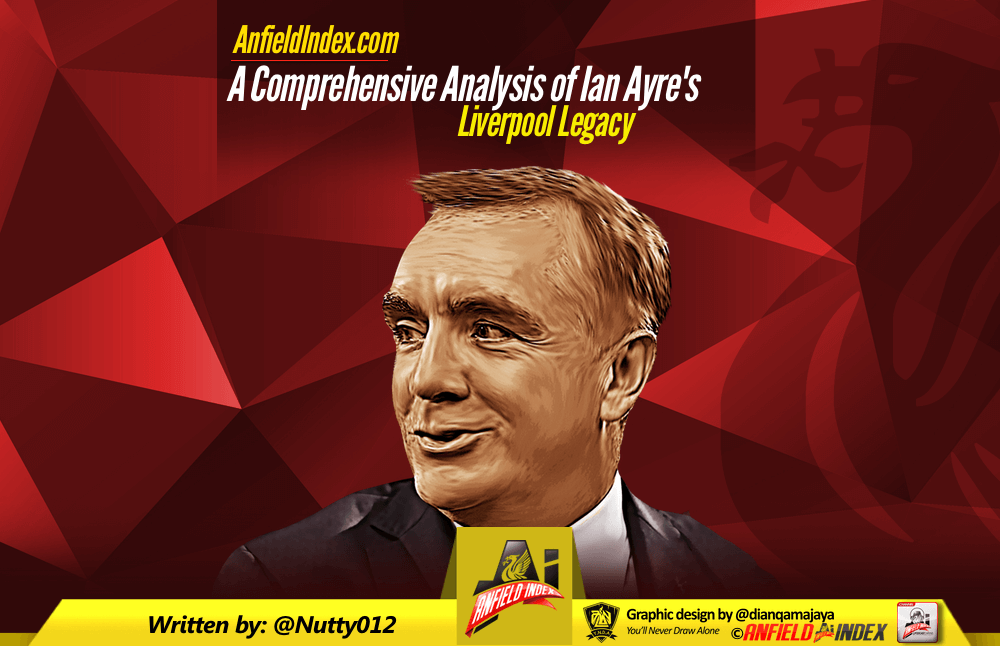 A Comprehensive Analysis of Ian Ayre's Liverpool Legacy
On Monday, Ian Ayre announced that he will step down as Liverpool's CEO at the end of the 2016/17 season. The reaction amongst Liverpool fans was understandably uncertain: Ian Ayre manages to simultaneously give off the aura of a childish buffoon and a competent professional. Given the announcement and the emotional ambiguity felt towards it, now seems like as good a moment as any to start to excavate and examine the legacy of Ian Ayre at Liverpool.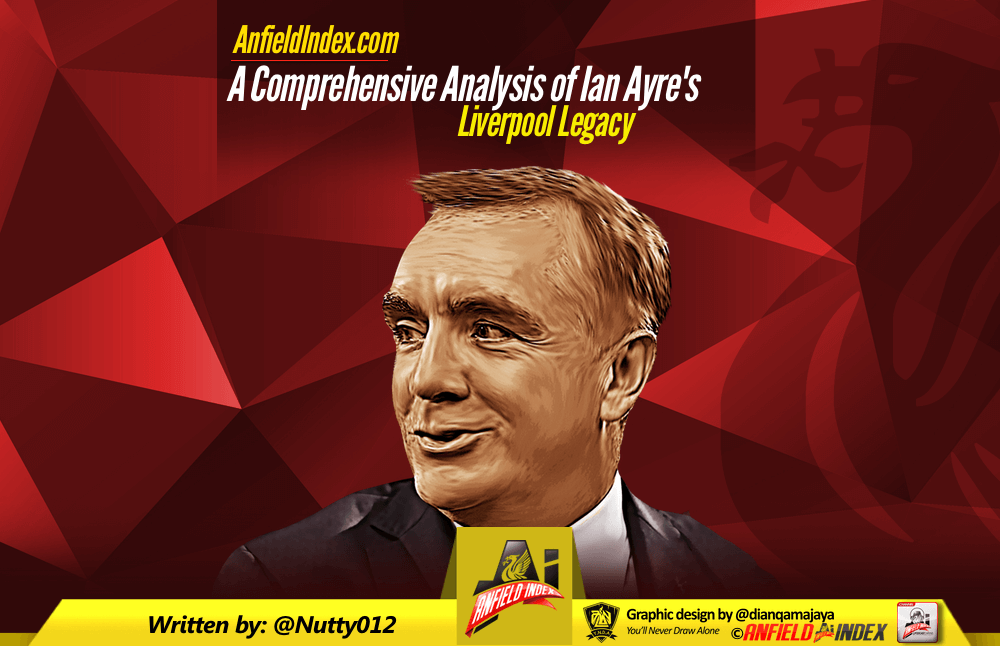 An embarrassing start

Without wanting to engage in juvenile aspects of the sentiment towards the man, it is impossible to ignore some of Ayre's transgressions when it comes to embarrassing moments. Firstly, Ian Ayre's role in the fiasco of 'Being Liverpool' is borderline unforgivable. Beyond obviously having to give this tragic project the executive thumbs up, Ayre managed to make a tit of himself not only when in front of the lens, but really whenever he was in the room. Whether it was the cringefest that came from his leather clad motorbiking fest, to joking on international television that Joe Allen should take the number 69 shirt when he first arrived at the club, it was hard to respect the man supposedly running our club. When fans saw that sort of behaviour, or pictures of an inebriated Ayre giving a piggy-back ride to Robbie Fowler, it is understandable to approach matters of the club and Ayre with an apprehensive eye.
On a serious, Ayre did embarrass himself, and as CEO of Liverpool, he embarrassed the club as well. There was a period of Ayre's early management under FSG in which Liverpool did seem to struggling on an operational level with their leadership. The handling of Suarez during his controversies does spring to mind here. Whatever your thoughts on each individual matter, what is clear is that the club had absolutely no strategy when it came to their long term approach and objectives. It seems that such matters are a thing of the past, but it hardly endeared Ayre well when he was still new to the position.
Developing a 'modern' club
Nonetheless, Ian Ayre did nothing if he did not learn on the job. His career at Liverpool took after 2010, when he had his first big break as marketing director, securing the long term and lucrative sponsorship deal with Standard Chartered. This propelled him into his future roles as Managing Director, and then finally CEO of the club, which he will have held for 5 years when he steps down next season.
Ayre had great success as marketing director in successfully transforming a second rate marketing department at Liverpool into one that could thoroughly tap into the full potential of overseas markets and business opportunities. As Liverpool fans we all laugh at our increasingly ridiculous corporate sponsors, like an official sandwich partner who forces our stars into making sandwiches in a local Liverpool branch. However, there is no doubt that securing these type sort of deals will bring in the financial revenue that will allow our club to compete on other fronts. As the owners put it in Ayre's leaving statement, "Under [Ian Ayre's] leadership, we have seen Liverpool transform from a club that was on the brink of bankruptcy to one which today enjoys strong financial and operational health."
In Deloitte's Footballing Money League, which ranks clubs according to their turnover, Liverpool came 9th in the world. This was very impressive given that it was our first season of champions league football for five years, so the marketing potential of the club had massively waned given this dented exposure, and also because Liverpool only played six group stage games which dented the European revenue which we would have gotten.  Clearly, Ayre has managed Liverpool's growth into a club that doesn't rely on one revenue stream, but instead has multiple healthy income sources, which is a far cry from the shambles that he inherited.
In Forbes Magazine, they rated the most valuable football teams in the world. Given Liverpool's relatively average recent history, it was very impressive that they concluded that Liverpool were in the 'World Super Six' club, an elite group of clubs who were in the top 10 in all of the metrics that they used for measurement. Clearly, Ian Ayre understood how to bring the club into the modern era from a financial perspective, but that did not always have such positive consequences.
Earlier this year, Liverpool announced a rise ticket prices for Anfield that was met with a righteous uproar from reds fans. It seemed that the club had decided that it wanted to get seasonal match day revenue up to £39m, but with current prices the club were going to be short by over £1m. Therefore, the club raised prices, and fans duly reacted with a walkout in the 77th minute to coincide with newly announced £77 match day ticket. Although the club did manage to rectify the decision very quickly, which was admirable, the whole affair did leave a sour taste with Liverpool fans. Therefore, it has been a mixed bag on the financial front for Ayre – he has successfully brought 'modern football' to Liverpool, which means financial stability but it looks increasingly like it will come at the expense of local fans and the community.
 A partial footballing success
On the footballing front, Ayre also seems to have grown into his job. Coming from a marketing background before being promoted to Managing Director and then CEO in 2012, this was probably inevitable as the job of CEO of a football club involves footballing elements that are distinct to the role.
The current format of Liverpool's administrative leadership involves Ayre as CEO, alongside John Henry (Principle Owner), Tom Werner (Chairman), Mike Gordon (Director, FSG President and second largest shareholder after Henry, also sits on Transfer Committee), Michael Egan (Director), and Kenny Dalglish (non-executive Director). The board is effectively four of FSG's own directors, Ayre, and Dalglish, who can't himself vote on any matter. As we can see, Ayre clearly had lots of responsibility within the leadership when it comes to footballing matters despite his limited background, so we must be sympathetic and accpet that it took him a while to find his feet.
But at the start of his tenancy as CEO, Liverpool's player recruitment was particularly worrying. It is understood that Ayre does a significant amount of negotiating when it comes to transfers and contracts, so when deals were not happening as we wanted it is not surprising that Ayre faced a backlash. Those deals included the memorably poor 2013 summer, in which Mkhitaryan, Willian, and Diego Costa all turned down Liverpool after advanced negotiations; the Konoplyanka affair; losing out on Alexis Sanchez to Arsenal; and Alex Teixeira turning down the Reds for China.
Whilst Ayre's negotiation skills were criticised at the time, recent opinions have comprised a slight revision of this initial reaction. Many of the above-mentioned transfers had mitigating context, such as Sanchez preferring to live in London, Mkhitaryan apparently having a pre-agreement with Dortmund that only came to light after his move, and the Konoplyanka deal being completed but for the Shakhtar Donetsk owner refusing to sign the contract that would finalise the deal.
Similarly, those with knowledge of transfer dealings actually talk about the high esteem that is held for Ayre's ability negotiating transfers. Arguably Ayre's greatest coup was the acquisition of Roberto Firmino, in which he went out to Brazil under the radar of the world's media and tied up the transfer before anyone had a sniff it was even happening. Reports also indicate that Ayre had a large part in persuading Jurgen Klopp to come to Liverpool, which could be his most significant impact yet. If the intelligent signing of Joel Matip is anything to go by, it seems like Ayre is very adaptable when it comes to backing the different demands of managers, and this could bode well for his remaining time in charge.
The jury is certainly still out with regards to Ayre's impact on footballing matters. He did not have the footballing background when he started, but he is clearly competent and improved at his job. Despite this, his recent improvements, and the sympathetic light in which some failed bids will be viewed, Liverpool's general transfer record hasn't been great under Ayre. Whether that be overpaying for English talent, or missing out on vitally important transfer targets because the club stubbornly refused to pay a few extra quid, it has been a frustrating few years of transfers.
Fortunately, Ayre has another 15 months to run on his contract in which he can create a lasting positive impression of his footballing impact. If Liverpool have a poor summer business this year by failing to back Jurgen Klopp's ambitions for the squad, then it is likely that Ayre will leave with the disappointment of Liverpool fans. However, should Liverpool go out and make the signings that we are all hoping for, and subsequently push on to become an elite level European club in playing terms that match our financial status, then Ayre will undoubtedly being leaving Liverpool with the legacy of manoeuvring the club for a future of success.