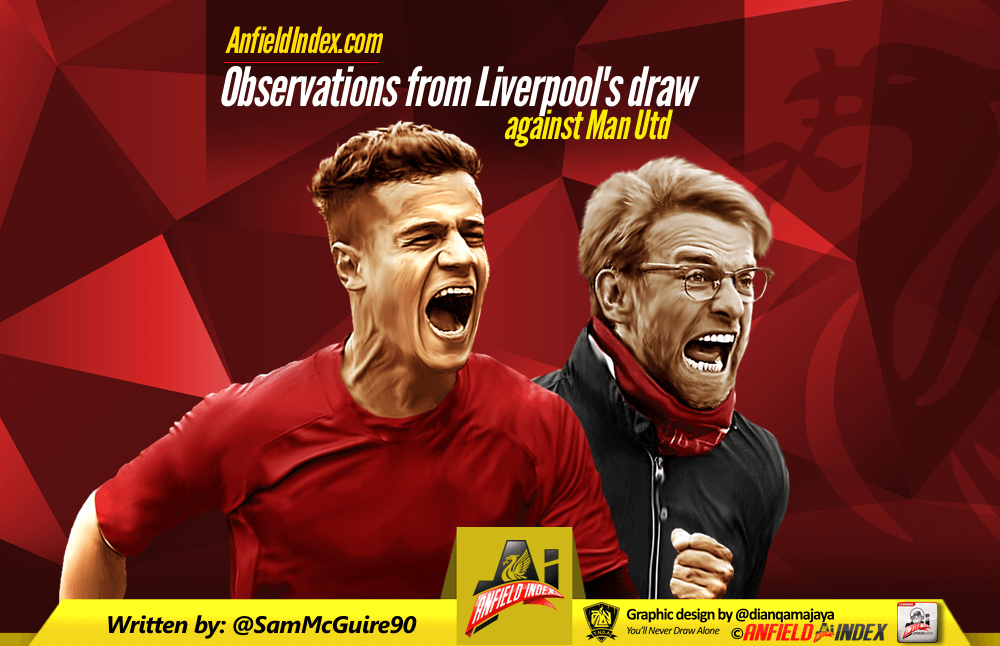 Observations from Liverpool's draw against Manchester United
A 1-1 draw was enough to see Liverpool progress to the quarter-finals of the Europa League. There was so much talk pre-match from Manchester United boss, Louis Van Gaal, that they only needed two goals and missing midfielder, Ander Herrera, mentioned how the grass was better at Old Trafford, therefore you would see a different United side to the one that showed up at Anfield last week.
The Manchester United onslaught that so many expected failed to materialise.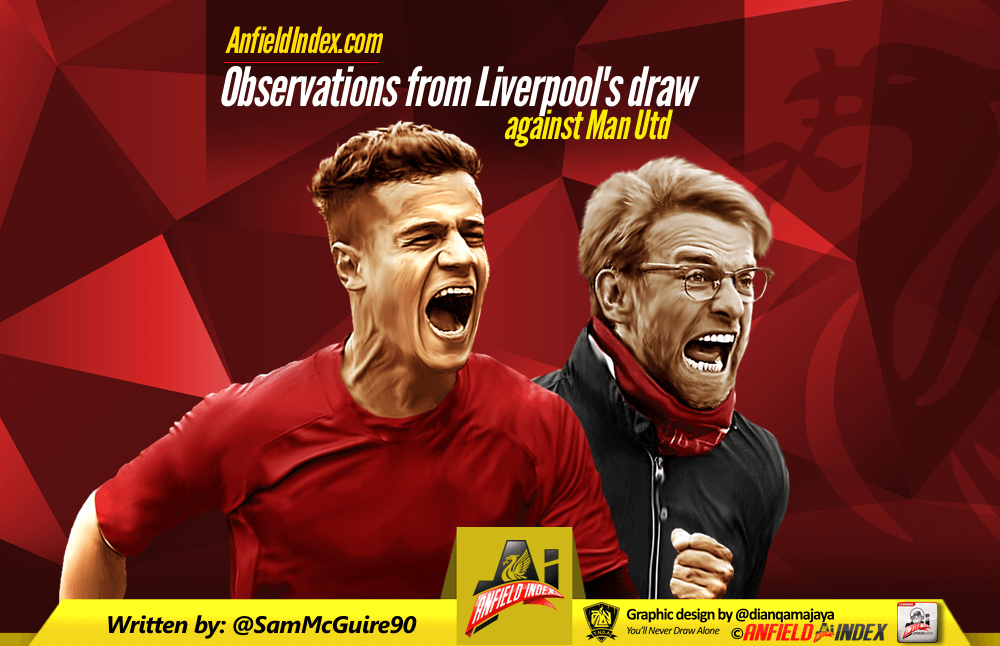 The bigger pitch Herrera mentioned made no difference. The curious case of the better grass comment was cracked when it became clear United were allergic to playing on it, and resorted to long diagonal balls.
Reds manager Jurgen Klopp adapted to the game at hand. In previous games when Liverpool had possession and were building an attack, you would see the centre-backs splitting and one of Jordan Henderson or Emre Can dropping deeper to start the attacks, it allows the full-backs to push on and offer the width. However, this changed tonight and instead of one of the centre-midfielders dropping to make a back three it was more of a two and then a four, with Sakho and Lovren staying as centre-backs but the full-backs pushed on to play in line with Henderson and Can.
Klopp clearly didn't want to over commit tonight, and it was good to see him tweak it ever so slightly.
Coming back from a goal down. Again. It's becoming a bit of a habit now, isn't it? Liverpool conceding first but still being resilient enough to not crumble and eventually taking something from the game. Before kick-off, many Liverpool fans couldn't shake the feeling that despite having this 2-0 lead Liverpool would cave under the pressure. It would have been easy when United took the lead for the players to curl up into a ball but instead they showed that Klopp's tactics are having an impact already.
They don't know when they're beat.
There aren't enough superlatives for Emre Can and Mamadou Sakho. Both put in monumental efforts and left fans arguing about who the next Liverpool captain should be. The Reds didn't start off well, but it was these two that kept the team intact until they eventually got a foothold in the game. They both showed a lot of maturity as their class shone through for all to witness. Both were imposing figures as Liverpool quelled the early fires that United looked to start.
What's encouraging for Liverpool fans, is that only a week ago it was the attack, specifically Adam Lallana and Roberto Firmino, that was getting all the plaudits and now a week later it's the other end of the team getting the praise. Liverpool now seem to have standout individual performers as well as a team togetherness to see matches through.
Coutinho reminds us all he's a magician. All it took was one moment of magic. Philippe Coutinho had been on the peripheral of the game for large parts of the first-half. He had miscontrolled a simple pass and a shooting chance disappeared, and then David De Gea pulled off yet another worldie of a save to prevent the Brazilian from equalising a few minutes later. It looked as though Liverpool would go into half-time 1-0 down until our no.10 picked the ball up, turned Valera inside out and audaciously chipped the usually imperious David De Gea to give Liverpool that all important away goal. It killed the game off.
He has not been as magical this season but Coutinho has this knack of scoring important goals, and it's priceless.