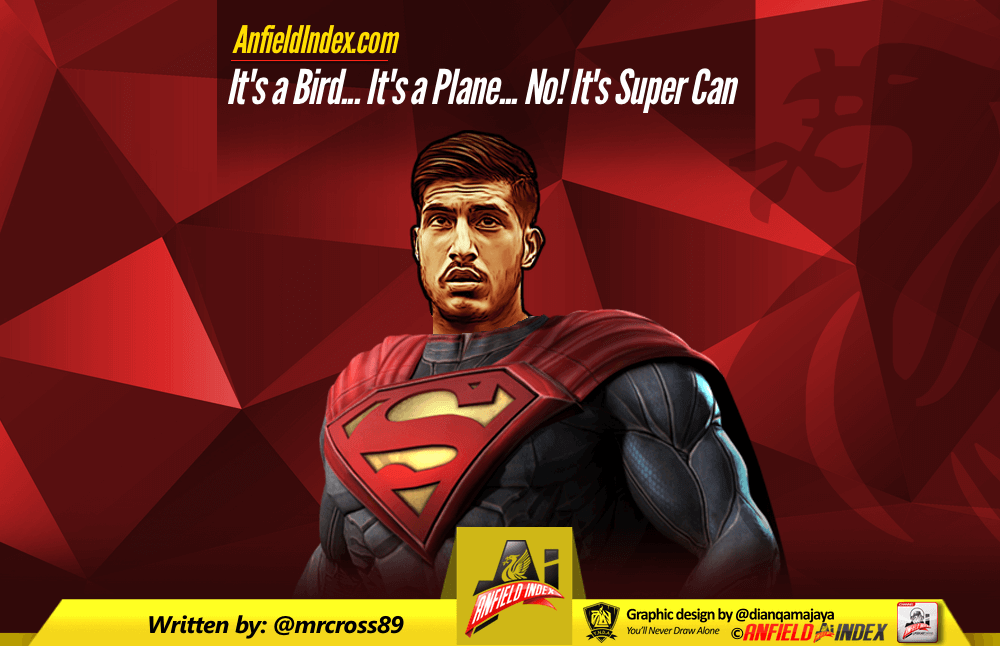 It's a Bird... It's a Plane... No! It's Super Can

Emre Can put in a man of the match performance under the lights of Old Trafford on Thursday night and in doing so cemented his place in the hearts and minds of the Liverpool faithful. Our very own Turkish delight dominated the midfield with a brilliant performance entrenched with power, pace and technical quality that had the Anfield faithful gushing with praise.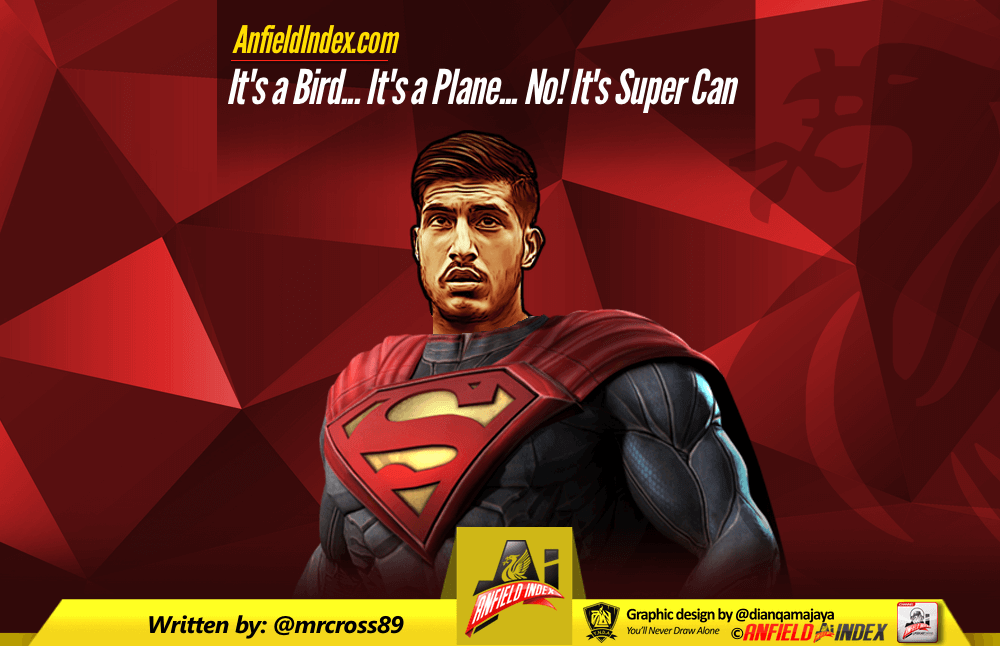 At 22 years of age, the German International is a regular starter at one of the biggest clubs in world football and now receives regular call-ups for World Cup winners Germany. He has done so not by being similar to his predecessors, but by bringing a whole new dynamic to the game, combining positional excellence with box to box midfield qualities and a physical stature that makes him an invaluable player. Can's versatility underpins this point as he can play in a variety of different positions depending on the phase of the game. He is particularly useful in a high pressing team as his athletic ability allows him to close down the opposition and physically dominate them on the ball.
Described as an inspirational talent by Brendan Rodgers, Emre Can's arrival at Liverpool came with an excitement of the unknown. Unfortunately, injuries disrupted his start, and once he was available, Rodgers chose to play the midfielder as a centre-half in a back three. Undeterred by the challenge Can became an essential part of an unbeaten run of 11 games. Rodgers pushed the limits of Can's versatility by playing him at right-back towards the end of the season, a position which saw him exposed at the Britannia Stadium on the last day of the season.
Question marks remained over Can going into 2016 until Jurgen Klopp arrived. Klopp spoke of Lovren needing a change so he can refresh, and Emre Can was another who benefited from the managerial switch. Can understands Klopp's message and isn't afraid to be vocal in instructing his teammates throughout the match. His development under Klopp has accelerated faster than anyone would have imagined.
His development under Klopp has accelerated faster than anyone would have imagined.
Emre Can has played over 3000 minutes of football this season and rather than looking fatigued, the German international is becoming stronger with every passing moment. David Hendrick on the Nina Kauser post-match show made an excellent point when he discussed how good Can is at providing the press before the press and instigating his peers to engage and suffocate the opponent on the ball. The more he plays, the better he is at consistently playing at a high pressing tempo for long periods of times because he is mentally and physically in peak condition.
The talent Can possesses has produced some high-quality performances both on and off the ball this season, but his performances in both Europa League legs against Manchester United is evidence that he is a big game player.
Super Can Season in numbers
Emre Can has attempted 145 tackles this season with a 70% success rate.
The German international has made 69 interceptions this season, joint top with Alberto Moreno, and 51 blocks with 34 being passes.
Can has a pass success rate of 82%, with 38 key passes and two assists
He averages three dribbles with a success rate of 80% per game.
And he has two goals from 42 shots this season
Stats compiled from whoscored.com
Perhaps the only criticism you can give to Can is that he doesn't score enough goals or assists, but that would only tell half the story.  Can has the confidence to continuously create dangerous situations by always seeking to push the ball forward as quickly as possible and rarely holds up the play for long periods or play square passes. The two assists Can created this season, have both come from defence-splitting passes into open space which Sturridge and Coutinho were running towards
Another feature of his game, which allows Liverpool to play on the front foot, is his bravery in taking players on and using his strength and speed. Can's ball carrying skills are impressive, and although he can be guilty of being heavy footed at times, his dribbling stats prove that he gets it right more than he gets wrong.
He is the prototype of everything Klopp demands from his players.
Emre Can has been the breakout star of the 2015-16 season. If he can continue this run of form and stay injury free going into the Euros, there's no telling what he is capable of achieving. Whatever the outcome, Can will only grow stronger and together with an exciting group of talented players, he can rise to be the leader in Klopp's new world.