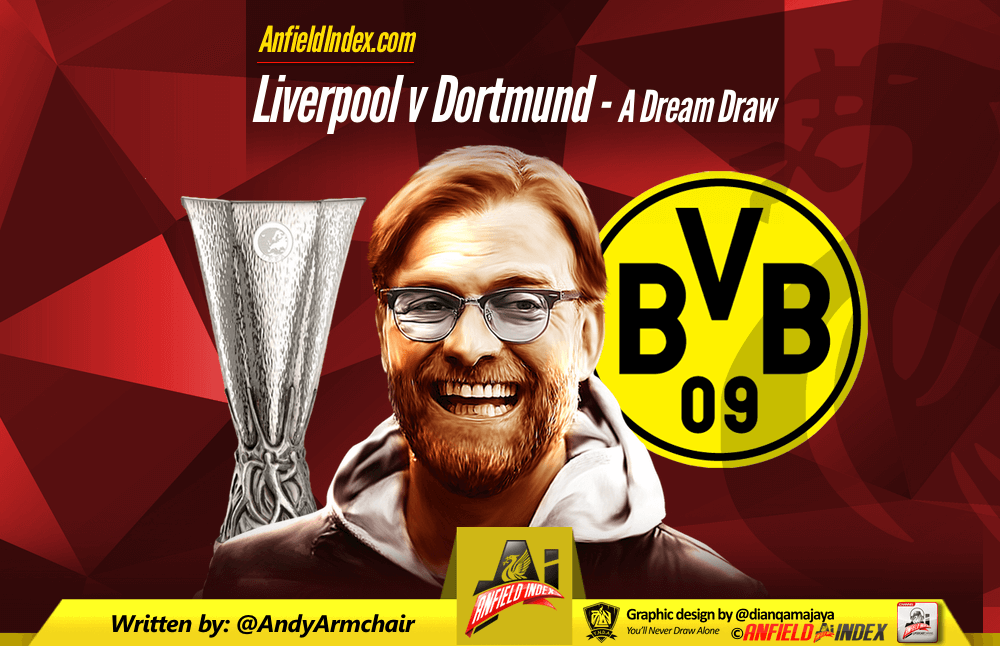 Liverpool v Dortmund: A Dream Draw
It was written in the stars, with an almost certain inevitability to it, that Liverpool and Borussia Dortmund would be drawn together in the Europa League quarter-finals. For Jürgen Klopp and everyone associated with Dortmund it is a very emotional tie; you only have to look back at his final game at the Westfalenstadion to see just the depth of that. I defy anyone to watch those scenes and not have a tear in their eye. "Echte liebe" is Dortmund's motto, which translates as true love and that was exactly what Jürgen Klopp had for the club and was undoubtedly reciprocated by the clubs fans, players and officials. The reunion on April 7th is huge news in Germany, bigger than it is in England; such is the magnetism of Klopp's personality that he is still continually making headlines in Germany. They remain interested in him and how he is doing at Anfield and his return to the country will be an event sure to capture the imagination.
For me personally, this tie is like a dream come true. Borussia Dortmund are a club I'm very fond of, I have a real soft spot for them that comes from a personal history with them and the city. I went to Secondary School in Dortmund, had my school sports day at the Rote Erde stadium situated next to the awe-inspiring Westfalenstadion (or Signal Iduna Park as it's officially known) and went to see them play a few times. There is a passion about the club and its fans that created an affinity that I've never lost. The city of Dortmund is situated in Germany's industrial heartland, but has a down to earth, working class beauty about it. That might sound a bit mad, but there's a vibrancy to the place and whenever I've returned along the autobahn and caught sight of the Westfalenhalle, the familiarity brings a warmth to my heart. The people there love their football, they are deeply passionate about their club and are not shy to demonstrate it. The noise, colour and spectacle of match day in Dortmund are a sight to behold. Liverpool are already a well-known club in Germany, the European successes of the past are not forgotten there, but the Reds are especially in the psyche of Germans since the appointment of Klopp at Anfield and the atmosphere in April will be a very special one.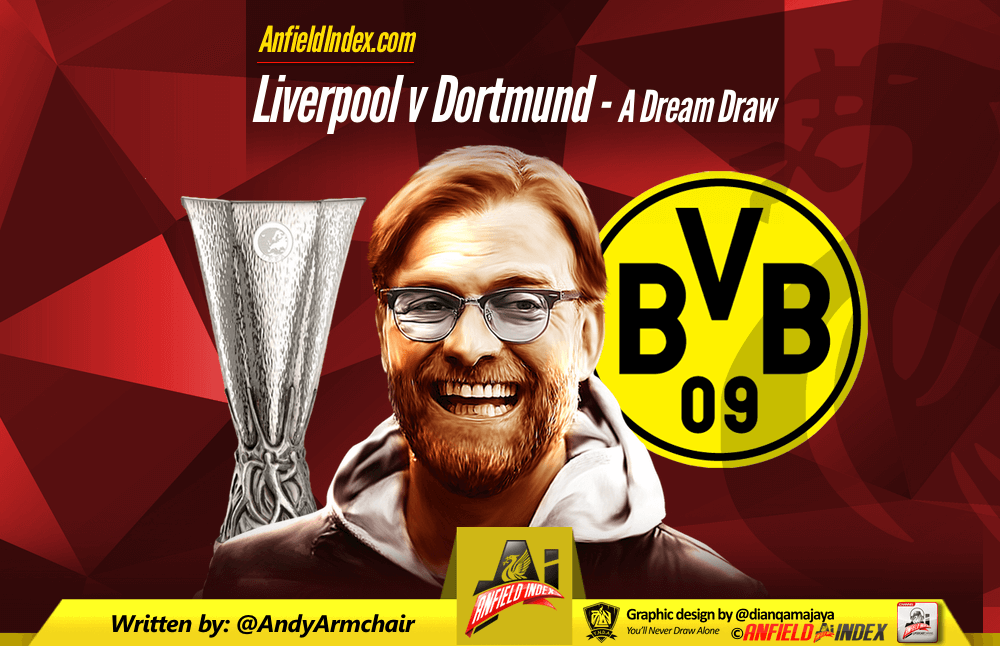 For some Reds fans, Dortmund and the Westfalenstadion hold a place in their hearts, with it being the setting for the 2001 UEFA Cup Final. That, quite frankly insane, 5-4 victory over Alaves was an incredible match on its own, but the host city and stadium made an impression on many visitors that night and their hospitality was not forgotten. I can personally vouch for how great the beer is in Germany, not to mention the Jägermeister, Feigling and assorted flavoured vodkas; all of which are perfect accompaniment to a currywurst with chips that I'm sure the travelling Kop will enjoy.
However, drawing Dortmund is more than tantalising excitement, emotion and a trip down memory lane for me, it's a test because Dortmund are a bloody good side. Klopp may have built this side, but current boss Thomas Tuchel has taken on the mantel and risen to the challenge of succeeding such an iconic figure. Tuchel is another likeable guy, who often wears his heart on his sleeve on the touchline, and is proving that he is a smart coach. Under him, Dortmund have slightly changed their shape, but still play a high tempo style that is pleasing on the eye and in the likes of Ilkay Gündogan, Marco Reus, Henrikh Mkhitaryan and Pierre-Emerick Aubameyang, have players capable of ripping any defence apart. It should be a huge test for this Liverpool team and how far they've come under the stewardship of Klopp. It could also be an audition for some as to whether or not they truly do belong in Klopp's long-term plans when he begins to re-shape the squad this summer.
Make no mistake, as emotional and joyous a return this tie will be on a personal level for Klopp, do not how much he will want to win it. He'll be as determined to beat Dortmund in May as was to overcome Bayern Munich during his reign at Dortmund and Tuchel will be exactly the same, perhaps to prove he can fill the shoes of his predecessor. For me, I just cannot contain my excitement of what should be the epitome of what football should be all about: passion, enthusiasm, joy and love; 'Echte liebe' if you will.