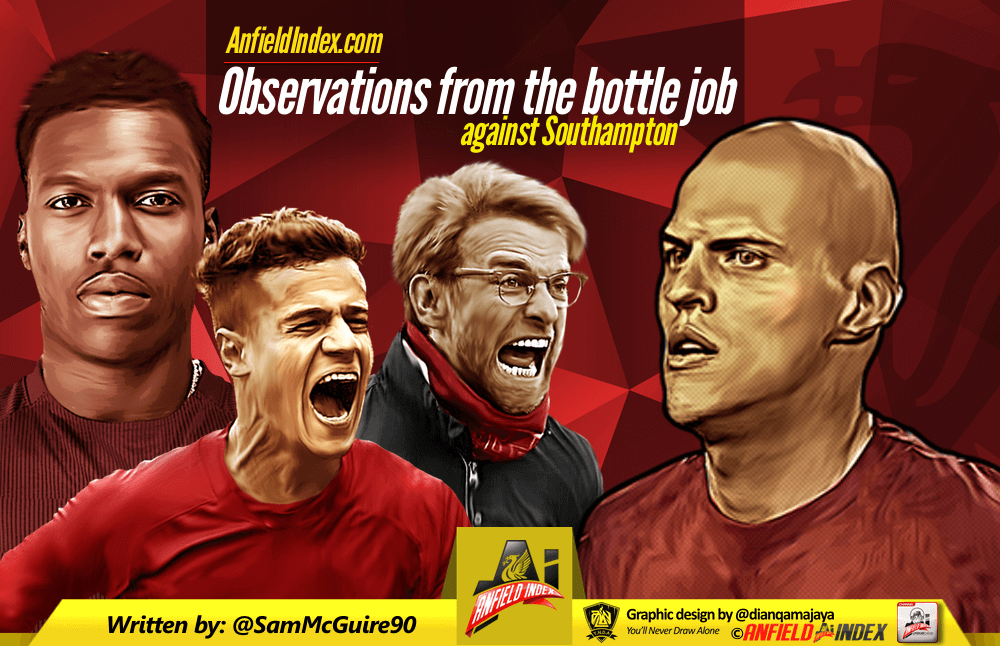 Observations from the bottle job against Southampton
Liverpool's first loss inside of 90 minutes since the start of February was hard to swallow. It's hard to really put into words how disappointing that second half performance was after such an impressive first half.
The second half was shit. A big pile of steaming shit with a Martin Skrtel on top.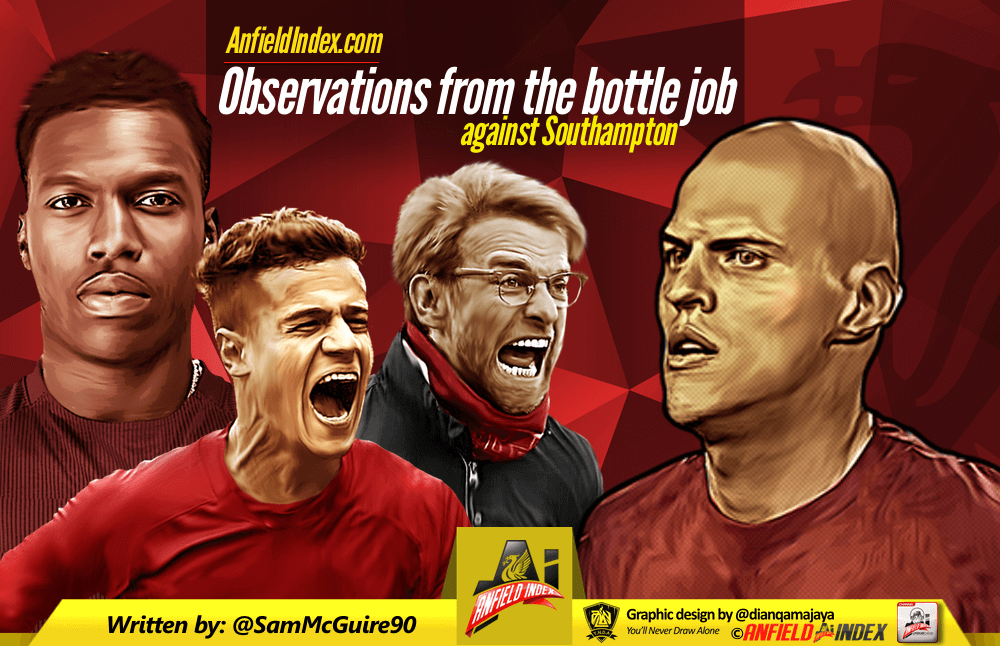 For Liverpool fans it must've felt like déjà vu when Philippe Coutinho curled the ball home from 20 plus yards for the second consecutive season at St Mary's. It set the tone for an energetic first half in which the away side could've been three or four nil up, but *sadly* had to settle for the 2-0 scoreline. These missed chances came back to haunt the Reds as Southampton rallied and scored three quick second half goals to complete and impressive turnaround.
Jurgen Klopp hot and cold tactics. The German isn't renowned for being a tactical master but he's changing this perception of him as of late. He's tactically outclassed Manuel Pellegrini, Louis Van Gaal and for 45 minutes Ronaldo Koeman had no response for what Liverpool offered.
Klopp is going into games with a plan on how to not only negate the opposition's threat but expose their weaknesses. As opposed to the one fits all approach many managers adopt for tactics these days.
His game management in the second half was poor. He was reactionary instead of proactive. As soon as Southampton dominated the midfield Klopp should've switched it up to halt their momentum, instead he let the game slip away.
The modern game is ruled by the tactical innovators and yet it's the 442 that's still effective when used properly. It's a simple tactic and yet it causes so many problems for teams when you have an energetic and mobile team and this is exactly what Liverpool had today and Southampton couldn't cope. Daniel Sturridge could drop deep and roam knowing Divock Origi would occupy the centre-backs and vice versa, this enabled Liverpool to win the midfield battle and could translate from defence to attack in seconds.
Divock Origi and Daniel Sturridge's blossoming partnership. Daniel Sturridge looks better with a partner. He flourished alongside Luis Suarez and looked like the Daniel Sturridge of 13/14 when he started alongside Mario Balotelli against Spurs in 14/15. In recent weeks he's looked on the peripheral of everything and hasn't been the influential Sturridge fans expect to see. Against Southampton it was as though the Sturridge of old had awakened. The presence of Divock Origi seemed to really spur the no.15 on and the two combined really well for the Liverpool second goal.
Joe Allen's claim for a midfield start. Allen has been unfortunate with injuries throughout his Liverpool career. Whenever he impresses he inevitable picks up an injury and he's then back to square one with question marks over his position within the squad. Against Southampton he really showcased why he should start more often. Tenacious in the tackle, forward thinking when on the ball and influential throughout the pitch. He won the ball back for the first Liverpool goal. He could've added a third in the first half and he was always looking to get Liverpool forward.
Martin Skrtel is a melon. Four minutes into his comeback and he gives Southampton the opportunity to get back into the game by gifting them a penalty. Liverpool had looked assured with the Dejan Lovren and Mamadou Sakho pairing, those two were the foundations of a new resilient, compact Liverpool side that looked strong defensively. It only takes one player to bring it all crumbling down, and that's just what happened. The Slovakian had a role in all three goals that Liverpool conceded and the penalty.