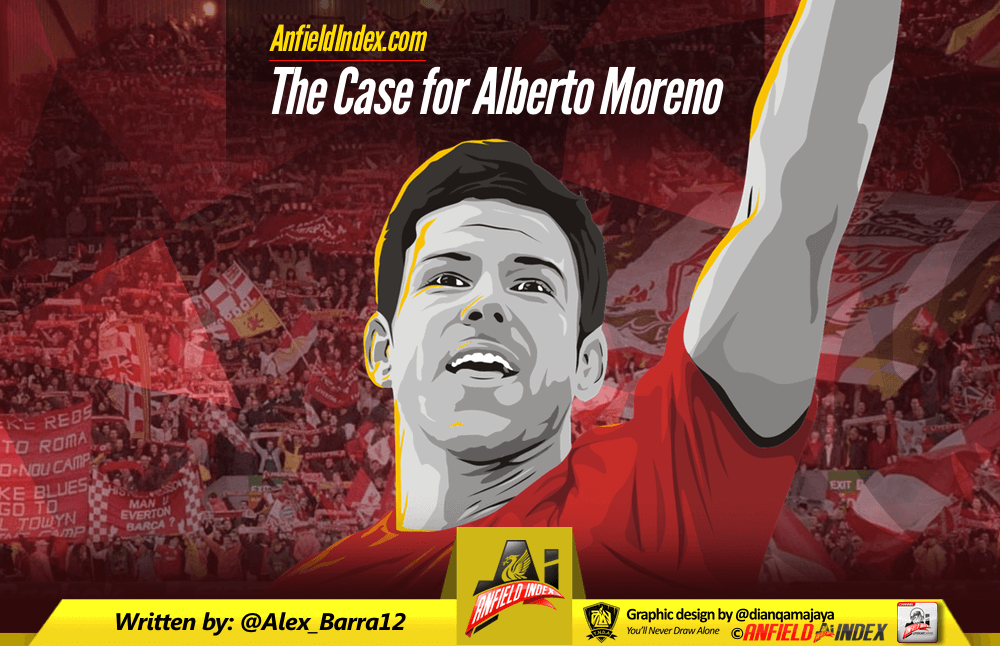 The Case for Alberto Moreno

It wasn't too long ago that Alberto Moreno was plying his trade in his native homeland, winning battles on Sevilla's left flank as they stormed their way to a Europa League championship. Highly regarded during season 2013/14, Brendan Rodgers' most prominent, and important season at the helm of a Luis Suarez-less Liverpool FC would see Moreno arrive for approximately £16m from his native club in Sevilla, to the rumblings of a committee signing. Indeed, the promising young Spaniard held all the hallmarks of a committee signing; if Brendan had gotten his way Liverpool would've ended up with an industrious if ineffectual Ben Davies; Premier League proven through and through, and playing at Rodgers's former club in Swansea. But alas, Moreno was handpicked by the committee and, in his first season, the signs were impressive.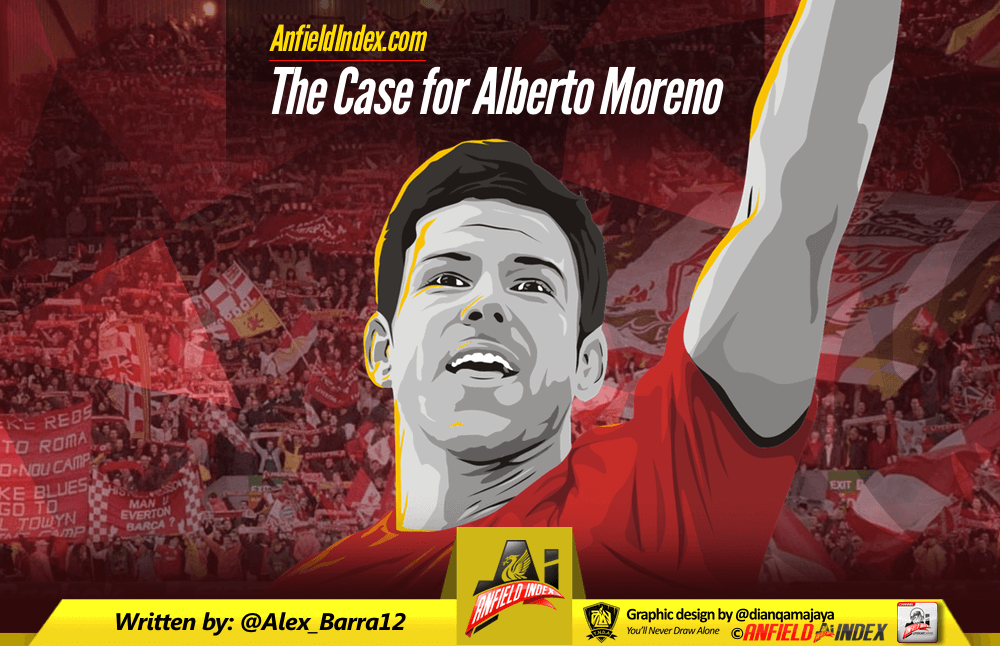 A sensational bursting run down Tottenham's vulnerable right saw Moreno hit his first goal for the club; his left foot would become a trademark of his attacking flair; a John-Arne Riise-esque ability to hit the ball with ferocity means he's always a danger when the ball comes to him outside the box, and his presence down the left hand flank when, throughout Rodgers' entire tenure, the closest thing Liverpool had to a combative defensive midfielder was Lucas, and he didn't afford much cover to either flank.
Yet, as Glen Johnson was shown up to be an ambition-less, mistake-ridden donkey of a right back, Moreno was full of boundless energy, enthusiasm, and adventure. Of course he got caught out of position here and then; an adventurous full back is bound to do that. A left full-back, when presented with space, will usually delve into it; and when Phil Coutinho or Adam Lallana were deployed upwards of Moreno, their tendencies to start more central meant Moreno was doing most of the wide grunt work.
The trends continued. Not only did Moreno endure a difficult season under an ineffectual manager and come out of it as one of the better products; however, as the rise of Joe Gomez took hold, he was dropped by the soon-to-be relieved Ulsterman as the defence began to leak goals. Gomez's injury brought a second chance for Moreno, and he took it. As the manager departed, and Klopp's meteoric rise set-in, Moreno found himself at the forefront of the Klopp revolution. A more technically gifted Marcel Schmelzer, he saw progress under the big German, he enjoyed hug after hug, he was even celebrated among the notorious Liverpool twitter as being one of Liverpool's most improved outlets, offering width where Jurgen Klopp complained about a lack of wingers. Offering competence next to centre halves, opposite Nathanial Clyne, where once Liverpool had to suffer the torrid Glen Johnson and Jose Enrique.
By the 26th of January, he and Clyne had played every Premier League minute under Jurgen Klopp. Moreno was lauded for it.
Now? Twitter seems to have taken the comedic nickname of "Scouse Cafu" to heart and seems to believe Flanagan to be the second coming of the legendary Brazilian fullback. A player with no discernible technical skills other than a decent tackle, to which Raheem Sterling felt the full force on Flanagan's return to Liverpool's starting lineup.
Then, for some inconceivable reason, he was made captain of the starting eleven.
And Liverpool handed over a dominant 2-0 lead against Southampton, completely fading into nothingness in the second half at St. Mary's.
As good as Jurgen Klopp's been, this was a series of terrible decisions. Bringing on Martin Skrtel and sticking him next to someone with no real leadership qualities was always a recipe for disaster: especially – and this writer cannot possibly put a bigger emphasis on this – with no defensive midfielder. Emre Can and Joe Allen were superb in the first half, but Southampton's midfield was non-existent. Then, when Jordy Clasie pushed up and navigated the pockets of space, and Sadio Mane got the chance to run at Liverpool's moronic Slovakian, the entire defence seemed to fall apart.
It was nonsensical.
Flanagan, while not the lead culprit, was just as culpable.
Should Moreno have made such a colossal mistake as Flanagan did for Southampton's first goal, Twitter would have exploded. Indeed, it did, when Moreno stupidly brought down Steven Naismith against Norwich. It was silly, and it wasn't his first mistake. But then, Moreno directly contributed to a key pass for Firmino's equaliser. And, of course, he was still slated.
He's 23. He's a tremendous footballer. Look at his technical ability, look at his delivery; he makes 2.7 key passes per game. He's created the most chances of any defender in the Premier League. That includes Danny Rose, Cesar Azpilicueta, Aaron Cresswell and Aleksander Kolarov. He also averages 3 tackles per game.
Now, to the topic of, as this writer saw quoted on twitter, "giving it all for the shirt." Which is slang for; "he's scouse, of course he's got the passion. We love him." Alberto Moreno said in an interview, "I'm happy here, my family is happy here and I will keep on giving my all for Liverpool. I'm very focused." So there you have it, the Spaniard says he gives his all for Liverpool. Because of course he does. Because Jurgen Klopp is the manager of one of the world's most prestigious football clubs. Anyone who isn't "giving it all for the shirt" (the aforementioned Glen Johnson) wouldn't get in the side. It's as ridiculous a statement as saying "we should sacrifice the technical ability of a footballer for someone who yells a lot and has passion."
Funny, because that excuse has also been touted.
The facts, the things that actually provide sense and reason to the argument? Until February, Alberto Moreno was Liverpool's leading chance creator. He makes three tackles per game. In Jurgen Klopp's first six weeks in charge, Moreno made the most high-intensity runs of any player in the Premier League (per the excellent Simon Brundish). Any player. In the exact same sample space, Moreno made 2.7 possession wins in the final third per game. That's three bailouts in the box per game. Does he make 2.7 mistakes per game, leading to a chance?
No, funnily enough. But then he's not scouse, is he? So it just seems like he does.
His recovery pace is phenomenal. He's technically proficient. He offers width where we have none. He's twice the defender Jon Flanagan is, and that's a simple truth. Yes, he's defensively suspect at times, but that's got a lot to do with a very, very key thing missing from this squad.
A defensive midfielder.
If a shield is able to deflect play away from the space Moreno's vacated, or better yet occupy that space, then Moreno is allowed the freedom to attack and make his sensational recovery tackles on the way back.
Make no mistake, if Alberto Moreno is no longer in Jurgen Klopp's plans, then fair enough. But the perception that he shouldn't be, that is false perception at its finest and confirmation bias as its most prudent.
This writer is fully prepared to face the brunt of backlash for forsaking the scouse lad who gives it his all for the defensive atrocity that is Alberto Moreno. Because that's the narrative, and Liverpool fans love a narrative. Here's the belief of this writer: the 23-year old Spaniard has a future, should he be allowed to get what very few Liverpool players seem to get these days.
A bit of patience.