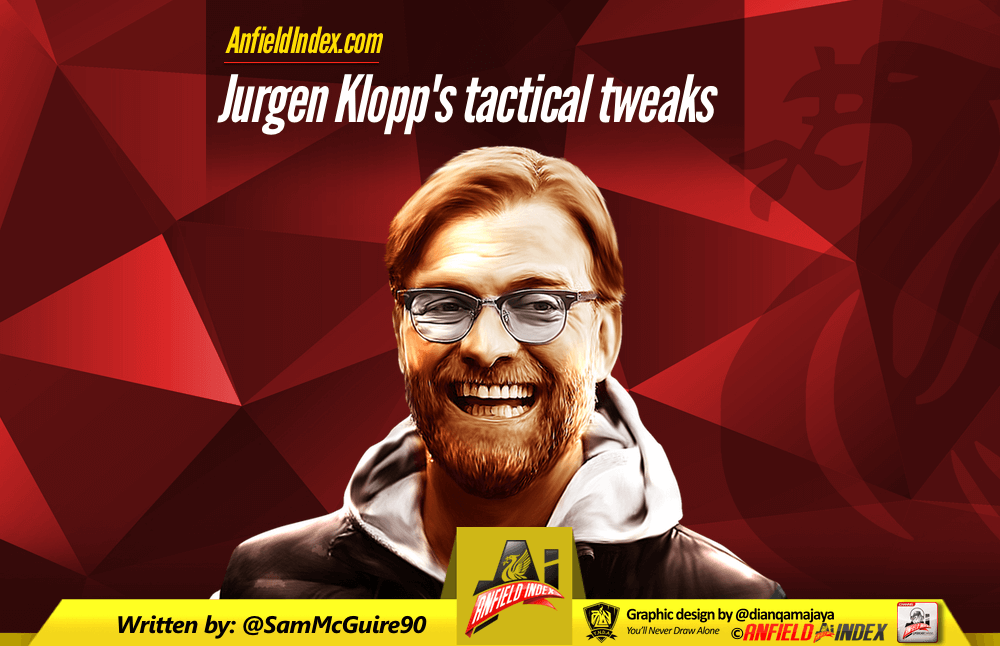 Jurgen Klopp's tactical tweaks
As stated before kick-off, a 2-0 score line is a dangerous one. It's one that could cause a lot of teams, and managers, a limbo like problem. Should you attack or defend? Stick or twist? It's a favourable position to be in but potentially one of the worst ones to have psychologically. At 1-0 you know you can't just sit off and allow the opposition to dominate. At 3-0 you know you can afford to play counter attacking football because the opposition have to attack.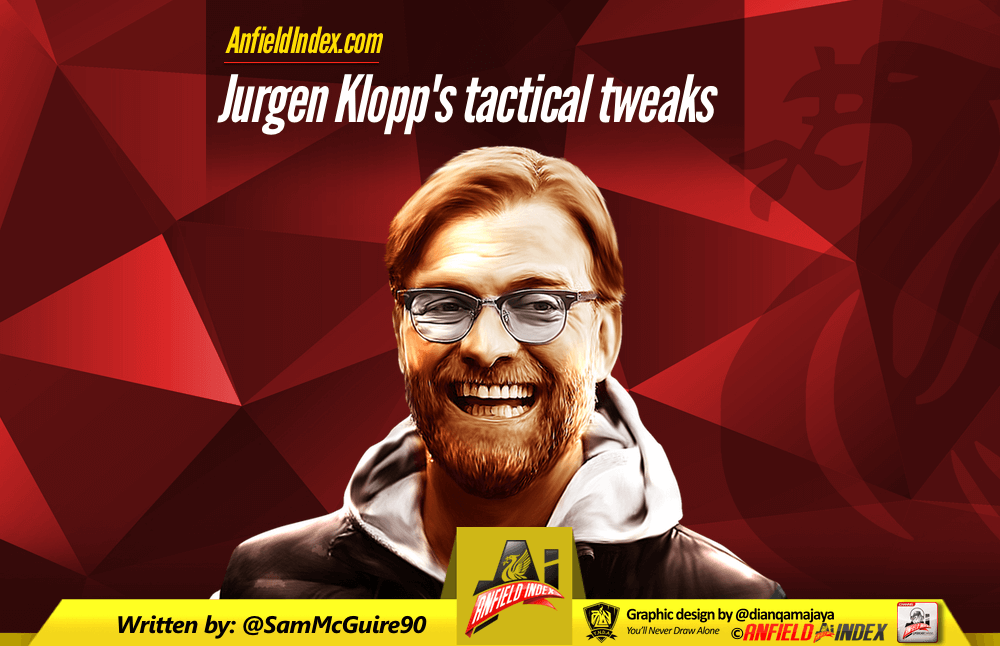 From the first minute against Manchester United in the second leg it was obvious Klopp had set Liverpool up conservatively. In previous matches Liverpool build attacks from the back with Emre Can dropping between the centre-backs, almost making a back three. This move allows the full-backs to push high up which in-turn allows the wide midfielders, Philippe Coutinho and Adam Lallana, to drift in field and make a strong centre for Liverpool.

As shown in the two screenshots above Klopp had tweaked the tactics slightly. Instead of having Emre Can or Jordan Henderson dropping deeper to make it a defensive three Liverpool were using the two players as disciplined midfielders. Both were tasked with shielding the defence, giving both Dejan Lovren and Mamadou Sakho extra security and an extra passing lane when trying to play out from the back.
If you note in the first screenshot Dejan Lovren is in possession of the ball and although Martial is closing him down he has passing options in Emre Can and Nathaniel Clyne.
In the second screenshot James Milner is able to pass backwards to Mamadou Sakho, who is off screen, or pass inside to Emre Can. Both passes would allow Liverpool to retain possession and work to switch to the right hand side without having to play a long ball across field.
It was almost a 2431 formation at times with the full-backs, Nathaniel Clyne and James Milner, pushing forward so to be in line with Henderson and Can. It was a move to ensure United weren't ever able to get a direct run at the Liverpool centre-backs.
The Change
After Manchester United took the lead Klopp didn't wait long to change it back to what fans are used to seeing from Liverpool. Liverpool knew they couldn't afford to give Manchester United too much respect and with the home side now having a goal they'd be tempted into attacking and if Liverpool had more bodies in the attacking third there would be more space for the Reds to create chances.
Above is one example in which you can see the subtle change. In the first screenshot you can see Jordan Henderson is now ahead of Emre Can. As the attack progresses Emre Can drops so he's between, but is ahead, of Mamadou Sakho and Dejan Lovren. Can is able to step up if necessary but he's there as added security so that his midfield partner, Jordan Henderson, can assist in attack.
Jordan Henderson ultimately fires his chance over the bar but the fact it's him on the end of the attack shows the difference from the opening thirty minutes when he was tasked with supporting the defence as opposed to the attack. United seemed to struggle with Henderson's late run into the area as it was something they'd not experienced for nearly the entire first half and neither of Michael Carrick or Fellaini had the legs to keep up with the Liverpool captain.
These slight tweaks highlight how Jurgen Klopp is not only reactive in his changes but also proactive. The Henderson switch would have been something that was mentioned before kick-off and implemented seamlessly when the time arrived.
Other Observations.
In the first half Daniel Sturridge kept drifting out wide. He'd drift onto the right hand side to drag Chris Smalling out wide and he'd do the same on the left to drag Blind wide. The logic behind this was so the United defence was stretched and the likes of Roberto Firmino, Adam Lallana and Philippe Coutinho could exploit this stretched United defence.
As the half progressed Liverpool almost went to a 442 with Firmino pushing further forward to play alongside Sturridge. The Brazilian replicated what Sturridge was trying to do, he wanted to drift to pull the United centre-backs out of position and to isolate them.
In the screenshots above you can see Firmino had drifted from the left side of the attack and Chris Smalling has tracked him. The United defender looks to press Firmino so he has to play backwards and United can smother Liverpool in their (Liverpool's) defensive third.
With Smalling pressing Firmino one of Michael Carrick or Fellaini should cover for the centre-back. In the second screenshot you can see Smalling is touch tight on Firmino, Fellaini and Carrick are within five yards of one another but neither are covering the acres of space in behind them. Carrick isn't tracking Sturridge's run forward.
In the third screenshot it's clear that Firmino has managed to wriggle free of Smalling, and Fellaini who had joined him, and has been able to play the ball into the space that Carrick and/or Fellaini should have been covering. With one pass of the ball Firmino has taken the United midfield and their right sided centre-back out of the game.
Had Adam Lallana timed his run a little better when Sturridge played the ball around the corner and beyond the isolated United defender, Danny Blind, then he would've been in one on one against David De Gea.
It was clearly a tactic that had been worked on prior to the game and something that Klopp had highlighted in the lead up. He's not renowned for his tactics but he's setting Liverpool up with not only team tactics but individual instructions too.