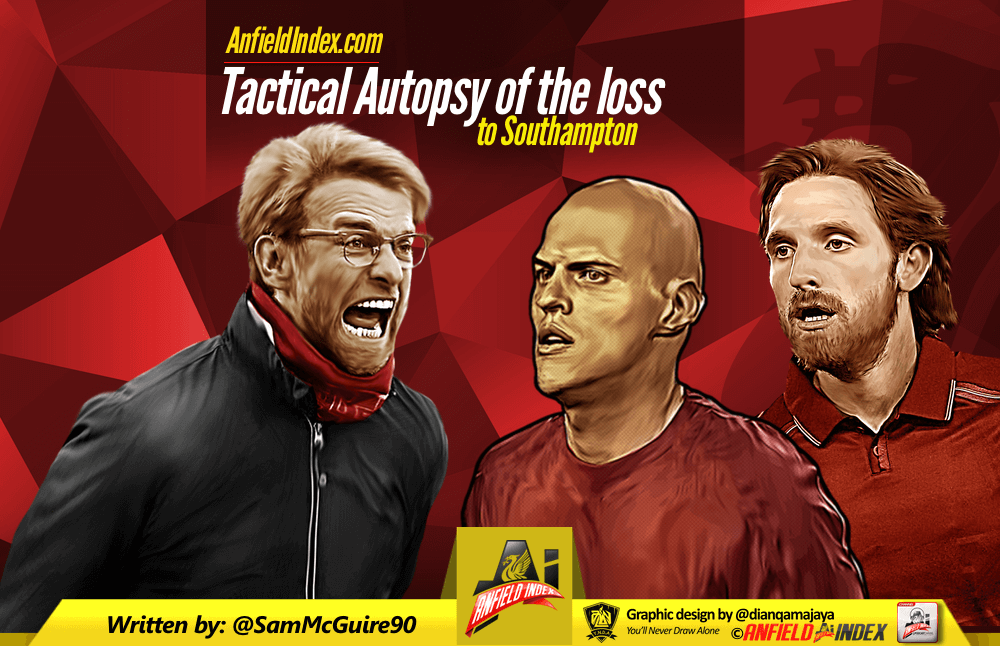 Tactical Autopsy of the loss to Southampton
Liverpool's disappointing loss to Southampton was the definition of a game of two halves. The first half was a Jurgen Klopp masterclass. The Reds were like a Duracell bunny in the first half; first to second balls, pressing Southampton before they reached the Liverpool half and devastating when transitioning defence into attack. The second half couldn't have been more different. Southampton gained control of the midfield and in turn gained control of the match. The Southampton substitutions, along with Martin Skrtel replacing Dejan Lovren, turned the tide in favour of the home side.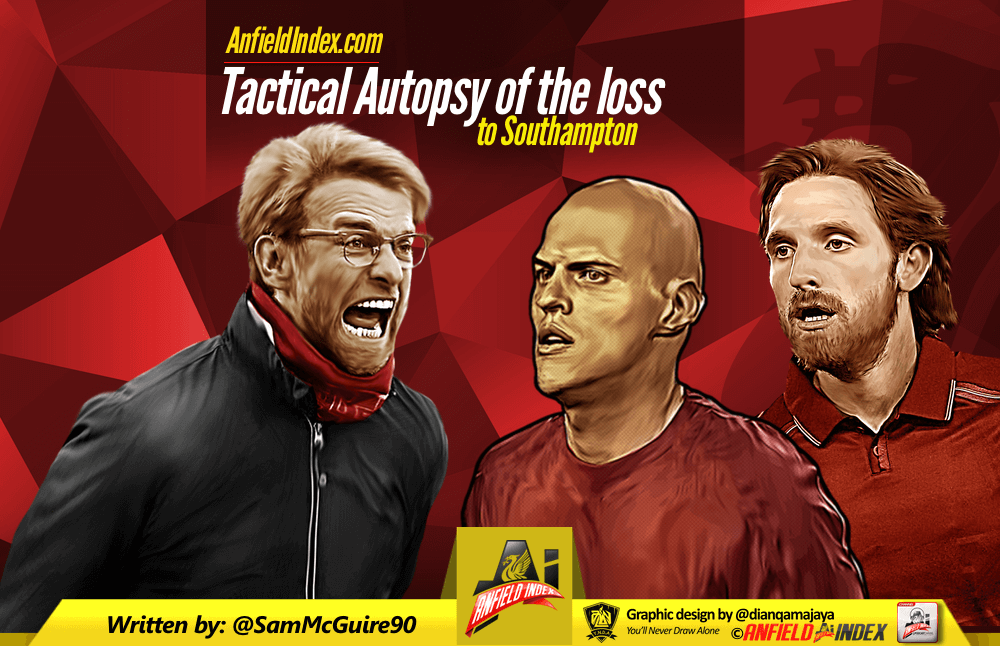 It's disappointing given how Reds boss Klopp had been tactically spot on in Liverpool's last few matches. He got it spot on from the first minute against Manchester United and City. He's tweaked things during matches against Crystal Palace and Manchester United (in the second leg) to help Liverpool gain control and momentum in games that looked to be slipping away. Against Southampton it was clear for all to see that a Southampton equaliser was inevitable, yet despite this Klopp didn't react as Southampton built momentum.

It felt like Liverpool vs Besiktas in 2014/15 when it was when and not if Besiktas were going to get a goal.
It wasn't all bad against Southampton though.
The Good
Liverpool's first goal arrived after Joe Allen won the ball off the Southampton right-back in the middle of the pitch. The turnover of possession happens when Liverpool have six players in Southampton's half so immediately puts Liverpool on the attack. Coutinho carries the ball forward off the left touchline and cut's inside to curl the ball beyond Fraser Forster. In the second screenshot you'll see Southampton don't cover themselves in glory with their defensive shape but both Van Dijk and Bertrand drop deeper to follow Daniel Sturridge and it's Sturridge's movement that gives Coutinho the space to shoot into.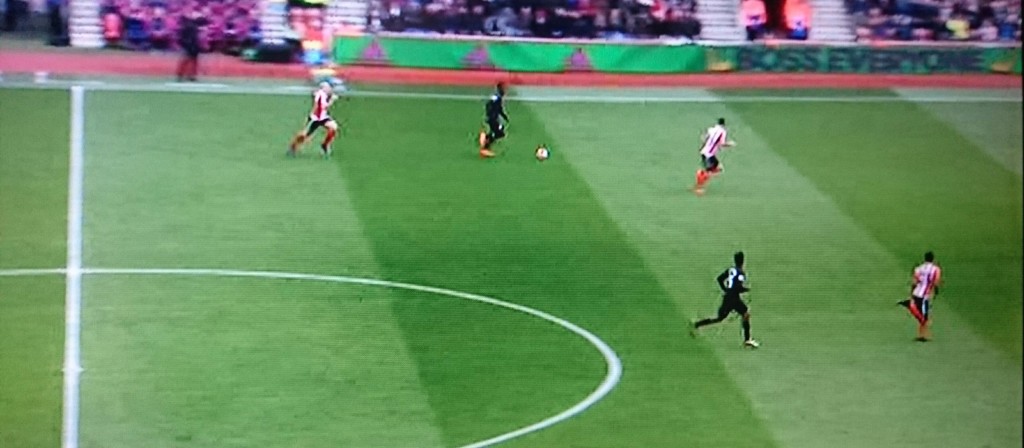 In recent matches Klopp has tasked his forward players with drifting wide, stretching the defence and isolating the centre-backs in positions they aren't comfortable in. The second Liverpool goal arrives after Liverpool win the ball back deep in their own half, Coutinho brings it out and plays a delicious pass to Origi, who had drifted wide and was almost hugging the touchline. Southampton thought they'd left two defenders back against Sturridge but the fact Origi had taken up a position wide, a position he was able to pick the ball up and drive centrally unopposed, meant the home side ended up being 2 vs 2 against Origi and Sturridge.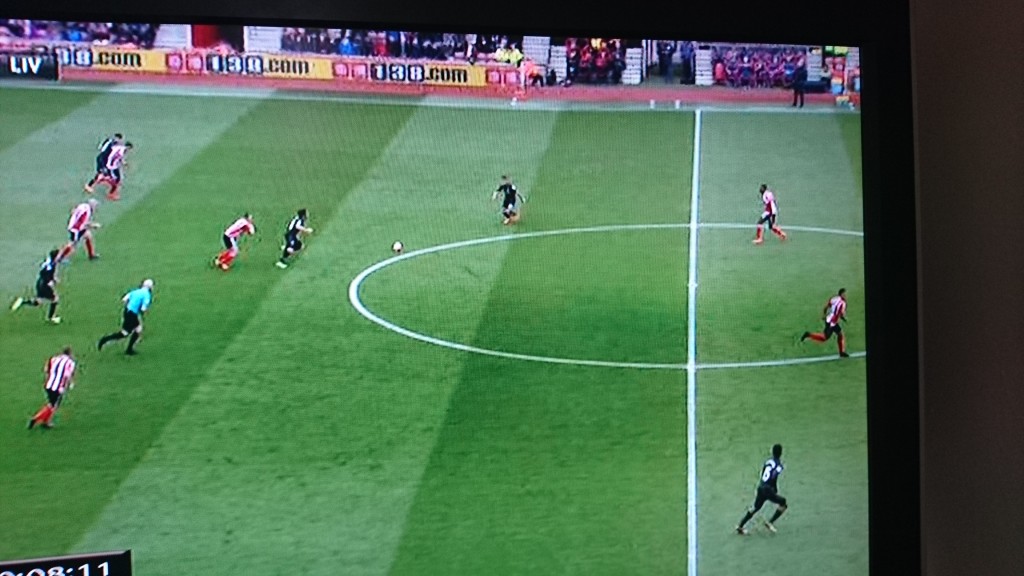 The Joe Allen chance arrives after Liverpool once again win the ball back from deep. You can clearly see that Sturridge has drifted far right and Ryan Bertrand's first thought after Liverpool win the ball is to check where Sturridge is.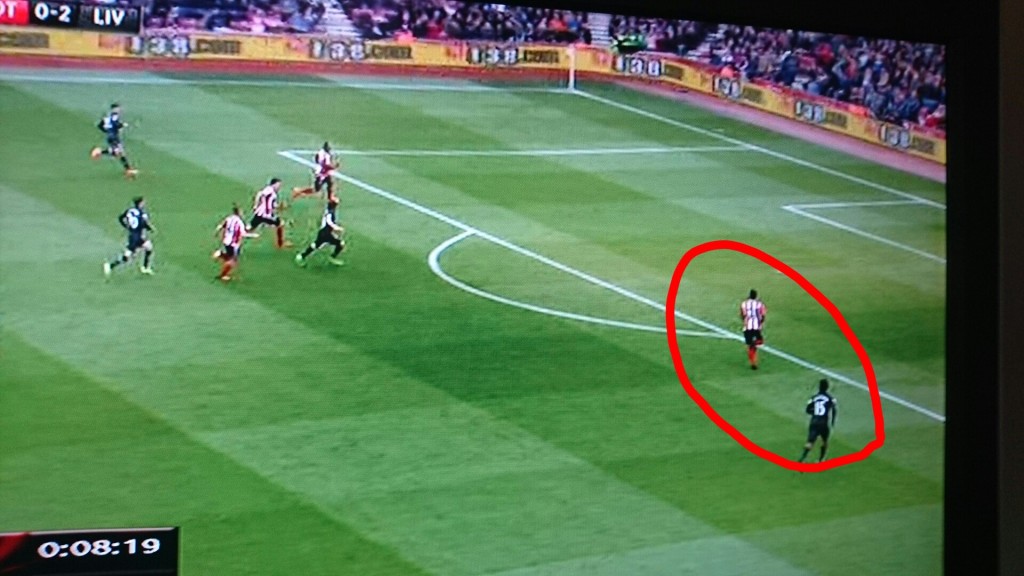 As the attack progresses Joe Allen is in acres of space as Emre Can slides the ball centrally due to the fact Daniel Sturridge is still wide. Ryan Bertrand isn't able to cover centrally as he would normally because of the threat of Sturridge. It's this tactic Liverpool have been trying to implement in both the matches vs United – create space centrally for the midfielders to exploit from deep.
You see it again in the lead up to the Joe Allen disallowed goal. Daniel Sturridge starts off out wide but drifts in field when he picks the ball up. Emre Can and Adam Lallana have taken up positions centrally with Origi drifting wide left. Sturridge passes to Lallana who then plays it Flanagan who puts a cross into the box and it's headed away for a corner.
What's positive here is despite the fact both strikers aren't inside the area Liverpool still have bodies in there occupying the centre-backs.
The Bad
In recent weeks Klopp's team has impressed many with how compact and resilient it's been. There has been two obvious compact lines of four which has stopped sides playing through Liverpool and being able to play in the no.10 part of the pitch (in front of the defence and behind the midfield line).
In both of these screenshots you a gap between the midfield and the defence. Southampton players aren't being tracked and are being given both time and space in dangerous areas of the pitch.
The Ugly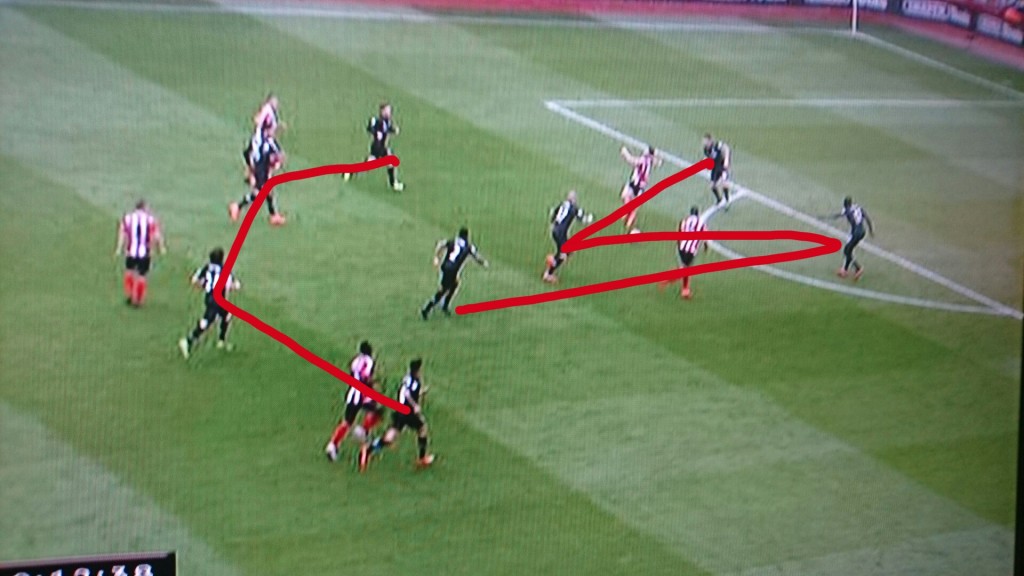 Again, the much praised Liverpool structure is in ruins in the above screenshot. This was nothing more than a punt forward. Pelle wins the header and heads it back to Ward-Prowse, for whatever reason it is Clyne makes his way towards the young Southampton midfielder who passes the ball to Long when Clyne is a good three yards away from him.
This one simple pass puts Southampton 2 vs 2 against Sakho and Flanagan (who had covered round for Skrtel) .
https://vine.co/v/id9xzh5YJIv
What's worrying is after Pelle cut's inside and shapes to shoot Saido Mane is making his way into the box unopposed because Clyne was out of position and Coutinho isn't quick enough. A reverse pass from the Italian and Mane is in one on one.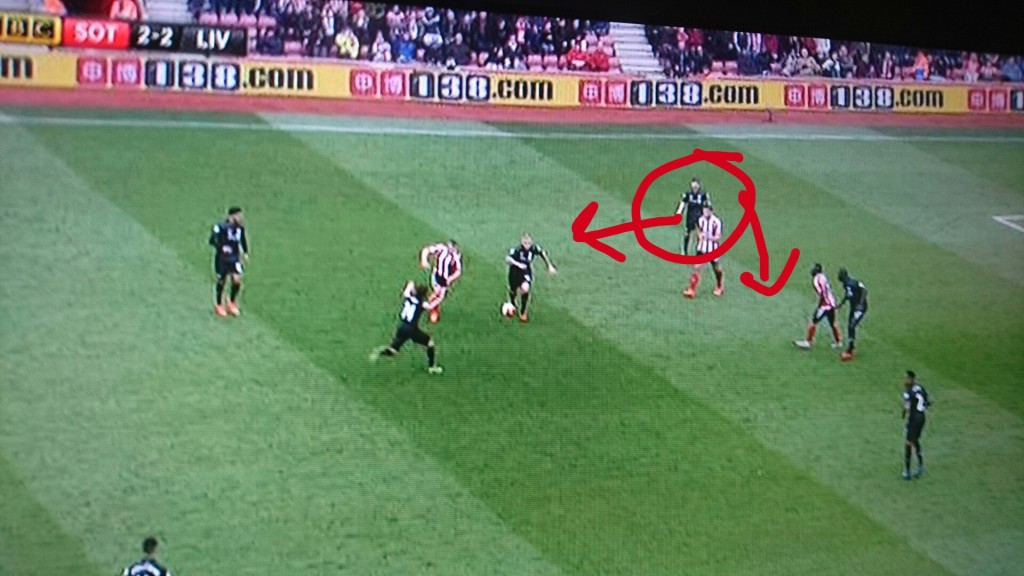 The third Southampton goal is embarrassing. Simon Mignolet could've, and should've got more distance in his clearance. Martin Skrtel should have flicked the ball on if he committed to it like he did, he then should have cleared James Ward-Prowse out if he doesn't retreat back to centre-back position, he doesn't. Instead he lets the Southampton midfielder put him on his arse before Pelle is able to pass to Mane unopposed.
https://vine.co/v/id9QIWDvKPO
Not only is Skrtel at fault here but so is captain for the day Jon Flanagan. Off the back of signing a new deal at the club the local lad showed his inexperience by not covering for Skrtel (frustrating due to the fact he had done moments earlier). As the ball is bouncing loose Flanagan either has to cover for Skrtel by moving centrally or push onto Long so he's not free. Flanagan does neither as he gets caught ball watching.
Lessons needs to be learned from this defeat.