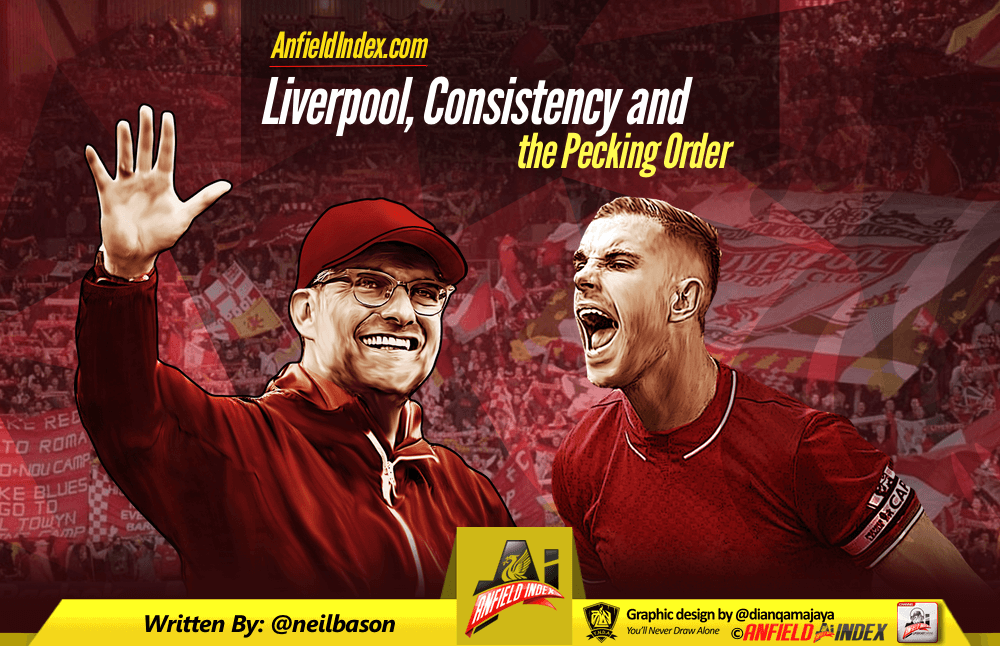 Liverpool, Consistency and the Pecking Order
During this season I've written quite a bit about its seemingly endless twists and turns, the high points, and on the back of the latest bump in the road that sent the Liverpool wagon spinning off the rails, the occasional lows.
It's to be expected of course. New manager, new tactical masterplan, players signed for a different plan fighting to adjust and be accepted by the new boss. Even in a more run-of-the-mill season for everyone else it was never going to be a year free of hiccups for the Reds. And nowhere has this been more evident than on the pitch itself. Of course that's where the action happens, how could it be any other way? But off the pitch we look incredibly healthy. Great manager, great staff, glimmers of a return to the atmosphere of old inside an expanding Anfield and talk of a big summer ahead. Meanwhile, on the grass for 90 minutes every week, the performances offer a constantly shifting pecking order within the ranks that leaves me consistently unsure of what exactly is our best eleven.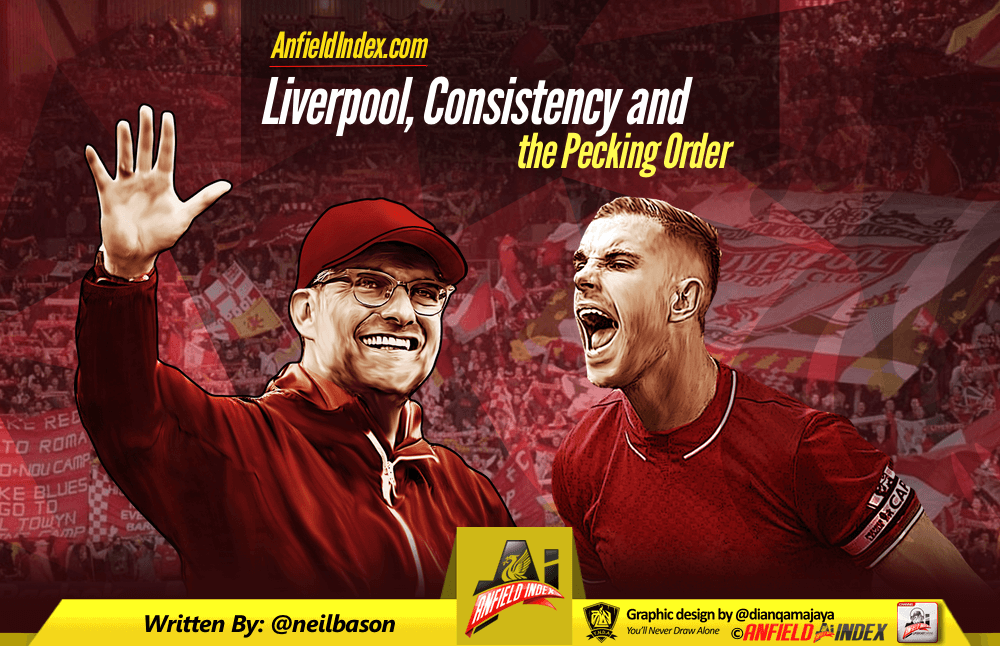 As a fan this season I've had my mind changed with such regularity over a player's future at Liverpool that I'm surprised my head hasn't done an Exorcist 360. It's something that runs right through the squad. Only a few short weeks ago I could have counted the number of players with a guaranteed spot in Klopp's team on one hand, now I almost see the flicker of a phoenix about to rise from the ashes. To be fair it's driving me a little mad.
Here's what I mean: rightly or wrongly, whatever your viewpoint, Jordan Henderson is our captain. At the start of the season I would have had him as a first name on the team sheet sort of player, a driving force in the middle of the park and someone that could be relied upon to put in a performance. Now, in March, I'm not even sure he's in the top three midfielders at the club. I definitely consider Can to have eclipsed him as a player, and I also believe Joe Allen offers considerably more diversity to his passing and moving game than Henderson ever could. At first my opinion on Allen might have been hinting at the knee jerk, but now a couple of months down the line, I'm even more convinced.
From my perspective the pecking order has shifted. Jordan has been injured. Fair enough, but there still should be more to his game than the perpetual sideways pass, and more depth to his confidence where he'll just have a go when the ball lands at his feet 25 yards from goal. But I'm going off point, and that is that based upon performances this season, Henderson's stock has fallen in regards to his importance to the club where others have risen.
The back four is an even more unsteady landscape, where the pecking order never seems to find a foothold. Lovren was done, Sakho was under par and littered with errors, Kolo was too old, Skrtel was simple but effective. Now Lovren has become something of a rock, Sakho is meeting lofty expectations, Kolo hasn't put a foot wrong when called upon, and Skrtel is the devil incarnate. Mirroring the midfield I've had my viewpoint changed, I didn't expect to find myself in a position where I'm happier to see less of Henderson and Skrtel and more of Allen and Lovren, yet here I am.
Up top I'm in no doubt that Daniel Sturridge is top of the pecking order, but that's not to say there haven't been a number of times that Divock Origi has looked more of a threat with his direct running and unquestionable power. The only oddity here is that despite being sidelined for most of the year, Danny Ings would still be on the many fans' team sheet before the misfiring Christian Benteke.
I'm not averse to having my mind changed by a player. Especially when it's positive such as in the case of Allen or the rebirth of Lallana or the ever improving consistency of Firmino. It speaks volumes about the players that they can fight back from the brink and suddenly seem like a vital piece of the Liverpool machine, it speaks volumes about the manager that he writes no-one off in haste, but it also speaks volumes about the overall lack of stability within the team and the lack of consistent performers. Every player has bad games, but generally these are peppered infrequently over the course of a season, blips on an otherwise stainless record. The constantly shifting pecking order currently taking place at Liverpool highlights that this season is different. Almost no player has put together any sort of run of form to elevate them above the pack. Coupled with a season that seems to have brought out the extreme knee jerk reaction within the fanbase, where a player moves from hero to zero via a momentary loss of concentration or a scuffed shot, it seems like nothing is going to change until the final whistle is blown and we emerge next July with Klopp's team.
And by then, Jordan Henderson, might even be back atop the pecking order. Maybe.